As you can imagine, The Bobby Brown Story is from his point of view and with Bobby having lived a full life of triumph and loss, he has no f***s to give. Which shows in this movie.
---
Director(s)
Kiel Adrian Scott
Screenplay By
Abdul Williams
Date Released
9/4/2018
Genre(s)
Biopic, Musical, Drama, Romance
Good If You Like
The Illustrious History of Bobby Brown and Whitney Houston

Baby Momma Drama

Slightly Stiff Performances

Noted Cast
Bobby Brown
Woody McClain
Whitney Houston
Gabrielle Dennis
Kim
Asia'h Epperson
Robyn
Yvonne Senat Jones
Teddy Riley
Moses Jones
LA Reid
Marc Jean
Babyface
Isaac J. Sullivan
Carole
Sandi McCree
Janet Jackson
Cree Davis
Images and text in this post may contain affiliate links which, if a purchase is made from those sites, I may earn money or products from the company. Most affiliate links contain an upward facing, superscript, arrow.
Summary
From 1980 to a little after 1992, we cover the rise of Mr. Bobby Brown. One which has a plethora of death, baby mommas, sex, and ends with drugs. But, in between, we get reminded that with hits like "Rock Wit'cha" up to "Humpin Around" he isn't the persona often seen. There was once a time when Bobby Brown wasn't someone in Whitney Houston's shadow. The one many of the uninformed blame for her drug use and fall from grace. He was a star in his own right, probably one of the few, if not last, Black male musician who broke out from a group to have a successful solo career.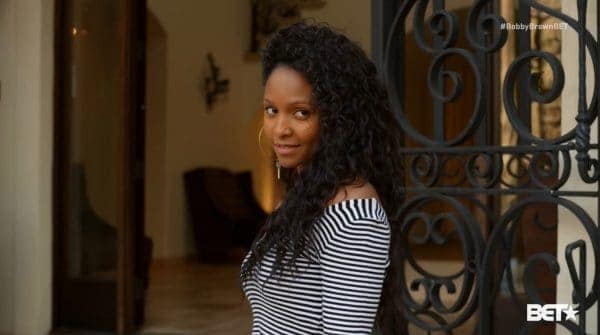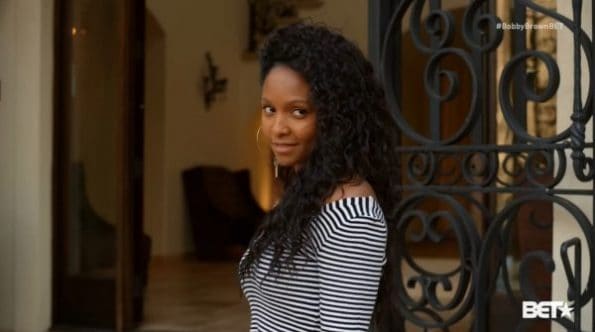 But, lest we forget, he was also a big time R&B bad boy. For if it isn't getting mad people pregnant, like a woman named Kim, to having a discreet relationship with Janet Jackson, and of course messing around, dating, and eventually marrying Whitney Houston, Bobby got around. Also, somehow got away with cheating on the Queen.
Someone who isn't necessarily painted in the best light. The exuberance, personality, and attitude of Whitney damn near made to seem a by-product of her coke habit. And Robyn? HA! Pretty much the movie shows in every which way possible, without plain saying it, as much as Bobby was cheating on Whitney in the beginning, Whitney was probably cheating on Bobby through the first year of their marriage – if not more.
Yet, something kept them together. Maybe it was a mutual love of coke, Bobbi Kristina, or truly love. It isn't clear which it might be, but I will say that as Whitney comes on the scene, as in any biopic they both are involved in, she begins to swallow up his life.
Question(s) Left Unanswered
Robyn had to be Whitney's drug dealer right?
Highlights
The Music
One of the beautiful things about biopics, especially about musicians, is that it expands what you know about their repertoire. Some, like myself, only know the greatest hits that stay in rotation like "Don't Be Cruel
," "Every Little Step
" and the Ghostbusters theme song. However, songs like "Roni
," "Humpin' Around
" and "Rock Wit'cha
?" in places and areas I frequent, they don't get the same kind of love. So hearing them had me add a few new songs to my Spotify for later. Because these are classic I didn't know of.
The Bobby & Whitney Relationship
Though the choice for Whitney Houston was meg, alongside the way she performed, if you look at their romance without the celebrity and just saw a man named Bobby and woman named Whitney, this film was cute. Well, the beginning of their relationship anyway. Once Whitney's drug habit is put out there then they make Whitney look like a damn fool. Almost like this movie is to retaliate for every time Bobby looked bad in something focused on Whitney's story.
The Robyn Factor
Can we be real for a second? While Bobby Brown didn't come up in the age of social media, it isn't like his story isn't fairly well known. Especially the parts everyone seems to care about, which is his downfall more than his rise. So the only thing which really makes you raise an eyebrow with part 1 is Robyn. For no one really knows much about Robyn besides she was attached to the hip when it comes to Whitney.
Now, in Bobby Brown's book
he allegedly says Whitney was bi-sexual (I didn't read it so I can't confirm), but with that said, it makes you want a deep dive into Robyn's side more than Bobby or Whitney. For it is clear between this movie, alongside Angela Bassett's Whitney, both contain a certain level of bias which, like most biopics, have this sense of trying to be real, but also not hurt the brand. Like, we see Bobby do drugs, be a serious ho, and not much of a father, but he saw a lot of people die in life and probably had a lot of sex because of insecurities.
So a third party view on them both, it feels sorely needed to reconcile the different takes on one of the most dysfunctional relationships in Black culture, if not music, since Ike and Tina Turner. Just swap the physical abuse for drug abuse.
Criticism
It Seems More About Sensationalism Than Telling Bobby's Story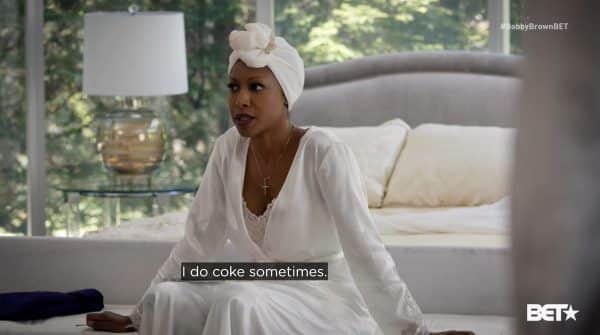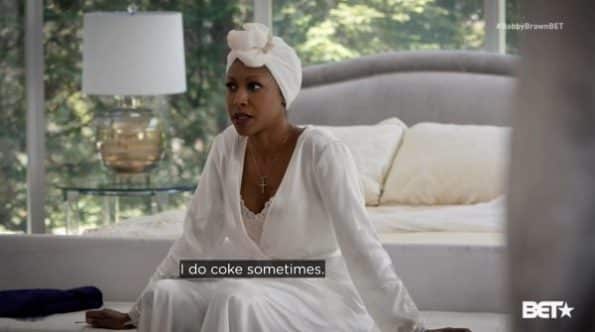 Though this is BET and they will only show so much, I must admit it felt like the main goal of this movie was showing as much side boob, drugs, and people dying as possible. Making it where, when it comes to the people in Bobby's life, if they don't have a big name like Teddy Riley, LA Reid, or Babyface, you're left wondering who they are? If not thinking maybe you should have watched The New Edition Story for maybe they got developed in that.
For outside of Bobby's mom Carole, and one of his baby mother's Kim, everyone else gets a prompt "Who?" Making this person dying, him disappointing this other one, or even taking note of who is his kid or maybe someone else's hard. Because the script doesn't give a damn about them. It is about stringing you along with water cooler moments, like Bobby and Janet having something, and then hitting you with the Whitney Saga featuring Robyn.
On The Fence
Performances
Similar to Chadwick Boseman in Get On Up, while it is clean McClain knows Bobby's moves, it doesn't seem he is able to mimic the energy we know of what so ever. In fact, there comes a point where you feel like you are watching Lip Sync Battle vs. a musical biopic because you get so disappointed. Making it where, after they stop having McClain perform, it seems like a blessing for the moves clearly aren't his strong point.
Pushing you to wonder if they were on this level in The New Edition Story but you didn't notice because there were more actors to focus on and worry about.
The way part 1 is sculpted is like the Shade room or Media Take Out got a decent scriptwriter and made it so their main focus was the tea and drama. The stuff that would get people talking for days and weeks. Not about the people who molded Bobby, tried to protect him, or any of that. Just the people who he screwed, screwed over, and screwed him up. Making you wonder, with most biopics about humanizing a subject, going in-depth into their lives, was that the purpose at all or was this just about airing dirty laundry?
Or, could it be that part 1 is supposed to be a hook? All the fun, games, drama, and drugs you'd need to watch part two when things aren't as funny anymore. When you don't laugh at Bobby's misery and foolishness but realized how badly he, alongside Whitney Houston, messed up their lives. But, since we won't know until tomorrow if that is the plan, that is why this is being labeled as mixed. For while Bobby Brown was involved in the making of this, the film seems so exploitative that it's like he may have been involved but not in on the joke.
Not to imply his life is a joke, but more so Williams tried to find the funny in the pain and forgot to make sure the pain still packed enough punch.
---
Follow Wherever I Look on Twitter, Like us on Facebook and Subscribe to the YouTube Channel.
---
---