A character guide for HBO's Euphoria featuring cast members names, character descriptions, and noteworthy information.
---
Descriptions are updated as new information is presented, and images changed as better ones are captured.
Season/ Episode
Synopsis
Episode Information
Topics & Focused Characters
Season 1, Episode 8 "And Salt the Earth Behind You" [Season Finale]
The way Euphoria's season 1 finale leaves you, it will make you wish you knew a top-level SAT word to surmise the conflicting emotions.

Director(s)
Sam Levinson
Writer(s)
Sam Levinson
Air Date
8/4/2019
Introduced This Episode
Marsha
Paula Marshall

The Winter Formal: Kat, Ethan, Cassie, Lexi, Rue, Jules, Nate, Maddy
Recognizing Something Is Wrong: Rue, Jules, Cal, Nate, Maddy, Marsha
When It All Falls Apart: Cassie, Rue, Jules, Gia, Leslie, Fez, Mouse, Suze

Season 1, Episode 6 "The Next Episode"

Like Kat's episode, so much goes on in McKay's that he becomes a bit of an afterthought.

Director(s)
Pippa Bianco
Writer(s)
Sam Levinson
Air Date
7/21/2019
Introduced This Episode
Daniel
Keean Johnson
Frederick McKay
Cranston Johnson

Raising A Football Player, Not A Man:

 

Frederick, McKay
Tainted Love:

 

Daniel, Cassie, Kat, Ethan, McKay, Rue, Fezco, Lexi
Like Father, Like Son:

 

Jules, Nate, Maddy, Tyler, Rue

Season 1, Episode 7 "The Trials and Tribulations of Trying to Pee While Depressed"

Cassie is focused on in this episode, and honestly, after all we've gone through, at this point, what tears are left to cry?

Director(s)
Sam Levinson
Writer(s)
Sam Levinson
Air Date
7/28/2019
Introduced This Episode
Rick
Nat Faxon
TC
Bobbi Salvor Menuez
Anna
Quintessa Swindell
11-year-old Cassie
Kyra Adler
Mary O'Neill (Fezco's Grandmother)
Brynda Mattox
Gus
Nick Blood

Manic Depression Has Taken My Soul:

 

Rue, Lexi, Fezco, Nate, Leslie, Mary, Mouse
Can A Boy Replace A Father's Love & Attention?:

 

Cassie, Gus, Suze, Lexi
Bottoming Out:

 

Cassie, McKay, Leslie, Rue, TC, Anna, Fezco, Mouse, Jules, Suze

Season 1, Episode 5 "'03 Bonnie and Clyde"
Maddy gets focused on this episode, and it becomes clear that no one has a healthy concept of love – and that could get someone killed.

Director(s)
Jennifer Morrison
Writer(s)
Sam Levinson
Air Date
7/14/2019
Introduced This Episode
Minako
Sean Martini
11 Year Old Maddy
Keilani Arellanes

What Is Love?: Kat, Ethan, Cassie, McKay
From A Broken Home To A Troubling Relationship: Cal, Minako, Maddy, Nate
(They/I) Can't Be Your Everything: Ali, Jules, Rue, Lexi

Season 1, Episode 4 "Shook One: Pt II"

Jules' episode gives us a quick recap of her years up until 16 and leaves us worried if Nate, or even Cal, will make her into a statistic.

Director(s)
Sam Levinson
Writer(s)
Sam Levinson
Air Date
7/7/2019
Introduced This Episode
Ethan
Austin Abrams
Luke
Will Peltz
Young Jules
Clark Furlong
David
John Ales

You've Been A Bad, Bad Boy:

 

Cassie, McKay, Maddy, Nate, Luke, Kat, Ethan
Life Before Rue:

 

Jules
Life After Rue:

 

Jules, Nate, Cal, Rue, Gia, David, Ali

Season 1, Episode 3 "Made You Look"

While Kat is focused on this episode, Rue going from a blissful manic to an outright depressive state eclipses her episode.

| | |
| --- | --- |
| Director(s) | Sam Levinson |
| Writer(s) | Sam Levinson |
| Air Date | 6/30/2019 |

Sexuality Is A Spectrum:

 

Nate, Kat, Maddy, Jules
Things On A Positive Swing:

 

Kat, McKay, Cassie
You Can't Do What You Did & Leave Me Like This:

 

Jules, Rue, Ali, Fez

Season 1, Episode 2 "Stuntin' Like My Daddy"

Nate and Kat get focused on, and Maddy to a point, as we dig deeper into East Highland and its many screwed up residents.

Director(s)
Sam Levinson
Writer(s)
Sam Levinson
Air Date
6/23/2019
Introduced This Episode
Kat
Barbie Ferreira
Mouse
Meeko
Cal
Eric Dane
Tyler
Lukas Gage
Lexi
Maude Apatow
Suze
Alanna Ubach
Ali
Colman Domingo
Robert
Bruce Wexler
Maddy
Alexa Demie

A Fun Time Made Public:

 

Kat
Drugs Are Bad, MMMKay:

 

Gia, Leslie, Mouse, Fezco, Ashtray, Rue, Lexi, Jules
For The Love Of You:

 

Cal, Tyler, Nate, Jules, McKay, Cassie, Maddy, Suze

Season 1, Episode 1 "Pilot" [Series Premiere]

I want you to imagine the graphic nature of 

13 Reasons Why 

and the realness of 

Skins (UK)

 

turned up but with better performances, better characters, and more explicit scenes.

Creator(s)
Sam Levinson
Director(s)
Augustine Frizzell
Writer(s)
Sam Levinson
Air Date
6/16/2019
Genre(s)
Young Adult, Drama
Good If You Like
Bad Behaving Teens Who Are REALLY Messed Up

Adults, Who Are Also Messed Up, Making The Teens Further Messed Up

A Lead Not Looking To Get Better Or Redemption

Just, In General, More Messed Up Moments & Characters Than Good People Living Happily And In Bliss

Isn't For You If You
If You Are Easily Triggered

Don't Like Seeing Kids Do Drugs, Have Sex, And Get Messed Up

Want Characters, And The Lead, To Be "Likable"

Introduced This Episode
Rue
Zendaya
Gia
Storm Reid
Jules
Hunter Schafer
Nate
Jacob Elordi
McKay
Algee Smith
Cassie
Sydney Sweeney
Fezco
Angus Cloud
Ashtray
Javon 'Wanna' Walton
Leslie
Nika King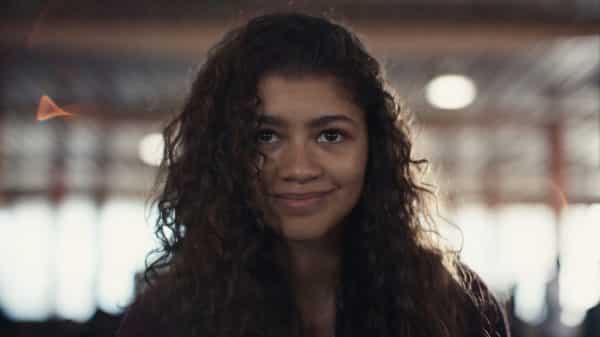 Character Description
First Noted In: Season 1, Episode 1 "Pilot" [Series Premiere]
Born 9/14/2001, Rue's life has been riddled with trauma. It's so bad actually that there are gaps in her memory from blocking things out and she is upfront that, as a narrator, she isn't the most reliable. However, from what she says, we are told she has suffered from panic attacks since she was 11 and was even given liquid Valium to calm her down. Between that and her father dying when she was 13, that is what pushed her to be an addict. And even though she recently OD'd, and her sister found her nearly lifeless body on the floor, she still pursues that high which takes her away from the pain.
Additional Information About Rue
Over her lifetime, Rue has been diagnosed with Obsessive Compulsive Disorder, Attention Deficit Disorder, general anxiety, and was considered possibly bipolar.

We're told in episode 7 she formerly took medication for being manic-depressive but stopped. However, with her being sober, as of that episode, it makes the need for her former medication spike.

She can't remember much between the ages of 8 and 12.
Rue started to take Oxycontin when she was 13 and it was actually her dad's Oxycontin she got high off of.
In season 1, Rue is 17.
Lexi is one of Rue's sources of information.
Rue is somewhere on the queer spectrum.
Rue's first kiss was when she was 12 and since then she has given 4 handjobs, two blow jobs, and had sex with a boy once. She has also french kissed Lexi, but never been in love.

Lost her virginity at 15.