Tribeca Film Festival 2018 Selection
Interested in what will be covered from the 2018 Tribeca Film Festival? Well, check out below. Though nearly a month away, the schedule for the Tribeca Film Festival 2018 is up, alongside their ticket package options if you want to get in there before the general admission free for all. Now, naturally, with a day…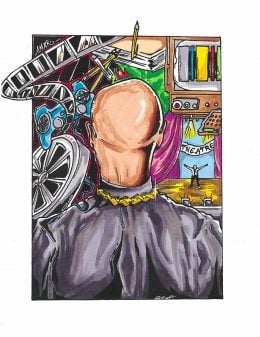 Interested in what will be covered from the 2018 Tribeca Film Festival? Well, check out below.
Though nearly a month away, the schedule for the Tribeca Film Festival 2018 is up, alongside their ticket package options if you want to get in there before the general admission free for all.
Now, naturally, with a day job and the way their schedule is set up, we sadly can't see everything. Plus, film festivals are expensive. But, these are the 8 films you should expect to be hearing about!
O.G. | 2018 Tribeca Film Festival
The sadly underrated Jeffrey Wright plays a convict who is on the verge of finally getting out after being in prison for more than 20 years. As you can imagine, there is the fear many ex-cons have of what life they can really have on the outside after being put away for so long. However, before he can even worry about that, he has to deal with those on the inside who he has either grown close to or could destroy his pending freedom.
Why See
It's Jeffrey Wright. Pretty much he is Denzel Washington without the need to yell and be theatrical to convey his feelings. He is a quiet storm type of actor who has been part of many notable productions. In fact, he is a Tony Award Winner, for Angels In America: Perestroika, as well as an Emmy and Golden Globe winner for the HBO version of Angels in America
. So, with a story like this, he could very well have begun the journey to being an Oscar winner. Thus making him the alternative EGOT. That is, Emmy, Golden Globe, Oscar, Tony vs. Emmy, Grammy, Oscar, Tony.
Which, considering his vast filmography and TV credits, seems long overdue.
Slut in a Good Way | 2018 Tribeca Film Festival
Young adults working during the holidays and finding guys to maybe take home… and bring into their beds. Okay, it is not as dirty as it sounds, or is it? This is being noted to be a charming teen sex comedy and the first image you see is a girl having an orgasm. Here is to wondering if this will be uncomfortable in a good and funny way or the type of way which makes you ashamed for being interested in the first place.
Why See
Here on Wherever I Look, there is always the desire to see something which tries to venture from the norm and wants to be authentically weird. Hence why movies like Wetlands are within our archives. Yet, with a female write and director, and considering the times we are in, it makes you wonder what will a teen sex comedy done by women, starring women, featuring young women on the cusp of adulthood may bring? Add in it is a French film and you know that means that you have to be prepared for any and all things.
The Miseducation of Cameron Post | 2018 Tribeca Film Festival
A coming of age story featuring a queer woman, queer people of color and gay conversion therapy! Seriously, who thinks when you put a bunch of queer kids together, trying to make them hate themselves, it isn't going to just lead to them finding the community they always needed?
Why See
With Brain on Fire still being held captive by Netflix, I Love You, Daddy in limbo because of Louis C.K., and November Criminals just not being talked about – perhaps for good reason, star Chloe Grace Moretz could use something that reminds people of why she has become a cinema darling. And when you combine her talents with American Honey star Sasha Lane, who is a queer woman of color, you get what seemingly could be quite an entertaining film. Granted, it is noted to be a drama, and that could concern some, but Moretz has shown throughout her career she is up for a challenge and with playing off Lane, she may have found a match made in heaven.
Mary Shelley | 2018 Tribeca Film Festival
When it comes to literary figures, especially women, you think of Virginia Woolf, Jane Eyre, and Agatha Christie. However, what about Mary Shelley? Well, the writer of Frankenstein
, one of the original monsters of horror, was written by her and it seems this movie will chronicle her creation of that… alongside her romance with poet Percy Shelley.
Why See
The cast! It has Elle Fanning, Joanne Froggatt (of Liar and Downton Abbey
fame), Bel Powley (The Diary of a Teenage Girl) and Maisie Williams, in what I believe is her first-period piece. This is combined with highlighting a woman who created one of the most iconic monsters in cinema. How can you not want to know her background and what led to the creation of Frankenstein's monster?
Little Woods | 2018 Tribeca Film Festival
With one week to pay their recently deceased mom's mortgage, two sisters find themselves going to the extreme to pay it back.
Why See
Tessa Thompson is one of the actresses part of the diversity new wave you can imagine making it no matter what. From her roles in Thor: Ragnarok, Mississippi Damned, and Westworld, she has slowly but surely found herself to become a chameleon actress. Her being a woman of color able to genre bounce and just as much be in something more urban like Creed then do something like Annihilation shows why she isn't just in demand for casting but also her audience.
And with combining Thompson's talent with the charm and girl next door vibe of Lily James (Baby Driver and Cinderella), this should be a challenge for James, which can prove her talent and another feather in Thomspon's cap.
Jellyfish | 2018 Tribeca Film Festival
With a difficult childhood so comes a nuisance and monstrous teenager. Yet, with gaining the attention of her drama teacher, and being under their tutelage, they find a way to turn the negatives of Sarah's life into comedy.
Why See
With so many comedians, like Tiffany Haddish, talking about how one person changed it all, just by caring, this film seemingly will represent their story. One which will show us how you go from being a kid who is just seen as a problem to learning how to voice your issues in a way that not only is therapeutic but could very well provide you with a career. Yet, said new passion being threatened by the same issues that provide you with your material.
In a Relationship | 2018 Tribeca Film Festival
A relationship at its end coincides with a relationship at its beginning. Touted as a romantic comedy, with drama elements, In A Relationship highlights the issues of falling in love young and being in a relationship.
Why See
Writer/Director Sam Boyd has shadows modern comic staples like Sacha Baron Cohen, Jonah Hill, and the Lonely Island, among others, and seems to be one who loves romantic comedies. Yet, by the way his, "About The Director(s)" is written, it seems he thinks a lot of them suck nowadays. But, he believes, with actress Emma Roberts, Michael Angarano (Mom
), Jay Ellis (Insecure) and more, he'll have that winning combination that will make his former bosses his peers.
All These Small Moments | 2018 Tribeca Film Festival
Do you remember a time when the only good part of your day was your commute? No, not dealing with a bunch of grumpy, smelly, and lacking the idea of personal space people. I'm talking about seeing that one person who was like a shot of espresso to your mood. That is what Odessa is to Howie and it seems he is ready to make a move.
Why See
With director/writer Melissa Miller Costanzo having worked on films like Indignation and Precious
, within the art department, this seems like a just and necessary self-promotion. One which harnesses that infatuation we all have for a stranger in one of the most awkward times to try to engage them. Yet, also, with them being a bit of a pick me up, a momentary distraction from what you are leaving or going to, do you really want to ruin the fantasy? It seems that is what we'll explore and possibly fall in love with.
---
Follow, Like, and Subscribe
Community Rating: 0.00% (0) - No Community Ratings Submitted (Add Yours Below)