Bigger: Season 2 – Review/ Summary (with Spoilers)
While in the midst of a pandemic, nothing slows down the characters of Bigger from better things, bigger drama, and people from their past shaking their world.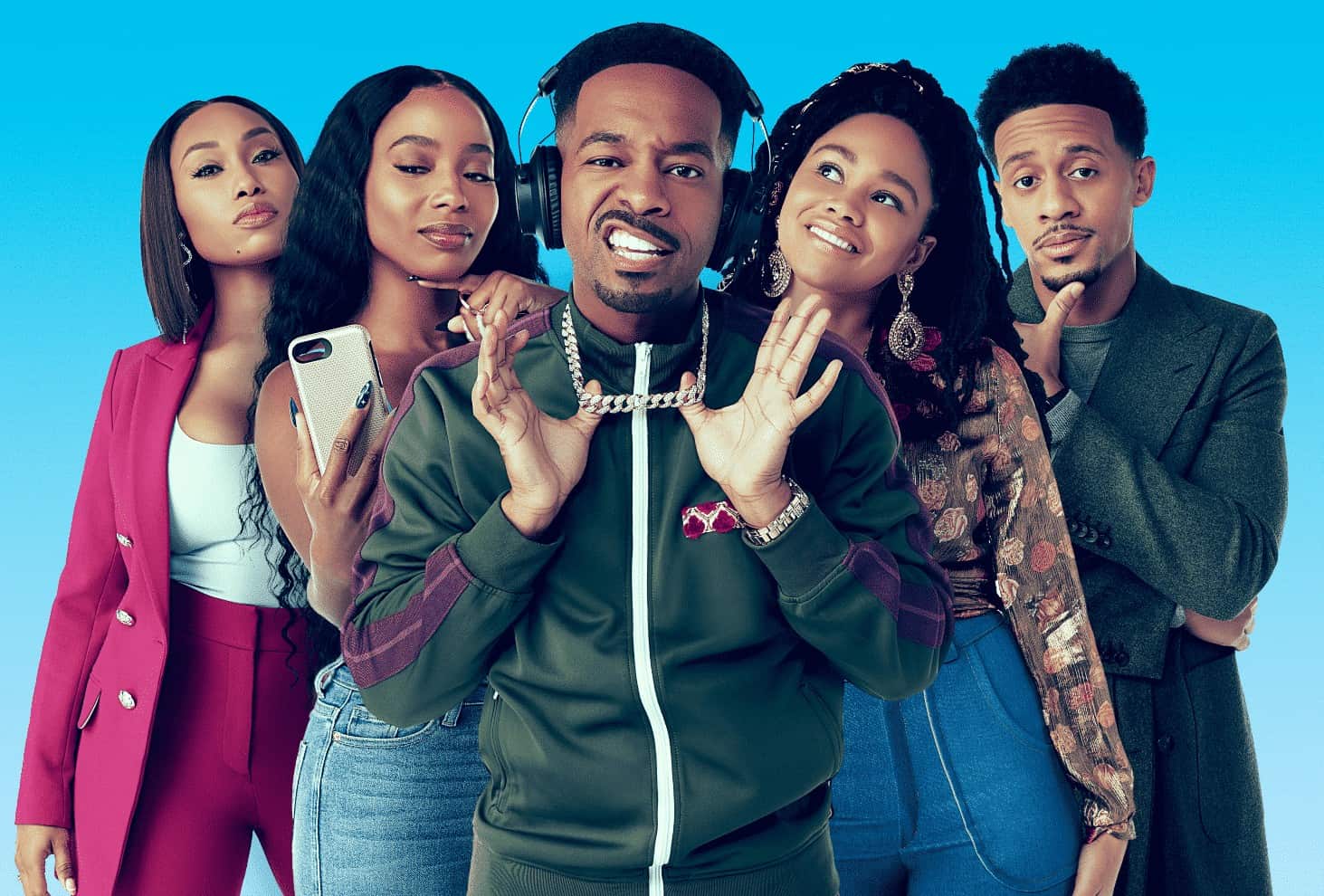 While in the midst of a pandemic, nothing slows down the characters of Bigger from better things, bigger drama, and people from their past shaking their world.
---
Season Premiere
4/22/2021
Season Finale
4/22/2021
Episodes
10
Network
BET+
Created By
Felischa Marye
Genre(s)
Comedy, Drama, Romance, Young Adult
Noted Cast
Layne
Tanisha Long
Deon
Chase Anthony
Tracey
Rasheda Crockett
Veronica
Angell Conwell
Aaron
Curtis Washington
Ken
Devale Ellis
Vince
Tristen J. Winger
Shoshanah
Tori Spelling
Connie
Charmin Lee
Julius
Christopher Martin
Liberty
Angela Ko
Greg
Warren Burke
Layne-Lite
Alexa Rachelle Jennings
This content contains pertinent spoilers.
Season Summary
It's a pandemic, ya'll, but no one of the cast of Bigger can stay home and wait for things to improve. For Layne, her vintage shop, after the article was done in season one, is popping, and while she hasn't expanded yet, which drives Liberty insane, things are going GOOD! I'm talking Billie Eilish wanting pieces good! As for Deon? Well, his savings are running low, and his pride/ego is keeping him from accepting a job, but while he seems to be waiting to hit rock bottom, he is out there. He is seeing people while he and Layne avoid any real conversations about their relationship.
Switching to Tracey and Veronica, well, old flames from back in the day have reared their head. For Tracey, her ex Aaron claims to be reformed, and Tracey wants to believe that, so she gives him another chance as she continues working on Basketball Exes. As for Veronica? Well, Ken comes back into her life, and things are cute, but Veronica feels awkward about the whole situation, which makes you wonder if new Veronica may allow this reboot to last?
Which leaves Vince. Vince is dating a white girl named Shoshanah, and everyone is kind of iffy on her since she comes off and is a sugar momma. But, there is perhaps something there beyond her investment in his career and the exchange you know that comes with her money.
Review
---
Community Rating:
---
Highlights
Layne, Veronica, and Tracey's Arcs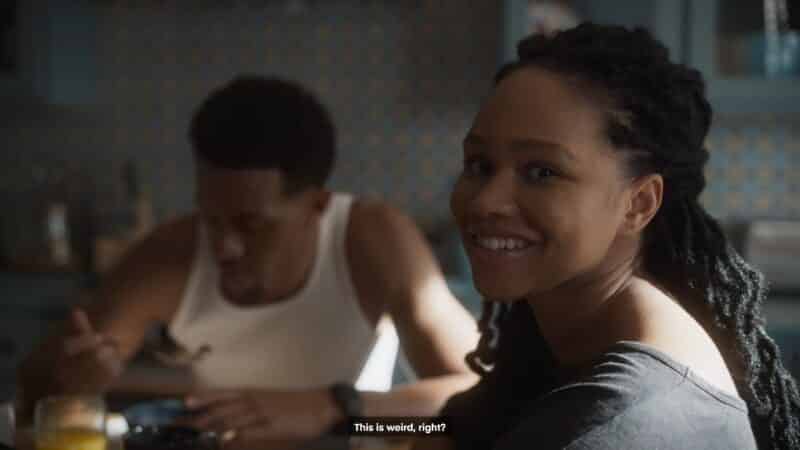 Between Layne dealing with anxiety, Veronica handling with getting older and wondering if she wants a family, to Tracey trying to not repeat past mistakes, the ladies of Bigger have a lot going on. Breaking it down, Tracey and Aaron's relationship, like Veronica and Ken's, pushes you to wonder if something was truly the wrong time, the wrong mindset, and wrong age, or if it didn't work once, leave it alone? Especially since everyone is in their 30s, wouldn't mind settling down, and with Veronica building a house and her and Tracey having made an empire, having someone to share their time with would be nice.
However, baggage is heavy, and unpacking it isn't anyone's idea of a good time. Heck, look at Layne. Her anxiety goes off the charts thanks to her business doing well, her relationship with Deon and just trying to find a place where she isn't running herself ragged as if, if things don't work out now, they never will. And it is watching these three women try to figure out a way to balance their careers, their relationships while protecting and improving their mental health that is one of the top highlights of the season.
Inclusion Of Older Black People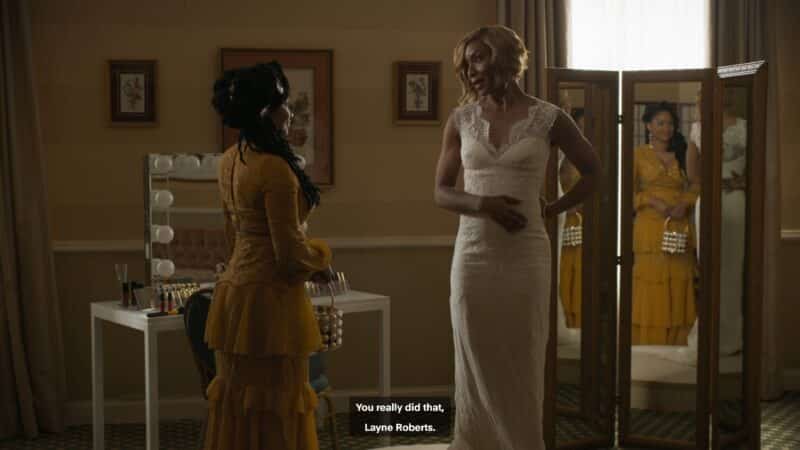 In the season, Deon's mother, Connie, gets married to an old friend named Julius, and rather than their inclusion be a minor thing, just to get on Deon's nerves or pressure the ladies to think of their futures, Connie and Julius have a real storyline. One which introduces Connie's friends, further establishes who she is beyond being Deon's mom, and even Julius, while mostly around Deon or Connie, becomes a memorable character in his own right.
But, what we love isn't just how established they become but also just seeing older Black folk living their lives beyond what their children need them for. Unfortunately, whether men or women, older Black characters often are relegated to giving advice or being abusive figures. Rarely do they get to fall in love, have a love that still has passion in it, and be funny unless the joke is about them being old and wild. So Connie, Julius, and their friends getting to be so much more than that; it only makes you hope more Black networks give people outside of their 20s and 30s the spotlight.
Shoshana Was A Surprisingly Good Addition
Tori Spelling may seem like a very strange addition to the cast, even if just for the season, but she strangely fits right in. Granted, she has minimal interactions with most of the cast. Then, with the few she does get to know, like Deon, it includes her introducing a friend looking for some BBC – and I don't mean the British network. However, outside of that odd situation, when it comes to her inclusion and relationship with Vince, her becoming a real part of the show doesn't seem bad.
Heck, even with meeting her family and seeing she has a type – as much as it inspired the need to question if it is fetishization or preference, there is rarely a moment you roll your eyes when she shows up. Well, beyond the first time when you don't know where the situation was going.
Getting To Know Vince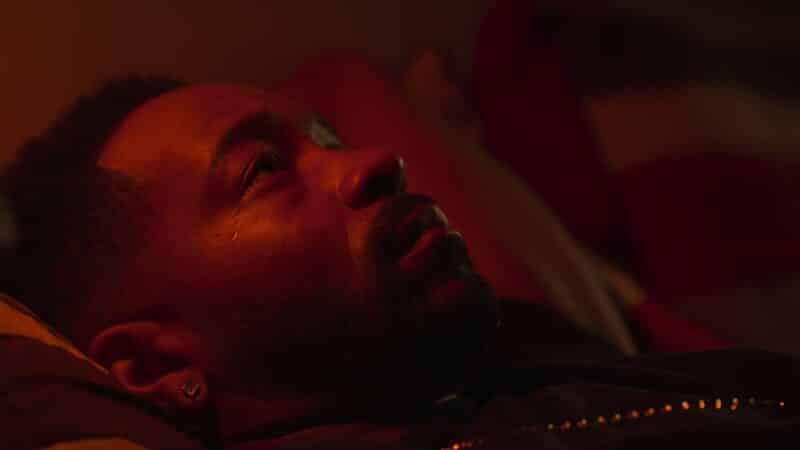 Partly due to Shoshana, Vince gets to step out of Layne's shadow and even beyond being a DJ as they talk about his side of the family, including meeting his mother and older brother as well. Which isn't presented to fans in a rushed way, that lacks meaning. Rather, it I the type of episode that allows Tristen J. Winger to flex his acting chops beyond comedy, and you may even find yourself misty-eyed at the end of episode 8.
Low Points
Wanting More From Layne-Lite & More For Liberty
Do you know what's disrespectful? When a character is introduced as "Layne-Lite," when they don't look or act anything like Layne. But what makes it worse is they don't make her some rebound that Deon messed with and give us no reason to care about them. No. Instead, they build up Layne walking in on her and Deon, show a cute date between Deon and Layne-Lite, and then make it clear it was a one-night stand that could have been more, but he blew it. And perhaps the reason I'm so mad is Alexa Rachelle Jennings made a good match for Deon and is adorable, so tossing away an actor who has good chemistry with a series regular? It makes you mad.
However, the most disappointing thing about the season is Liberty firmly remained comic relief. We didn't get to meet her people, her life outside of working at Layne's shop – nothing! Which, with us seeing Vince's life, kind of sucks since really that's all we wanted. Just one episode which fully establishes who Liberty is outside of what she does for Layne. But I guess we'll have to wait until season 3 to hope Layne gets to evolve beyond the urban Asian girl.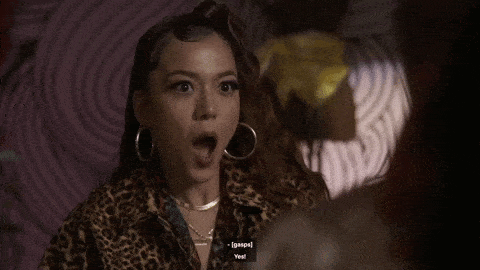 On The Fence
Not Much Done With Greg
The reason Greg isn't mentioned until now is that Greg is barely in the season. All we know is he is living his best life at the strip club and is mid-key, on the way to high-key, a hot mess. But with 0 sign of him and Layne getting back together and no friendship between him, Deon, or Vince? He pops up, but it pretty much seems like he is on his way out of the show.
Deon's Storyline
Outside of Vince, I'd submit the storylines for the men were bleh. Greg had nothing going on, Ken and Aaron were just accessories to make their partner's storylines pop a bit more, and Deon? Between his weird situation with Layne and his momma getting married? Alongside issues finding a job he wanted? This review is being written nearly three months after this premiered, and I can firmly say Deon has left a minimal impact on season 2.
Take note: I know what his storyline was, but while Layne's had the anxiety, dealing with success, and getting bigger quicker than expected, what did Deon have? Veronica was trying to figure if she wanted the proverbial husband, kids, and big house setup, alongside the modern-day bossed-up woman motif. Heck, even with Tracey back into reality show mode, rekindling with Aaron, and seeing where she went wrong in the past? Damn near every character, including Vince, had a compelling storyline that was either relatable or moved things forward for them.
Deon, on the other hand? Even with getting a job and how he ends things with Layne? While the show itself didn't experience a sophomore slump, his character did.
Overall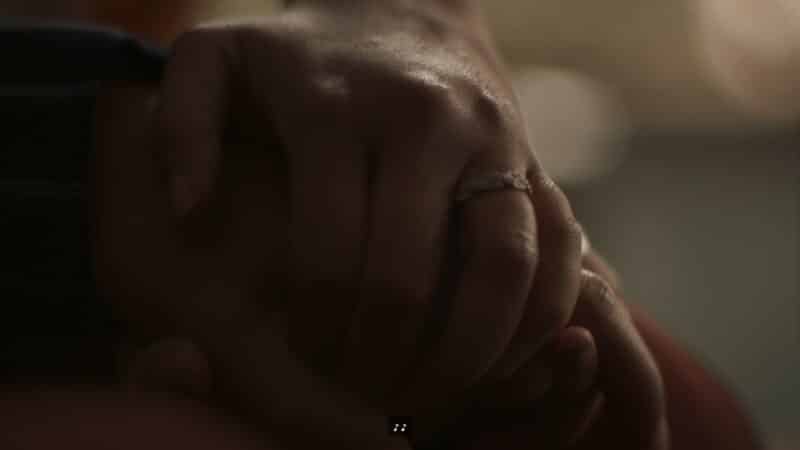 Just making the cut, Bigger season 2 shines when it comes to most of the ladies on the show and Vince, but for the men? Especially Deon? While almost everything goes right, when it goes wrong, with him, it is by no means as bad as I am perhaps making it seem, but it does create a noticeable blemish.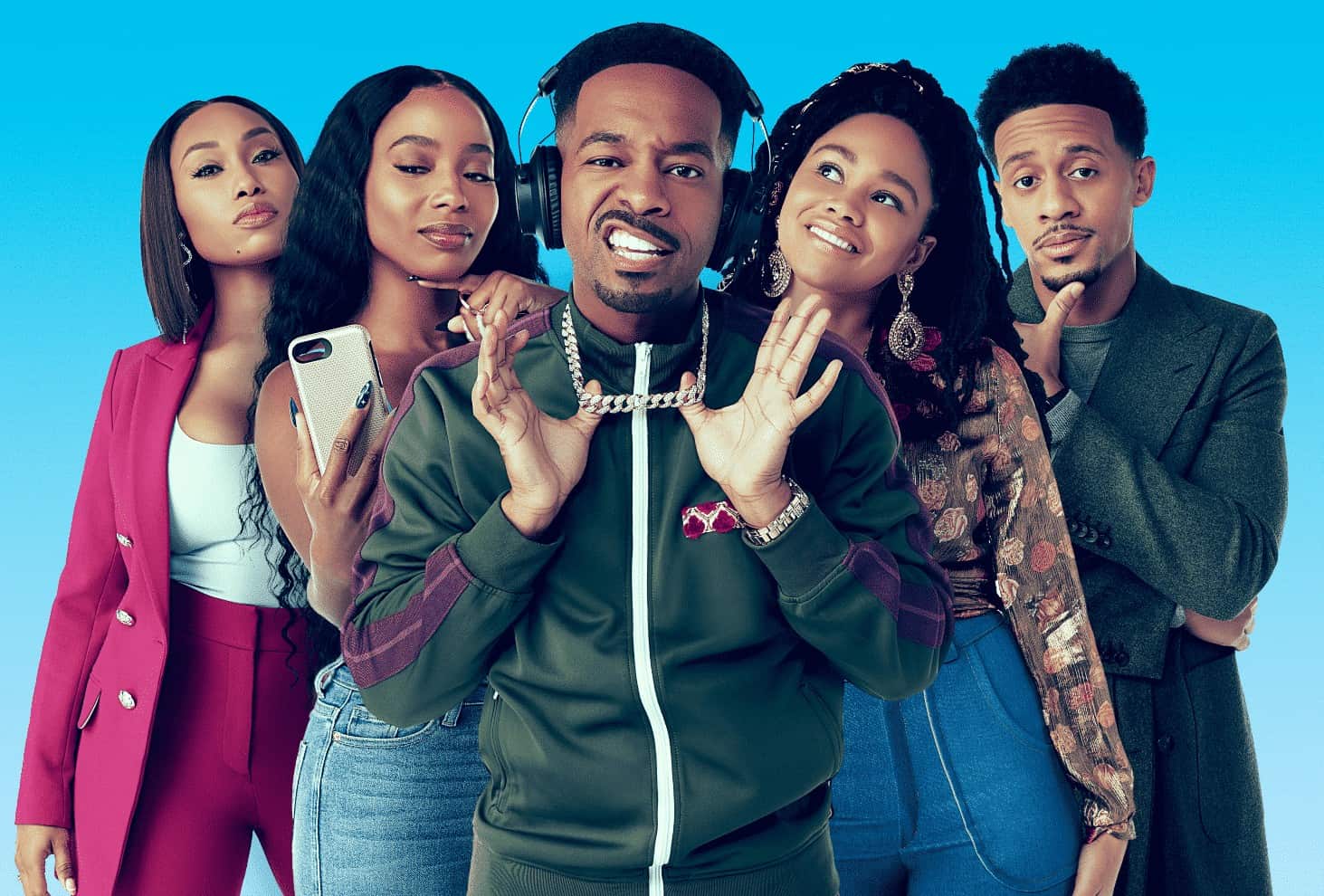 Bigger: Season 2 – Review/ Summary (with Spoilers)
Who Is This For?
Fans of Bigger season 1 who won't mind that the show steps away from treating "Bigger" in a sexualized sense and instead is about bigger and better things, career-wise or in one's personal life.
Highlights
Getting To Know Vince
Shoshana Was A Surprisingly Good Addition
Inclusion Of Older Black People
Layne, Veronica, and Tracey's Arcs
Disputable
Deon's Storyline
Not Much Done With Greg
Wanting More From Layne-Lite & More For Liberty
---
Follow, Like, and Subscribe
Community Rating: 0.00% (0) - No Community Ratings Submitted (Add Yours Below)