Season 2 of 9-1-1 avoids any sense of a sophomore slump by balancing the 911 drama you love and developing both new and old characters.
---
Network
Fox
Creator(s)
Ryan Murphy, Brad Falchuk, Tim Minear
Genre(s)
Action, Drama
Good If You Like
Seeing First Responders In Crazy Situations

The Occasional Emotional Episode or Scene

Redemption or Life-Changing Stories

Isn't For You If You
Feel That A Show Like This Always Has To Up The Ante
Noted Cast
Bobby
Peter Krause
Hen
Aisha Hinds
Chim
Kenneth Choi
Eddie
Ryan Guzman
Athena
Angela Bassett
Eva
Abby Brammell
Doug
Brian Hallisay
Christopher
Gavin McHugh
Shannon
Devin Kelley
Karen
Tracie Thoms
Buck
Oliver Stark
Ali
Tiffany Dupont
Maddie
Jennifer Love Hewitt
Marty
Joseph Lyle Taylor
Nathaniel
Troy Winbush
Michael
Rockmond Dunbar
Sonia
Skye P. Marshall
Harry
Marcanthonee Jon Reis
May
Corinne Massiah
Images and text in this post may contain affiliate links which, if a purchase is made, we'll earn money or products from the company. Affiliate links and external links include an upward facing, superscript, arrow.
9-1-1 Season 2 Summary
A lot of the season is dedicated to how characters became part of the 118. We see Bobby's journey from the Midwest to LA, Hen, Chim, and a new character named Eddie almost dominates the season, despite being rather new. Also, we witness Athena and Bobby's relationship bloom to the point of prepping for marriage, and we even meet a few parents. Specifically, Athena's, Chim's, and a short appearance from Hen's dad as well.
However, all isn't family coming about and backstories. We also have a healthy dose of drama in Eva once again returning, Buck's sister Maddie dealing with her ex Doug, Eddie and his ex-wife having a back and forth, which affects their young son Christopher, and so much more. More being emergencies like earthquakes, mudslides, helping to deliver pregnant women, and even bombings.
All of which remind you that the work of a first responder is dangerous, that they are likely underpaid, and yet from the 911 operator to the person who is physically there, they provide a service that is truly essential to all.
Highlights
Athena & Hen's Relationship & What They Represent
It's hard to summarize how much these two mean to the show. First and foremost, as the sole first responder women in the field, they show as much as women might be a small segment, Black women specifically, you can succeed in the field, rise in rank, and do the job. But, even outside of being able to do the job, what they also show us a sisterhood. One which you may not expect to be so strong, and authentic, yet it is. For while they have friendships with other people, it is seeing them laughing and how they clicked from the start which makes you feel these characters were written for Black women. Not just to show racism exists, or sexism, but also to show their joy, what they uniquely bring to the table, and also their lives.
I mean, there aren't a huge amount of visible Black lesbian characters who have a prominent role and whose sexuality isn't the basis of their character. Yes, we know Hen is married, to a Black woman, Karen, which is a surprise, but we rarely ever see Karen. She remains established throughout the season, but she isn't there day in and day out.
And then with Athena, while Hen does have a son, with Athena, she shows that you can be fulfilled, and a boss at work, and yet still have a good home life. Her kids, since May isn't suicidal and Harry has nothing going on in his life, are happy, act like they are loved, and also don't speak as if they are neglected or disconnected from Athena. Also, while Michael did come out and since divorced Athena, they didn't leave her single and wanting. She dated in season 1 and then found Bobby. Someone who not only a good guy but a good partner, stepdad, and shows you can find love no matter what age you are, what profession you have, and no matter what outward persona you may exhibit.
Which is another thing – you have to appreciate how both women are three dimensional. Yes, Athena can present aggressive, masculine traits, yet she is still in touch with her feminine side and not ashamed of it. Also, yeah, Hen might be lesbian and isn't often that girly, yet with Athena, when venting, among other things, you get a sense of vulnerability and that wall which has to be up for work coming down. Making these two women seem more fleshed out that not just their peers on this show, but many other women like them on other programs.
Hen's Episode – Episode 9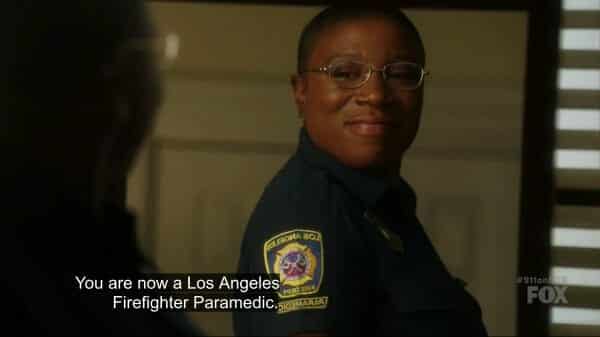 Focusing specifically on Hen for a moment, in episode 9, which focused on her journey to becoming a first responder, honestly what was presented seemed like a pilot. One which could have set up a spin-off with everything centered on Hen, and it was not only a stand out episode, but it presses you to wonder why Aisha Hinds isn't the star? Why isn't she at that Kerry Washington or Viola Davis point where she is the chief, and we check in on everyone else? Because the way she handles each scene, be it dealing with adversity or gaining everyone's respect, it feels almost like a short movie about some figure you never heard of who deserves books, dolls, and should have speaking engagements. If not buildings named after them.
Chim's Backstory – Episode 12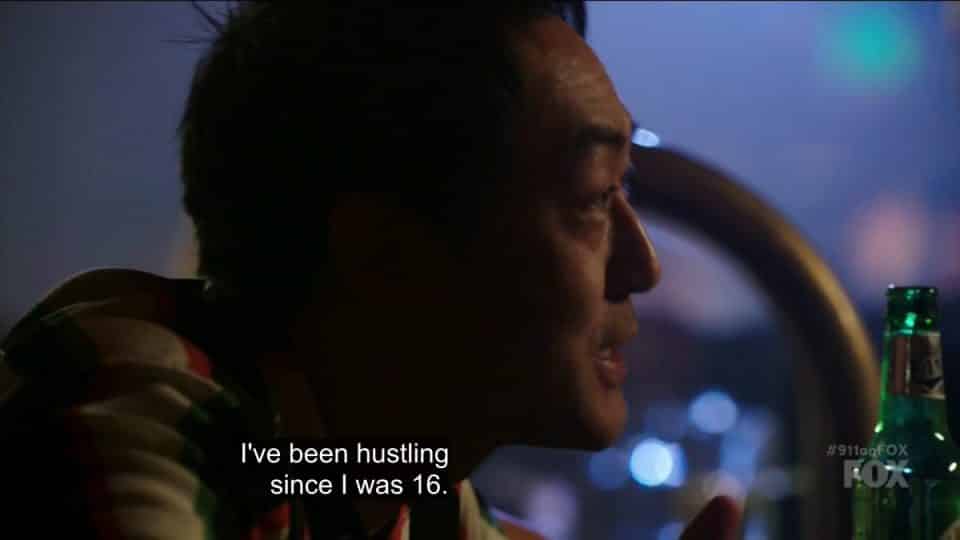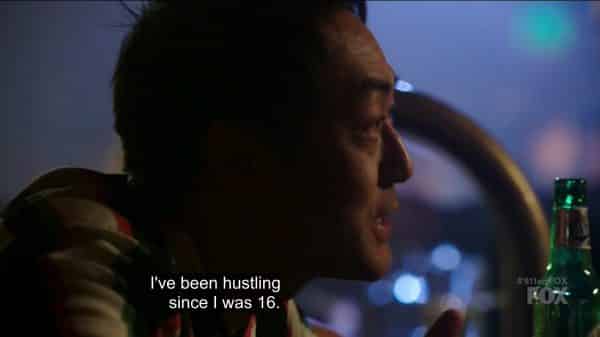 With how much of Eddie's storyline we got to see, it made Hen and Chim still feeling a bit bare while it seemed like we had Eddie's life story a bit frustrating. Making Chim's backstory, which followed Hen's, not on the level in which you could see Chim have his own show, but it made you appreciate him more. Also, it helped explain why he was such a peacekeeper, always up for a family moment, and also craved a sense of closeness. For with his biological family pretty much tossing him aside, and his mom dead, he was raised by another family. One that was also Asian, but there was a clear disconnect when he decided to become a first responder to their son. It isn't heavily focused on, but I think his episode pushes you to understand why he wants something that is his, to feel supported, and validated by friends, co-workers, and a significant other.
The Show Occasionally Reminding You This Program Might Be Entertainment, But It Is Based On People Who Risk Their Lives
While many of the situations the characters were put in, like the earthquake, were clearly for our entertainment, paired with that often was this real sense of danger. Mind you, it never grew to the point you'd think they'd kill off a character for real, but it makes you appreciate people who put their lives in danger. After all, not everyone, for a stranger especially, will run into a burning building, place themselves in a situation where not only would another person die but they may either die with them or have to sacrifice themselves. That isn't normal, or average, human behavior. Yet, on a daily basis, there are people fighting fires, breathing new life into people, and saving others from their worst fear. And this show may not make you wanna go out of your way to thank someone, but definitely be thankful that, even if their budgets aren't what they should be, they still do a job that isn't something just anyone can or would do.
The Fear Which Can Come With Being With Someone Who Is A First Responder
On top of that, you are also forced to recognize the sacrifice and fear of someone being with them. Whether it is Ali, who is dating Buck, Christopher who may see his dad as a hero, but is also the only one who currently is taking care of him full time, and even for the married couples it is complicated. For who needs a hero when who you really want is your mom? And that adds a layer to what we see in that it reminds you these are people, not robots and it means them losing their life doesn't only mean someone not getting saved, it means a massive amount of mourning. All over something that person chose to do and then pair that with everyone knowing and bringing it up, while you may like people recognize the sacrifice, it doesn't take away from the need to question if they, and other parties involved, could have done more.
Letting Abby Go
There was this weird, "Will she or won't she return?" vibe for a good couple of episodes. Which, to me, was one of the best ways to write off a character rather than it just being a matter of fact. Particularly because it wasn't like Abby was just Buck's love interest. She is the one who broke his ho phase, she had a life outside of him, and her absence was felt early on. So easing her out by Buck mourning her leaving and being pressed to move on was not only good for the character but fans of her as an individual and her as Buck's girlfriend.
The Slow Burn of Chim & Maddie
Taking note of Maddie's past with Doug, it made the ebb and flow of her relationship with Chim seem respectful of what she went through. Especially considering the assault they both went through and recognizing Doug was once a nice guy before he became physically and emotionally abusive.
In A Short Amount Of Time, You Understood Maddie's Fear
It's easy to forget Maddie was a relatively new character. Yet, taking note of her fear seen since her introduction and how things were between her and Doug, it gives you a full understanding of her character. Why she felt the need for so much security features in her home. When it came to Chimney, why she was so hesitant despite us seeing him as a nice guy and, ultimately, when it comes to victims of women like Doug, the paranoia involved. After all, until they're dead, they can haunt you and, honestly, even in death, who is to say they still won't be lurking every shadow, whispering about your insecurities, and saying someone will never love you like they do because you aren't worthy?
Episode 15's Bank Robbery
What makes the bank robbery one of the few noted episodic 911 calls is because it had build, twists, and felt like it had effort put into it. Which isn't to say the rest of the episodes don't have compelling cases, but as you watch so many episodes, it is easy to slowly but surely build up a certain tolerance. However, with the bank robbery being done as it was and it having a bit of a multi-episode setup thanks to Marty, it gave us something different than what we were used to.
Cultural Nods
Throughout the season, there were certain nods to the culture of characters ranging from Chim wanting to be represented in the firemen's calendar, to a character named Sonia, in episode 14, representing the Black maternal rate. While this may not seem like a big deal for some, it does present to us that these aren't blank canvas characters. From their ethnicity, to where they grew up, skin tone, sexuality, and more, there are so many things which make Chim who he is, Athena who she is, and Hen who she is. As well as what leads them to address situations in certain ways like how Athena handles Marvin in episode 2.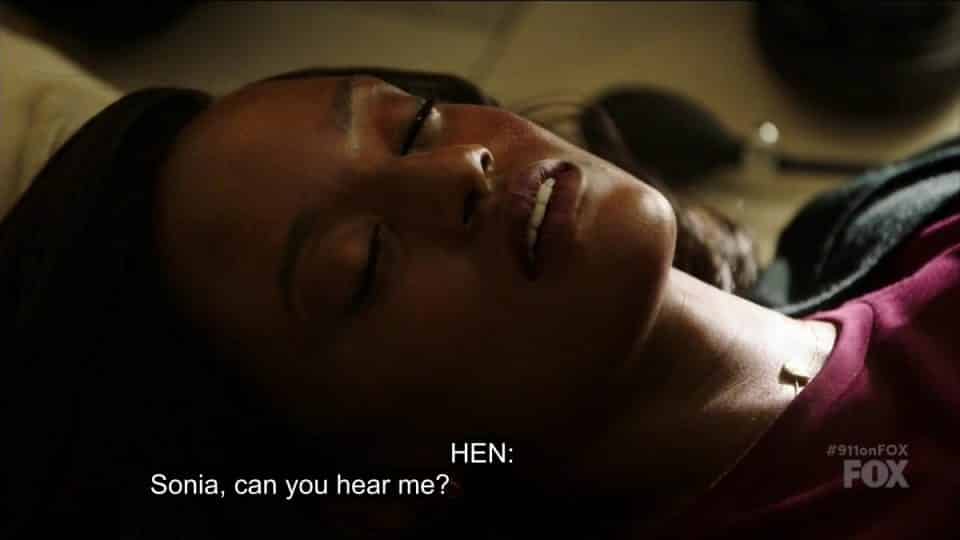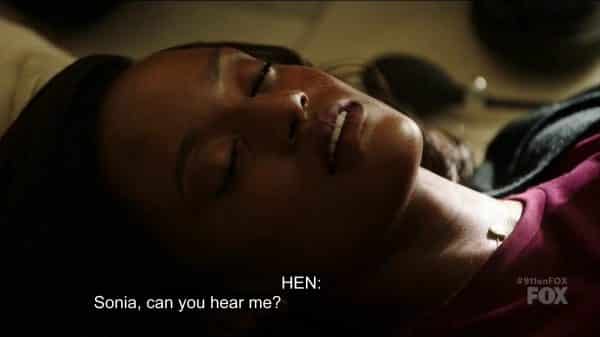 Low Points
What Happened To Nathaniel – Episode 5
Denny, Hen and Karen's adopted son, Eva's biological, becomes a big topic in episode 5 as his biological father appears. However, after episode 5, Nathaniel pretty much is MIA. Which isn't a huge deal, since it isn't like Karen or Denny are frequently seen, yet it felt weird they made it such a big deal and then dropped the storyline.
Chimney Surviving So Much With It Barely, If At All, Affecting His Work – And What That May Mean For Buck
Chimney had a rebar go through his head season 1 and, when assaulted by Doug this season, he ended up with a punctured lung and lacerated stomach. Yet, with how this show is, you'd think nothing has ever happened to him. Which makes you wonder how Buck might be handled with him having part of his leg crushed. Will he too have a miraculous recovery or will they take his injury more serious?
On The Fence
Eddie Making Leaps & Bounds In Development, Before Chim and Hen – Early On In The Season
Eddie came onto the show, and his development was double downed on so much you'd think he was this big snag for the show, and they were trying to make it worth his while. Problem is, with Chim and Hen, at the time, barely getting the same time investment, it seemed weird this new kid's past was developed to the extent it was.
What also didn't help is that Shannon didn't do much for the story, maybe explaining why she got killed off. Then, when it comes to Christopher, like with Shannon's death, it seemed more about sympathy than a quality story. Making Eddie barely saying or doing much for a chunk of the season a welcomed vacation since he was starting to get crammed down our throats.
Buck's Dating Life Suddenly Shutting Down
While Abby was still a question mark, and Eddie was still fairly fresh, it was pushed between those two, and Chim, before Maddie came around, they would be dating. However, as Chim found Maddie, and Eddie and Shannon started seeing one another, Buck's dating life fell off. He did seem to end up with Ali, from the earthquake episode, but she was so rarely seen that, over the months between episode 1 and 18, you could easily forget she existed. Making her appearance seem random since he didn't even mention her in passing – if I recall correctly.
9-1-1's second season rises above being mindless entertainment by touching upon domestic violence and culturally relevant storylines. Also, with taking advantage of its skilled cast members, such as giving Aisha Hinds her own episode, you can see that each character is capable of being the star, but instead this was made into an ensemble. Hence the positive label: While you may eventually find yourself not taking much note of the latest 911 call, the characters more than compensate and make it so there is rarely a dull moment throughout the season. Unless they focus on Eddie's life too long.
Has Another Season Been Confirmed?
Not only another season but also a spin-off.
Follow Wherever I Look on Twitter, Like us on Facebook and Subscribe to the YouTube Channel.
9-1-1 Directory
| Title | Excerpt |
| --- | --- |
| 9-1-1: Season 5 – Summary/ Review (with Spoilers) | 9-1-1 is more of the same, as it delivers daring rescues and a slew of forgettable guest stars. However, more than ever, there is the vibe it wants you to see everyone get their moment in the sun with dedicated episodes. |
| 9-1-1: Season 5/ Episode 18 [Finale] – Recap/ Review | In its season finale, 9-1-1 wraps up a lot of storylines and decides to set things up so, in season 6, things can start fresh and with potentially less drama. |
| 9-1-1: Season 5/ Episode 17 "Hero Complex" – Recap/ Review | Hen and Chim have a major spotlight episode as they investigate whether or not Jonah has a hero complex. |
| 9-1-1: Season 5/ Episode 16 "May Day" – Recap/ Review | On top of being an emotionally charged episode, it is also one which sets up a criminal unlike what we have ever seen on 9-1-1. |
| 9-1-1: Season 5/ Episode 15 "FOMO" – Recap/ Review (with Spoilers) | 9-1-1 tones down the drama a bit and trades it in for mid-life crises and FOMO. |
| 9-1-1: Season 5/ Episode 14 "Dumb Luck" – Recap/ Review (with Spoilers) | Eddie and Lucy struggle with how lucky they may or may not be, as Chim and Maddie have a scare regarding their daughter Jee-Yun. |
| 9-1-1: Season 5/ Episode 13 "Fear-o-Phobia" – Recap/ Review (with Spoilers) | Buck and Maddie make it back to Los Angeles, and alongside all the surprises of what happened in their absence, they have a surprise for everyone as well. |
| 9-1-1: Season 5/ Episode 12 "Boston" – Recap/ Review (with Spoilers) | Chimney makes his way to Boston in hopes of finding Maddie, but has he arrived before she is ready to go back, and will she continue to evade him? |
| 9-1-1: Season 5/ Episode 11 "Outside Looking In" – Recap/ Review (with Spoilers) | In the return of 9-1-1, three months have passed since episode 10, and Bobby is contemplating if it is time to find replacements for Eddie and Buck. |
| 9-1-1: Season 5/ Episode 10 "Wrapped In Red" – Recap/ Review (with Spoilers) | In its winter finale, another character of 9-1-1 seemingly will leave the show for a while – can you guess which one? |
| 9-1-1: Season 5/ Episode 9 "Past Is Prologue" – Recap/ Review (with Spoilers) | Secondary characters get to step into the spotlight as Taylor and Toni, Hen's mother, have their pasts revealed! |
| 9-1-1: Season 5/ Episode 8 "Defend In Place" – Recap/ Review (with Spoilers) | Another character might be taking a break from the show. Can you guess who it is? |
| 9-1-1: Season 5/ Episode 7 "Ghost Stories" – Recap/ Review (with Spoilers) | Taylor, Harry, and Detective Ransome lead the episode as a three-way murder plot brings two together, and Harry finds solace in shared trauma. |
| 9-1-1: Season 5/ Episode 6 "Brawl In Cell Block 9-1-1" – Recap/ Review (with Spoilers) | In one of the most intense episodes of 9-1-1not involving a natural disaster, a prison break happens. |
| 9-1-1: Season 5/ Episode 5 "Peer Pressure" – Recap/ Review (with Spoilers) | As Buck worries about his sister and brother-in-law, he takes his anxiety out on the newbie. Meanwhile, May and Harry bond over the things which are making their lives hard. |
| 9-1-1: Season 5/ Episode 4 "Home and Away" – Recap/ Review (with Spoilers) | As Chim deals with Maddie's exit, Athena is trying to get Harry to open up, a new dispatch is introduced, and Hen makes an honest mistake. |
| 9-1-1: Season 5/ Episode 3 "Desperate Measures" – Recap/ Review (with Spoilers) | While you likely could predict how Harry and Jeffrey's story ends, you may not guess how "Desperate Measures" ends as an episode. |
| 9-1-1: Season 5/ Episode 2 "Desperate Times" – Recap/ Review (with Spoilers) | We're onto day 5 of the LA blackout, and things aren't getting any easier, especially as backup systems fail and Athena learns Jeffrey Hudson is still on the loose. |
| 9-1-1: Season 5/ Episode 1 "Panic" [Premiere] – Recap/ Review (with Spoilers) | As it has done every season, 9-1-1 escalates the stakes by having the city hit with a major cyberattack and the man who attacked Athena on the loose. |
| 9-1-1: Season 4/ Episode 14 [Season Finale] – Recap/ Review (with Spoilers) | As to be expected from 9-1-1, no matter how dangerous things seem, everyone ends up okay. Well, all but one. |
| 9-1-1: Season 4/ Episode 13 – Recap/ Review (with Spoilers) | While storylines about doctor negligence, and Maddie's mental health, and Athena's relationship, dominate the episode, the ending is what truly leaves a grand impression. |
| 9-1-1: Season 4/ Episode 12 – Recap/ Review (with Spoilers) | A writer decides to put Los Angeles into a tizzy over some buried treasure, which causes quite a few 911 calls. |
| 9-1-1: Season 4/ Episode 11 – Recap/ Review (with Spoilers) | In a way, "First Responders" could be seen as a minor "Josh Begins," as we learn why he joined the 9-1-1 responders. |
| 9-1-1: Season 4/ Episode 10 – Recap/ Review (with Spoilers) | Get your favorite tissue brand ready; it's time to shed some tears as we watch some kids say goodbye to their parents and bonding moments that will have you bawling. |
| 9-1-1: Season 4/ Episode 9 – Recap/ Review (with Spoilers) | 9-1-1 is back, and in its return, we meet Maddie and Chim's baby! However, with a life gained, will there be a life lost? |
| 9-1-1: Season 4/ Episode 8 "Breaking Point" [Winter Finale] – Recap/ Review (with Spoilers) | In the winter finale, we're reminded how much the first half of season 4 is about reunification with people that have been absent a long time. |
| 9-1-1: Season 4/ Episode 7 "There Goes the Neighborhood" – Recap/ Review (with Spoilers) | With Buck dating again, and Hen's Mother coming for a visit, we see the beginning of old wounds healing. |
| 9-1-1: Season 4/ Episode 6 "Jinx" – Recap/ Review (with Spoilers) | As Buck evolves into Buck 3.0, Eddie might be evolving too as Christopher's former teacher, Ana Flores, returns to 9-1-1. |
| 9-1-1: Season 4/ Episode 5 "Buck Begins" – Recap/ Review (with Spoilers) | While the Daniel thing remains a bust, exploring Buck and Maddie's relationship, from 1996 to the present, will have you in tears. |
| 9-1-1: Season 4/ Episode 4 "9-1-1, What's Your Grievance?" – Recap/ Review (with Spoilers) | So the secret Maddie is hiding comes out, and, well, it might disappoint you. |
| 9-1-1: Season 4/ Episode 3 "Future Tense" – Recap/ Review (with Spoilers) | Maddie has a family secret, which includes Buck, and Hen finds herself with a lab partner who pushes her buttons and nearly causes her to go off. |
| 9-1-1: Season 4/ Episode 2 "Alone Together" – Recap/ Review (with Spoilers) | In the 2nd part of 9-1-1's season 4 premiere, multiple near-death experiences act as a wake-up call unlike any other rescues before. |
| 9-1-1: Season 4/ Episode 1 "The New Abnormal" – Recap/ Review (with Spoilers) | 9-1-1, as tradition, returns with a dramatic natural event, which this time is a dam breaking, thanks to earthquakes and a landslide! |
| 9-1-1: Season 3 - Review/ Summary with Spoilers | In its 3rd season, "9-1-1" presents minor improvements, but due to being a procedural, which leads to some inconsistency, it often feels like more of the same. |
| 9-1-1: Season 3 Episode 18 "What's Next" [Season Finale] – Recap/ Review with Spoilers | As with the finale of nearly every season of 9-1-1, the ending is a bit shocking – but this time in a good way. |
| 9-1-1: Season 3 Episode 17 "Powerless" – Recap/ Review with Spoilers | While we may not see Abby until the end of the episode, a whole lot happens that makes it clear why they needed the season finale to be two parts. |
| 9-1-1: Season 3 Episode 16 "The One That Got Away" – Recap/ Review (with Spoilers) | While not a Christmas episode, Buck meets the ghost of Christmas future and it shakes him to his core. |
| 9-1-1: Season 3 Episode 15 "Eddie Begins" – Recap/ Review (with Spoilers) | While Eddie has been around for nearly 2 whole seasons, and heavily featured, "Eddie Begins" dives into his backstory father than ever before. |
| 9-1-1: Season 3 Episode 14 "The Taking of Dispatch 9-1-1" – Recap/ Review (with Spoilers) | Similar to the bank robbery episode last season, it's all about the con in the latest episode of 9-1-1. |
| 9-1-1: Season 3 Episode 13 "Pinned" – Recap/ Review (with Spoilers) | As Michael and his family deal with him possibly dying, Chim tries to bring new life to his relationship with Maddie. |
| 9-1-1: Season 3 Episode 12 "Fools" – Recap/ Review (with Spoilers) | As many struggle with the possibility of being alone, Christopher also deals with not being able to do anything like his dad always says he can. |
| 9-1-1: Season 3 Episode 11 "Seize The Day" – Recap/ Review (with Spoilers) | "9-1-1" returns with Chim's younger brother coming to Los Angeles and triggering Chim's childhood trauma. |
| 9-1-1: Season 3, Episode 10 "Christmas Spirit" [Mid-Season Finale] – Recap, Review (with Spoilers) | Like a holiday movie, 9-1-1 mixes in a lot of sweet moments with a bit of darkness that some might see as devastating. |
| 9-1-1: Season 3, Episode 9 "Fallout" – Recap, Review (with Spoilers) | Trauma, and methods of dealing with it, are explored as Eddie, Maddie, and Hen go into therapy to handle their new normal. |
| 9-1-1: Season 3, Episode 8 "Malfunction" – Recap, Review (with Spoilers) | As Karen struggles with getting pregnant, Hen finds her focus off, and this leads to deadly consequences. Also, Eddie's fight career takes a turn. |
| 9-1-1: Season 3, Episode 7 "Athena Begins" – Recap, Review (with Spoilers) | We go deep into Athena's past, to 1989 – 1991 to be exact, and learn of the second major loss that made her become and remain a cop. |
| 9-1-1: Season 3, Episode 6 "Monsters" – Recap, Review (with Spoilers) | It's Halloween on 9-1-1, and you know that means something freaky going down. Though, unlike past seasons, there are less shocks this time around. |
| 9-1-1: Season 3, Episode 5 "Rage" – Recap, Review (with Spoilers) | As Michael experiences DWB, and his kids get the race talk, Buck learns the consequences of his lawsuit. |
| 9-1-1: Season 3, Episode 4 "Triggers" – Recap, Review (with Spoilers) | From Maddie triggered by a domestic call to Chim and Hen taking note of kids they save, and Buck hearing the worst thing imaginable, this episode isn't called "Triggers" for nothing. |
| 9-1-1: Season 3, Episode 3 "Searchers" – Recap, Review (with Spoilers) | The tsunami arc comes to an end, with an explosion, someone losing an arm, and the fate of Christopher. |
| 9-1-1: Season 3, Episode 2 "Sink or Swim" – Recap, Review (with Spoilers) | A tidal wave hits and between the initial wave and the surges which come after, we see more people die this episode than the entire series. |
| 9-1-1: Season 3, Episode 1 "Kids Today" [Seaon Premiere] – Recap, Review (with Spoilers) | Surprisingly, despite being crushed by a fire truck, Buck seems like he may return to work. However, isn't there always a catch? |
| 9-1-1: Season 2 - Summary, Review (with Spoilers) | Season 2 of 9-1-1 avoids any sense of a sophomore slump by balancing the 911 drama you love and developing both new and old characters. |
| 9-1-1: Season 2, Episode 18 "This Life We Choose" [Season Finale] - Recap, Review (with Spoilers) | In the finale, after a bombing spree, many characters find their lives changed forever. One for the worse, many for the better. |
| 9-1-1: Season 2, Episode 17 "Careful What You Wish For" - Recap, Review (with Spoilers) | In the penultimate episode of the season, Eddie returns to prominence as he reevaluates his relationship with Shannon. |
| 9-1-1: Season 2, Episode 16 "Bobby Begins Again" - Recap, Review (with Spoilers) | In order to move forward, you have to the past, and in this episode, we learn what happened between the fire Bobby started and Buck being hired. |
| 9-1-1: Season 2, Episode 15 "Ocean's 9-1-1" - Recap/ Review (with Spoilers) | The team gets framed for a robbery and it leads to not only some of the best writing in a while, but one person's job on the line. |
| 9-1-1: Season 2, Episode 14 "Broken" - Recap, Review (with Spoilers) | Of course, with 9-1-1 taking some time off it means they have to come back with you on the verge of crying to the point being unable to watch. |
| 9-1-1: Season 2, Episode 13 "Fight or Flight" - Recap, Review (with Spoilers) | We journey a bit into Doug and Maddie's history and are left with an ending which ends a chapter in both of their lives. |
| 9-1-1: Season 2, Episode 12 "Chimney Begins" - Recap, Review (with Spoilers) | As Hen did earlier this season, Howard Han aka Chimney, gets his due by having an episode dedicated to his backstory. |
| 9-1-1: Season 2, Episode 11 "New Beginnings" [Mid-Season Premiere] - Recap, Review (with Spoilers) | 9-1-1 returns, and it is like we never left as the drama picks up and kicks things into the next gear. |
| 9-1-1: Season 2/ Episode 10 "Merry Ex-Mas" [Mid-Season Finale] - Recap/ Review (with Spoilers) | While this is a Christmas episode, love is in the air like it is Valentine's day. Though one person with unreciprocated love comes around to ruin things. |
| 9-1-1: Season 2/ Episode 9 "Hen Begins" - Recap/ Review (with Spoilers) | The show decides to hand the reigns to Aisha Hinds and gives us something which almost makes you wonder, "Why wasn't this the show's pilot?" |
| 9-1-1: Season 2/ Episode 8 "Buck, Actually" - Recap/ Review (with Spoilers) | |
| 9-1-1: Season 2/ Episode 7 "Haunted" - Recap/ Recap (with Spoilers) | |
| 9-1-1: Season 2/ Episode 6 "Dosed" - Recap/ Review (with Spoilers) | |
| 9-1-1: Season 2/ Episode 5 "Awful People" - Recap/ Review (with Spoilers) | |
| 9-1-1: Season 2/ Episode 4 "Stuck" - Recap/ Review (with Spoilers) | |
| 9-1-1: Season 2/ Episode 3 "Help Is Not Coming" - Recap/ Review (with Spoilers) | |
| 9-1-1: Season 2/ Episode 2 "7.1" - Recap/ Review (with Spoilers) | |
| 9-1-1: Season 2/ Episode 1 "Under Pressure" [Season Premiere] - Recap/ Review (with Spoilers) | |
| 9-1-1: Season 1 - Recap/ Review (with Spoilers) | |
| 9-1-1: Season 1/ Episode 10 "A Whole New You" [Season Finale] - Recap/ Review (with Spoilers) | |
| 9-1-1: Season 1/ Episode 9 "Trapped" - Recap/ Review (with Spoilers) | |
| 9-1-1: Season 1/ Episode 8 "Karma's a Bitch" - Recap/ Review (with Spoilers) | |
| 9-1-1: Season 1/ Episode 7 "Full Moon (Creepy AF)" - Recap/ Review (with Spoilers) | |
| 9-1-1: Season 1/ Episode 6 "Heartbreaker" - Recap/ Review (with Spoilers) | |
| 9-1-1: Season 1/ Episode 5 "Point of Origin" - Recap/ Review (with Spoilers) | |
| 9-1-1: Season 1/ Episode 4 "Worst Day Ever" - Recap/ Review (with Spoilers) | |
| 9-1-1: Season 1/ Episode 3 "Next of Kin" - Recap/ Review (with Spoilers) | |
| 9-1-1: Season 1/ Episode 2 "Let Go" - Recap/ Review (with Spoilers) | |
| 9-1-1: Season 1/ Episode 1 "Pilot" [Series Premiere] - Recap/ Review (with Spoilers) | |
Buck's Dating Life Suddenly Shutting Down - 71%
Eddie Making Leaps & Bounds In Development, Before Chim and Hen – Early On In The Season - 70%
Chimney Surviving So Much With It Barely, If At All, Affecting His Work – And What That May Mean For Buck - 65%
What Happened To Nathaniel – Episode 5 - 64%
Episode 15's Bank Robbery - 89%
In A Short Amount Of Time, You Understood Maddie's Fear - 91%
The Slow Burn of Chim & Maddie - 88%
The Fear Which Can Come With Being With Someone Who Is A First Responder - 84%
The Show Occasionally Reminding You This Program Might Be Entertainment, But It Is Based On People Who Risk Their Lives - 85%
Chim's Backstory – Episode 12 - 87%
Hen's Episode – Episode 9 - 100%
Athena & Hen's Relationship & What They Represent - 95%