While Aubrey Plaza sometimes seems out of place, especially when paired with Jason Statham, Hugh Grant immensely compensates.
Director(s)
Guy Ritchie
Screenplay By
Guy Ritchie, Ivan Atkinson, Marn Davies
Date Released (In Theaters)
March 3, 2023
Genre(s)
Action, Adventure, Comedy, Thriller
Duration
1 Hour 54 Minutes
Content Rating
Rated R
Noted Cast
Nathan
Cary Elwes
Orson
Jason Statham
Sarah
Aubrey Plaza
TJ
Bugzy Malone
Greg Simmons
Hugh Grant
Danny Francesco
Josh Hartnett
This content contains pertinent spoilers. Also, images and text in this post may contain affiliate links which, if a purchase is made from those sites, we may earn money or products from the company.
Film Summary
When a technological device capable of hacking any system in the world is bound for the black market, Nathan and his team are tasked to use his team to save the world. His team, compromised of the prima Donna spy, Orson Fortune, an American hacker named Sarah, and a multi-talented agent named TJ, travel all around the Mediterranean in search of answers, which leads them to Greg Simmons.
Greg is a known arms dealer, with the type of barriers around him that lead to Nathan's team using the actor Danny Francesco as an in, after blackmailing him. But this case isn't as simple as spying on Greg for answers and stealing the technology he is brokering. With another unit tasked with the job and Greg being a cheeky and charismatic villain, Nathan's team has their work cut out for them.
Things To Note
Why Is "Operation Fortune: Ruse de guerre" Rated R
Dialog: Throughout
Violence: gun violence and blood
Sexual Content: none
Miscellaneous: drinking
Character Descriptions
Please Note: This character guide is not an exhaustive list of every cast member, and character descriptions may contain what can be considered spoilers.
Nathan
Nathan is the leader and owner of a government contractor for spies, who handles situations that, if done the legal way, would go unresolved due to bureaucracy. He can come off easily rattled, but only because his star player can be quite destructive.
Orson
Efficient but destructive and expensive, Orson might be Nathan's ace, but he is also his pain in the ass. But, being that Orson has been far more loyal to Nathan than any other agent he has worked with, Nathan accommodates Orson's eccentricities the best he can.
Sarah
A new member of Nathan's team, poached from a rival, Sarah is a sarcastic American whose primary task is hacking.
Tj
The youngest member of Nathan's team is Orson's backup, who primarily does reconnaissance support, but will get close and personal if the situation calls for it.
Greg
Greg is a world-renowned arm's dealer who is an eccentric and charismatic billionaire.
Danny
Danny is an action star with decades of notoriety.
Review
---
Community Rating:
---
Our Rating: Positive (Worth Seeing)
Notable Performances or Moments
Hugh Grant as Greg Simmons
Hugh Grant keeps you engaged while the film finds its feet. For while you can see Plaza's humor is supposed to be a selling point, mixed with Statham's credentials as an action hero star, who could be her straight man, that doesn't end up working.
Luckily, Grant, as Greg, is a big enough personality, who seems like an evil uncle to Austin Powers. He also gives Plaza someone to play off of, and combined with Danny? Grant quickly pushes himself to an invaluable member of the cast who, in between Statham doing what he does best, keeps the film interesting.
On The Fence
It's A Wood Burning Film
In the beginning, "Operation Fortune" is rough. There is a lack of chemistry between heroes, the whole aspect of Nathan's group competing with a rival adds little to the story, and while the action scenes are decent, they are far from awe-inspiring.
But, as time goes on, it gets better. As noted above, Hugh Grant gives a notable injection to the movie and becomes the star of which all actors can find warmth. Then, a lot of what once seemed like liabilities or ill-matched actors come together. Sarah may still be an odd placement in the film, but you grow to appreciate her being the lively one in an overly serious group. Orson, dry as he is, is still Jason Statham, and seeing him fight and kill people is entertaining.
So while the film doesn't hit the ground running, once it warms up, it gets good.
How Out Of Place Aubrey Plaza Feels (Partly Thanks To Jason Statham)
Plaza and Statham have no chemistry, and more often than not, she feels awkwardly jammed into the film, especially early on. I'd even say your love or hate for Plaza's style of comedy could decide how much you may enjoy the film's early parts.
For with every time Orson doesn't play with her or be her straight man but rather gives her nothing, it makes her come off annoying and not as funny as we know she is. And watching her flounder is difficult to watch.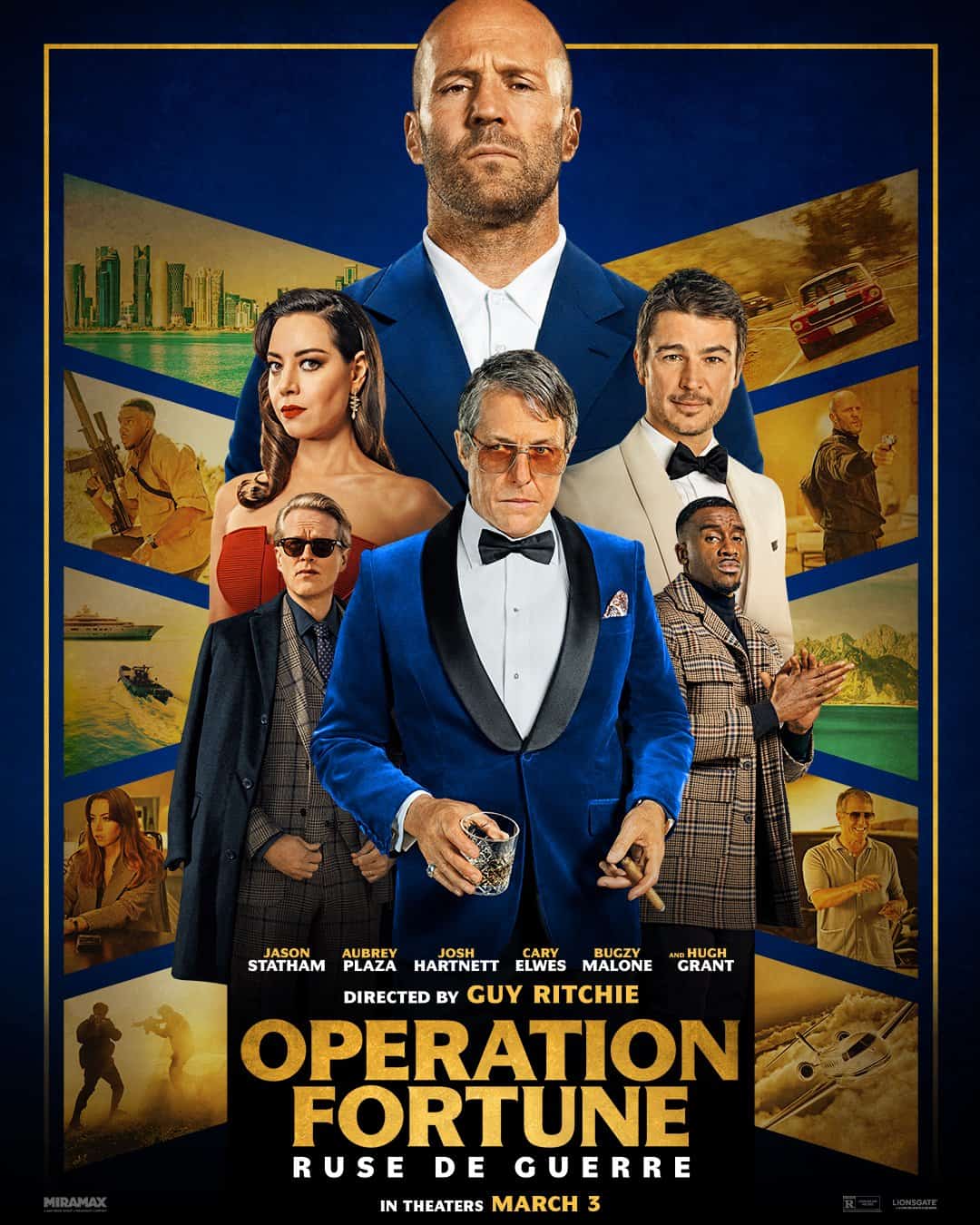 Operation Fortune: Ruse de guerre (2023) – Review/ Summary
Overall
While "Operation Fortune" has a cast that lacks chemistry, after a certain point, the action and Hugh Grant compensates for it immensely.
Highlights
Hugh Grant as Greg Simmons
Disputable
It's A Wood Burning Film
How Out Of Place Aubrey Plaza Feels (Partly Thanks To Jason Statham)