Little Fish (2021) – Review/Summary (with Spoilers)
Little Fish will leave you wondering why all the best romances are constricted by tragedy.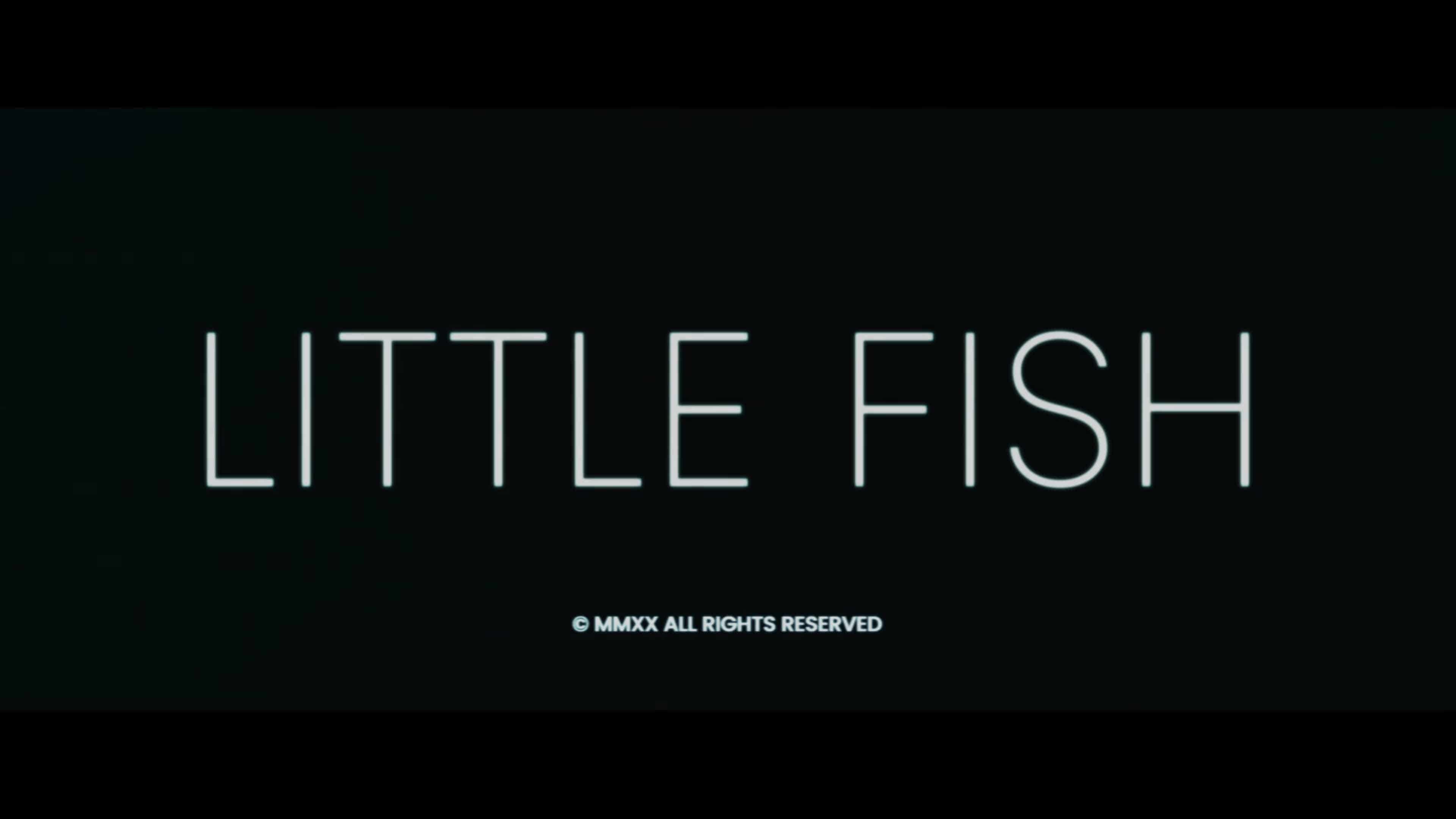 Little Fish will leave you wondering why all the best romances are constricted by tragedy.
---
Director(s)
Chad Hartigan
Screenplay By
Mattson Tomlin
Date Released (Digital Release)
2/5/2021
Genre(s)
Drama, Romance, Young Adult
Duration
1 Hour 41 Minutes
Rating
Unrated
Noted Cast
Emma
Olivia Cooke
Jude
Jack O'Connell
This content contains pertinent spoilers. Also, images and text may contain affiliate links, which, if a purchase is made, we'll earn money or products from the company.
Film Summary
In Emma and Jude's world, a disease known as NIA (Neuroinflammatory Affliction) has led to many in their 20s and beyond losing their memories. For some, it is in an instant, and for others, their memories slowly slip away. As you can imagine, for a couple in their late 20s, recently married, and who have seen the reaction to waking up to a stranger, both Emma and Jude are terrified. Thus, when a clinical trial begins, they hope for the best and prep for the worst.
Things To Note | Question(s) Left Unanswered
Reason(s) for Film Rating: There is cursing and blood.
Jump Scares/ Laughs/ Tear-Jerking Moments: N/A
It's not explained how NIA began infecting the population or how it spreads.
Collected Quote(s) & .Gifs
Cowards like me only text.
— Emma
When your disaster is everyone's disaster, how do you grieve?
— Emma
How to build a future if you keep having to rebuilt the past?
— Emma
Cast & Characters
Please Note: This is not an exhaustive list of every cast member.
Emma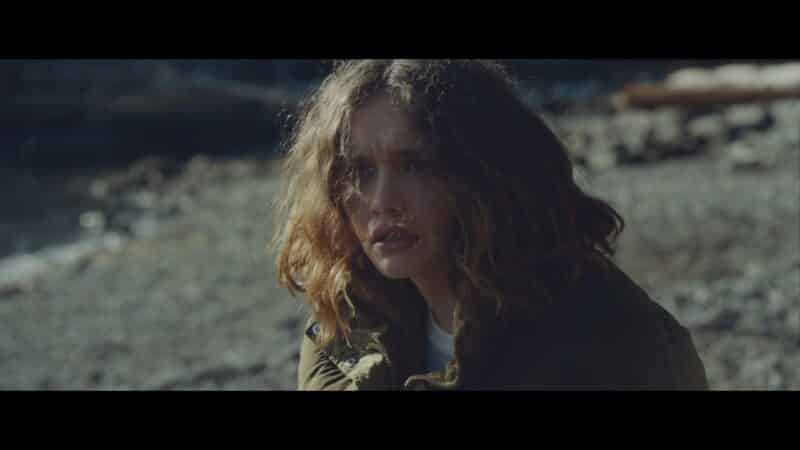 28-year-old Emma is a veterinarian, originally from England, who moved to King County (assumingly in Washington State). There she was just having fun with the Americans, not necessarily looking for love when Jude came into her life and became someone she never wanted to leave.
Jude
Before Emma, Jude was a wild boy. He was a photographer and sound engineer for his friend's band and partook in the drugs they took until he decided to get clean. Years later, he meets Emma, and she becomes his favorite subject to photograph.
Review
---
Community Rating:
---
Highlights
The Intimacy
Despite being unrated, this isn't a film that holds anything sensational or explicit. It really is a love story and focuses on honoring and cherishing your memories with a person. Especially when it isn't clear how much longer you may have the building blocks to your relationship and the other person. And with that in mind, you can almost see, as Jude's memory gets worse, Emma trying to replace the lost memories with new ones just as fast.
For example, in a scene that really drives home how this film wants to solely focus on intimacy more than anything else, there is a bathtub scene between Emma and Jude, which is just about sharing a moment. Jude looks at her legs, ankles, and feet, almost like he is rediscovering her body, and then notices a tattoo. Upon realizing he has a matching tattoo, the pleasure she has in him being shocked he has the same one is adorable.
Leading to this vibe that you're watching something similar to The Notebook, as you see Emma reliving moments, in new ways, with Jude, as well as see the original memory as she remembers it.
Both Leads Get Developed
In the film, there is equal development between female and male characters. This still feels strange for romance films, yet the way things are going, this won't be a highlight anymore. But, since we aren't there yet, we highlight it for Little Fish because it makes you realize what both sides are losing as memories are lost.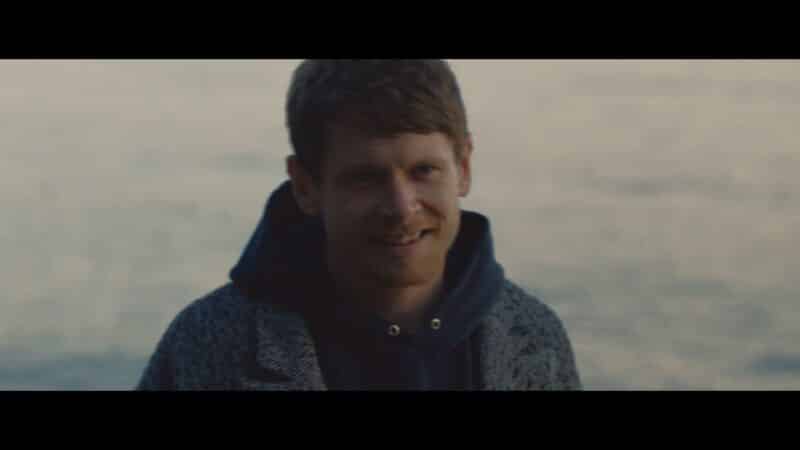 For what you may develop is a sense of envy, for Jude and Emma's relationship is that cute. Granted, it does have issues at times, like her borderline cheating on someone else to be with Jude, but then the old situation is over, and we can go full steam ahead. We can see Emma loves animals but hate the fact she spends more time killing them than treating them. You can also see Jude loving taking shots of his musician friends, Emma, and you feel that, with photography being his core, it might be the one thing he doesn't forget.
And as those memories slip, you start to become as desperate as Emma. For with you both invested in her and her relationship, you are torn between hoping she stays and weathers the storm as feel that maybe she should just cherish the memories she has, and perhaps take some time to heal and love someone else?
Overall
Rating: Positive (Worth Seeing) – Recommended
While we are missing the detail on how NIA began and why so many were inflicted, it doesn't take away from the core relationship that gets you heavily invested. For with Cooke being the queen of the intriguing romantic lead and O'Connell still having that charm that has made him one of Skins' greatest breakouts, this is definitely worth seeing and a film we recommend.
[amazon box=" B08VJ2J773, B000YMFCS4, B0040GSFVQ"]
[ninja_tables id="46802″]
Little Fish Ending (Spoilers)
The reason Emma keeps saying she was sad the day she met Jude may not have been due to having to put another dog to sleep. In how Little Fish ends, it is implied Emma is at the beginning of losing her memories, and despite a fight with Jude moments ago, she has forgotten him and even their dog Blue. And with her flipping out due to Jude forgetting her, he goes for help, thinking she is crazy. Yet, it seems no sooner than he walks away, he forgets her again.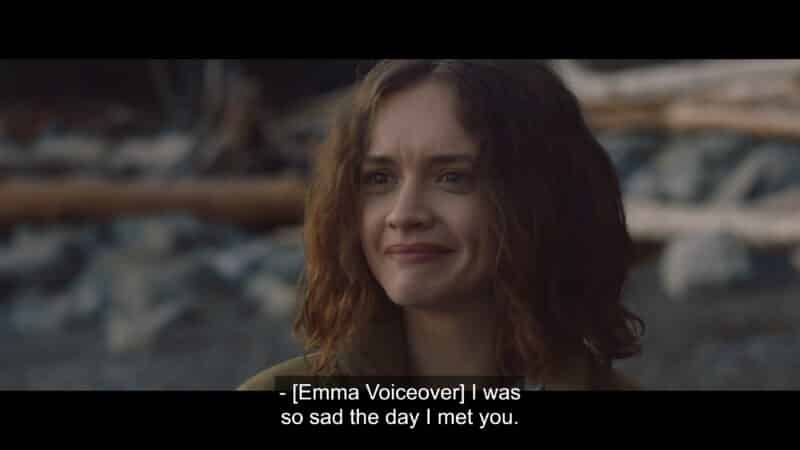 Now, based on how the film begins, you're led to believe the beginning of the film is right after how the movie ends. So when you see Emma on the beach, looking up, exasperated, maybe confused, and then Blue walks up, this is after Jude has forgotten Emma, and Emma has forgotten Blue and Jude. Yet, to prove their love is so powerful even a neurological disease can't end their relationship, he follows Blue to Emma, and while their old memories might be long gone, an eternal interest remains to make new ones.
Does Little Fish Have Prequel/ Sequel Potential?
With Little Fish covering the whole relationship, could it get a sequel? Yes, but how many times would you want to watch Emma and Jude fall in love and then forget one another? Never mind it isn't just faces, names, and shared memories you forget, people forget how to drive, fly planes, and sometimes get stuck in what they're doing for they forgot how to stop. So Little Fish ends at the point where things are about to become a tragedy when you think of it. Even if there is the possibility for a cure.
Summary
---
Community Rating:
---
The Intimacy - 87%
Both Leads Get Developed - 85%
with Cooke being the queen of the intriguing romantic lead and O'Connell still having that charm that has made him one of Skins' greatest breakouts, this is definitely worth seeing and a film we recommend.
---
Follow, Like, and Subscribe
Community Rating: 0.00% (0) - No Community Ratings Submitted (Add Yours Below)