"Darby and The Dead," being yet another teen movie focused on the outcast who, with a makeover, becomes popular, sidesteps what could have made it interesting.
Director(s)
Silas Howard
Screenplay By
Becca Greene
Based On
A Story By Wenonah Wilms
Date Released (Hulu)
12/2/2022
Genre(s)
Comedy, Fantasy, Young Adult
Duration
1 Hour and 40 Minutes
Content Rating
PG-13
Noted Cast
Darby
Riele Downs
Gary
Tony Danza
Alex
Chosen Jacobs
Capri
Auli'i Cravalho
James
Asher Angel
Ben
Derek Luke
This content contains pertinent spoilers. Also, images and text in this post may contain affiliate links which, if a purchase is made from those sites, we may earn money or products from the company.
Film Summary
Since her mom's death, when she nearly drowned as well, Darby has been able to communicate with dead people and, as a teenager, has taken it upon herself to help them crossover. It isn't a business she does for money or karma, but seemingly to have some friends. Gary, for example, is one of the few, if only, people she actively has conversations with until a boy named Alex joins Darby's school. Then, following him, after a freak accident, Darby's childhood friend and now semi-nemesis, Capri, dies. Then, because of Gary, who seems to direct everyone Darby's way, she learns about Darby's power and coerces her to throw her 17th birthday party, or else, with her otherworldly powers, she will make Darby's life a living hell.
But how is an outcast supposed to not only throw the kind of party that Capri wants but get all her friends and nearly the entire school to come? By becoming popular. Thus, with Capri's knowledge of local culture, she turns Darby's low-key Fefe Dobson style into something people can appreciate and love. Also, by fine-tuning Darby's personality, she plans to, in a month, make Darby have the social clout to pull off the party of her dreams.
Things To Note
Why Is "Darby and The Dead" Rated TV-14
Dialog: There is cursing throughout, but nothing over the top.
Violence: There are times Capri and Darby want to fight one another, but it doesn't happen
Sexual Content: None
Miscellaneous: Possible underage drinking
Character Descriptions
Please Note: This character guide is not an exhaustive list of every cast member, and character descriptions may contain what can be considered spoilers.
Darby
Darby is a voluntary social outcast. As a kid, in her mom's honor, she was a cheerleader, but in time she distanced herself from that, doubling down on talking with the dead over trying to interact or understand the living, and she seems okay. Certainly not happy, but okay.
You May Also Know The Actor From Being: Charlotte Page in "Henry Danger" and Faith in "The Best Man Holiday"
Gary
Gary is what Darby calls a "Stayer." Mind you, it isn't because Gary is afraid of what's to come or anything like that, but more so, he is waiting for his wife to die so they can cross over together.
You May Also Know The Actor From Being: Tony in "Who's The Boss," Tony in "Taxi," and Jon Sr. in "Don Jon."
Alex
Fresh from a Montessori school and a bit overwhelmed by public school, the principal assigns Alex to shadow Darby, and while she originally isn't into the idea and thinks she isn't the best person to acclimate Alex, the two grow close. Mainly since he is as weird as she is.
You May Also Know The Actor From Being: Frankie in "Purple Hearts," El in "Sneakerella," and Young Mike in "IT (2017)" and "IT Chapter Two (2019)"
Capri
While Darby abandoned cheerleading, Capri didn't. She made her empire from hard work and dedication and became the head cheerleader. This led to her having a mixed reputation when you consider her public persona and how people talked about her in mixed company vs. how they spoke of her in private.
You May Also Know The Actor From Being: Moana in "Moana," Jos Cleary-Lopez in "The Power," and AJ Campos in "Crush"
James
James is Capri's boyfriend, who everyone says is very co-dependent, and in Darby's mind, the only reason Capri dated him was because he was on television, specifically a failed audition for "The Voice." However, in death, it seems she really liked, maybe even loved him.
You May Also Know The Actor From Being: Jonah Beck in "Andi Mack" and Billy Bason in "Shazam!"
Ben
Ben is Darby's father who does his best to be present, open, and there for her but being that Darby doesn't want to address anything dealing with her mom and seems to find protection in being distant, the two are cordial, but not as close as Ben would want.
You May Also Know The Actor From Being: Antwone Fisher in "Antwone Fisher," Chuck Bell in "The Crossover (2023)," and Kevin Porter in "13 Reasons Why"
Review
Our Rating: Mixed (Divisive) 
Highlights
At Times, It's Easy To Get Emotional Over The Story
Like many films, the heart of "Darby and The Dead" is rushed through a bit to present something comedic. Darby and her mom almost died simultaneously, but Darby was rescued, and it left a bit of a cloud over her head. Add in, despite being able to see the dead, she never saw her mom, and you can see one of the motivators for her helping, every Friday night, those who haven't passed, is in the hope maybe her mom will hear about her and show up.
On top of that, there are moments when we get to see behind the curtain when it comes to Capri. As she talks about the disparaging things her mom would say about her, you're reminded that sometimes the best comedy is to mask pain and trauma. For your own mother pushing the idea that your looks are to compensate for your lack of intelligence is hard to hear, especially since we're told Capri isn't dumb, so Capri's mom was being an ass just because.
Alex & Darby Are Cute
Two weirdos finding each other is always a cute thing to see. Especially when the actors have a natural chemistry versus it being two hot people or a dynamic that takes most of the movie to build. With Alex and Darby, you can see that it could work between a friendship or relationship, and it makes having to wait until both are ready to open up hard but worth it.
On The Fence
Breaking The Fourth Wall
In our mind, breaking the fourth wall should offer insight, a funny joke, or something meaningful. "Darby and the Dead" doesn't provide that. Darby talking to us, like we're someone dead, is odd, and she never says anything worth noting. Her commentary on people doesn't add any layers to them. What Darby says about her school or life doesn't leave you with a quote or something that stays with you. It's just an odd narrative choice.
Often, A Run Of The Mill Teen Movie
From the use of the term "woke," the cliques, and the focus on partying and social media followers, "Darby and The Dead" doesn't present anything new, notable, or interesting to the teen movie subgenre. Yes, it has a girl seeing the dead, in a light-hearted way and a notable father figure in Tony Danza's Gary, despite Darby's dad, Ben, being very much alive.
Also, there is some very minor exploration into James, Capri's boyfriend, regarding grief, co-dependency, and things like that. But, like many teen comedies, because of the pursuit of jokes, what is real and what could make this film notable is sequestered in moments that get drowned out by the mediocre or forgettable.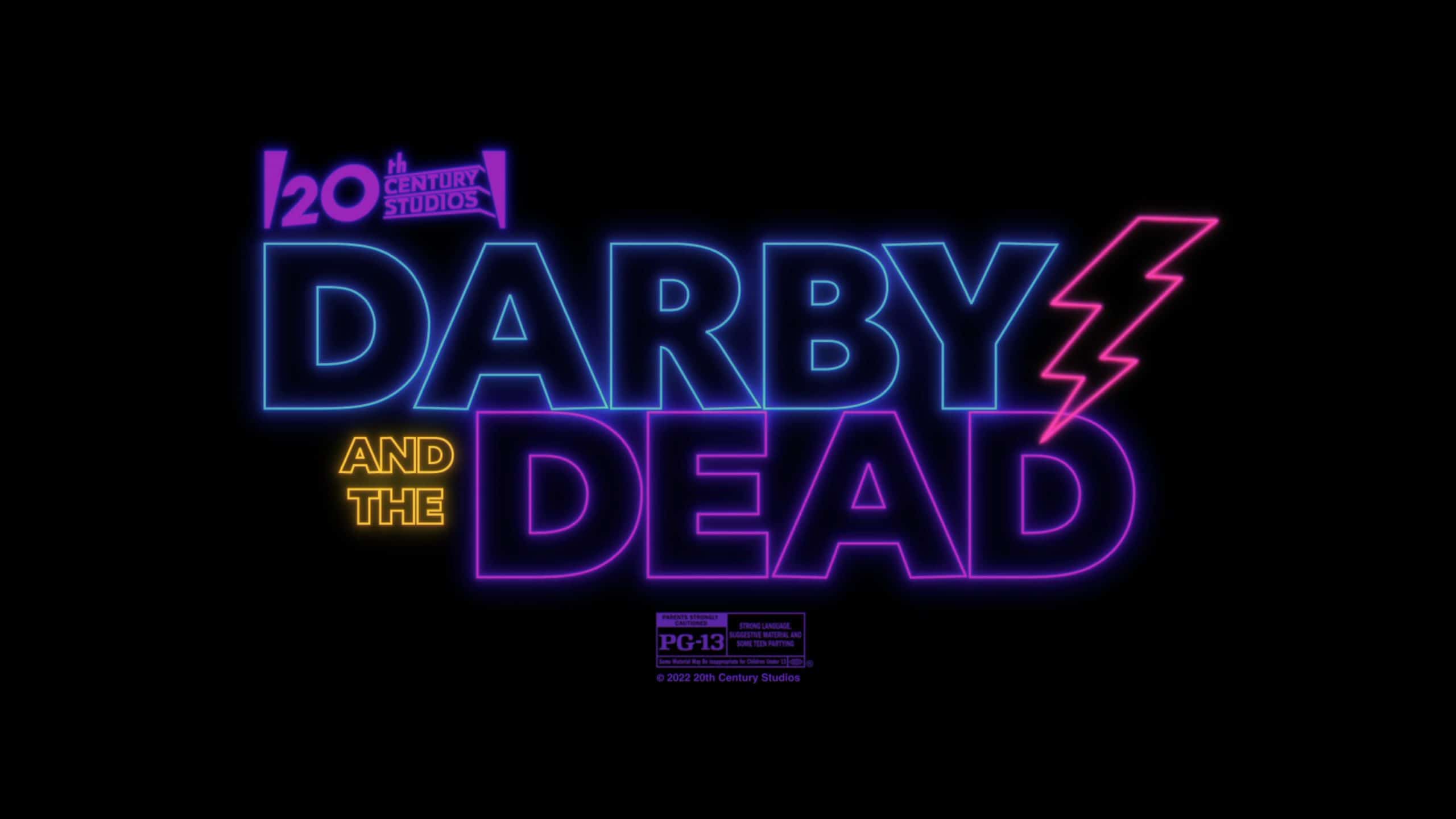 Darby And The Dead (2022) – Review/ Summary (with Spoilers)
Overall
"Darby and The Dead" focuses on being yet another teen comedy, with a sprinkle of dramatic moments, leading to it leaving what could have made it stand out and be good aside.
Highlights
Alex & Darby Are Cute
At Times, It's Easy To Get Emotional Over The Story
Disputable
Often, A Run Of The Mill Teen Movie
Breaking The Fourth Wall