Chaos Walking (2021) – Review/ Summary (with Spoilers)
Chaos Walking doesn't necessarily utilize Daisy Ridley to its best, but Tom Holland, Mads Mikkelsen, and David Oyelowo compensate for that.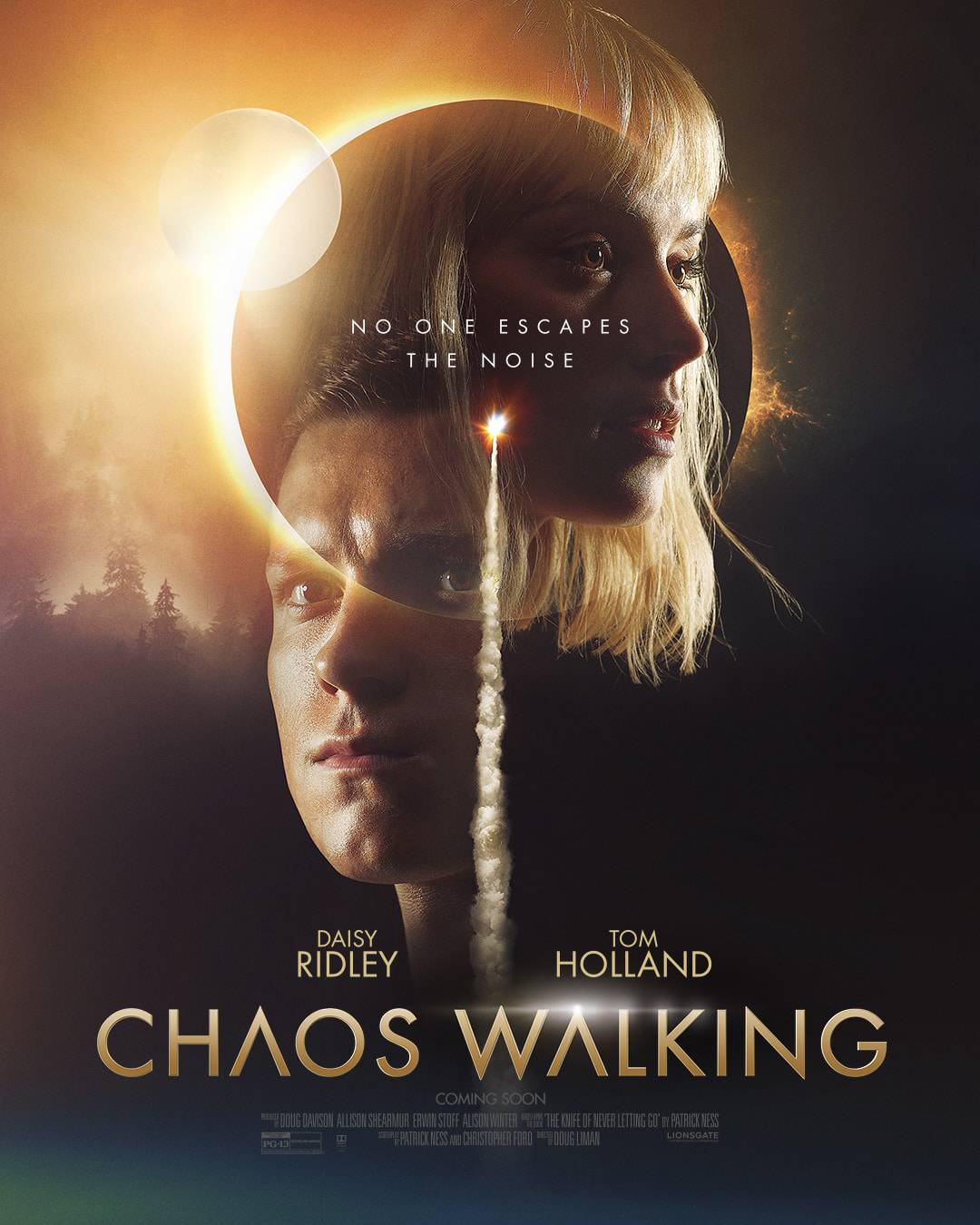 Chaos Walking doesn't necessarily utilize Daisy Ridley to its best, but Tom Holland, Mads Mikkelsen, and David Oyelowo compensate for that.
---
Director(s)
Doug Liman
Screenplay By
Patrick Ness, Christopher Ford
Date Released (Theatrical)
3/5/2021
Genre(s)
Action, Adventure, Comedy, Sci-Fi, Young Adult
Duration
1 Hour, 49 Minutes
Rating
PG-13
Noted Cast
Todd
Tom Holland
Mayor Prentiss
              Mads Mikkelsen
Viola
Daisy Ridley
Aaron
David Oyelowo
This content contains pertinent spoilers. Also, images and text may contain affiliate links, which, if a purchase is made, we'll earn money or products from the company.
Film Summary
For most of Todd's life, he has looked up to Mayor Prentiss and saw him as a war hero. Mainly due to, with the way Mayor Prentiss tells it, the reason no women exist is because the native beings killed them all. However, with a scouting shipping sending people to this new world and the survivor, Viola, landing in Mayor Prentiss' community, Todd begins to learn the truth.
How? Well, considering how Mayor Prentiss handles Viola, alongside a man named Aaron, Todd finds his life upheaved as he is tasked with defending Viola and helping her send a warning to her ship or else die trying.
Things To Note | Question(s) Left Unanswered
Reason(s) for Film Rating: Blood, gun violence, a shot of Tom Holland naked from mid-ass up, and cursing.
Jump Scares/ Laughs/ Tear-Jerking Moments: Listening to Todd's thoughts, especially his thoughts about Viola, are comical.
Review
---
Community Rating:
---
Highlights
Todd & The Quest For Masculinity
As Todd, Holland's focus is often trying to be more manly, hush his thoughts, and also hide his crush on Viola. This combination provides an interesting concept of manhood from in both a negative, positive and sometimes polarizing light. For example, the value of having others hear your thoughts is something most men are used to but is also complicated. Some, like Prentiss, find value in controlling one's own thoughts and that of others. However, Pastor Aaron strongly believes it is feminine and weak to hide's one thoughts.
Why? Well, due to their different value set on communication. For Aaron, expressing yourself, and backing up your thoughts, appears to be the most masculine thing you can do. However, Mayor Prentiss recognizes that the strength in controlling one's thoughts allows you to control others. So as much as a bit of Todd wants to be expressive and is by default, he also tries to drown his thoughts out of fear and general safety.
Yet, it doesn't end there. It's interesting to see Todd treated as a runt, almost less than, despite his brave feats. Also, Todd often talks about being more of a man, yet he exhibits what often are associated with masculine traits.
For instance, when with Viola, he is a protector, a provider, and while never her lover, he does open himself to be someone she can rely on. And when you consider how insecure, frightened, and the mob mentality of most men, it really pushes you to consider how toxic masculinity begins and festers. Especially when weak-minded men allow others to hold a dangerous amount of influence.
How It Unravels The Truth
We won't pretend Chaos Walking presents some grand mystery as to why there are no women in the New World. Never mind, with Viola's ship capable of holding over 4,000 people, and us in the year 2257 AD, why is it there are only a few dozen men in existence? A lot of stuff just doesn't add up, but, as noted, there is a lot of manipulation going on – hence why many, including Todd, cannot read.
However, as the truth comes out, I must admit this is a driving force on what makes the film not seem nearly two hours. That and the performances of Oyelowo and Mikkelsen. Which, together, give us both a certain amount of subtlety, and bravado, that allows there to rarely be a dull moment.
On The Fence
In An Effort To Keep Daisy Ridley From Becoming A Love Interest, She Is Meekly Developed
While you'll care for Todd as a person, when it comes to Viola, your investment in her is someone finally explaining what has happened since humanity started to emigrate from Earth. Be it how she is part of the second wave, and it being a 60 some odd year journey to the new world, and information like that.
As for Viola as an individual? Well, does she kick ass? Yes. However, there is almost this struggle to avoid Viola being Todd's love interest or a generic kick-ass woman to the point that, in fear of her becoming a trope, it's almost like she becomes nothing at all.
Mind you, she is a hero, but while Holland finds a way to bring what you love about him to his character, Ridley isn't able to bring her charm or the level of gumption that made her role in the latest Star Wars trilogy her breakout. Not to say you don't see glimmers of it, as Holland tries to get her to play.
However, between the writer, director, and perhaps Ridley as well, as much as you see Holland is game, it seems plans for Viola were made for her to never be completely there with Todd. Rather, Viola's purpose is to act as a catalyst for the truth to come out and give us an idea of how Todd and his people got to the New World.
The Ending Was Rather Weak
Considering how good the pacing was, it made the way the film ended disappointing. For one, it opened the door for a sequel you can't fathom keeping your attention, and two, the way the main conflicts were resolved makes you roll your eyes since there were handled relatively easily. Almost to the point of making you wonder, were they really threats, or was it all just Todd doubting himself and his lack of trust in Viola that made the threats so formidable?
Because, truly, how easily and fairly quickly the film's villains are handled undercuts their build – immensely.
Overall
Rating: Mixed (Divisive)
What brings Chaos Walking to the cusp between being rated positive and mixed is due to not tapping into Ridley's potential. They allow her to be a slight badass, but never enough to outdo Holland's Todd. And while you can see Ridley and Holland could make interesting love interest, the film decides, with Ridley being one of the few, if not only, female characters seen throughout, they won't give viewers that relationship.
Thus, while Viola has a purpose, she seems more like a tool than a person, no matter what sob story or amount of world-building she provides. Making it so Holland, even with his charm not on high, being the only protagonist who seems perfect in the role they are in. And when you combine Mikkelsen and Oyelowo as threats to Viola and Todd, while Ridley's role might be disappointing, it is more than compensated on multiple fronts.
[amazon box=" B0067NY79O, B074C5233X"]
[ninja_tables id="46802″]
Summary
---
Community Rating:
---
Todd & The Quest For Masculinity - 86%
How It Unravels The Truth - 83%
In An Effort To Keep Daisy Ridley From Becoming A Love Interest, She Is Meekly Developed - 75%
The Ending Was Rather Weak - 73%
While Ridley feels a bit neutered as Viola, Holland, Mikkelsen, and Oyelowo allow Chaos Walking to live up to its potential.