A Madea Homecoming (2022) – Review/ Summary (with Spoilers)
Tyler Perry revives Madea, and while comical, it may make you miss when he was adapting his plays rather than making original Madea movies.
---
Director(s)
Tyler Perry
Screenplay By
Tyler Perry
Date Released
2/25/2022
Where To Watch
Netflix
Genre(s)
Comedy, Drama, Romance, Young Adult, LGBT
Duration
1 Hour 47 Minutes
Content Rating
TV-MA
Noted Cast
Madea & Joe
Tyler Perry
Tim
Brandon Black
Laura
Gabrielle Dennis
Richard
Amani Atkinson
Aunt Bam
Cassi Davis Patton
Cora
Tamela Mann
Mr. Brown
David Mann
Davi
Isha Blaaker
Ellie
Candace Maxwell
Agnes
Brendan O'Carroll
Cathy
Jennifer Gibney
Sylvia
Geneva Maccarone
Film Summary
Madea's Great Grandson Tim is graduating from college and on the path to becoming a lawyer, and so new and familiar faces gather together at her house to celebrate. There is Tim's mother, Laura, his dad Richard, Aunt Bam, Cora, Mr. Brown, Tim's aunt Ellie, who is a cop, Tim's roommate Davi, and of course Joe. Alongside them is Sylvia, Laura's best friend and the person who handled her divorce from Richard, and also Davi's family, aunt Agnes and cousin Cathy. With their eccentric personalities, all of these people are cooped up in one house with Tyler Perry's brand of writing leading to comedy, drama causing mayhem, hard truths to be said, and reconciliation.
Things To Note
Reason(s) for Film Rating: Cursing (Use of the N-word and the usual curse words) and Miscellaneous (gun use)
*You could consider this an adaptation of Madea's Farewell Play due to Laura's storyline. However, Agnes is not in Madea's Farewell Play, Malik (now Tim) only shares a backstory, and multiple characters are cut such as Robin, Titi, and Omar.
Character Descriptions
Please Note: This character guide is not an exhaustive list of every cast member, and character descriptions may contain what can be considered spoilers.
Madea
Everyone's favorite pistol-packing grandma who finds running from the police as part of her cardio routine is back, and pretty much nothing you don't already know about Madea is presented.
Tim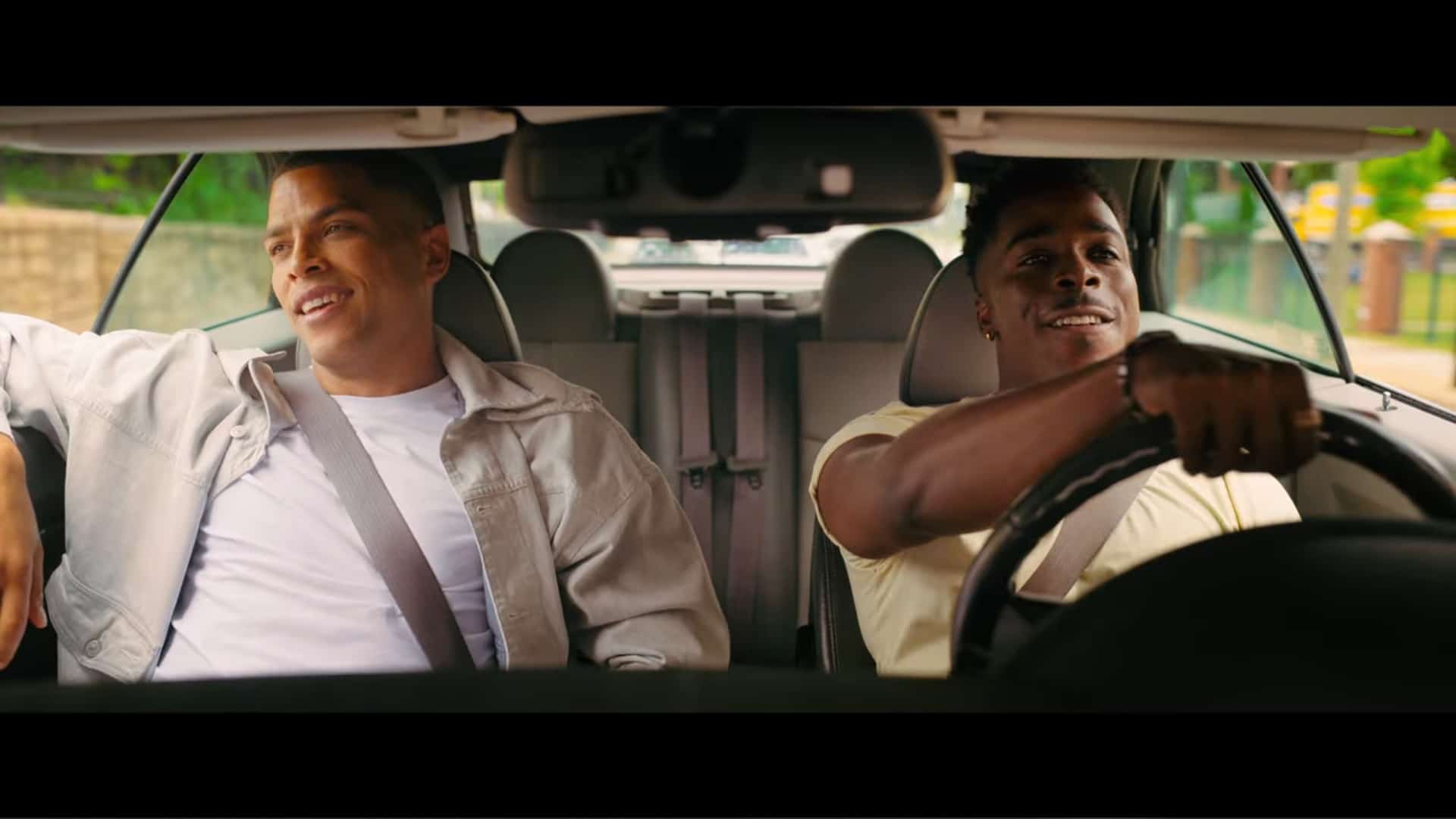 Tim is Laura and Richard's son who just graduated college and is on his way to becoming a lawyer like his uncle Brian, who we don't see in this movie.
Laura
Laura is Tim's mom, who had him when she was a teenager and struggled to raise him due to his daddy not being the co-parent she wanted and needed.
Sylvia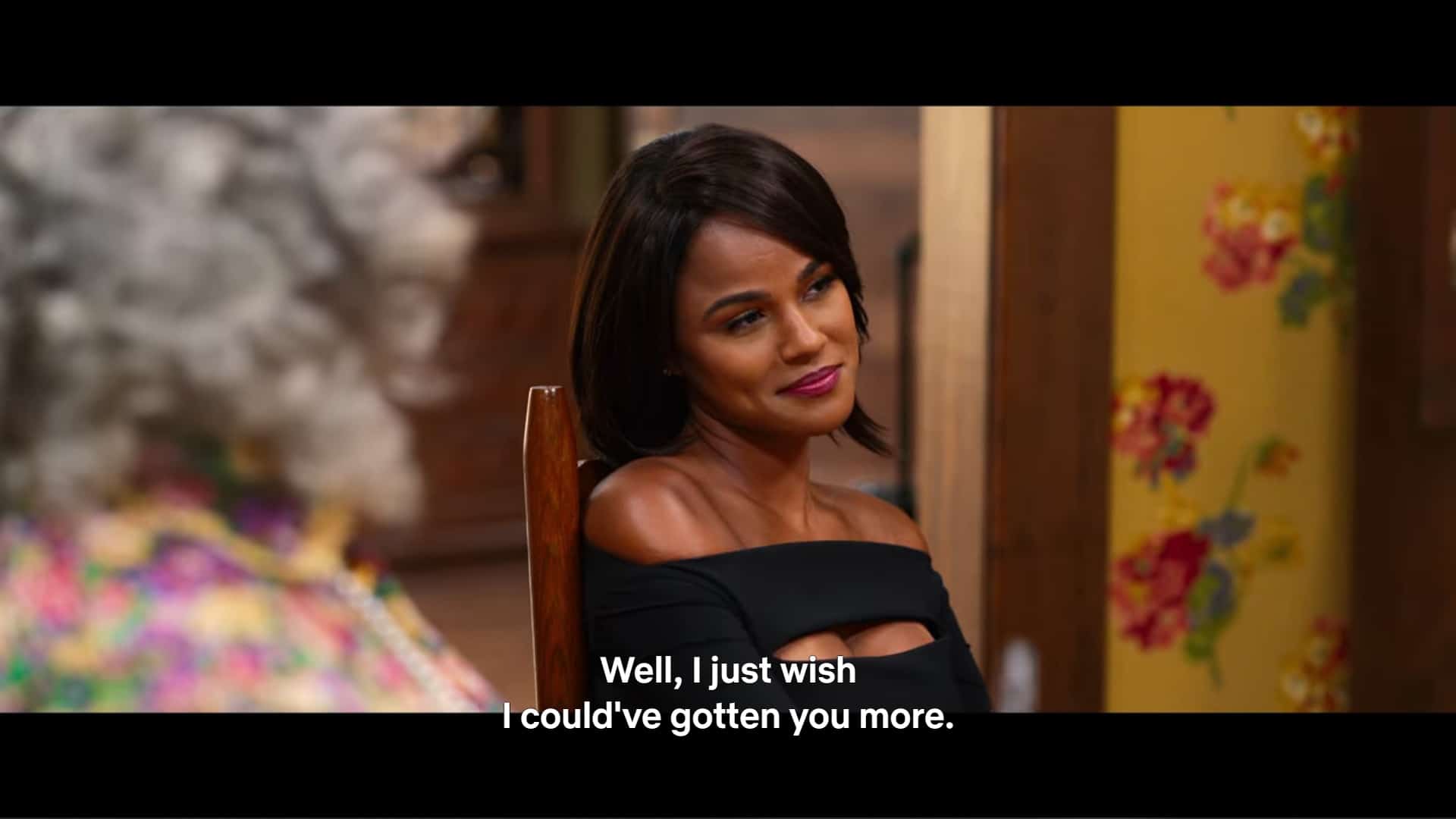 Sylvia was Laura's divorce attorney and is also one of her best friends.
Richard
Richard is Tim's father, who Laura's family despises. However, for the sake of Tim and his special moment, the family tries to tolerate Richard's existence.
Aunt Bam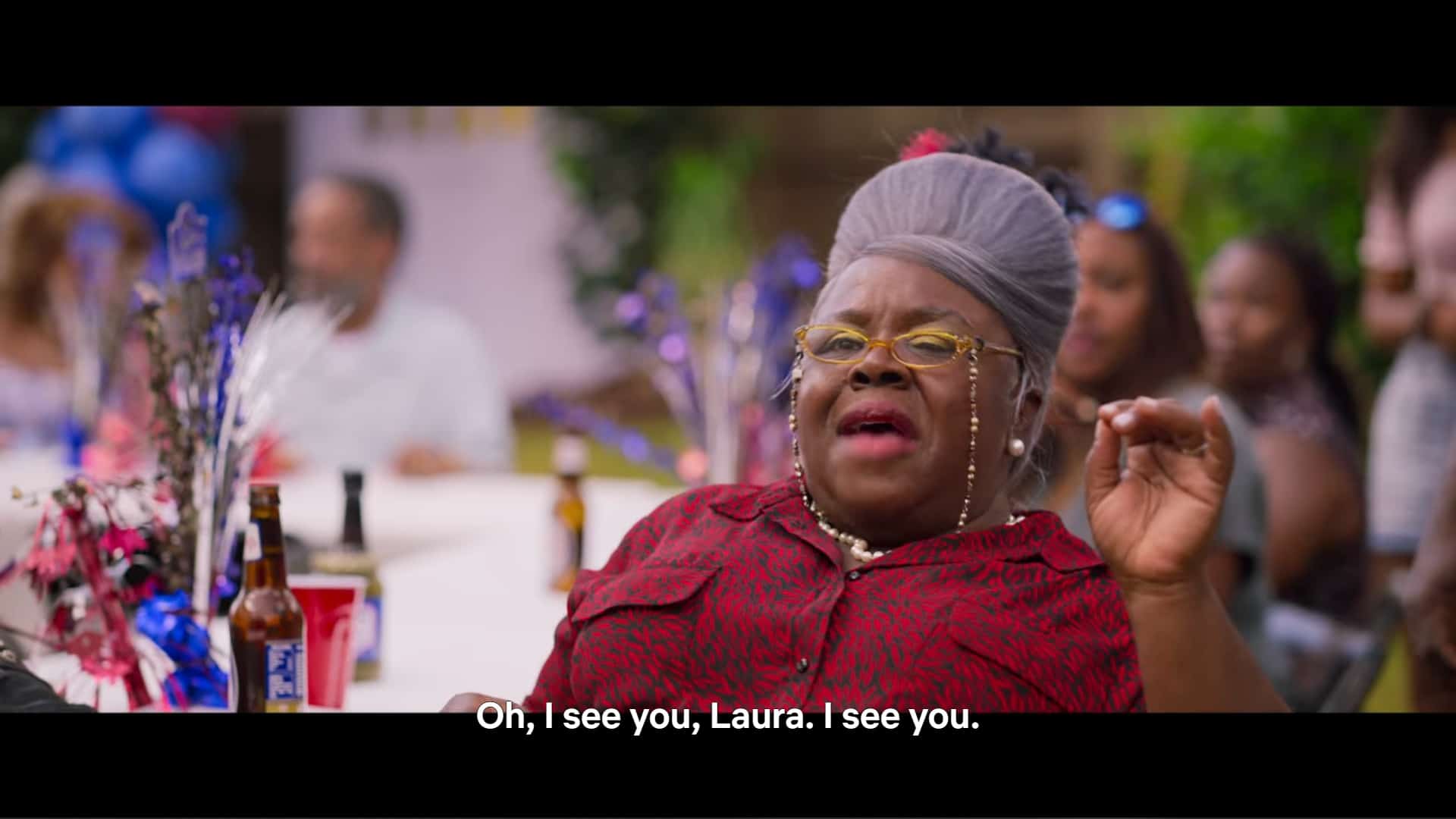 Everyone's favorite frisky old woman is back to flirt, make commentary, and hang out around Madea.
Cora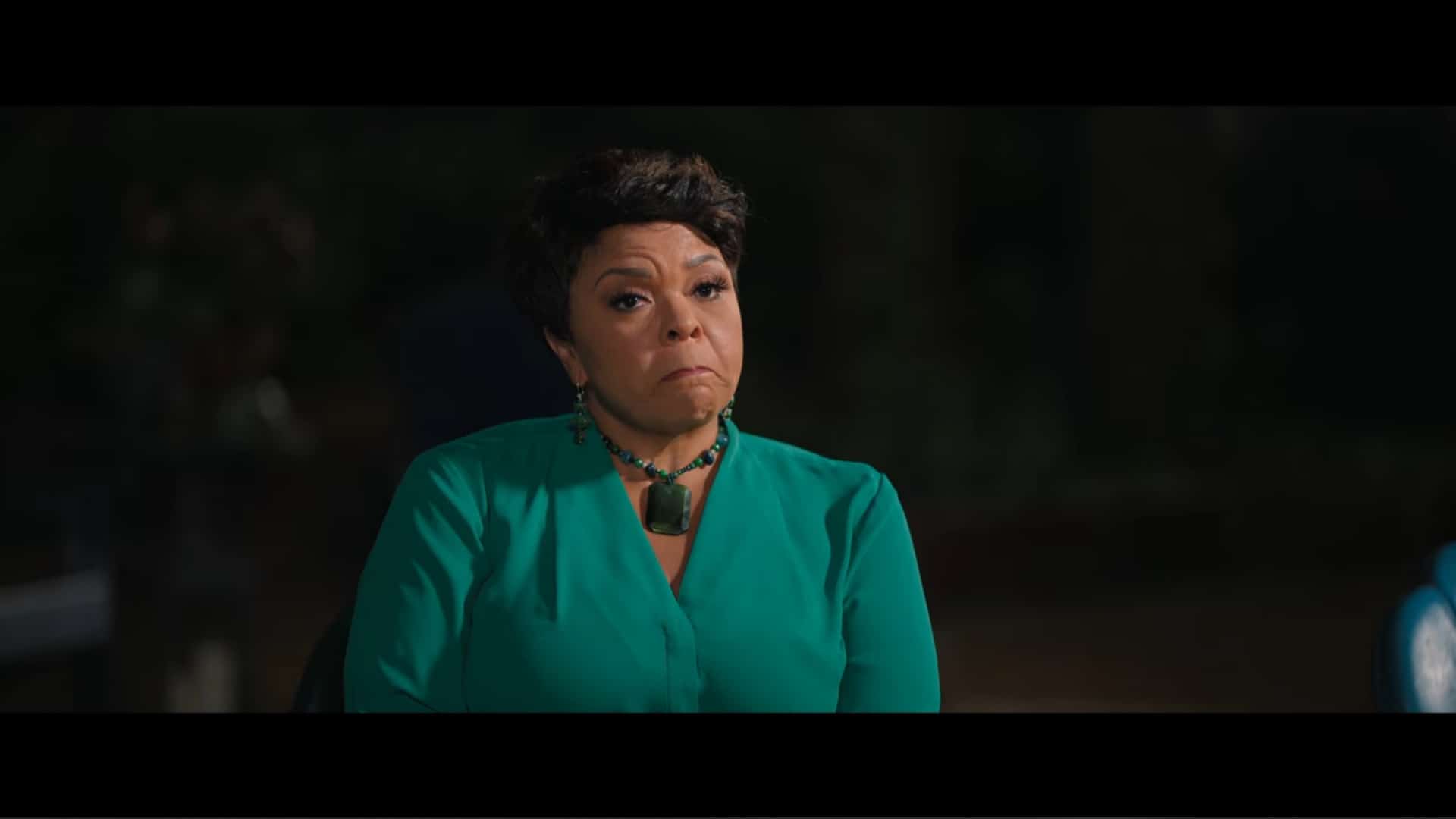 With her grandbaby graduating, and that meaning many people in her momma's house, Cora is just trying to keep people from getting shot, cursed out, or arrested.
Mr. Brown
The craziest neighbor one could ever have is ecstatic about his great-grandson graduating, and from shouting to setting himself on fire, it seems time has only made him a bigger fool.
Davi
The Irish and West Indian Davi was raised primarily in Europe but went to an HBCU with Tim and became his roommate. Which leads some, specifically Joe, to believe something is going on.
Joe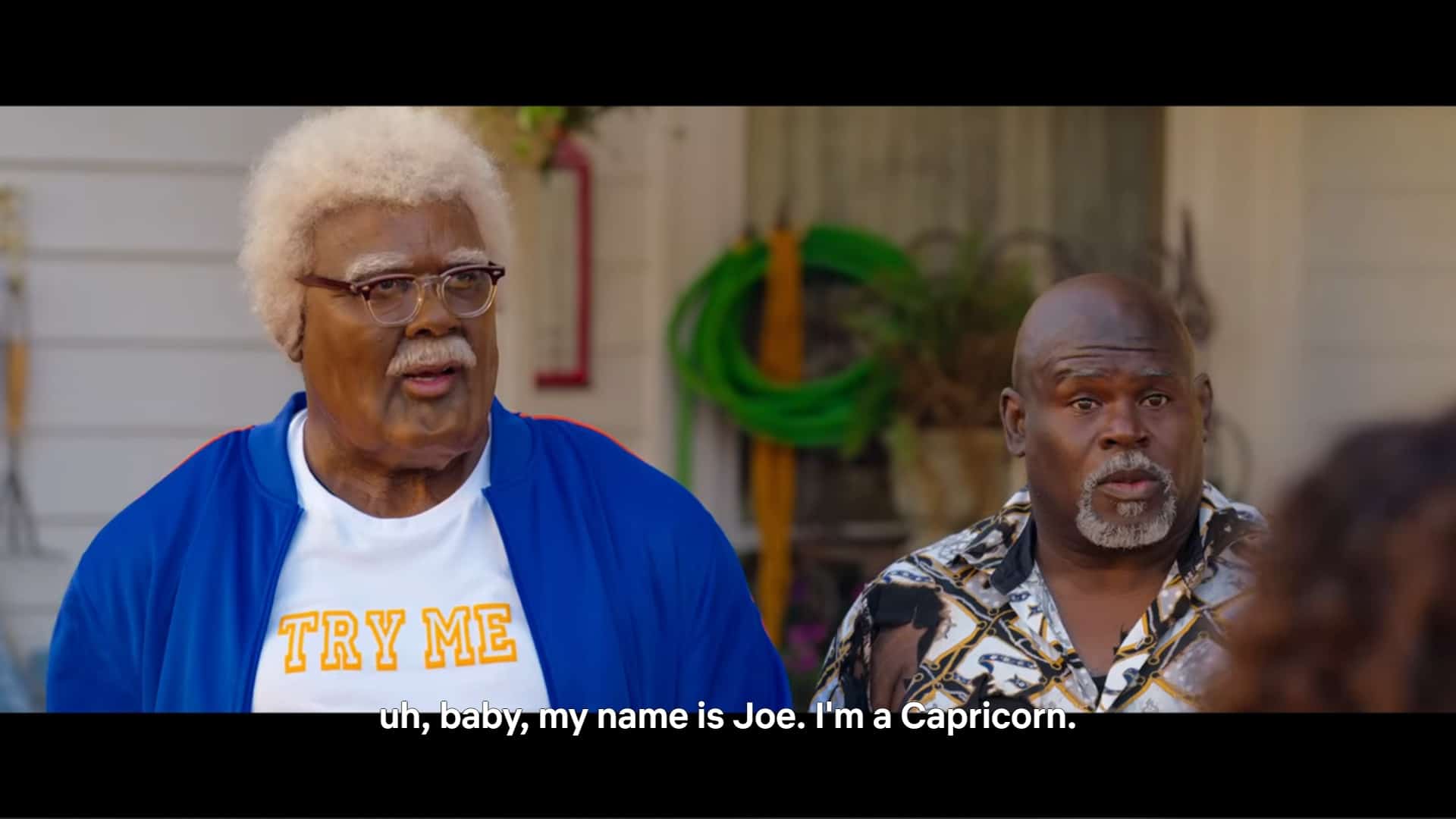 Madea's brother Joe remains a hot mess who enjoys mouthing off, especially to Madea, until she checks and humbles him.
Ellie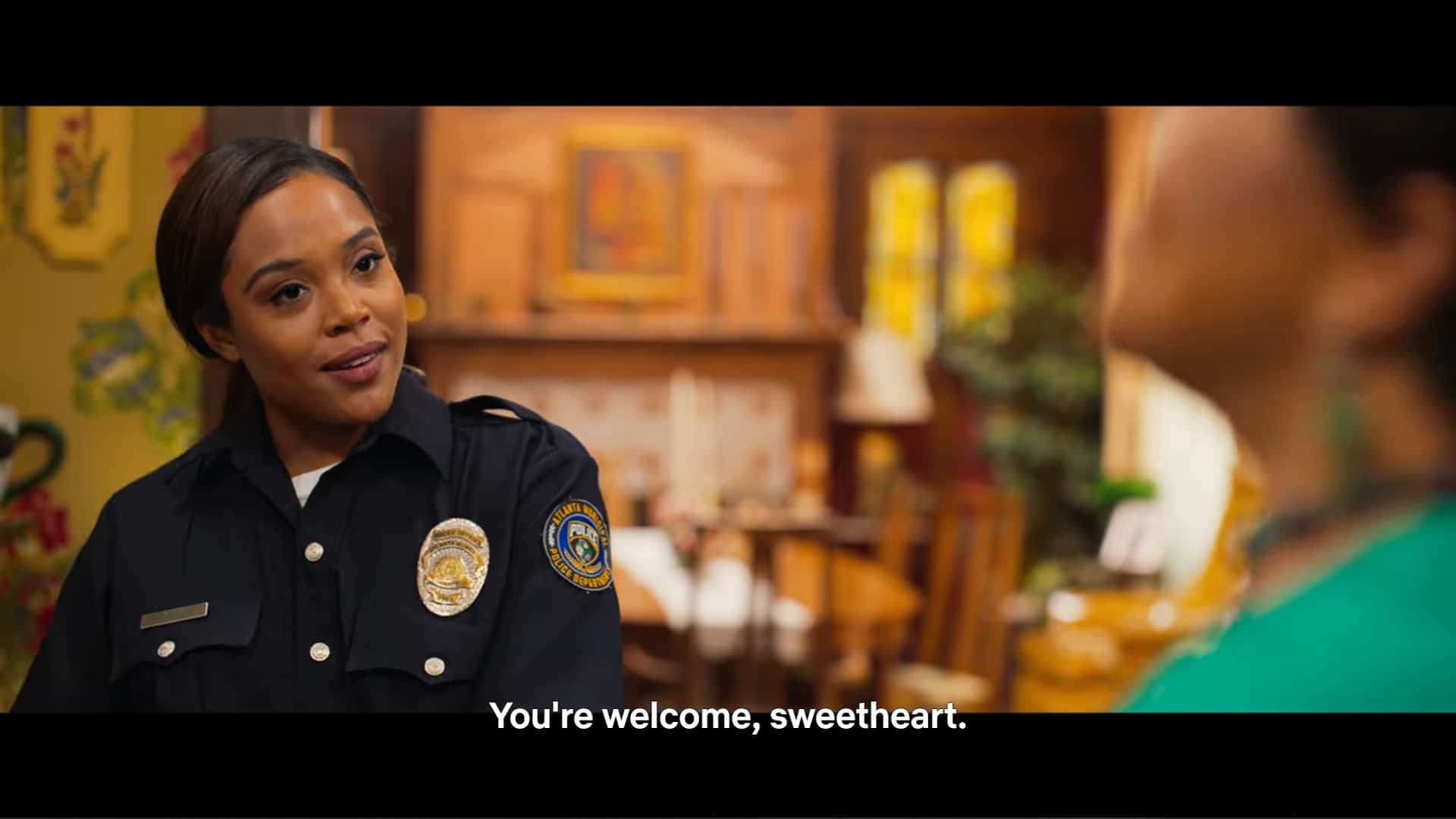 Being a cop in a family with people like Joe and Madea, Ellie's life is far from easy. Add in the general negative sentiment many have, and while Cora might be proud of her, some feel uneasy about her presence.
Agnes
Agnes is Davi's aunt from Ireland who lives on a farm.
Cathy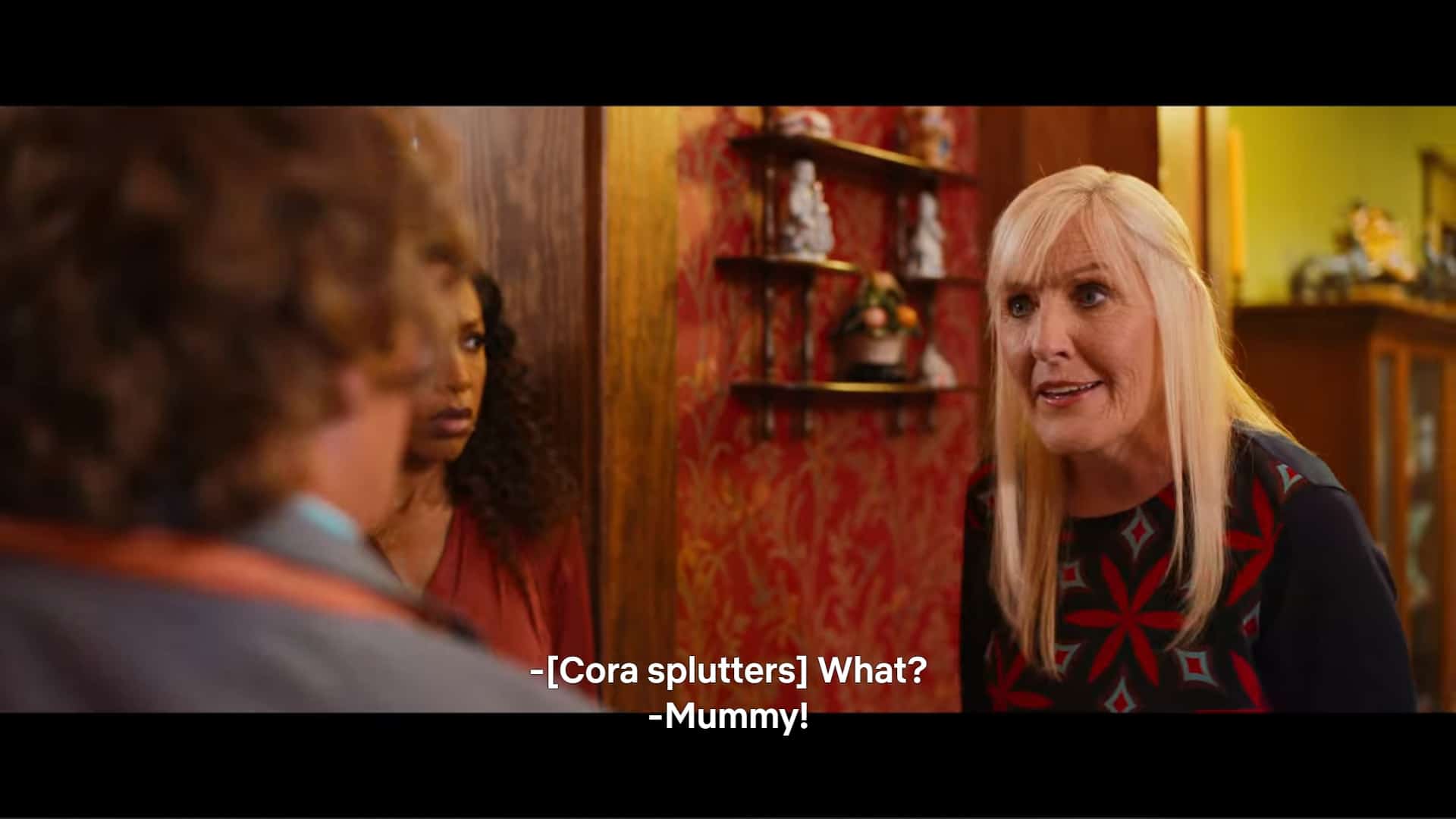 Cathy is Agnes' daughter.
Review
Highlights
You Will Laugh Throughout The Whole Film
While the Madea franchise has gotten increasingly explicit in its language and suggestive in certain situations, there is no doubt these modifications of the formula have kept the franchise funny. Whether it is Agnes saying "knickers" and Joe flipping out since he thinks she said the N-word or Madea's handling of Richard? You will make the audible sound of laughter multiple times if you are a fan of this franchise and the direction it is heading.
A Nice Shocking Moment
Madea movies, especially ones that aren't holiday-related, have a pattern of something happening in the family, usually with a female member, and there are obvious reveals we're clued into, alongside a shocking one. This entry's shocking one isn't the most dramatic or jaw-dropping, yet considering how much Black trauma is out there, you might appreciate that it isn't.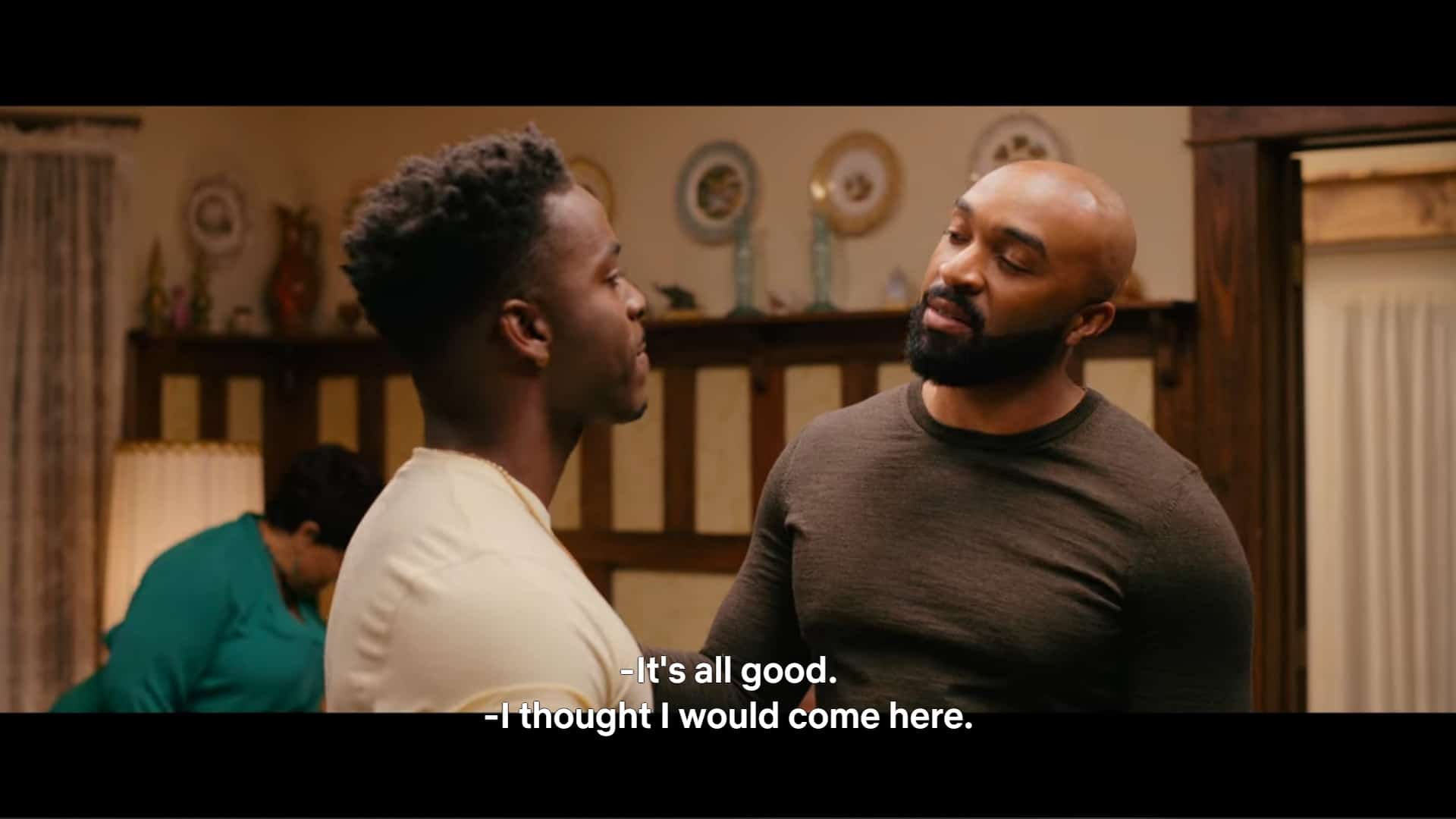 In fact, you may appreciate that despite the subject matters in Tyler Perry movies, this one is far more light-hearted, and the worst thing is Richard leaving Laura dry and unable to do much. Which isn't to say the shocking moment is bland and uninspiring but shows the new direction this franchise could be going.
On The Fence
Nostalgia For The More Clean & Purposeful Madea Productions
While A Madea Homecoming has what you expect from the weed toking grandma, with each entry, it seems like what made the Madea franchise notable is chipped away. Whether it is to punch up a joke or moment, or Perry no longer feeling the need to aim for a PG-13 rating, the cursing seems relied on more and more. This entry probably has the most you'd ever heard within the Madea franchise – including the use of the N-word, mother***er, and s***.
Then, in terms of the family member we likely may never see again, I wouldn't say Laura's story is anywhere near the best and certainly is by no means memorable. It's so tame that you can only assume to not add to the zeitgeist more depictions or stories of Black trauma, that is why Perry didn't go into the darker topics he has explored in the past. Which, considering A Madea Homecoming probably is one of the few to prominently feature a gay character, maybe we should be thankful for that?
But even when it comes to Madea delivering an impactful message, which often is the counterpoint to criticism of Madea and Tyler Perry as a writer, that isn't delivered in A Madea Homecoming. Instead, you get the kind of message from Madea, which lacks oomph and almost makes you feel like Perry put on the wig, dress, and everything for fun and a check and didn't want to get too deep. For his message to Agnes regarding her beliefs regarding Davi's future pale in comparison to the gems Perry has written for Madea over the years.
Making it so, you could see the changes here as less about altering the formula or even recognizing that the last thing Perry's audience needs is to see more Black trauma. This entry into the Madea franchise isn't about maintaining the quality and expectations initially set with the plays that started it all. It's just about giving just enough to keep fans satisfied.
Overall
Our Rating: Positive (Worth Seeing)
Nearly all Tyler Perry productions are made for his audience and don't make too much of an effort to win over current or past critics. A Madea Homecoming is no different. The characters' personalities and dialog compensate for the quality of their development and stories, and while you will laugh throughout this film, it also might be the most forgettable. Yet, if you are a fan of Perry's work, and especially Madea, alongside have a Netflix subscription, this is a good movie to spend time with.
[ninja_tables id="46802″]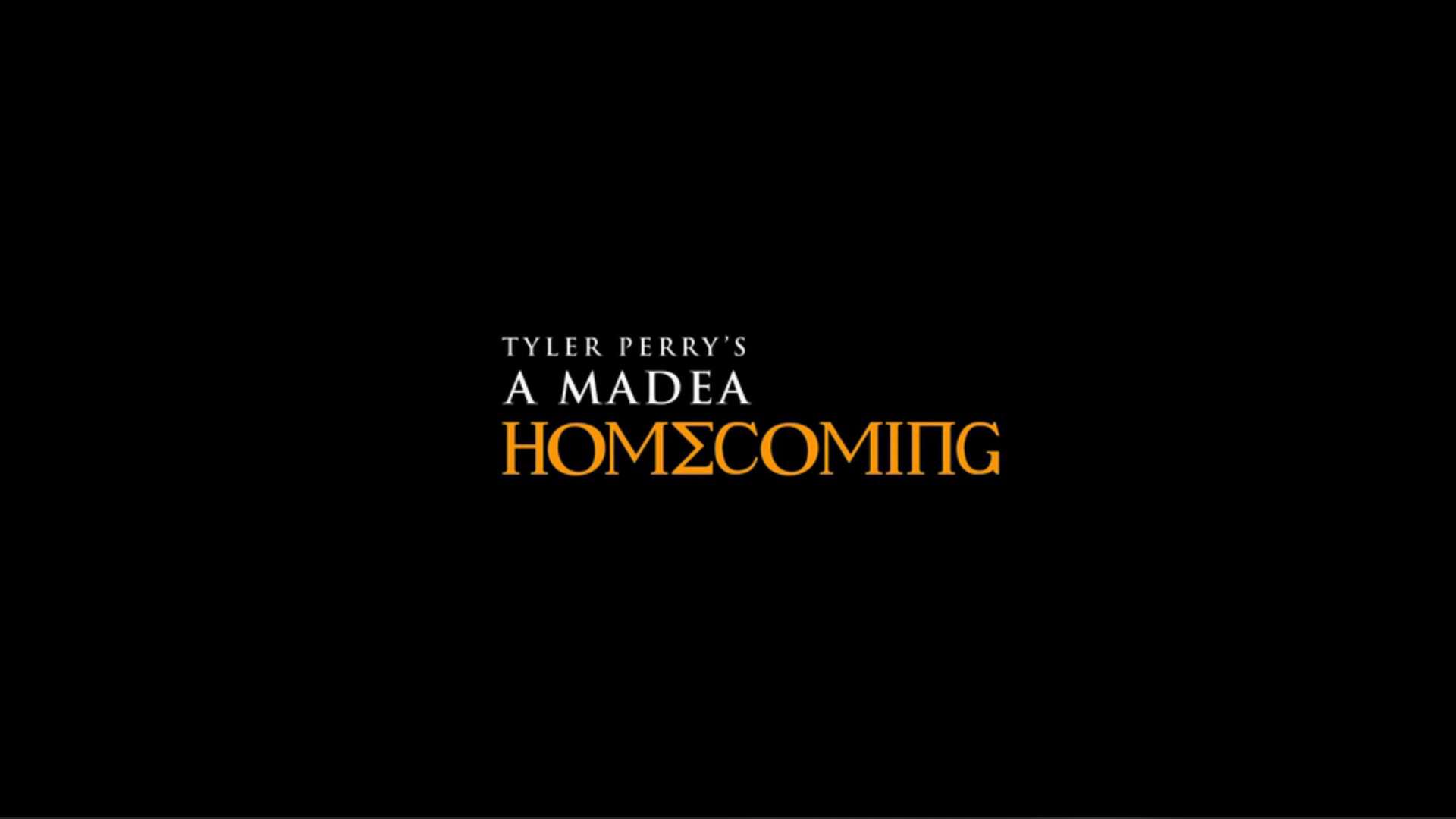 A Madea Homecoming (2022) – Review/ Summary (with Spoilers)
Who Is This For?
Tyler Perry/ Madea fans.
Highlights
A Nice Shocking Moment
You Will Laugh Throughout The Whole Film
Disputable
Nostalgia For The More Clean & Purposeful Madea Productions
Related Topics:
Amani Atkinson
,
Brandon Black
,
Brendan O'Carroll
,
Candace Maxwell
,
Cassi Davis Patton
,
Comedy
,
David Mann
,
Drama
,
Gabrielle Dennis
,
Geneva Maccarone
,
Isha Blaaker
,
Jennifer Gibney
,
LGBT+
,
Netflix
,
Romance
,
Tamela Mann
,
TV-MA
,
Tyler Perry
,
Young Adult