Like A Dog's Purpose, A Dog's Way Home is touching and will make those like or love animals weep.
---
Community Rating: 0.00% (0) - No Community Ratings Submitted.
---
---
Director(s)
Charles Martin Smith
Written By
Cathryn Michon, W. Bruce Cameron
Date Released
1/10/2019
Genre(s)
Family, Comedy
Good If You Like
Dogs

The Musings Of Pets

A Handful of Dark Moments In A Family Comedy

Isn't For You If You
Don't Like Dogs

Prefer Your Humor A Bit More Adult

Think PTSD and Depression Don't Belong In Films Geared Towards Children

Noted Cast
Bella
Bryce Dallas Howard
Lucas
Jonah Hauer-King
Olivia
Alexandra Shipp
Axel
Edward James Olmos
Images and text in this post may contain affiliate links which, If you make a purchase, I may earn money or products from the company. Most affiliate links contain an upward facing, superscript, arrow.
A Dog's Way Home Plot Summary (Ending on 2nd Page)
For most of Bella's life, no sooner than she got comfortable did things drastically change. Sometimes it was for the better, like when Lucas and Olivia took her into their hearts. However, there was also her losing her mom as a puppy.
Yet, despite the occasional bad luck, or decision, Bella had a knack for making friends and forming family bonds whenever she went. However, when she gets separated from Lucas there comes a point where you wonder if her luck may have run out. Especially after she decides to venture out into the wild to return to her human – by any means necessary.
Highlights
Tasteful CGI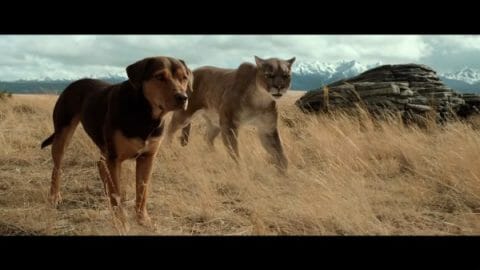 After the controversy which plagued A Dog's Purpose, rightfully, CGI was used rather than trying to overexert animal actors. Though, for many of the scenes, CGI had to be done. Bella befriending, practically raising, a cougar? Yeah, that needed CGI. However, despite knowing it is being used, it doesn't necessarily take away from the scenes or the emotions trying to be conveyed. For while the CGI isn't at the budget of seeming so natural you want to question if there is a real cougar on screen, you aren't left thinking they only spent enough to avoid another derailing controversy.
It's An Emotional Journey
From Bella losing her mom, what happens to baby cat, veterans dealing with PTSD, a homeless person dealing with depression, and so much more, this movie will get you in your feelings. One way or another, it will squeeze out some tears. Mind you, not in a cheap way. Though certain segments of Bella's journey, like with Axel, are shorter than others, each one shows the beauty and importance of dogs. We get what almost seems like a big budget commercial on why they are called man's best friend and how, from being nurturing, lifesaving at times, and sometimes selfless, to have a dog is to experience immaculate love.
It's Comical
One of the main things which sets apart A Dog's Way Home from A Dog's Purpose is we only get one dog to follow through the film and Bella is hilarious. Between Bryce Dallas Howard and Cameron/ Michon's script, hearing silly jokes about a dog's point of view on things brings innocently comical moments. The kind which don't seem to have any sense of innuendo but are just clean jokes for you, maybe your younger family members, can laugh at together. This is especially true in regards to Bella seeing certain things as games and when she clearly doesn't like someone.
On The Fence
Bella Will Get On Your Nerves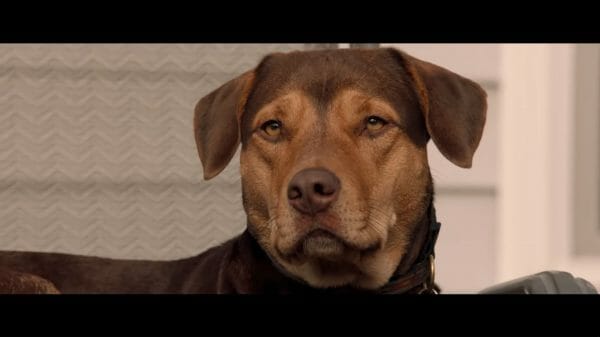 The majority of the drama Bella goes through is because, while generally a good dog, she makes some awful decisions. Now, granted, Lucas picking a fight with a real estate developer and Denver having a law about pit bulls didn't give Bella room to fail. However, considering her whole journey came about from not knowing when to listen to Lucas or stick by his side, you got to give her some share of the blame. Especially considering the lengths Lucas went to try to handle the situation and Bella refusing to do as told and causing Lucas trouble.
What A Dog's Way Home lacks, in comparison to A Dog's Purpose, in an emotional punch it compensates for by being funnier. However, don't take that comment to mean this won't lead to an emotional experience. With veterans who are in therapy, and a lonely homeless man ready to give up on life, it is through seeing Bella lighting up someone's darkest moments that you see why people call their dogs their children. For who else would so willingly run to you and try to figure out a way to make you happy – even with knowing they don't have anything but their presence and silliness?
Leading to why this is being marked positive. While maybe not the perfect family movie, for Axel's situation might haunt a kid, A Dog's Way Home does act as a good ode to man's best friend and the roles they play. Not just for human beings, but how their playfulness and ability to be nurturing also gives them a place within the animal kingdom which makes their value hard to truly gauge.
---
Follow Wherever I Look on Twitter, Like us on Facebook and Subscribe to the YouTube Channel.
---
Check Out Other Movie Reviews Below
---