The Handmaid's Tale returns, and like many a season premiere, we are presented the calm before the storm.
---
Community Rating: 0.00% (0) - No Community Ratings Submitted.
---
---
Network
Hulu
Director(s)
Mike Barker
Writer(s)
Bruce Miller
Air Date
6/5/2019
Introduced This Episode
Mrs. Mackenzie
Amy Landecker
Images and text in this post may contain affiliate links which, if a purchase is made, we'll earn money or products from the company. Affiliate links and external links have an upward facing, superscript, arrow.
Family Means Nobody Gets Left Behind Or Forgotten: June, Commander Lawrence, Mrs. Mackenzie
Despite all of the sacrifices people made for her, June tries to rush to the Mackenzie household, with assistance from Commander Lawrence, to get Hannah and high tail it. However, before that happens, the authorities arrive so while June gets a glimpse of Hannah, she doesn't get to interact with her. But who she does interact with is Mrs. Mackenzie.
Now, as you can imagine, their conversation is complicated. June is an intruder, yet is also Hannah's biological mom and with Mrs. Mackenzie seeing herself as a mother, even if through kidnapping, she feels for her. So she gives some details like Hannah liking to sew, cook, and trying to get a puppy, but she also asks of June to stay away. A request June denies, and so June leaves without her daughter – this time.
Meanwhile, In Canada: Luke, Moira, Emily, June
Despite helicopters, drones, and a raging river, Emily makes it to Canada with Nicole. Also, within a day or so, she finds Luke and Moira, and while she doesn't hand over Nicole just yet, June is informed her baby and Emily made it to Canada.
Things Will Never Be The Same: June, Serena, Nick, Fred, Emily, Commander Lawrence
June's return to the Waterford household is tumultuous. The shock of seeing her disturbs Nick, considering how dangerous it was to get her out. Serena, either to keep up appearances or due to regret, is flipping out, and Fred is just trying to save face. He even comes up with a lie of saying Emily kidnapped Nicole, and Serena and June tried to get the baby from her. A plan which, considering how June got punished by the aunts, seemingly the Mackenzie family may or may not have agreed to.
Either way, June stays alive, somehow, and finds herself removed from the Waterford household. Oh, but not in the same way Emily or we've seen others move – or should I say reason? You see, as Serena nurses losing her pinky, she hears Fred talk about making things normal, making it sound like he is going to turn back the clock. So, to prevent this, she sets their bedroom on fire, the bed specifically, and makes it so things can't be as they were.
Leaving them to relocate and after June suffers her punishment, she ends up in Commander Lawrence's household. Making it seem, while he vocally asks if she will be trouble, what he wants is for her to shake the system.
Question(s) Left Unanswered
How is Fred going to reconcile his lie about Serena and June trying to stop Emily with June showing up at the Mackenzie's home?
Highlights
Serena's Liberation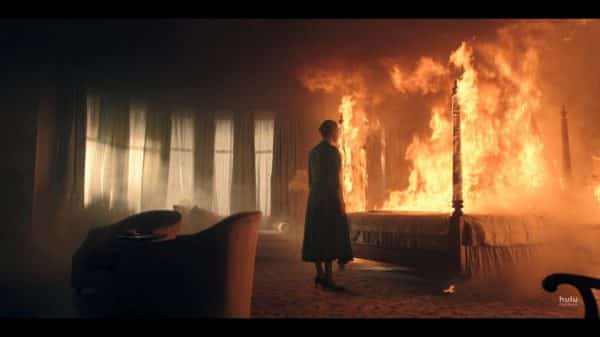 Guilt is a major thing for Serena since, as we're reminded in the "Previously On" segment, she was one of Gilead's architects. She is the reason women are subjects to male masters. Serena is why girls can't learn to read and write and instead are hostess, mothers, maids, and not much more. But I guess with seeing June rebel so much, and her punishment just be isolation or whippings, Serena wants to rebel as well now.
Plus, how else do you make a statement about not wanting things to remain the same besides fire? Fire both destroys and purifies. A flame is what God spoke through to reveal the commandments. So what better way for Serena to say things won't be going back to Fred's version of normal than speaking through fire? The architect of Gilead is speaking that a new way shall come.
On The Fence
Emily Made It To Canada
This as a highlight has less to do with her making it to Canada than the potential storylines Emily can have. For her making it there, with that baby alive, seemed like it was made to give hope than present realism. Especially since it seemed she got swept away by the river, in the middle of the night, yet somehow made it directly across.
Now, maybe I've forgotten Emily mentioning how great a swimmer she is? Maybe it isn't as hard as it seems, or should be, to swim in the current we saw with a baby in your arms? Heck, perhaps a baby can be in cold water, under the surface, for as long as it is hinted, and not die?
The Show Is Running On Fumes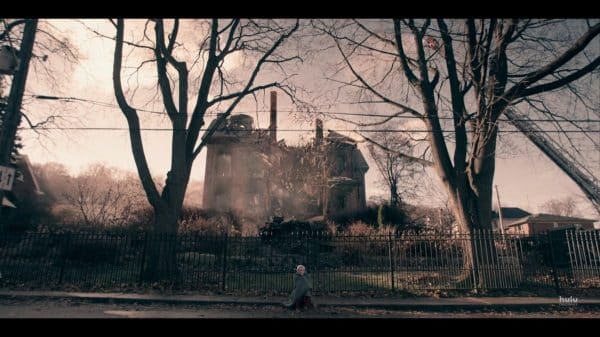 But what is increasingly becoming an issue is how this show tries to balance maintaining a sense of hope while showing how dire things are. For, at this point, June should be dead. She's no longer pregnant and hasn't been anything but trouble. If she isn't running away, she is acting like a potential radical. And while I get Fred has been trying to cover for her as much as possible, for the sake of his reputation, surely we're coming to a point where her being fertile can't compensate for how troublesome she is.
I mean, at this point, the fact June isn't missing an eye, a finger, or made so she is capable of giving birth, but not much more, damages the reputation Gilead is supposed to have. So one can only hope the downfall comes soon or else this season, and the next, will make it seem Hulu is milking this for all it is worth more than trying to tell a complete story.
Follow Wherever I Look on Twitter, Like us on Facebook and Subscribe to the YouTube Channel.
Check out the TV Master List Page
---