"The Mandalorian" does for the live-action "Star Wars" universe what some may say didn't happen with its recent theatrical trilogy.
---
Network
Disney+
Creator(s)
Jon Favreau
Aired
11/12/2019 – 12/27/2019
Genre(s)
Adventure, Sci-Fi, Action
Noted Cast
Din Djarin
Pedro Pascal
This content contains pertinent spoilers.
Season Synopsis
Mandalorians, a once proud and famous group of warriors, after a genocide waged by the empire, are now an underground organization. However, to make ends meet, one within their covert group on Navarro, Din Djarin, does bounties to support both the adults and children. But, when sent on an assignment, from a local guild, by someone whose appearance screams "Empire!" to retrieve a child, Din finds himself unable to fulfill the mission.
This leads to him having to deal with the remnants of the empire and a multitude of bounty hunters as he ends up on the run. Thus giving us a season which is primarily about Din trying to make just enough to keep his ship together, the child who is of the legendary Yoda's species alive, and himself.
Review
---
Community Rating:
---
Highlights
Life Without Skywalkers – 89
We have been following the Skywalker family for more than a generation, and if you aren't someone who plays the video games or watches the animated series, you didn't really have alternatives. So with "The Mandalorian" not mentioning the Skywalkers, and having little to no mention of the Jedi or Sith, it was refreshing and an opportunity to see what life was like outside of the circle of chaos that family and their partners thrived in.
Now, this isn't to say Din stays anywhere long enough for you to feel that we get a strong sense of culture or get to know the various alien races that weren't featured in the movies, but it is only the first season.
The Child – 91
The main reason to stick around is "The Child," who is often called "Baby Yoda." Primarily since, while Din is nice and all, he is also dry. The Child, on the other hand, opens up a story that George Lucas avoided telling of the origins of Yoda and Yoda's people. And all things considered, rather than a Han Solo movie or continued focus on the humans in the "Star Wars" universe, focusing on the alien races seems like the best idea possible. So Din acting almost like a Trojan Horse with the grand prize of The Child feels genius.
Low Points
It Feels Aimless For Most Of The Season – 65
You'd think, considering Din is unsure what to do with The Child and how to keep it safe, he'd spend the season trying to figure out who kidnapped it from its homeworld or where its homeworld is. Nope, instead, we just get episodic adventures which touch upon different groups and locations Din knows of and it isn't until the end of season 1 there is any discussion about taking The Child home – or giving the show a concrete direction.
Now, I should note, you can paint season 1 to be Din's origin story, focusing on how and why he became a Mandalorian and his story up until meeting The Child. But, as noted, Din is a dry character and outside of combat, isn't really the type you want to latch onto. Making it, so The Child felt like a crutch in more ways than one.
On The Fence
If You Aren't Strongly Familiar With Star Wars Lore, You Might Be Left Asking Questions – 75
I've only seen the movies, and of the movies, I fell asleep during "Solo" since I found it incredibly boring. So, with that in mind, and not being a hardcore "Star Wars" fan, there is a slight learning curve. Nothing major, but you may find yourself needing to look up what time period the show is in, and you'll probably find yourself doing a deep dive into Yoda's people as well.
This is all to say, while "The Mandalorian" is built so that you don't have to be an aficionado but if you have any sense of curiosity, you will feel the need to do some research.
It Being Made Clear That No One Is Unstoppable – 76
Despite Din being our lead, he gets his butt kicked quite a lot. The positive thing about this is that it makes you realize he is human. However, on the flip side, considering how much Mandalorians are hyped up as some of the best in the universe, having the majority of Din's battles deal with him getting walloped and then making a comeback take away from the legend. Leaving you feeling that his people may be seen as the best more so for their ability to survive than to utterly dominate with pristine execution.
Overall
Met Expectations – 85
While this was touted as the beacon of Disney+'s launch, alongside other adaptations of their established properties, I really wasn't expecting much. For with Disney exploiting their animated properties to the point of watering down their status, I figured this was Disney trying to find more ways to milk the "Star Wars" franchise.
I was wrong, and while Din may have been boring at times, between the battles he waged and The Child, this might be one of the first entries into the "Star Wars" universe that has me believing there is life beyond the Jedi.
Trajectory: Upward – 90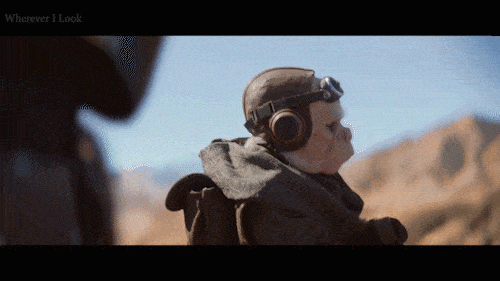 "The Mandalorian" is one of the top reasons to have Disney+. For while it is a bit slow, and Din may not be the most engaging character in the "Star Wars" universe, it is one of the few Disney properties which sets up a sequel that seems to be more about finishing the story than money. Since, the way we see, season 1 was focused on Din and us understanding how he became The Mandalorian and season 2 will likely skyrocket as we explore the origins of The Child and perhaps the legendary "Star Wars" figure Yoda. Not the character specifically, but his people and their secrets.
[ninja_tables id="62515″]
Life Without Skywalkers - 89%
The Child - 91%
It Feels Aimless For Most Of The Season - 65%
If You Aren't Strongly Familiar With Star Wars Lore, You Might Be Left Asking Questions - 75%
It Being Made Clear That No One Is Unstoppable - 76%
Met Expectations - 85%
Trajectory: Upward - 90%
Rating: Positive (Watch This)