After Violet helps a man heal from a very traumatic moment, she is forced to come to terms with the truth she has been avoiding about herself and Major Gilbert.

---
Network
Netflix
Director(s)
Taichi Ishidate
Writer(s)
Reiko Yoshida
Air Date
2/22/18
Characters Introduced
Oscar Webster
?
Olive: Violet, Erica
The still very mysterious Erica we learn is a fan of playwright Oscar Webster. The person who has hired Violet to help him write his next play – since it seems even playwrights can't spell. Though, it might not be that. You see, the man is grieving the loss of not just his wife, but also daughter Olive. Both of which didn't die because of the war, but an inherited sickness. So, his next play, a children's play, is to finish off a story he told his daughter back when she was doing better. Something which drinking has slowed down immensely.
Luckily, while Violet is still not the best at deciphering emotions, she does know how to relate a person's emotions to what can make them the most productive. So between hiding Oscar's liquor and tidying up a bit, even going beyond her duties and getting food and cooking, they make progress. Though, not just in terms of the book. Being that Violet almost looks like Olive, if she got to be her age, there is also some mental and emotional healing. Especially as Violet acts out this thing Olive said she would do when it comes to walking on the leaves at the lake of Oscar's summer home.
But, while this is all healing for Oscar, it is the beginning of a sordid wake-up call for Violet.
Blood On My Hands: Violet
A nightmare. After skipping over what Diethard said at the end of episode 5, it hits Violet hard. This idea of blood being on her hands. Perhaps suppressed memories of what she and Major Gilbert did, and they are starting to haunt her. All because she thinks about the happy endings she stole from people doing the work she did.
The Final Battle of the Intense: Violet, Claudia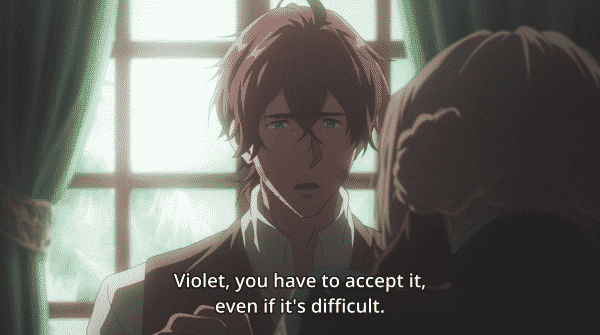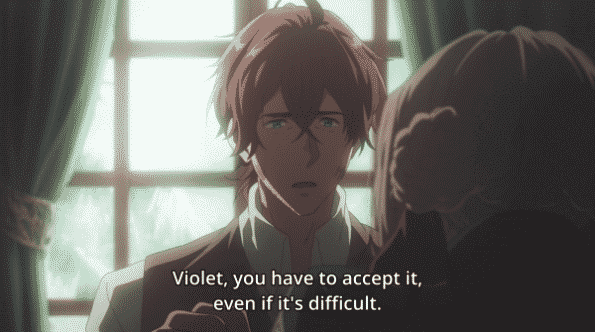 Though it has been clear to us for a while that Major Gilbert died, Violet has been pretty much kept in the dark. However, upon having another chance encounter with someone of her past, this time Ms. Evergarden, she learns the truth about Major Gilbert. Leading her to confront Claudia and him telling the absolute truth about what happened during the Battle of the Intense.
From the information he gathered, Major Gilbert likely pushed Violet out of the way of a bombardment and died as the church they were in collapsed. His body was never found so while there is the slimmest of chances he might have been found like her, with his soldier tag being the only evidence of him being there, alongside Violet's story, the worse is expected. Which of course Violet refuses to believe, but seemingly may have no choice.
Highlights
So, Will Violet's Dark Side Finally Come Out?
After doing what I feel was a bait and switch, it seems the show is finally going to address what Violet was like during wartime. For while it is nice to see her gain, or regain, normal human emotions, and it become clear she acts the way she does out of trauma, or perhaps training, maybe both, there remains this past unrevealed to us. One that we have danced around and never fully addressed. For, like many shows, we may have gotten one line here or there about Violet's past, but only enough for her to relate to whoever the show was really trying to focus on at the time.
So here is hoping, with there only being 7 episodes left, we may eventually transition to full episodes recounting Violet's life before and during her time with Major Gilbert. Then see her try to figure out what life can be like without him, or even Claudia's influence.
---
Follow Wherever I Look on Twitter or Like us on Facebook.
---
Previous Episode's Recap
[visual-link-preview encoded="eyJ0eXBlIjoiaW50ZXJuYWwiLCJwb3N0IjoxNzU4NSwicG9zdF9sYWJlbCI6IlBvc3QgMTc1ODUgLSBWaW9sZXQgRXZlcmdhcmRlbjogU2Vhc29uIDEvIEVwaXNvZGUgNiBcIlNvbWV3aGVyZSwgVW5kZXIgYSBTdGFycnkgU2t5XCIgLSBSZWNhcC8gUmV2aWV3ICh3aXRoIFNwb2lsZXJzKSIsInVybCI6IiIsImltYWdlX2lkIjoxNzU5MCwiaW1hZ2VfdXJsIjoiaHR0cHM6Ly93aGVyZXZlci1pLWxvb2suY29tL3dwLWNvbnRlbnQvdXBsb2Fkcy8yMDE4LzAyL1Zpb2xldC1FdmVyZ2FyZGVuLVNlYXNvbi0xLUVwaXNvZGUtNi1Tb21ld2hlcmUtVW5kZXItYS1TdGFycnktU2t5LVZpb2xldC5wbmciLCJ0aXRsZSI6IlZpb2xldCBFdmVyZ2FyZGVuOiBTZWFzb24gMS8gRXBpc29kZSA2IFwiU29tZXdoZXJlLCBVbmRlciBhIFN0YXJyeSBTa3lcIiAtIFJlY2FwLyBSZXZpZXcgKHdpdGggU3BvaWxlcnMpIiwic3VtbWFyeSI6IlZpb2xldCBvbmNlIGFnYWluIHRyYXZlbHMgb2ZmIHRvIGEgZGlzdGFudCBwbGFjZSBmb3Igd29yayBhbmQgd2hpbGUgc2hlIHNlZXMgb25lIG9sZCBmcmllbmQsIGhlciBmb2N1cyBpcyBnZXR0aW5nIHRvIGtub3cgYW5kIHJldmVhbGluZyBoZXJzZWxmIHRvIGEgbmV3IG9uZS4iLCJ0ZW1wbGF0ZSI6ImRlZmF1bHQifQ=="]