"Your Place Or Mine" shows the beauty of a relationship being built on friendship, even if the friendship exists due to cowardice.
Director(s)
Aline Brosh McKenna
Screenplay By
Aline Brosh McKenna
Based On
N/A
Date Released (Netflix)
2/10/2023
Genre(s)
Comedy, Romance
Duration
1 Hour 49 Minutes
Content Rating
Rated PG-13
Noted Cast
Peter
Ashton Kutcher
Debbie
Reese Witherspoon
Minka
Zoe Chao
Jack
Wesley Kimmel
Theo
Jesse Williams
Alicia
Tig Notaro
Zen
Steve Zahn
This content contains pertinent spoilers. Also, images and text in this post may contain affiliate links which, if a purchase is made from those sites, we may earn money or products from the company.
Film Summary
Despite a bad hookup, Peter and Debbie have been friends for over 20 years and have lived under the impression that they have told each other everything. However, both learn that isn't the case. During a week-long stay in each other's homes, Debbie learns many of Peter's secrets, partly thanks to his ex Minka, and through Jack, Debbie's 13-year-old, Peter comes to discover a lot about Debbie and learns a lot about himself.
Things To Note
Why Is "Your Place or Mine" Rated PG-13
Dialog: Some cursing
Violence: None
Sexual Content: Sexual situations but no nudity
Miscellaneous: drinking
Character Descriptions
Please Note: This character guide is not an exhaustive list of every cast member, and character descriptions may contain what can be considered spoilers.
Peter
Peter is a consultant with commitment issues both in his personal and professional life. Generally, six months is when most of his relationships end, sans his relationship with Debbie, who, with Peter's mom and dad dead, essentially is the closest thing to family he has.
You May Also Know The Actor From Being: Nathan Winer Sr. in the upcoming "The Long Home," Michael Kelson in the "That '#0s Show," and Colt Bennett in "The Ranch."
Debbie
A single mom, and divorcee, Debbie was lucky enough to purchase her home over 20 years ago when prices were better. But with her income not keeping up with taxes and her son having a need for so many medications, something has to change. Hence Debbie is not living out her dreams of being an editor but instead focusing on accounting.
You May Also Know The Actor From Being: Elle Woods in the "Legally Blonde" franchise, Bradley Jackson in "The Morning Show" and Madeline Martha Mackenzie in "Big Little Lies."
Minka
Minka is one of Peter's many exes who is highly educated but pushes the fact that she doesn't like reading to counterbalance her educational background. Though while she finds books and doing things the old-fashion way foreign when it comes to fashion or social intelligence? Her abilities are unmatched,
You May Also Know The Actor From Being: Ramona in "Somebody I Used to Know," Jane in the upcoming "If You Were the Last," and Sara Yang in "Love Life."
Jack
Jack is Debbie's 13-year-old son who has a litany of allergies and is very protected by his mom, mainly since she is his world, outside of Peter and what he may ask of her. But, in her being overly protective, she seems to be stifling his growth and ability to socialize.
You May Also Know The Actor From Being: An unknown role in the upcoming "Red One," Tim on "Good Girls," and a Tusken Kid in "The Book of Boba Fett."
Theo
Theo is a publisher of a major brand who Debbie meets in New York and apparently is a huge fan of. His publishing house, Duncan, has released some of her favorite books, and she seems to know damn near everyone. That aside, Theo is a single dad, divorced like Debbie, and very in tune with the literary world.
You May Also Know The Actor From Being: A unknown role in the upcoming "Marked Man," Matteo in the upcoming "Olga Dies Dreaming," and Dr. Jackson Avery in "Grey's Anatomy."
Alicia
Alicia is one of the other moms at Jack's school who is friends with Debbie and is well aware of Peter through her mentioning him often.
You May Also Know The Actor From Being: Sheila in "Am I OK?" Barb in "Transparent," and Marianne Peters in the "Army of the Dead" franchise.
Zen
Zen is a wealthy man who lives next door to Debbie, who is always in her yard, hoping that, one day, she may suddenly see him for real and want to be more than neighbors.
You May Also Know The Actor From Being: Jackson in the upcoming "Gringa," Mark Mossbacher in "The White Lotus," and David Walker in "Where'd You Go, Bernadette."
Review
---
Community Rating:
---
Our Rating: Positive (Worth Seeing)
Notable Performances or Moments
Zoe Chao As A Masterful Scene Stealer Thanks To A Series Of One Liners
Minka is a character who doesn't seem like she should be this good. She is Peter's ex, curious about why they didn't work out, and operates as a character who, at best, downplays her intelligence, social and academic, and at worst, is supposed to be an obtuse millennial. Yet, despite being a character who has everything needed to become a bane, she becomes a scene-stealing asset.
It's through her that we get to see a bolder Debbie. Heck, you could even push the idea that it is the generational connection, Gen X and Millennial, in which Debbie's practicality battles Minka unquestionable faith that if you can dream it, be it. This combination allows Debbie's adventure to work almost as a film, sans the "Will they or won't they?" relationship stuff with Peter, about a single mom getting her groove back.
Highlights
How Much Focus Is Put Into Building Friendships
Friendship is put on the back burner for many romance films. It's all about that initial chemistry and trying to recreate that feeling and make it last. "Your Place Or Mine" is different. Debbie and Peter have been friends for 20 years, with a notable portion being long-distance. They've seen each other at their worst and through some of their worst periods. So, the friendship is solid and consistent, and that's even with Peter, originally, getting more out of it than Debbie.
Yet, even with that said, between talking daily, him offering his place, and a level of guilt, you can see it isn't lost on Peter that he could, and should, do more. But, in his defense, Debbie is the type of friend who doesn't ask for much, and it is made a point that Peter has offered, multiple times, to give her money since he is living comfortably.
Being Torn Between Peter and Theo For Debbie
With that said, the familiar, the comfortable, yet cowardly Peter versus Theo, who is hot, highly intelligent, well connected, and shares so much with you – background-wise? It makes for a hard decision. And when it comes to Theo, he is more than a dream guy. He is the kind of man you find when you give up and stopped looking. He's the one who signals your life is about to have a drastic shift, and it's because of his name, which is in bold, that you find yourself starting a new chapter.
So while you watch the movie, believe me when I say you'll be torn between the guy who has history and the guy is what you'd want and deserve at this point of your life.
Jack and Peter's Relationship
With Jack's father not active in his life and Peter losing his father around Jack's age, seeing them bond is cute. Granted, considering how close Debbie and Peter are, it is weird that there is a certain distance between Jack and Peter. But when you factor in the possibility of Peter staying in New York and not confessing his feelings due to Debbie becoming pregnant with Jack, you get it.
Jack was a sign that Peter should press on and is a reminder of what could have been if Peter wasn't a coward. Yet, in that week, it seems Peter realized it wasn't too late. Through bonding with Jack, and building a relationship he couldn't abandon or string along without effort, one could submit old wounds were healed. Not only his feelings regarding not thinking he was good enough for Debbie but maybe whatever damage was done by his father's abandonment and death.
A Consistent Flow Of Comedic Moments
Whether it is Minka being perplexed by Debbie and her lifestyle, Alicia's dry humor, or the back and forth between Debbie and Theo, if not Jack and Peter's dynamic, this is a funny movie. Not peeing on yourself funny, but even for a usually stone-faced person like me, I laughed.
On The Fence
Zen
The whole purpose of Steve Zahn's weird character is that you can't wait around hoping for something to happen just because you're there. That's fine. However, when you compare his comedic moments to what Notaro and Chao offer as supporting characters? The writing and performance aren't on par and sticks out in a negative way.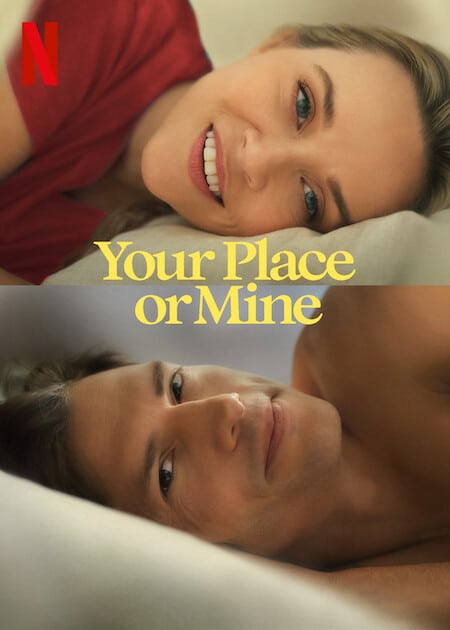 Your Place Or Mine (2023) – Review/ Summary
Overall
"Your Place Or Mine" shows why Reece Witherspoon is one of the queens of romantic comedies and why the waters need to be tested to see if Zoe Chao's Niche is supporting roles or if it is time for her to play the lead.
Highlights
A Consistent Flow Of Comedic Moments
Jack and Peter's Relationship
Being Torn Between Peter and Theo For Debbie
How Much Focus Is Put Into Building Friendships
Zoe Chao As A Masterful Scene Stealer Thanks To A Series Of One