Uncle Drew – Recap/ Review (with Spoilers)
---
Community Rating: 0.00% (0) - No Community Ratings Submitted (Add Yours Below)
---
This post may contain affiliate links and spoilers. Please read our disclosure policy.
---
Uncle Drew, despite its comedic leads and sports stars, doesn't deliver strong laughs or even play up what seemingly was supposed to be a touching story.
---
Director(s)
Charles Stone III
Screenplay By
Jay Longino
Date Released
6/28/2018
Genre(s)
Comedy
Good If You Like
Sports Comedies
Noted Actors
Uncle Drew
Kyrie Irving
Big Fella
              Shaquille O'Neal
Lights
Reggie Miller
Boots
Nate Robinson
Preacher
Chris Webber
Dax
Lil Rel Howery
Mookie
Nick Kroll
Jess
Tiffany Haddish
Maya
Erica Ash
Summary
1968, that was when the legendary crew of Uncle Drew, Big Fella, Lights, Boots, and Preacher last touched the Rucker Park court and seemingly disappeared. However, more than 35 years later, a young man named Dax, desperate to recoup the cost of his $5,000 entry and win the $100,000 finds the legendary ballplayer and convinces him to play once more. However, the condition is that it has to be Drew's crew. Of which includes Lights who can barely see, until he gets new glasses; Boots who barely has walked in years, but suddenly can ball once he laces up 30 some odd year sneakers; Preacher just needs to stretch and then Big Fella? Well, all he wants is an apology for Drew doing him dirty.
To add onto the drama, part of the reason Drax needs the money so bad is he is an orphan and his former girlfriend Jess kicked him out. So, if Drew and his crew don't win, that means Dax is dead broke and will have this white boy, Mookie, who killed Dax's basketball aspirations, rubbing it all in his face. So while winning the game may not be do or die, it certainly is do or be humiliated to the point of having to leave Harlem to search for dignity.
Question(s) Left Unanswered
So, did Uncle Drew tell everyone else about the $100,000 and how did they end up splitting it up? Especially considering, outside of Drew, everyone seemed to be living alright.
Was anyone else expecting one of the ballplayers to be Dax's dad or know them?
Criticism
It's A Plain Ole Disappointment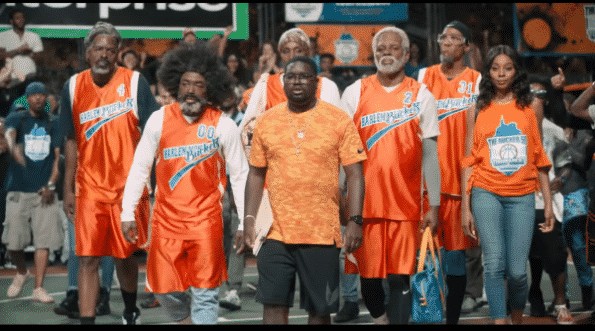 Lil Rel, Nick Kroll, and Tiffany Haddish have played the best supporting actors in many movies and it seemed like it was their time to shine. Especially for Lil Rel' since he has a show coming out soon, Get Out doesn't feel all that long ago, and this seemed like what could have launched him to real stardom like Girls Trip did for Haddish. Thing is, between Lil Rel' or screenwriter Jay Longino, there aren't any real laughs here. There might be a few smiles or a chuckle, but the kind of laugh you can't hold back? I'll put it to you this way, even Tiffany Haddish doesn't have any real line that makes you crack up. Granted, it could be because her shtick is starting to reach a point of high saturation. However, with all three, Lil Rel', Haddish, and Kroll flopping? All eyes have to be on Longino since the three actors have been on a bit of a role as of late.
Leading to you may be questioning, okay maybe it isn't funny but what about the story? I wish I could say that was any better. There isn't much in the way of depth or touching moments in terms of Dax being an orphan or finding a family through these 70 something-year-old men. And the plot dealing with Dax wooing, if you wanna call it that, Boots' granddaughter, Maya? The way that's crafted isn't believable. Are you telling me this woman becomes enamored by this man who is helping this elderly crew get back together? A man who is broke, using them for money more than anything, and complains half the movie about them? This is someone you think is possible boyfriend material?
Overall: Negative (Skip It)
I don't think even an audience talking at the screen could make this movie good. While each big name comedian has their persona prime and ready, arguably Longino had no idea how to utilize them. So while each one brought their charm and some sense of potential, none of their lines packed any punch. Heck, even for the NBA players, while they dropped a few jokes people familiar with their careers may chuckle at, none of them have a Lebron or John Cena moment in Trainwreck. Shaq may has one or two moments, and Irving is given a few one-liners, but nothing you will be repeating and talking about once the movie is over.
Leading to why this is being labeled to skip. While this movie didn't really have much or any hype leading up to it, with the names attached it was hard to not have some sort of expectations. We have some of the funniest names in entertainment who haven't even peaked yet! Yet, if Uncle Drew was their first movie? If there wasn't other stuff out there to not make this seem like a stumble, you'd think these people were overrated and question why this wasn't direct to VoD?
For that is how much Longino dilutes the talent of the actors and sports stars in this movie. No one shines. All they do is seem like they are going through the motions and trying to collect a check. So keep whatever money out of your check you might pay for this. Because, even with MoviePass, I feel like I could have spent that hour and 43 minutes better elsewhere.
---
Follow Wherever I Look on Twitter, Like us on Facebook and Subscribe to the YouTube Channel.
---
It's A Plain Ole Disappointment - 60%
No one shines. All they do is seem like they are going through the motions and trying to collect a check. So keep whatever money out of your check you might pay for this.
Related Topics:
Charles Stone III
,
Chris Webber
,
Comedy
,
Erica Ash
,
Jay Longino
,
Kyrie Irving
,
Lil' Rel Howery
,
Nate Robinson
,
Nick Kroll
,
Reggie Miller
,
Shaquille O'Neal
,
Tiffany Haddish