Thriller (2018) – Summary, Review (with Spoilers)
---
Community Rating: 0.00% (0) - No Community Ratings Submitted (Add Yours Below)
---
This post may contain affiliate links and spoilers. Please read our disclosure policy.
---
Thriller works better as a comedy than anything remotely close to a horror, and as long as you come in knowing that you should be fine.
---
Director(s)
Dallas Jackson
Screenplay By
Dallas Jackson, Kenneth Rance
Date Released
4/14/2019
Genre(s)
Comedy
Good If You Like
Hood Movies

Revenge Stories

Isn't For You If You
Want To Be Legitimately Scared

Have Become Bougie About Black People In Horror Movies Thanks To Jordan Peele

Aren't Into Films Which Qualify As Campy

Noted Cast
Lisa
Jessica Allain
Chauncey
Jason Woods
Gina
Paige Hurd
Ty
Mitchell Edwards
Kim
Pepi Sonuga
Images and text in this post may contain affiliate links which, if a purchase is made, we'll earn money or products from the company. Affiliate links and external links include an upward facing, superscript, arrow.
Thriller Plot Summary
A bunch of ass**** kids, at the age of 13, decide to play a prank on this stuttering guy named Chauncey. From what it appears, he is sweet, has a crush on Lisa, who likely has no interest, but he doesn't seem like a bad kid. However, she and the others decide to scare the daylights out of him, and it ends up leading to one of the kids being killed. Chauncey is the one who pushed them so, despite their part in it, they all point fingers, and he goes away for 4 years.
However, with him out, there is this fear he'll, justly, get revenge. Leading to this big masked figure walking around scaring the daylights out of people. Especially since Chauncey bulked up in prison.
Highlights
Ty and Lisa Are Cute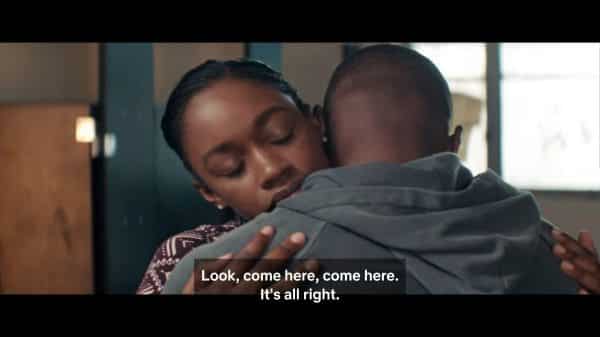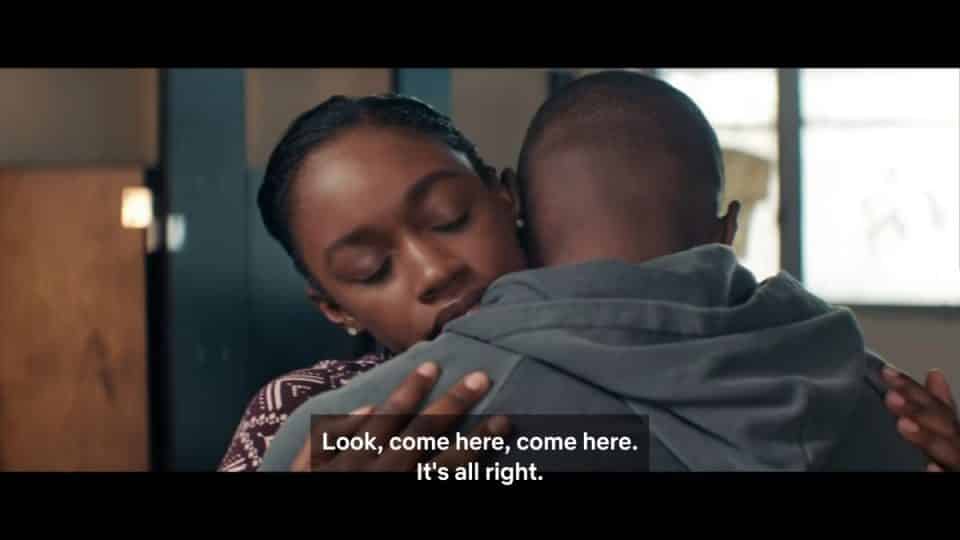 I'm honestly enjoying how often I'm seeing two, not racially ambiguous, Black people together. It's happening so often that it is something I'm feeling comfortable with, in the sense that it isn't a phase since I'm seeing it in movies like Native Son, Little, and this. Films all made for different audiences, released on different platforms, and so it makes me a happy camper. But, focusing specifically on Ty and Lisa, I just love how they are kind of basic. Not in a bad way, but with Ty being this football prodigy, allegedly, and Lisa, an average student, trying to go to an HBCU, but she is poor, it's a nice change from what we usually get.
Which isn't to say there isn't drama, thanks to Ty's ex-Gina, but she is just petty and childish. Almost comical really.
You Strangely Are On Chauncey's Side
While I like action movies, which mean I'm usually on the side of someone who is a loveable murderer, Thriller is different. I was legit mad for Chauncey and applauding him taking out the kids who did him wrong. For whether it was by knife, axe, a stone, what have you, I did not care four years passed, and they might have been better people, I wanted him to get his revenge. Especially since the watercolor looking slides made it seem he got royally messed up in prison. So that just had me hype for him taking out those kids.
Criticism
The Ending
Let's just say you might roll your eyes. Not just because of how things end, but also Lisa getting to be that white girl in a horror movie who somehow takes on a guy at least a foot taller and maybe 50+ heavier but isn't all messed up. Well, physically anyway. Lisa has been having nightmares about what happened for years and is on medication to try to deal with it.
On The Fence
This Is By No Means a Thriller, In Terms of Tone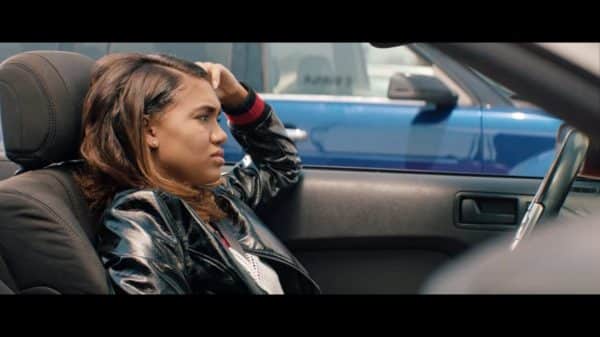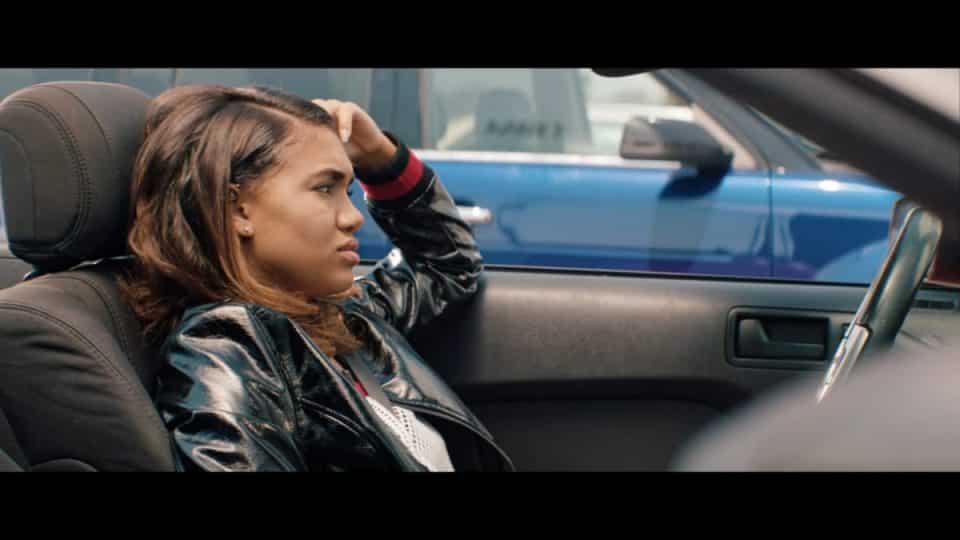 The title of this film contradicts what it is. For if you associate the word thriller with horror, jump scares, and giving you anxiety, Thriller doesn't provide that. Granted, Kim talking to her sister, imitating her voice – creepy as hell. Also, Gina seems a little crazy at times which makes you wonder if she'll kill Ty if she can't have him. However, for the most part, you'll laugh far more than those two, or anyone else, will make you feel anything resembling fear.
While I had a good ole time, it's because I wasn't expecting some Jordan Peele level masterpiece. Heck, I wasn't even expecting something on a Truth or Dare level. For as much as you can get hyped because Blumhouse is behind this, let's not forget they are as experimental with their money as Netflix. Hence how they can claim Sharp Objects, Truth or Dare, Get Out, and Jem and the Holograms. Now, as for where Thriller fits in? It highly depends on how into hood movies you are. If you think they are trash which holds Black and Brown people back, this isn't for you. However, if you have learned to laugh at how ridiculous they can get, this will tickle you. Won't be one of the best but since you paid for Netflix this month already, it makes for a decent thing to kill a lazy Sunday.
Follow Wherever I Look on Twitter, Like us on Facebook and Subscribe to the YouTube Channel.
---
Check Out Other Movies & Shorts On The Movies Master List Page
---