The Visitor (2022) – Review/ Summary (with Spoilers)
The path to redemption has always been without explicit details, and for Humberto, he seems to feel his daughter's life depends on him regaining his footing.
---
Director(s)
Martín Boulocq
Screenplay By
Martín Boulocq, Rodrigo Hasbún
Date Released (Film Festival – Tribeca Film Festival)
6/13/2022
Genre(s)
Drama, Non-English (Spanish), Family, Religious
Duration
85 Minutes
Content Rating
Not Rated
Noted Cast
Humberto
Enrique Araoz
Carlos
Cesar Troncoso
Elizabeth
Mirella Pascual
Aleida
Svet Mena
This content contains pertinent spoilers.
Film Summary
With getting out of prison and becoming sober, all Humberto wants to do is make peace with his exes' parents, Carlos and Elizabeth, and be in his daughter, Aleida's, life. However, the more he is around, the more he realizes Carlos and Elizabeth are repeating the same mistakes they did with his ex, making his need to become stable enough to get custody an imperative. However, an ex-con going against two local religious leaders is a tall order, and with Aleida starting to rebel against her grandparents, it doesn't look good for Humberto.
Things To Note
Reason(s) for Film Rating: Cursing (Minimal or nothing noteworthy), Violence (Nope), Sexual Content (Nope), Miscellaneous (Drinking, conversations about mental health)
Question(s) Left Unanswered
How long has Aleida's mother been gone?
Character Descriptions
Please Note: This character guide is not an exhaustive list of every cast member, and character descriptions may contain what can be considered spoilers.
Humberto
With now being sober for years and out of prison, Humberto wants his life back. He wants his child, to come up with a legitimate hustle and an apartment. For he not only wants to make his daughter proud but his mom too. While still having time to sing an aria since he quite likes opera.
Carlos
The head of a local church, and an immigrant, Carlos, at one time, took to Humberto and even financed his education. However, Humberto's downfall was quite embarrassing, and him not dedicating himself to the church, meaning him, Carlos, makes him seem like one-half of the adversaries Humberto must face.
Elizabeth
Carlos' wife, and one-half of the faith leaders in the area, Elizabeth, is far less prone to forgiveness than Carlos. She makes it clear that when it comes to Aleida, she is not really on Humberto's side, and while she isn't aggressively trying to impede their relationship, she isn't trying to foster Aleida and Humberto becoming closer either.
Aleida
At the brink of her teen years, Aleida has been raised by her grandparents for a while now, and though she has adjusted to their routine, she seems to long for something different. Though what she especially wants is the truth, specifically about her mom, who no one talks about.
Review
Our Rating: Positive (Worth Seeing)
Highlights
Humberto and Aleida's Fractured Relationship
While we don't see a lot of heart-warming scenes between Humberto and Aleida, what you can gather from their time together is a mutual desire to build a relationship. It isn't ego driving Humberto to want custody of his daughter. It is wanting to be a father and give to her what he might think Carlos and Elizabeth are unable to give. And while he is poorer than they are, between himself and his mother, they could make do. Plus, considering the history of grandparents raising their grandchildren on Humberto's side of the family, you can see he wants to break traditions.
As for Aleida's point of view? With her grandparents being religious figures and heavily into shame, you can see as much as she loves God, she doesn't love the way her maternal grandparents use the Lord's name and influence to craft that for themselves. It's stifling, and with them hiding the details of her mom's life, it makes Humberto's honesty, his admittance of flaws, a sort of freedom she wants access to. For she already doesn't have one parent in her life, she doesn't want it to become two.
How Religion Is Portrayed
Admittedly, there is a slight imbalance in the portrayal of religion. More so, "The Visitor" is critical of religion and the outsized role it plays in some cultures. As noted, Carlos and Elizabeth find power and influence because of their place in the church, and you can see, as much as they talk about healing and removing sin, they are the most judgmental people around.
Now, true, we don't know the extent of what Humberto did when he was committed to alcoholism. However, you see multiple signs that Carlos and Elizabeth need and want to maintain their holier-than-thou grip because of its benefits. They force Humberto to publicly speak upon his past to maintain their grip. We see people care more about their loyalty to Carlos than their faith, and when you consider the mystery of what happened to Aleida's mom and why she went down the path she did? You can see two people barely willing to acknowledge their sins and failings but always ready to use other people's to heighten their pedestal.
On The Fence
Wishing We Got More About Aleida's Mom
Unfortunately, outside of being clued into Aleida's mom having mental health issues, we don't learn much more about her. We don't learn about her and Humberto's love story, what life was like before Humberto went away, or much about her upbringing. All that we know for sure is that she isn't around anymore and it likely being due to suicide.
[ninja_tables id="46802″]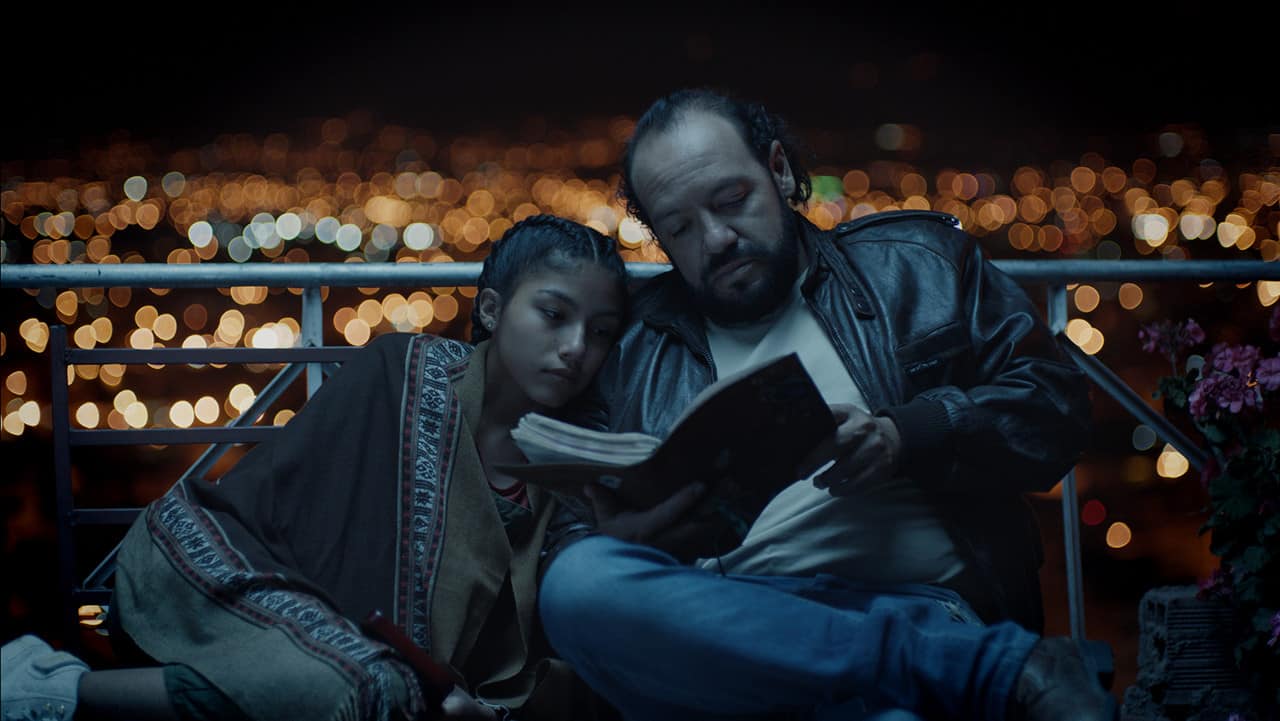 The Visitor (2022) – Review/ Summary (with Spoilers)
Overall
While not as emotional as you'd expect, "The Visitor" goes far enough for you to understand the wanting and longing for the father/daughter relationship central to the film. Also, as it presents a critique of religion, you can see its troubling role in Humberto's rehabilitation and him seeking to move forward in his life.
Highlights
How Religion Is Portrayed
Humberto and Aleida's Fractured Relationship
Disputable
Wishing We Got More About Aleida's Mom
Related Topics:
Cesar Troncoso
,
Drama
,
Enrique Araoz
,
Family
,
Film Festival
,
Martín Boulocq
,
Mirella Pascual
,
Non-English (Spanish)
,
Not Rated
,
Religious
,
Rodrigo Hasbún
,
Svet Mena
,
Tribeca Film Festival