Red Notice (2021) – Review/ Summary (with Spoilers)
For those who are fans of Ryan Reynolds and Dwayne Johnson's shtick, Red Notice was made just for you.
---
Director(s)
Rawson Marshall Thurber
Screenplay By
Rawson Marshall Thurber
Date Released
11/4/2021
Where To Watch
In Theaters

Netflix Original (11/12/2021)

Genre(s)
Action, Adventure, Comedy, Crime
Duration
1 Hour, 58 Minutes
Content Rating
PG-13
Noted Cast
Nolan Booth
Ryan Reynolds
The Bishop
Gal Gadot
Agent John Hartly
Dwayne Johnson
Inspector Das
Ritu Arya
Film Summary
Nolan Booth considers himself the top art thief in the world, but his rival, known as "The Bishop," thinks otherwise. However, in the process of proving he is the best by getting these three eggs gifted to Cleopatra, Booth plans to solidify his title. The problem is, between Agent John Hartly and Inspector Das, it's 2 people and INTERPOL facing off against him. However, as The Bishop gets aggressive with getting the eggs, Agent Hartley finds himself temporarily teaming with Booth as The Bishop threatens Agent Hartley's good name.
Things To Note | Question(s) Left Unanswered
Reason(s) for Film Rating: Cursing, drinking, gun violence
Review
Highlights
While It Feels Like Bottom Of The Barrell Ryan Reynolds Jokes, That Reynolds and Gadot Share, They Are Still Funny
Ryan Reynolds recently noted he plans to take a break from acting, and alongside spending more time with his family, I think it is also, so people don't grow tired of his shtick too. For that usual sarcastic character that has made him an A-lister, not only is he playing that same character, but it seems whatever jokes he passed on were given to Gal Gadot. This allows them both to be funny, but with so many of the jokes, you'll feel that they were cut from better Ryan Reynolds movies.
Dwayne Johnson Is Dwayne Johnson
The best thing you can say about Johnson is, like anyone who plays the straight man to Reynolds, he does what is needed. While Reynolds is in a lot of films that have action, his comfort zone is the comedy section and he relies on the other person to have the cool shootouts or fight scenes. Johnson is chosen this time and compensates well for Reynolds.
As for his character outside of Reynolds? Like everyone in the movie, it is good enough. I can guarantee you won't say, "Oh, Dwayne Johnson is really pushing himself with this movie!" but you'll definitely say he brought what you expected and left you happy.
Overall
Our Rating: Positive (Worth Seeing)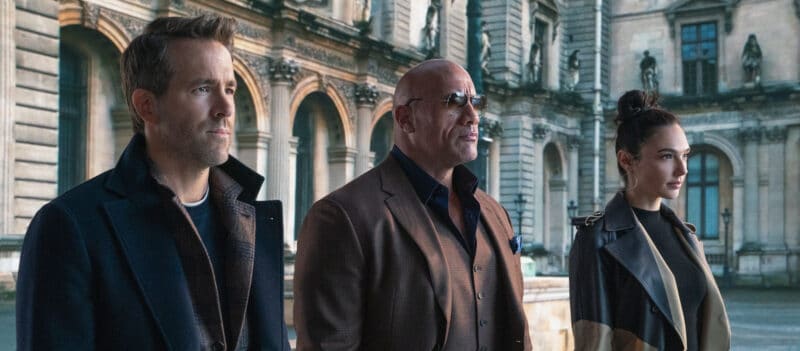 Red Notice seems like one of those movies which will pop on Netflix for a week when it comes out November 12th and then fizzle out. Why? Well, it isn't bad, but it isn't great either. It's just a fun way to spend Friday night if you have nothing better to do and don't feel like going out. And with Dwayne Johnson delivering what is expected, Ryan Reynolds doing the same, and Gal Gadot, it makes for a nice, simple action movie that doesn't try to do anything but be entertaining.
[ninja_tables id="46802″]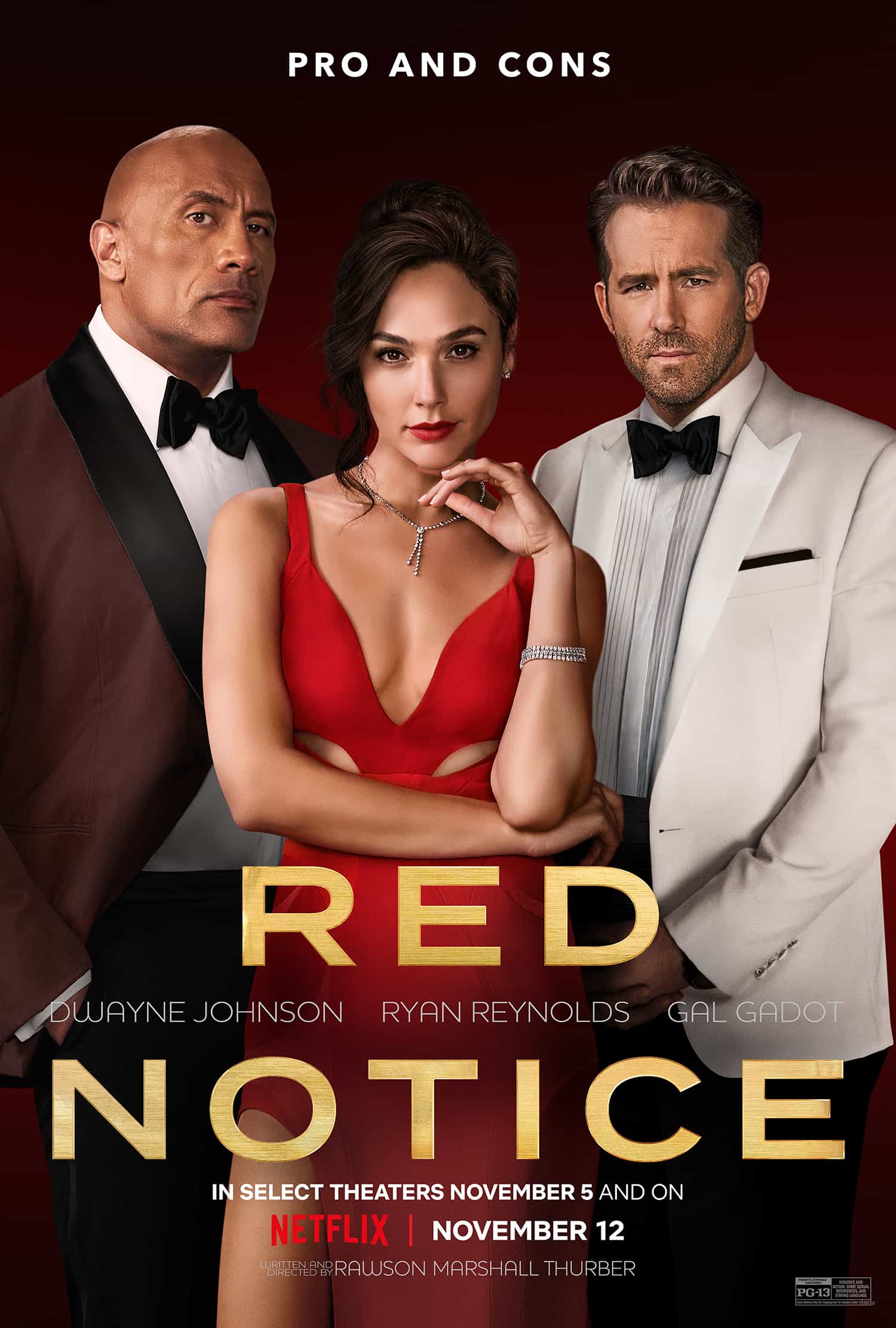 Red Notice (2021) – Review/ Summary (with Spoilers)
Who Is This For?
Those who like simple action movies that are funny, have explosions, bullets flying, and fight scenes, and aren't trying to convey any serious message.
Highlights
While It Feels Like Bottom Of The Barrell Ryan Reynolds Jokes, That Reynolds and Gadot Share, They Are Still Funny
Dwayne Johnson Is Dwayne Johnson
Related Topics:
Action
,
Adventure
,
Comedy
,
Crime
,
Dwayne Johnson
,
Gal Gadot
,
Netflix Original
,
PG-13
,
Rawson Marshall Thurber
,
Ritu Arya
,
Ryan Reynolds