Living (2022) – Review/ Summary (with Spoilers)
While "Living" can operate as a joke of how bureaucracy can kill the soul, it also pushes you to remember your part in making a life easier or harder.
Director(s)
Oliver Hermanus
Screenplay By
Kazuo Ishiguro
Based On
Ikiru by Akira Kurosawa, Shinobu Hashimoto, Hideo Oguni

The Death of Ivan Ilyich by Leo Tolstoy

Date Released (In Theaters)
December 23, 2022
Genre(s)
Drama, Elder, Historical
Duration
1 Hour 42 Minutes
Content Rating
Rated PG-13
Noted Cast
Mr. Williams
Bill Nighy
Michael Williams
Barney Fishwick
Peter Wakeling
Alex Sharp
Margaret Harris
Aimee Lou Wood
This content contains pertinent spoilers. Also, images and text in this post may contain affiliate links which, if a purchase is made from those sites, we may earn money or products from the company.
Film Summary
In 1953, Mr. Williams is head of the public works department of the then London county, and he is a solemn, quiet fellow. He goes to work, goes home, and like his son Michael, there is a pursuit to never cause a stir. However, between a new young man joining Peter the department and a young lady named Margaret leaving, Mr. Williams finds his routine shifting. Then, add in cancer, and he finds himself unable to continue to set an unbecoming precedent or be, as Margaret affectionately calls him, Mr. Zombie.
Things To Note
Why Is "Living" Rated PG-13
Dialog: no vulgarity
Violence: none
Sexual Content: a scene with a burlesque dancer
Miscellaneous: Heavy drinking
Question(s) Left Unanswered
What happened to Mr. Williams' wife exactly?
Character Descriptions
Please Note: This character guide is not an exhaustive list of every cast member, and character descriptions may contain what can be considered spoilers.
Mr. Williams
Since he was a child, Mr. Williams was enamored by gentlemen in their suits going off to work, and in his adult life, he became one. However, he didn't expect the day-in and day-out lifelessness of the job and how things would change after the passing of his wife.
You May Also Know The Actor From Being: Bob in the upcoming "Role Play," Danzi in the forthcoming "Dragonkeeper," and Thomas Newton in "The Man Who Fell To Earth."
Peter
Peter is new to the Public Works department and excited to start. However, as it becomes clear that most of his job will be reviewing and moving paper from one pile to another, the joy and energy begin dissipating.
You May Also Know The Actor From Being: Trevor in the upcoming "One Life," Rennie Davis in "The Trial of the Chicago 7," Luke in "To the Bone," and Enn in "How To Talk To Girls at Parties."
Margaret Harris
While Ms. Harris has only been with public works for a little past a year, she is a welcomed member due to her jovial personality. However, with plans to become an assistant manager elsewhere, the mood is sullen.
You May Also Know The Actor From Being: Aimee Gibbs in "Sex Education," Eve in "Lilith & Eve," and Queen Dagan in the upcoming "Seize Them!"
Michael
Michael is Mr. William's son who has a wife who wants him so badly to confront his father, but Michael just doesn't have it in him. Mainly since they have this weird relationship, albeit appropriate for the 1950s, where they are close enough to talk and see each other daily but estranged in the form of never getting personal.
Review
Our Rating: Positive (Worth Seeing)
Highlights
Aimee Lou Wood Playing Off Bill Nighy
Take note, Mr. Williams is a widow, his son and daughter-in-law aren't close to him, and he has no sign of friends. Heck, he doesn't even seem to have conversations with the neighborhood gossip. Then, to add onto that, he is so revered by his employees they barely do more than give him an acknowledgement, a yes sir, and a no sir.
So when it comes to Ms. Harris and Peter, you can see their youth as attractive since neither has become stringent and caught up on what is considered appropriate. Peter doesn't know all the protocols the second most senior person in the department believes should be upheld. Then, with Ms. Harris, being that she is bubbly and social, it seems she finds most if not all the rules to be nonsense.
You can see Mr. Williams longs for that, a break from routine, and with Ms. Harris leaving, he takes advantage of the opportunity to interact with someone who doesn't exalt him. For with her coming up with a nickname for him, as she does everyone, there is something cheeky there, someone who still shows signs of life. And the way Aimee Lou Wood plays off Bill Nighy allows her to break away from her character on "Sex Education."
Yes, the look is undeniable, as her front teeth are displayed. However, there is something about how she plays Nighy's confidant, albeit while a bit uncomfortable, that helps you see her be more than a young lady in color, in a world often painted in black and white. She is a spark, a friend, and since Mr. Williams struggles to express himself, likely even forgetting how to make friends, maybe even what one is, her patience and desire to understand him is touching. I'd even say it allows you to understand the struggle of building connections as you get older when the pursuit isn't business related but personal, and your social etiquette skills have given way to desperation for companionship.
On The Fence
It Is A Dry Movie
Throughout the film, you'll experience the sweeping sound of classical music, a focus on the scenery, and all the things which make period dramas dry and not for everyone. But what doesn't help is that, outside of Ms. Harris, there isn't much life in "Living." Yes, there is a writer Mr. Williams meets as he tries to rediscover what it means to be alive who presents what can be seen as an extreme version of such. However, he is only in the film for a short while. The rest of the film's characters potentially operate as depictions of Mr. Williams at different points in his life.
In some ways, this drives the point of the film home, as you see from Peter to the second in command. You could also submit the depiction of Mr. Williams' staff is an example that not enough people are living due to avoiding conflict and all that is needed to not be like a zombie. However, not getting to know much about anyone, even Mr. Williams, beyond he is part Scottish, does sometimes make "Living" easy to disconnect from. I mean, even regarding why Mr. Williams' wife died, that information isn't explicit, and that relationship isn't developed.
Then, in terms of supporting characters, you learn little to nothing about everyone. Peter is just wide-eyed, bushy-tailed boy trying to do a good job. While Ms. Harris has a personality, she is but a catalyst for Mr. Williams' journey. Heck, even in terms of Michael, one of the few who know Mr. Williams personally, neither he nor his wife informs you much about what Mr. Williams is like. All we learn between them is Michael's wife wants more and better since she hasn't smothered her fire like everyone else.
Who Is This For?
Do you love hearing British accents and language and seeing a person come back to life after losing their reason to truly live beyond their routine? "Living" is for you.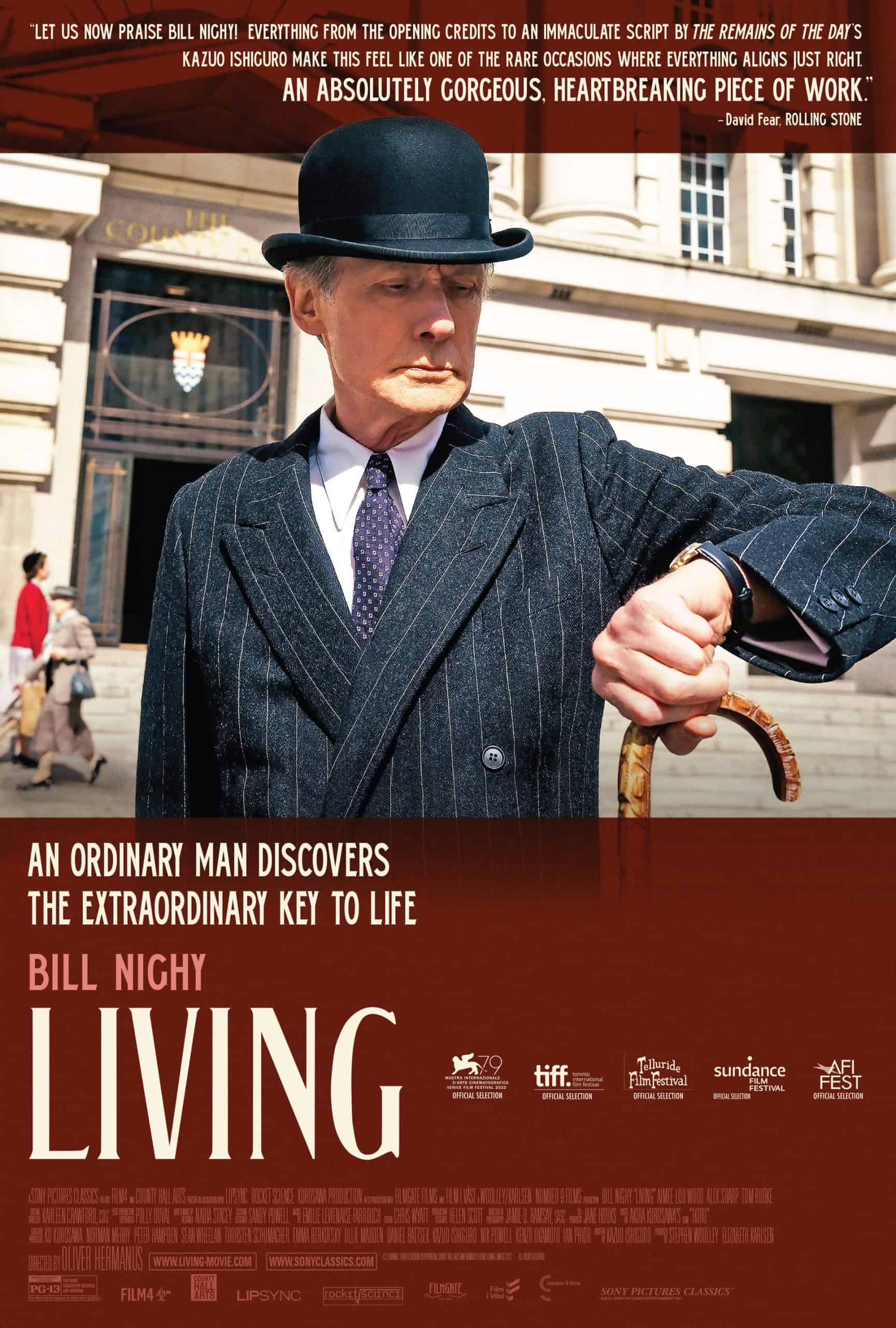 Living (2022) – Review/ Summary (with Spoilers)
Overall
"Living" is a moving film that also acts as a warning that, if you only worry about checking the boxes and doing the minimum to get through your day, you are doing a disservice to yourself, and your indifference for life will likely impact the potential joy of another.
Highlights
Aimee Lou Wood Playing Off Bill Nighy
Disputable
It Is A Dry Movie
Related Topics:
Aimee Lou Wood
,
Akira Kurosawa
,
Alex Sharp
,
Barney Fishwick
,
Bill Nighy
,
Drama
,
Elder
,
Hideo Oguni
,
Historical
,
In Theaters
,
Leo Tolstoy
,
Rated PG-13
,
Shinobu Hashimoto