Into The Dark: School Spirit is a perfect SVoD release for it's not good enough for theaters, or to pay for on its own.
---
Community Rating: 66.67% (1)
---
---
Director(s)
Mike Gan
Screenplay By
Patrick Casey, Josh Miller, Mike Gan
Date Released
8/2/2019
Genre(s)
Horror
Good If You Like

Small Cast Horror Films
Horror Films Starring Teenagers, Delinquents Especially

Isn't For You If You

Don't Like Being Being Able To Figure Out The Killer Easily
Are Looking To Feel Scared

Noted Cast
Erica
Annie Q.
Lizzy
Jessi Case
Russel
Philip Labes
Brett
Corey Fogelmanis
Vic
Julian Works
Jason
Jordan Austin Smith
Mr. Armstrong
Hugo Armstrong
Images and text in this post may contain affiliate links which, if a purchase is made, we'll earn money or products from the company. Affiliate links and external links include an upward facing, superscript, arrow.
Into The Dark: School Spirit Plot Summary & Review
It's 8/24/2019 and Erica Yang, senior class president, top scholar, and likely on the way to Harvard, is in detention. This comes as a shock to the other kids in Saturday detention, Lizzy, Russel, Brett, and Vic, as well as Erica's ex Jason. But, she did her crime, so she does her time with the very high strung, Mr. Armstrong. Someone who, even with the school year barely beginning, seems like he has run out of f***s to give – hence why, when Vic riles him up, he puts his hands on him.
But, in the long run, Mr. Armstrong thinking he could do as he pleases is the least of the kids' worries. What they really need to worry about is the "School Spirit." That is, this admiral who haunts the halls and, allegedly, for the last few years, is the reason kids have been kidnapped. Which, before the events of the movie, was just a ghost tale, but we learn better.
Highlights
While The Backstories Are Light, They Are Good Enough
This is a horror movie, and outside of Jordan Peele, I'd submit no one is trying to make a horror movie notable for its story, characters, or performances. They are strictly about entertainment. Which is what the film does, it gives us just enough about Erica, Lizzy and her alcoholic mother, Russel, and Vic whose mother enables a loaf of a man. Does anyone's story make you feel sorrow or to the point of saying, "You poor thing?" Nope. But it does give enough authenticity for you to see them as real people. Especially Erica who is dealing with what sounds like Tiger parents who will withhold food until she finishing her homework and does a prep quiz.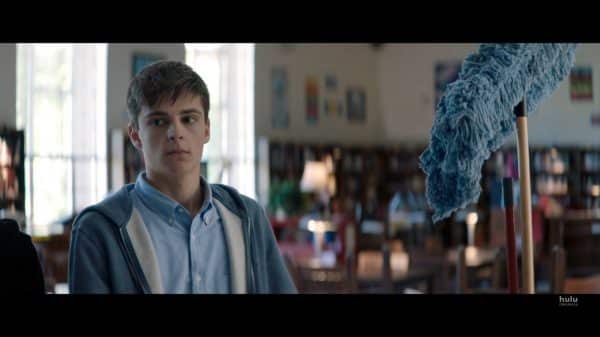 Criticism
The Villain Seems A Bit Obvious
With there being a cast of 7, it limits who is the killer and while, I will admit, there were times I thought there might be more than one, ultimately it is one person, and they let the cat out of the bag pretty early. Maybe around the halfway mark, if not sooner. But, to be honest, considering you don't emotionally bond with anyone, the killer being obvious doesn't hurt the film as much as you hunching when folks are killed off. Sometimes just because they didn't fight back.
On The Fence
The Ending
In combination with what is noted above, the ending isn't the best nor the worse. While the villain's reveal is meh, the person who survives has a decent reveal of their own and what they do as the survivor is interesting. I'd even say, if you weren't paying attention, you'd think they planned what happened. Hell, for a moment, you'd think all we saw was a senior prank on the president gone wrong.
But, alas, instead we get an ending which ends with a devious smirk.
Into The Dark: School Spirit Overall: Mixed (Divisive)
Into The Dark: School Spirit is enjoyable because it comes as part of a streaming package. With that, you don't have to factor in travel or ticket cost, it is only about if you have the time. And while there is this slight, "You get what you pay for" vibe, hence the mixed label, as long as you don't look for the best movie out there, one which deserves a pedestal, you'll dig this.
Follow Wherever I Look on Twitter, Like us on Facebook and Subscribe to the YouTube Channel.
[ninja_tables id="24271″]
Into The Dark: School Spirit Ending Explained & Commentary (with Spoilers)
Ending Explained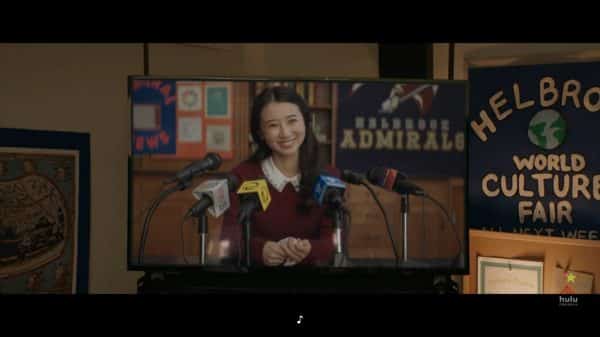 Brett ends up being the son of the women who developed into the legend of the "School Spirit," and since her death, he has lived in the cellar, with her corpse. Now, as for why no one discovered him or the kids he murdered? That's hard to say. But you do have to factor Brett was homeschooled before his mom died and saw the cellar as his second home. Add in the size of the ventilation system, one could believe that he snuck in and out discreetly for years. As for how, with most schools having janitors, guards, and cameras, he was able to kill that many kills, and keep the nearly dozen of them from making the school seem rancid? That isn't spoken of.
All we know is Brett killed Russe with a paper cutter, cut off Jason's ankles, murdered Vic, killed Lizzy by sending an ax into her head – that she stood and waited for, and killed Mr. Armstrong off-screen. And he would have gotten away with it to if it wasn't for his infatuation with Erica and him being an incel.
Commentary
Is A Sequel Possible?
Unless someone was helping Brett, as it sometimes seemed, considering chasing people and dragging their bodies seems like a whole lot of exercise, then no.
Follow Wherever I Look on Twitter, Like us on Facebook and Subscribe to the YouTube Channel.
[ninja_tables id="24271″]
While The Backstories Are Light, They Are Good Enough - 80%
The Villain Seems A Bit Obvious - 65%
---