Otherhood (2019) – Summary, Review (with Spoilers)
While Otherhood's exploration of mother/son relationships plays out too silly to be taken seriously, there remains enough heart to make it worth checking out.
---
Director(s)
Cindy Chupack
Screenplay By
Cindy Chupack, Mark Ardrus
Date Released
8/2/2019
Genre(s)
Comedy, Drama
Good If You Like

Watching Mother/ Son Relationships
Films That Don't Favor Either Side
The Exploration Of Mothers Outside & Within The Confines Of How Their Child Sees Them
Passionate Reactions

Isn't For You If You

Want Something Less Dramatic, To The Point Of Being Funny, And More Heartfelt

Noted Cast
Gillian
Patricia Arquette
Helen
Felicity Huffman
Carol
Angela Bassett
Daniel
Jake Hoffman
Paul
Jake Lacy
Matt
Sinqua Walls
Images and text in this post may contain affiliate links which, if a purchase is made, we'll earn money or products from the company. Affiliate links and external links include an upward facing, superscript, arrow.
Otherhood Plot Summary & Review
Thanks to their 27-year-old sons meeting in the 6th grade, Gillian, Helen, and Carol discovered a lifelong friendship like their sons Daniel, Paul, and Matt, respectively. But, after raising their boys to be independent, and their kids moving from Poughkeepsie to the heart of New York City, they barely hear or see from their children. Which, on Mother's Day, hits a sensitive nerve so hard that they drive down to the city to coerce their sons to spend time with them. Leading to each one not only discovering things about their sons they didn't know but their sons being introduced to who each woman is outside of them being their mother.
Collected Quote(s) or .Gifs
"[Motherhood] That sinking feeling that, as you child is growing up, that you're being broken up with, on a gradual but daily basis."
— Gillian
"'Mother' is not just a noun, it's a verb. It requires action."
— Helen
"You taught me there is room in every story for a better ending."
— Matt
Highlights
The Moms Aren't Saints & Sons Not Ungrateful
Going in, you'd think this film would be about shaming sons and the ultimate goal being that kids should contact their mothers more. That's not the case. The mothers, Helen, notably, are flawed in beautiful ways. For with Helen, it is clear her son is the only thing which is left of her past relationship and the lack of closure she has from it, it leads to her lashing out at Paul sometimes. Then with Gillian, with it appearing she changed her whole life for the comfort of Daniel's dad, I wouldn't say she has a sense of entitlement but, like Helen, doesn't fully understand her actions and what she has said has consequences. Especially in regards to Daniel's love life.
Leaving Carol. While Helen's relationship with Paul is dramatic, filled with snide comments, yelling, and drama which seems like Chupack and Ardus wrote Desperate Housewives fan fiction, Carol's is rooted in what you may expect. A woman of a certain age, stay at home mom it seems, who feels disconnected. So, especially with her widowed, she'd seek her child out. Maybe not expect him to be her best friend, but at least call on Mother's Day, keep her aware of who he is dating and things of that nature.
Yet, that didn't happen. But it is made clear from each boy there is a reason, beyond just being busy, why they don't have the relationship with their moms their mothers think they should. You can likely guess why Paul and Helen aren't close, but with Gillian, it is sourced in her criticism, perhaps her need to influence and steer her son's life. Much less, probably to an embarrassing level, talk about his writing like he is really pumping out work when, in truth, he isn't. Which she knows.
Then with Matt, thanks to his father, and his mother not stepping in, their relationship is strained in an understandable way. Thus giving you everyone's reason for why things are the way they are and why everyone is a bit uncomfortable.
On The Fence
You Don't Really Get Heart To Heart Moments Which Can Feel Meaningful
While grievances are aired, the film keeps it light, so you never get to the point of your feelings being stirred. Also, even as you see the healing begin, for some more than others, it doesn't hit so hard you feel the need to call a family member you haven't spoken to. Instead, Otherhood feels more about entertainment than message or invoking feelings.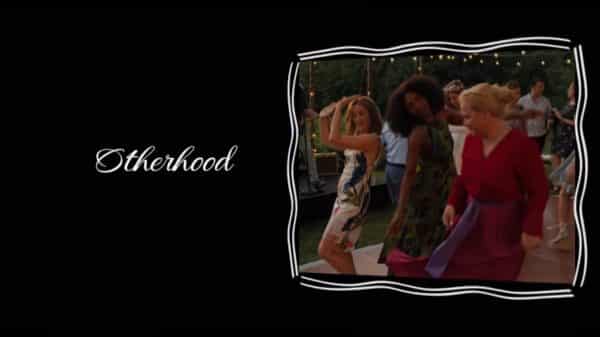 Despite exploring the woes of being a mother to a grown man, Otherhood, surprisingly, doesn't play favorites or really go that deep. For while there are dramatic elements, they tend to be more on the superfluous side than giving us any sense of subtlety or nuance. Thus killing any ability to emotionally affect you or make it seem the film's goal, in any way, was to go beyond being a fun movie with a funny premise.
Yet, even with this film not going in the direction it could have, we're rating it positive. The reason being, not every film should aim for that juggler. Sometimes it's better for films like these to not be about guilting members of its audience but making them laugh. If not triggering memories of how extra your parents are, or were, and how you got past that or learned to accept that is how they are. Ultimately leaving this vibe that Otherhood could be about comforting parents and children with the idea that, each person has valid feelings about their relationship. Not to say the relationship can't be better, but neither side should feel guilty about either doing their best or focusing on what keeps them sane and/or fulfilled.
Follow Wherever I Look on Twitter, Like us on Facebook and Subscribe to the YouTube Channel.
[ninja_tables id="24271″]
The Moms Aren't Saints & Sons Not Ungrateful - 85%
You Don't Really Get Heart To Heart Moments Which Can Feel Meaningful - 75%
Related Topics:
Angela Bassett
,
Cindy Chupack
,
Comedy
,
Drama
,
Felicity Huffman
,
Jake Hoffman
,
Jake Lacy
,
Mark Ardrus
,
Netflix Original
,
Patricia Arquette
,
Sinqua Walls