Hustle (2022) – Review/ Summary (with Spoilers)
With "Hustle," Netflix has seemingly made a commitment not only to Adam Sandler's career as a comedian but also as a notable dramatic actor.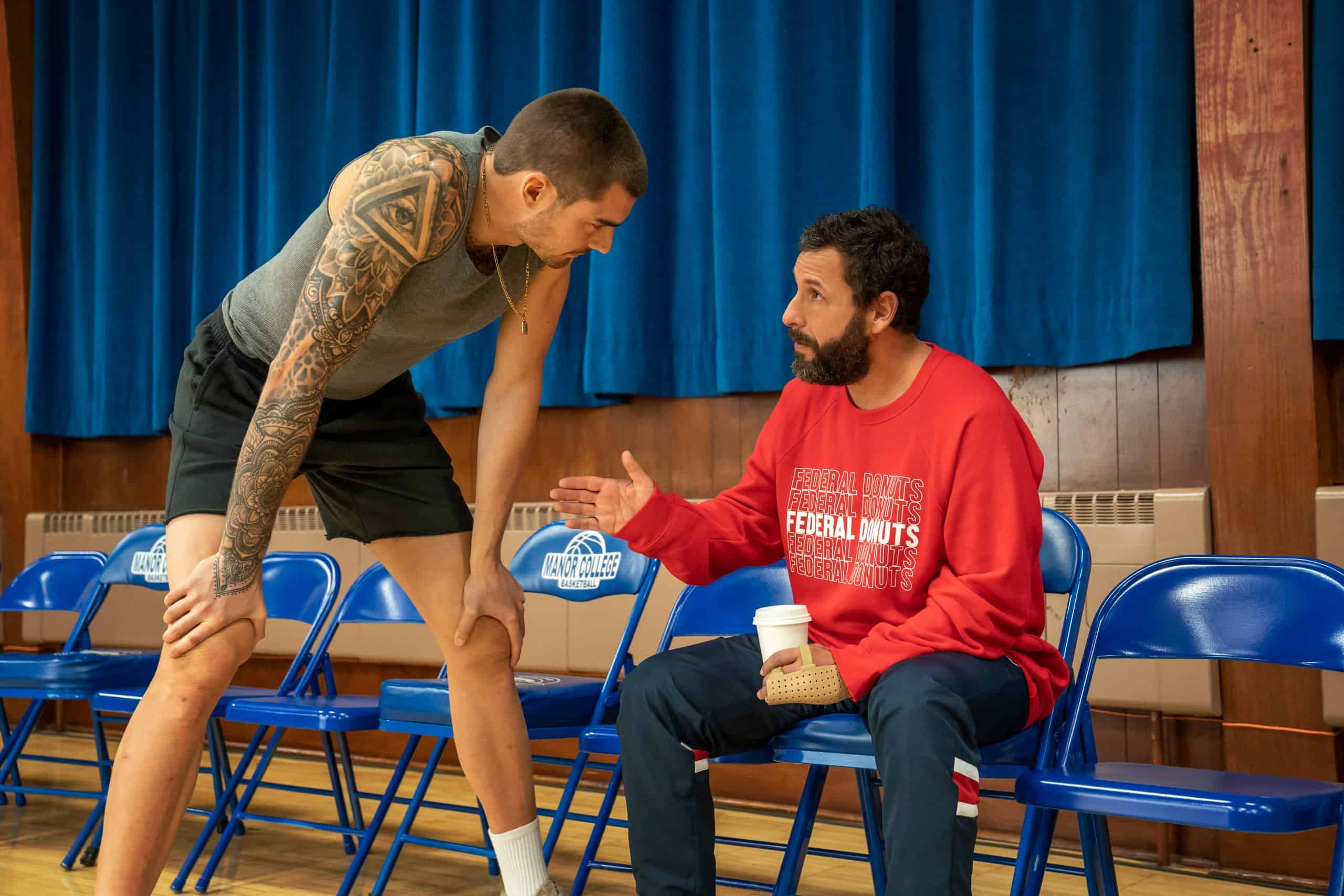 With "Hustle," Netflix has seemingly made a commitment not only to Adam Sandler's career as a comedian but also as a notable dramatic actor.
---
Director(s)
Jeremiah Zagar
Screenplay By
Taylor Materne, Will Fetters
Date Released (In Theaters)
6/3/2022
Date Released (Netflix) – www.netflix.com/Hustle
6/8/2022
Genre(s)
Drama, Sports
Duration
1 Hour and 57 Minutes
Content Rating
Rated R
Noted Cast
Stanley
Adam Sandler
Alex
Jordan Hull
Theresa
Queen Latifah
Rex
Robert Duvall
Vin
Ben Foster
Bo
Juancho Hernangomez
This content contains pertinent spoilers.
Film Summary
For nearly 30 years, Stanley has dedicated his life to the NBA, specifically the Philadelphia 76ers. Not as a player nor coach, but as a scout. Because of him traveling internationally, he has missed a multitude of birthdays and other milestones with his daughter, Alex, and while his wife, Theresa, understands, as his daughter preps for college, all he missed weighs on him.
Hence why, when Rex notes Stanley could become an assistant coach, he is excited. But no sooner than he is told he has the job, Vin, Rex's son, takes over and puts Stanley back on the road, for no one can scout as he can, and he wants someone who can complete the team. Enter Bo Cruz, who Stanley hopes, and trains to be that person, but between Bo's past, Vin's petty feud with Stanley, and Stanley coming to his wit's end, it isn't clear whose dreams will come true or to an end.
Things To Note
Reason(s) for Film Rating: Cursing (Absolutely), Violence (Minor skirmishes, but mostly shoving matches), Sexual Content (None), Miscellaneous (Overall, it is mostly rated R due to language, drinking, I believe there were some who smoked, and that's it)
Character Descriptions
Please Note: This character guide is not an exhaustive list of every cast member, and character descriptions may contain what can be considered spoilers.
Stanley
Stanley has spent most of his life playing basketball, and at one time, he wanted to go prop. However, while playing for Temple University, an accident led to the end of his career as a player. Luckily though, he made enough connections to eventually find himself working for the 76ers, which has long used him for a scout, but dreams of being an assistant coach have marinated for years.
Alex
Alex is Stanley's daughter, who has a relationship with him that isn't strained, despite Stanley missing 9 of her birthdays. But, with her trying to decide about going to film school or not and graduating high school, she is one of his inspirations for finally getting off the road and coaching.
Theresa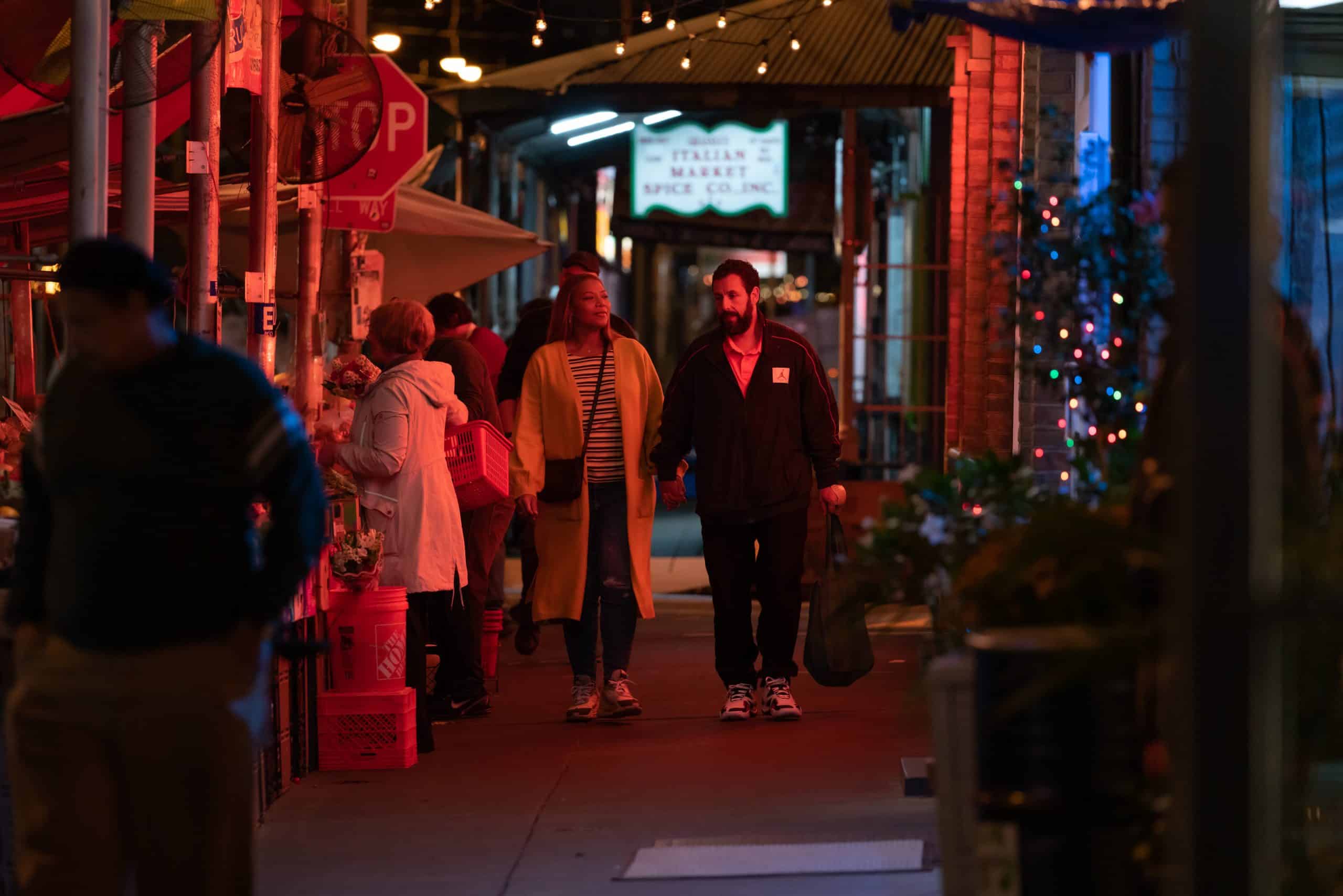 Theresa is Stanley's wife he met in college and who seems to work as a chef.
Rex
Rex is the owner of the 76ers who has long admired Stanley not just for his scouting skills and knowledge but also honesty.
Vin
Vin is one of Rex's children who help manage the team, who often has a differing opinion from Stanley.
Bo
Bo is a Spanish player Stanley discovers playing street ball in construction boots who he thinks, despite being 22, can be made into a star player.
Review
---
Community Rating:
---
Highlights
Sandler and Hernangomez's Chemistry
Two things are going on here: Stanley acts as a father figure to Bo, alongside a trainer, and in terms of what Stanley gets out of this? On top of practicing his coach/trainer skills, you could see him using this as a means to compensate for Alex not being an athletic person and not being there as he would've wanted. The combination allows for many heartfelt moments as Stanley balances being encouraging, pushing Bo's limits, and knowing when to back off.
Also, through Bo, we see that Stanley really knows what he is doing and talking about. Not to the point the film can come off overtly technical and lose people who aren't into basketball. More so, the film doesn't have to dwell on Stanley's credentials verbally but instead has us see it in action and how much a good coach means to someone who may be rough around the edges but has talent.
After all, sports is one of the most popular methods for people to better themselves, and as Stanley shows, it's elementary for a kid like Bo to be chewed up and spat out, with all the dreams and potential money to be made going from being dangled like a carrot to snatched right before it even touches their fingertips.
While The Basketball Games Lack Intensity, Your Investment In Bo and Stanley Keeps You Engaged
2 hours can be a long watch, and usually, between comedy, action, or something notably dramatic, that compensates for longer films. That isn't necessarily the case with "Hustle." Sandler is comical, but he is in dramatic mode, so he isn't loud, brash, childish, or playing someone who seems a bit dumb or lacking social niceties. He is an adult, fairly serious, and you can tell he is worn down because of all the traveling and his lifestyle.
Which would push the idea that the basketball games would be intense and dramatic, but this isn't that kind of sports drama. There aren't a lot of quick camera cuts and trickery to up the ante of the moment. Rather, this film leans on the characters and how much Bo making it would change his life and Stanley's to get you invested.
All the while not making this feel like a heavy-handed drama. I mean, don't get me wrong, Bo is working class in Spain, with a child, and is a pillar of his household. But the film doesn't get you a sort of poverty porn story where it beats into you that if Bo doesn't make it, his life will be hell, or Stanley's career will be dead. Rather, the push here is that dreams don't have to die, they need to evolve, and adapt, and if you stay ready, you don't have to get ready when your time to get called up comes. Thus avoiding the underdog or impoverished kid storyline and presenting something that can feel universal, but in this case, showing you the route with basketball.
Overall
Our Rating: Positive (Worth Seeing) – Recommended
I know accolades don't matter as much as views or how much something makes at the box office, but I do feel if Adam Sandler was ever going to be nominated for major accolades, this would be it. "Uncut Gems" was a warm-up/ reminder that he could do more than throwaway Netflix comedies, and this reminds everyone that, like many comedians, Sandler can do drama and excel in ways traditional dramatic actors can't. For with bringing a relatable character and how he works off Hermangomez, they create one of the best coach/player relationships any film has produced in a while.
Hence the recommendation. As a fan of Sandler's dramatic work, and when comedians set aside their shtick and explore something different, I liked and appreciated what Sandler did here. It reminds you of how many comedians start with that everyman persona, and Sandler taps into that to bring Stanley to life. And while it could have done more to illustrate how he sacrificed being with his family for his work, not showing Alex as distant or hating him allowed for one less distraction from Stanley going all-in on Bo and developing that as the driving relationship. One which compensated for not having the usual sports drama cinch moments or action movie-type cuts.
Which, ultimately, creates one of Sandler's best performances and one of Netflix's first notable contender for the 2023 awards season.
Who Is This For?
On top of being for fans of Adam Sandler's more dramatic work, it also contains a huge amount of people involved in the basketball world and a sweet story that won't make you cry excessively but will get you emotionally invested.
[ninja_tables id="46802″]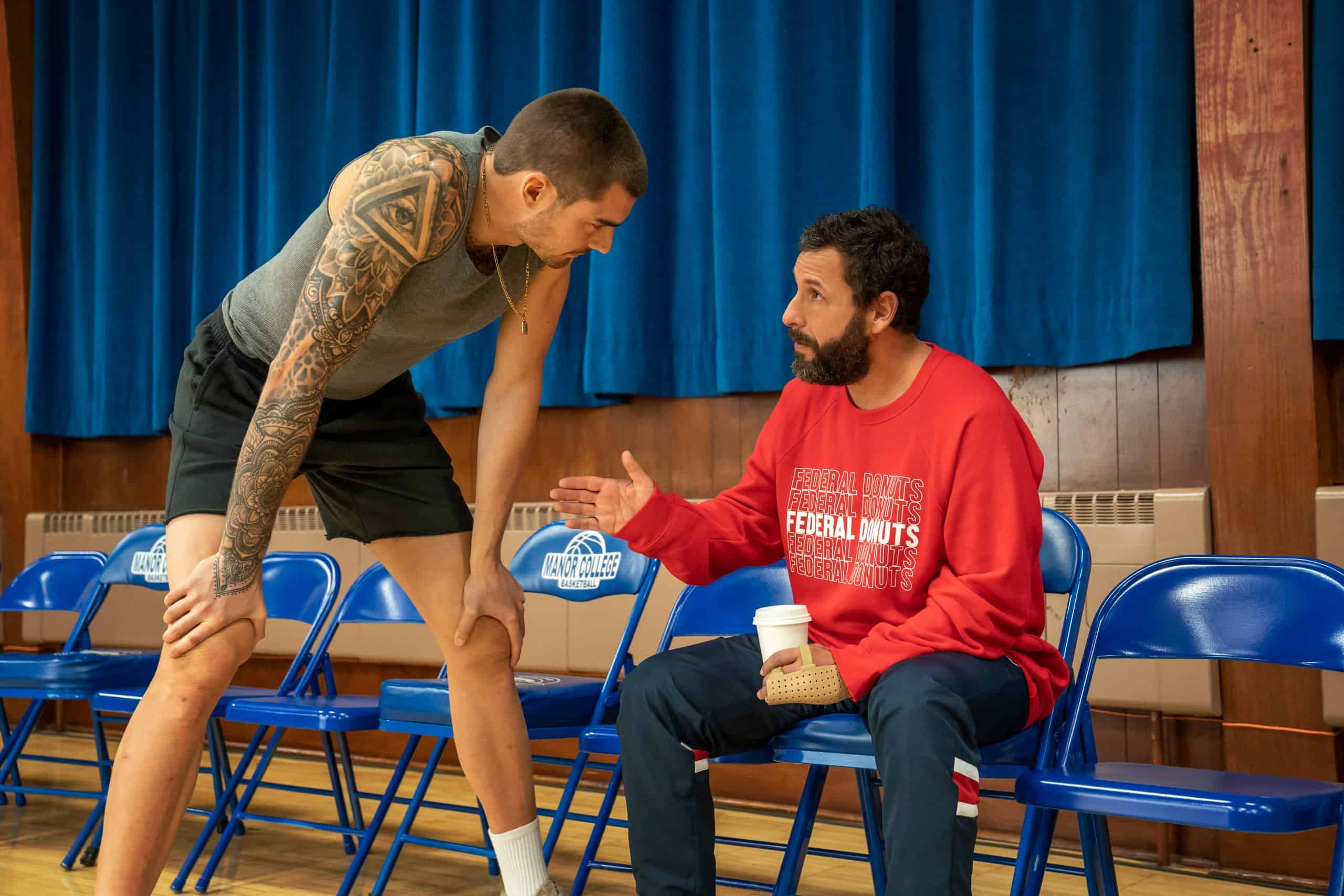 Hustle (2022) – Review/ Summary (with Spoilers)
Overall
Adam Sandler shows himself as an underrated dramatic actor once more as he takes on a sports drama that seems right up his alley and bound to get Netflix major accolade nominations during the next awards season.
While The Basketball Games Lack Intensity, Your Investment In Bo and Stanley Keeps You Engaged
84
Sandler and Hernangomez's Chemistry
90
Highlights
Sandler and Hernangomez's Chemistry
While The Basketball Games Lack Intensity, Your Investment In Bo and Stanley Keeps You Engaged
---
Follow, Like, and Subscribe
Community Rating: 0.00% (0) - No Community Ratings Submitted (Add Yours Below)