It has long been said that men fight through what they feel, especially towards each other, and in "Creed III," we see that in real-time as two brothers fight through shared pain and trauma.
Director(s)
Michael B. Jordan
Screenplay By
Keenan Coogler, Zach Baylin
Based On
Story By Ryan Coogler, Keenan Coogler, Zach Baylin
Date Released (In Theaters)
March 1, 2023
Genre(s)
Action, Drama
Duration
1 Hour 56 Minutes
Content Rating
Rated PG-13
Noted Cast
Adonis Creed
Michael B. Jordan
Bianca Creed
Tessa Thompson
Amara Creed
Mila Davis-Kent
Mary-Anne Creed
Phylicia Rashad
Damian Anderson
Jonathan Majors
18 Year Old Damian
Spence Moore II
15 Year Old Adonis
Thaddeus J. Mixson
This content contains pertinent spoilers. Also, images and text in this post may contain affiliate links which, if a purchase is made from those sites, we may earn money or products from the company.
Film Summary
After a 26-1 career, Adonis Creed retired the undisputed champ and decided to let his bruised, bloodied, cracked, and broken in some places body truly recover. Bianca, of course, is happy about this, for you know how she would worry about him when he fought, and now with them having a daughter in Amara, she especially is glad Adonis now models on occasion and focuses on being the co-owner of a gym.
But, as Adonis' friend, Damian, gets out after a nearly 18-year stint, Adonis' world shifts. Not just because of the guilt from not keeping in touch, thanks to Mary-Anne, but also because of how much trauma was buried with the memories of Damian. For while they were best friends, damn near brothers when they were 15 and 18, with Damian being older, it was during the period when Adonis was in a group home, and all he had was Damian.
However, while you would think it would be hugs, jokes, and catching up, Damian has a chip on his shoulder. He was Adonis' inspiration, protected him from the very thing that got him locked up, and as Adonis shows off his life to his best friend, Damian's envy turns to rage. Leading to him destroying this new life Adonis has been trying to build with his gym, and it being clear, until they settle their differences in the ring, Damian will do whatever it takes to slander Adonis. Particurally, he plans to make it clear Adonis doesn't deserve the life he sacrificed his own for.
Things To Note
Why Is "Creed III" Rated PG-13
Dialog: Minimal, if anything cursing, despite how you'd think Damian would talk
Violence: Blood, bruises, and facial abrasions
Sexual Content: None
Miscellaneous: Drinking
Question(s) Left Unanswered
Who were the people training Damian? Were they from his golden glove days?
Was the girl Damian with someone random or someone who held him down while he was in prison?
Character Descriptions
Please Note: This character guide is not an exhaustive list of every cast member, and character descriptions may contain what can be considered spoilers.
Adonis
Considered one of the greatest boxers in history, Adonis retired on top and pursued other things to keep him busy and active. However, without fighting as an outlet, it made all the stuff he has bottled up in life build up, and while he kept his emotions in check, Damian showing puts cracks into the structure Adonis has buried most of his childhood before he became a Creed.
Bianca
While no longer able to perform, in hopes of maintaining her ability to hear, Bianca has transitioned to producing and with gold records and working with artists like Kehlani, who appears in the film, while she wishes things were better, she is content with what they are.
Amara
Amara is Adonia and Bianca's daughter, who appears to be deaf and deeply in love with her father's boxing career. In fact, it seems she has watched all his fights and, in secret, has been trying to learn how to fight like him.
Mary-Anne
After a stroke, Bianca and Adonis worry about Mary-Anne heavily. But, despite how much they ask, or even dangle more time with Amara, Mary-Anne has no desire to live with them and give up her home.
Damian
At one time, Damian was an up and coming kid, an underdog due to growing up in the foster system and making something out of himself through boxing. But, with having a gun, and priors, all it took was the police catching him one final time to put his dreams of going pro on hold for over 18 years. But now, with the man he considered his brother so high profile and helping to manage the current champ, all Damian wants is his shot to prove to himself, maybe to Adonis too, that he is the best there is, the best there was, and best there will ever be.
Review
---
Community Rating:
---
Our Rating: Positive (Worth Seeing)
Highlights
Two Of The Five Fights
The final fight compensates for nearly everything in the movie. It compensates for the three other fights, which, at best, have glimmers of greatness. How? Why? Because Adonis' first fight has this Robert Downey Jr. version of "Sherlock Holmes" to it as he calculates where to hit his opponent. As for the second fight worth noting, which is the final fight? It's a highlight because it gets you moving, ducking, vicariously feeling punches when they land, and puts you in the mindset of the actors to the point you start to get winded like you're doing something.
On top of that, while the drama and build are on the fence for us, there is no denying it peaks during the fight as we see two hurt men face each other in the ring alongside their demons. Whether it is Adonis facing his big brother, his guilt, and childhood trauma, or Damian facing the possibility of his dream not being deferred but unobtainable? It all hits as much as the punches do.
How Time Flies
Despite not having a bunch of high-octane fights that go the distance, you'll be surprised how quickly time passes. In one minute, Damian is being introduced, Amara shows signs she could star in Creed IV, and then the final fight happens. It's shocking in some ways because the film covers Adonis' childhoof trauma, his relationship with Damian, issues he has with Mary-Anne, who is sickly, and then there is Adonis' relationship with his chosen family. All of this explains the time length of nearly two hours, but it feels almost like 90 minutes – even with a good amount of time dedicated to Adonis getting back in shape to face Damian.
On The Fence
There Are Only Four Boxing Matches In The Entire Movie
In the film, we watch 18-year-old Damian in a boxing match, Adonis' retirement match, Damian's match for the heavyweight world title, and then Damian vs. Adonis. These are all the fights, and as noted above, the only one with any real oomph is Damian vs. Adonis.
Why? Because, outside of setting the precedent of Damian being willing to fight dirty, as shown in his first adult fight, you don't get much out of that fight. Then, with Adonis? While he has these moments in his retirement fight that feel notable, as you see the art of boxing, specifically pinpointing a weakness, something he got from Damian, his final fight doesn't have the same style. Granted, he is three years rusty at that point and facing the George Foreman to his Muhammad Ali, but it's hard to not wish we got more out of both men, especially Damian.
Some Of The Emotional Moments Don't Feel As Heavy As They Are Written
It's recognized that nearly every lead character is going through something. Mary-Anne had a stroke, and things are getting hard between her kids worried about her and her having to face her own mortality. Bianca was forced to retire from performing and now produces songs for other artists that are hits she isn't known for. In a way, you can see her both mourning her old career while relishing in her new one.
Damian, who relates to Bianca, in the form of watching someone else be where they should, is trying to make up for lost time, which is hard. He is in his mid-30s and trying to have a successful boxing career. One that, if Adonis didn't try to beat up their foster dad, he may have had earlier in life.
Then, with Adonis, he is dealing with his mother's health, his wife pushing for him to open up, his foster brother turning on him, alongside issues with his protégé and his trainer, and losing his outlet in boxing to get his frustration out. Never mind no mention or ability to speak to Rocky, so he is stuck in his head. All of this may fill a two-hour movie, but it doesn't bring the emotional apex you may expect.
Yes, that final fight is emotional, but the build-up to that is not. Whether situations are talked about or seen, they don't match the energy and investment you'll have in watching Adonis and Damian fight. Rather, everything Adonis, Bianca, and Mary-Anne go through damn near feels like filler. Something to make the main event fight long-awaited, like every bit of character development was a lower card fight you had to sit through to warm you up before the big fight happened.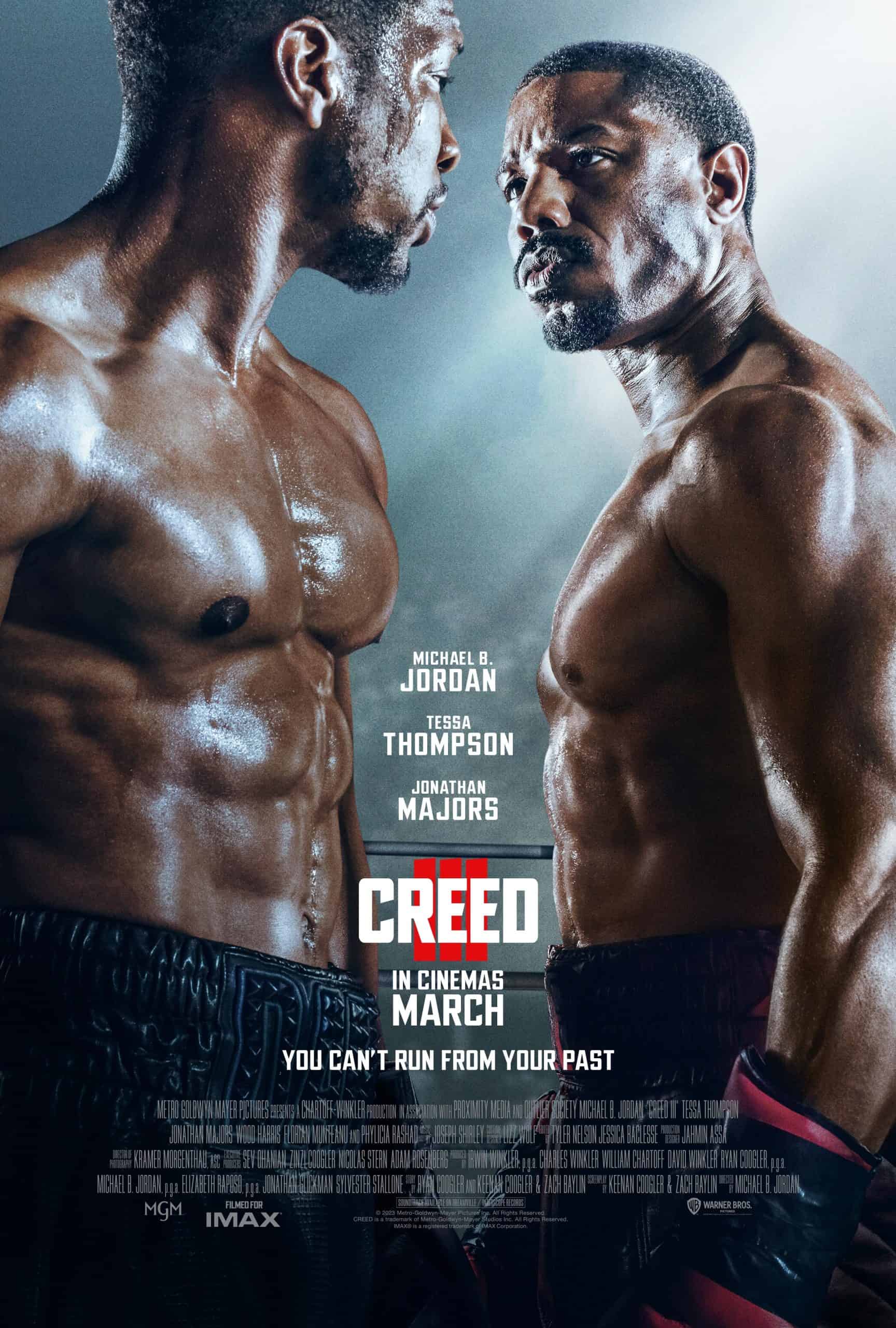 Creed III (2023) – Review/ Summary
Overall
"Creed 3" suffers a bit because all the drama and character development is lukewarm. The stakes aren't high, no one has anything really to lose, and while Damian brings up a lot of trauma, considering how Adonis' life is, and how it isn't detrimental to his relationship? Again, there is just no sense of urgency to make anything said or done feel impactful. Rather, like an action movie, the story feels purely there to set up the action sequences you purchased a ticket for.
Highlights
Two Of The Five Fights
How Time Flies
Disputable
There Are Only Four Boxing Matches In The Entire Movie
Some Of The Emotional Moments Don't Feel As Heavy As They Are Written