The 16 minutes of Jason Park's BJ's Mobile Gift Shop will leave you demanding a full-length feature film, featuring Johnnyboy Tellem before 2021 is over.
---
Director(s)
Jason Park
Screenplay By
Jason Park
Date Released (Sundance Film Festival)
1/28/2021
Genre(s)
Comedy, Drama, Young Adult
Duration
16 Minutes
Rating
Not Rated
Noted Cast
BJ
Johnnyboy Tellem
This content contains pertinent spoilers. Also, images and text may contain affiliate links, which, if a purchase is made, we'll earn money or products from the company.
Film Summary
Why work for someone when you can work for yourself, right? That's BJ's mindset, and with BJ's Mobile Gift Shop, BJ always finds people who need what he is selling. Be it a shirt, a power bank, you name it, it is like the Gods sent BJ to you in your moment of need. But, don't think none of it is for free because there is always a fee.
Things To Note | Question(s) Left Unanswered
Reason(s) for Film Rating: There is some cursing and racist moments.
Jump Scares/ Laughs/ Tear-Jerking Moments: When you meet BJ's grandparents and the less comical side of his life, you may get emotional.
Cast & Characters
Please Note: This is not an exhaustive list of every cast member.
BJ
About 6 years, or more, out of high school, rather than go to college, rack up debt, or end up in a job he hates, making someone else rich, BJ works for himself. He has a mobile gift shop in which he goes to the client, addresses their need, and admittedly exploits them often needing something at a moment's notice. But with having two grandparents he loves and cares about and a hustler's spirit, while the gift shop is a lot of work, it's better than the alternatives his grandpa pushes.
Review
Highlights
Johnnyboy Tellem as BJ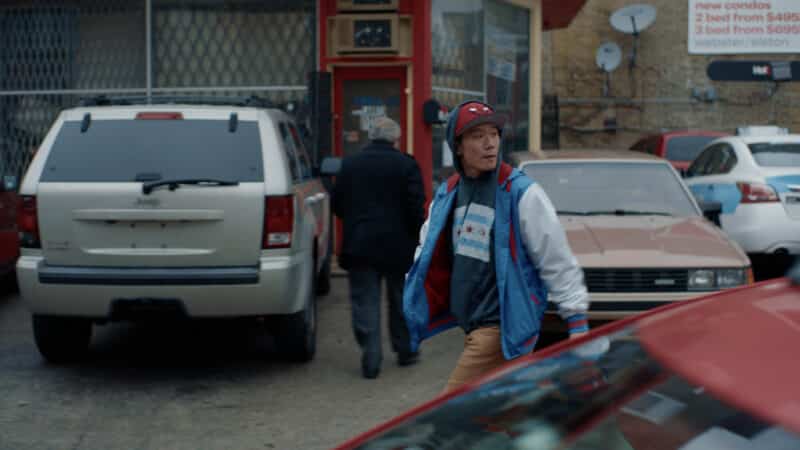 Johnnyboy Tellem has superstar potential. Point blank, period, and not in the form of being the next this or that, I'm talking about him having his own pedestal where you can see people being compared to him within 5 to 10 years. Why? Well, as BJ, he gives you everything you need. We get the comedy from seeing BJ hustle and deal with customers and hecklers. When it comes to BJ dealing with his friends, there is this frustration, this possible questioning of what he is doing with his life, and then when you see him with his grandparents? Oh, while certain details are missing, in regards to his parents, their child, he helps foster an emotional moment that would probably make you cry if it went on.
Being able to get all of that from one actor, who makes it so, within 16 minutes, you want more of not just the film they are in, but to see them in more as well, we find that rare. Heck, even with all the shorts and movies we're covering with the festival, he perhaps is one of the few who we single out and say they made that production worth seeing.
Overall
Rating: Positive (Worth Seeing) – Recommended
Netflix, Amazon, Hulu, whoever I fully expect and desire for someone to finance making this short into a full-length film. Heck, pooling all the movies and shorts we've seen, this is in the top 5 if not 3. So definitely check out BJ's Mobile Gift Shop, which I feel in my bones, will launch both Jason Park and Johnnyboy Tellem's careers.
Movie Directory
On The Radar
---
Ratings
---
Special Categories/ Tags
Summary
Johnnyboy Tellem as BJ - 92%
BJ's Mobile Gift Shop, which I feel in my bones, will launch both Jason Park and Johnnyboy Tellem's careers.