Rent: Live – Summary/ Review (with Spoilers)
RENT: Live does occasionally stumble, and may not live up to expectations, but you can see an effort made to honor the spirit of the musical.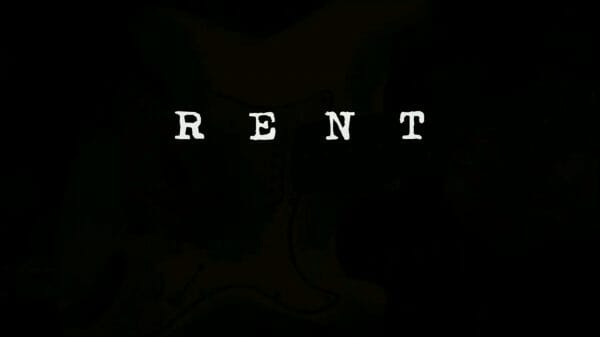 RENT: Live does occasionally stumble, and may not live up to expectations, but you can see an effort made to honor the spirit of the musical.
---
Director(s)
Michael Greif
Written By
Kristoffer Diaz, Jonathan Larson
Date Released
1/27/2019
Genre(s)
Musical, Drama
Good If You Like
Stories About The Disenfranchised
Isn't For You If You
Are a RENT Purist
Noted Cast
Mark
Jordan Fisher
Roger
Brennin Hunt
Benjamin
Mario
Tom Collins
Brandon Victor Dixon
Angel
James "Valentina" Leyva
Mimi
Tinashe
Maureen
Vanessa Hudgens
Joanne
Kiersey Clemons
Various
Keala Settle
Images and text in this post may contain affiliate links which, If you make a purchase, I may earn money or products from the company. Most affiliate links contain an upward facing, superscript, arrow.
RENT Plot Summary
It's the Christmas holidays of 1991 and life is chaotic, but in a good way for now. For while Mark and Roger might soon be evicted by their old friend Benjamin, with Collins bringing home a new love interest in Angel, that brightens up the holidays. Also, for Roger, there is this girl named Mimi who has an interest in him. But, the whirlwind of new friends and family also includes Maureen. She's Mark's ex and now is in a complicated relationship with Joanne who has a difficult time with Maureen's free-spirited nature.
However, this isn't a movie about a bunch of New York misfits and relationship drama. Angel has AIDS, Mimi, a drug addict, and they aren't the only ones. Yet, despite many struggling with a disease or addiction, destitution even, they find reasons to live. Be it love, inner joy, or the ability to still fight until they cannot fight anymore.
Highlights
The Romance Between Angel and Collins, As Well As Roger and Mimi
The driving force, that will have you watching until the end, are the relationships between Angel and Collins, and Roger and Mimi. Starting with Angel and Collins, the chemistry between Dixon and Valentina was perfect. Being that their relationship is part of the emotional core of the production, a lot was riding on them. But with Valentina's energy, combined with Dixon's veteran presence, it made each kiss swoon-worthy and when "Contact" and the reprise of "I'll Cover You" were sung, it was utterly devastating.
Making the lighter, YA romance-esque relationship (if you want to call it that) between Roger and Mimi a welcome addition. With Tinashe brought in fresh energy when she hit the stage as if every moment counted and we were reminded, despite her troubles in the music industry, she is a talented artist and performer. However, not to be outdone, Hunt with his rock star growl made it so you desperately wished there wasn't a live audience to scream like they lost their minds.
When paired together, I wouldn't say they were able to compete with Valentina and Dixon. However, they did offer us playful lust. A young love which, like Mimi's candle, would quickly, often, go out, but still was able to burn hot for a while.
Brandon Victor Dixon
When it comes to the production, no one is consistently good throughout – especially if you've seen the movie or the stage production (live or online). However, Dixon stands out for whether it is landing a joke, the dramatic moments, or singing, you can't find any fault in his performance. I'd even say one of the main reasons Valentina comes off so good, outside of not hitting pails for "Today For You, Tomorrow For Me," and using a backing track, is because they are paired with Dixon. For in many ways, his experience doing theater, and previous LIVE network shows, is the anchor which will keep you from changing the channel.
Tinashe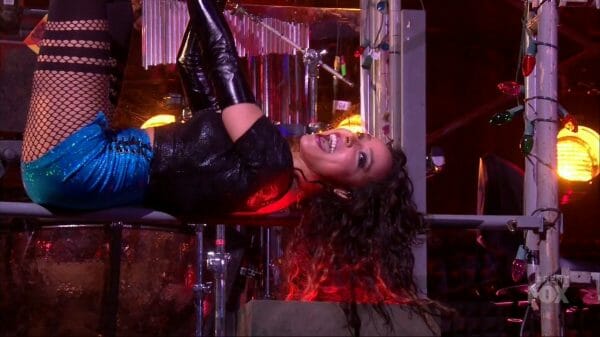 Two people had something to prove with RENT. One was Vanessa Hudgens, mentioned later, and Tinashe. As noted, Tinashe took this opportunity and ran with it. From working the scaffolding to how she played off of Hunt, while she may not deserve the same praise Dixon does, you have to admit she did well. To the point it wouldn't seem like a bad idea for her career to verge towards musical theater – as long as the songs are in tune with her voice.
The Small Roles Which Sometimes Upstage The Leads
Whether it is Settle handling Seasons of Love, even when the original cast comes at the end, or characters who we don't get to know the name of, there are at least three who have noteworthy moments. The kind which, in comparison to some names mentioned below, may have a place in your memory than those considered lead actors.
On The Fence
Maureen & Joanne
While films like Gimme Shelter and Polar, even Spring Breakers, show Hudgens doesn't always play bubbly cheerleader, we pretty much get a PG-13 High School Musical performance out of Hudgens. Which wasn't terrible, and how could she really compete with Idina Menzel anyway? But when it comes to being sexy, or the kind of girl a man and a woman desire terribly, Hudgens' bubbly persona gets in the way of her truly becoming Maureen.
As for Joanne? I just feel like Clemons wasn't given enough opportunity to shine. Through Hearts Beat Loud, we know she can sing. However, as Joanne, it seems Clemons approached this as a challenge, if not RENT being something she loved, so she was honored to be part of it. But with Hudgens giving us a new take on Maureen and Joanne, at least if you watched the movie, seeming like a much smaller role, she seems underused and this couple a blight. Especially if compared to the other ones.
The Vocals
Let me note that I can't sing, but I can hear when someone is challenging their register. And while there is this desire to note this was a dress rehearsal, that doesn't mean, when in front of an audience, in the social media age, you can half-ass it. And this is what led to complimenting Dixon on being consistent for his voice was good, and performance, throughout the three hours. Everyone else, some more than others, made it clear they did not have a voice for these songs and seemingly no one worked with them to hit those notes or adjust them to their capabilities.
Overall: Mixed (Divisive) | Purchase, Rent, Get Tickets, or Merchandise On (Amazon)
The majority of these LIVE productions of Broadway classics are like Disney doing live action remakes or sequels – they feel unnecessary. RENT Live is no different and while Dixon puts on one hell of a performance, and we see a lot of good chemistry between some performers, it lacks the kind of consistency to say you enjoyed it throughout. For if it isn't a note which got lost in the theater, it is the audience treating the performance like a concert. If not, in the case of Joanne and Mark, those characters, and their actors, getting lost in the shuffle to the point you can't have an opinion on them.
Hence the mixed label. While you can see there were good intentions all around, there are times when you feel name recognition was considered more than whether that person's voice could handle the songs, and they could do the part justice. If not, at the very least, put their stank on it enough to make the character their own. But, even with the criticism presented, there is enough of the spirit RENT is known for to make the three-hour journey to the end (with commercials) tiring, but nowhere near as regrettable as Rocky Horror Live!
Follow Wherever I Look on Twitter, Like us on Facebook and Subscribe to the YouTube Channel.
---
 [ninja_tables id="24271″]
---
Follow, Like, and Subscribe
Community Rating: 0.00% (0) - No Community Ratings Submitted (Add Yours Below)