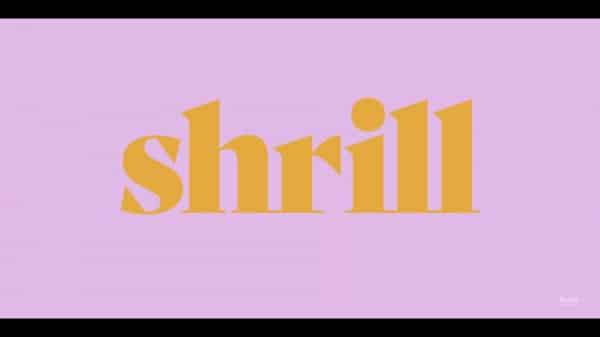 The Following is a list of cast and characters from the Hulu program Shrill and their status at the end of the season(s).
---
Season/ Episode
Synopsis
Episode Information
Topics & Focused Characters
Season 1, Episode 3 "Pencil"

Ryan is given a chance to really step up, show he is boyfriend material, as Fran's brother Lamar shows up and brings up something done in the past.

Director(s)
Andy DeYoung
Writer(s)
Dave King
Air Date
3/15/2019
Introduced This Episode
Bill
Daniel Stern
Lamar
Akemnji Ndifornyen
Cindy
Leslie Grossman
Kayla
Esther Povitsky
Amadi
Ian Owens

Things Were Going Good:

 

Vera, Bill, Gabe, Annie, Fran, Lamar, Ryan
You Aren't The Only One:

 

Kayla, Cindy, Amadi, Ryan, Annie
The Best Way To Get Over Someone:

 

Lamar, Annie

Season 1, Episode 2 "Date"

While Annie gets to celebrate her first published article, things get kind of weird with Ryan. Actually, very weird as he attempts to do a 180 on their relationship.

Director(s)
Carrie Brownstein
Writer(s)
Aidy Bryant, Alexandra Rushfield, Lindy West
Air Date
3/15/2019
Introduced This Episode
Janelle
Gretchen Corbett

The Bigger, The Better:

 

Annie, Gabe
New Attitude:

 

Annie, Vera
Second Chances:

 

Annie, Fran, Gabe, Ryan, Janelle

Season 1, Episode 1 "Annie"

While diversity has come in the form of different skin tones, ethnicities and sexualities coming to the forefront, 

Shrill

 breaks ground.

Network
Hulu
Creator
Aidy Bryant, Alexandra Rushfield, Lindy West
Director(s)
Jesse Peretz
Writer(s)
Aidy Bryant, Alexandra Rushfield, Lindy West
Air Date
3/15/2019
Genre(s)
Comedy, Drama
Good If You Like
Stories About Growth

Perspectives Rarely Focused On

Isn't For You If You
Fatphobic
Introduced This Episode
Annie
Aidy Bryant
Gabe
John Cameron Mitchell
Ryan
Luka Jones
Fran
Lolly Adefope
Vera
Julia Sweeney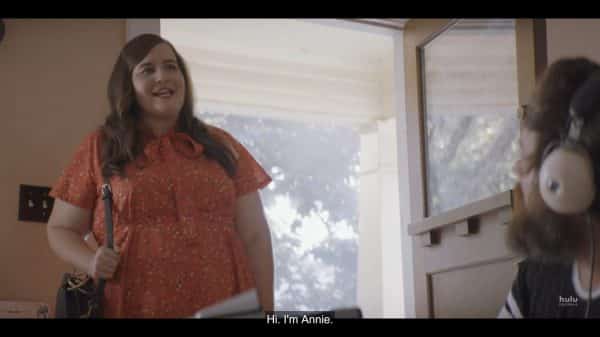 Character Introduction
Annie is a super sweet young woman who has been fat for nearly her entire life. However, between the teen years or when she became an adult, she went from that being one of many adjectives to the adjective. So, to compensate, she took the route of becoming friendly, demure, and putting up with people like Ryan so she can say she has someone or something.
However, it seems that Annie will be replaced with someone more shrill.
Additional Information About Annie
She has had weight issues since around the time she was in 4th grade and on top of her mom, Vera, trying to starve her, she mentioned being skinnier would mean more boys liking her.
Allegedly, according to Fran, Annie believed in Santa Claus until she was 16.
Formerly, she played the oboe.