While Annie gets to celebrate her first published article, things get kind of weird with Ryan. Actually, very weird as he attempts to do a 180 on their relationship.
---
Community Rating: 66.67% (1)
---
---
Network
HULU
Director(s)
Carrie Brownstein
Writer(s)
Aidy Bryant, Alexandra Rushfield, Lindy West
Air Date
3/15/2019
Introduced This Episode
Janelle
Gretchen Corbett
The Bigger, The Better: Annie, Gabe
Strangely, for a buffet review, Annie's assignment is a strip club. One which doesn't even cook its own food but gets it delivered from a Chinese food place across the street. But, while the food is delicious regardless, Annie stumbles on a bigger story. Said story is about the strippers who work there, why they wax their butt holes, and it becomes a lengthy piece. Which upsets Gabe a bit, since it isn't what he asked for and wasn't expecting some long thing about pudding and grass. Leaving Annie once more reprimanded by her idol.
New Attitude: Annie, Vera
After dealing with her mother's snide comments for who knows how long, Annie lets her know she doesn't appreciate it when they take a walk together. Thus leaving Vera a bit confused, maybe feeling attacked even, but hopefully set straight.
Second Chances: Annie, Fran, Gabe, Ryan, Janelle
Ryan, after Annie stood up to him, and he likely realized she would be the only one to have sex with him, comes to her door trying to apologize. Of course, for Ryan, this isn't a quick thing since he is a bit simple. However, he tries. Maybe not hard enough for Fran, who thinks Annie could do better, but it is the effort that counts right?
I mean, he takes her to a nice restaurant for a date, has his brother and friend join later, and with Annie just wanting to talk, touch, make out, but no raw dogging, that is what they do that night. Also, Annie meets Ryan's mom Janelle, who knows about her abortion. So, see, a lot of effort but not much thought it seems.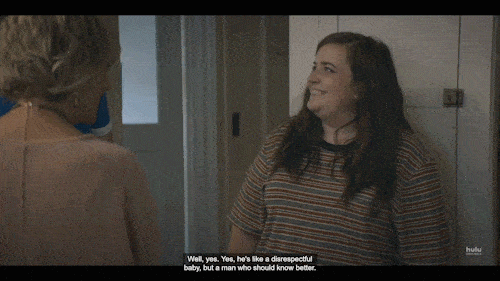 But, at the very least, Gabe shows both and has Annie's article posted online – which is a bit of a hit. This excites Annie quite a bit until she reads the comment section. For while there are a lot of positive things said she then reads comments attacking her weight and that brings down her high a bit.
Question(s) Left Unanswered
It's safe to assume Ryan lives with his mom right?
Highlights
Annie's Growth
There is something about seeing Annie stand up to her mom, not, immediately, fall for Ryan's nonsense when he returns, and even push back against Fran cutting her hair. Mind you, she still hands over $20 when asked and has to jokingly reprimand Ryan's behavior to his mom, rather than be direct, but baby steps – you know? She is just beginning this journey.
Low Point
Sassy Black Best Friends
There is a bit of a conflict here. On the one hand, Fran kind of has a life outside of Annie since she is a hairdresser, established as queer, and we meet one of her girlfriends. However, with the show being about Annie, there is the need to wonder if Fran, as well as Annie's co-worker, are there more so for diversity than anything else? Granted, as the .gif above shows, Fran is no pushover or an accessory. But as characters evolve, so comes the question if tropes do as well?
On The Fence
Is Annie As Worried As Ryan That She Won't Be Able To Find Someone Else?
Annie getting back with Ryan leads you to wonder if she is taking a step back or not. With this empowerment kick-started by how he and Vera treat Annie, it makes her getting back in bed with him after a day or so seem counterproductive. Granted, the man is trying but considering how Annie has it together, and Ryan's thing in life is a podcast with his brother, it makes you wonder why doesn't she move on?
Of which, the only answer is what she told us in episode 1. That she basically fears no one else will like, maybe even potentially love her, so she sticks with Ryan – for better or worse.
---
Follow Wherever I Look on Twitter, Like us on Facebook and Subscribe to the YouTube Channel.
---
[ninja_tables id="33413″]
Sassy Black Best Friends - 65%
Is Annie As Worried As Ryan That She Won't Be Able To Find Someone Else? - 75%
---