The Handmaid's Tale: Season 3, Episode 8 "Unfit" – Recap, Review (with Spoilers)
We finally get to learn about Aunt Lydia's life before Gilead took over, but that may become an afterthought considering how the episode ends.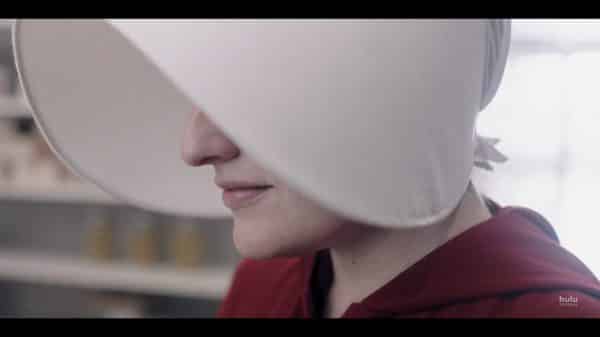 We finally get to learn about Aunt Lydia's life before Gilead took over, but that may become an afterthought considering how the episode ends.
---
Network
Hulu
Director(s)
Mike Barker
Writer(s)
Kira Snyder
Air Date
7/10/2019
Introduced This Episode
Noelle
Emily Althaus
Jim
John Ortiz
Ryan
Ian Ho
Images and text in this post may contain affiliate links which, if a purchase is made, we'll earn money or products from the company. Affiliate links and external links have an upward facing, superscript, arrow.
Recap
Petty Like Highschool: Aunt Lydia, June, Janine, OfMatthew
With OfMatthew making it so not only someone was killed, but now June has no idea where her daughter is, it seems everyone who knows her bullies OfMatthew. Well, except Janine who tries to be kind, and pays for that later. But, to rebuke June, Aunt Lydia reminds her that it is her, June's, fault, someone died. However, June decides to flip the script and mention OfMatthew doesn't want her child. Which, like a fool, she admits so she gets questioned and embarrassed to tears. Leading to June having a sick smile on her face since it seems she is intoxicated by this sense of power she believes she has.
The Way Things Were: Aunt Lydia, Jim, Noelle, Ryan
We go into the past, though how far isn't mentioned, and we learn Lydia was a family lawyer turned teacher. Making her an excellent candidate for an aunt due to her dedication to children. One child, in particular, they focus on is a child named Ryan. He is a young boy, elementary school aged, whose mother Noelle grew close to Lydia. Perhaps was one of her few friends and got her to open up a little.
However, in getting her to open up, she gets a bit too comfortable with the school principal, Jim, and his rejection embarrasses her. Leading to Lydia, perhaps to get back at Noelle, reporting all Noelle has told her in confidence. Be it her difficulties of being a single parent, dating a married man, and this leads Ryan to end up in foster care. To which Noelle seems ready to fight Lydia over but she is held back.
Driven To Madness: Aunt Lydia, June, Janine, OfMatthew, Lawrence
While we barely know a thing about OfMatthew, it seems the isolation and hatred which comes from June's doing has driven her mad. She even assaults Janine, kills an Eye, and almost shoots Aunt Lydia – something June watches and nods in approval over. Yet, June, as she stands there, the master of chaos, doesn't get her wish as OfMatthew is shot but not killed.
And it seems the chaos which is happening, be it June's changing personality, or this OfMatthew incident, only pushes Aunt Lydia further to reconsider June being with Commander Lawrence. Someone who is trying to warm up to June, but she makes it so difficult to be friends. Especially since she wants to paint Lawrence as a bad husband and make it sound like he is trapping and slowly killing his wife. Which he writes off as a cathartic release, but that doesn't mean her audacity isn't noted.
Review
---
Community Rating:
---
Highlights
Finally Getting Backstories Again
I'm not exactly sure how many episodes it has been since we ventured into the past, but considering the gap since we've learned about Fred and Serena's life before Gilead, it seems long overdue. And while Janine's would have been more interesting, and fitting considering how downgraded the character has become, Aunt Lydia's wasn't so bad. Granted, it seems disconnected from the rest of the show and could have been scenes from one of Ann Dowd's other movies spliced in. Yet, it does give you some sense that the reason Aunt Lydia molds so well with the way things are is because her faith didn't differ too much from Gilead's belief. Plus, it seems between her family law background and career in education, having her be a mentor and authority figure over the Handmaids just makes sense.
Seeing How Aunts Operate Behind Closed Doors
But, to be honest, seeing the Aunts decide which Handmaid goes to which commander was of more interest than Aunt Lydia's backstory. For while the aunts are a powerful force, like Marthas, they often operate behind the scenes and while we got to see them operate more earlier in the series, Aunt Lydia has been one of the few, if only, representatives we've seen. So here is hoping this isn't the only time we get to peer behind the curtain. Though I do wish after Aunt Lydia's behavior earlier, especially when she was beating Handmaids, as well as injured, we got to see how she was reprimanded.
On The Fence
June Is Really Getting Away With Far Too Much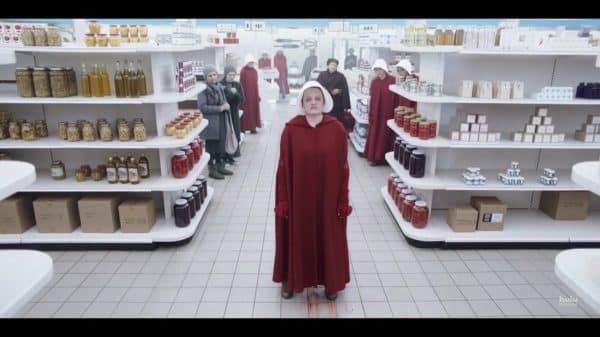 Between gaining too much power amongst the Handmaids, talking back to Commander Lawrence, and possibly driving one Handmaid to commit murder, what are the aunts waiting for? Clearly, she is a common denominator between the fall of the Waterfords, Emily, and the events of this episode. Aunt Lydia even talks about bad apples and terrible environments, and yet she can't see June is the issue? Heck, June, like she did when she was pregnant, pushes an immunity angle by noting she might be needed on TV again. In my mind, even if fertile, her being allowed to hold what is damn near an exalted position makes no sense in Gilead's world.
When Did June Become So Beloved?
Correct me if I'm wrong, but when did June become any sort of leader or beloved figure amongst the Handmaids? It doesn't feel too long ago they were suffering because June was pregnant and she couldn't be punished. Much less, isn't the main handmaid who talks to June maimed because of June? Are you seriously telling me the handful of times she protected Janine has led to not only all being forgiven but her now being treated as the It girl? Much less, was helping Emily escape enough? Or is it that people think June has real power and between making things easier, or harder, maybe helping them escape, this is why she was able to bully OfMatthew without giving a directive to do so?
How Is Aunt Lydia Walking Without A Cane Now?
Minor thing: How did Aunt Lydia go from using a wheelchair, or using a cane, to now not needing either one? She was stabbed and fell down a flight of stairs. On top of that, Aunt Lydia isn't a spring chicken. So does Gilead have some type of medicine beyond anything we've ever seen? For, in my mind, she should, at least, be forced to use a cane for the rest of her life.
Follow Wherever I Look on Twitter, Like us on Facebook and Subscribe to the YouTube Channel.
[ninja_tables id="36752″]
Finally Getting Backstories Again - 90%
Seeing How Aunts Operate Behind Closed Doors - 89%
June Is Really Getting Away With Far Too Much - 70%
When Did June Become So Beloved? - 71%
How Is Aunt Lydia Walking Without A Cane Now? - 72%
---
Follow, Like, and Subscribe
Community Rating: 0.00% (0) - No Community Ratings Submitted (Add Yours Below)