Russian Doll is for those who like NY/LA indie comedies and wished those kinds of characters got to be in their own TV show.
---
Network
Netflix
Creator
Natasha Lyonne, Leslye Headland, Amy Poehler
Director(s)
Leslye Headland
Writer(s)
Natasha Lyonne, Leslye Headland, Amy Poehler
Air Date
2/1/2019
Genre(s)
Fantasy, Comedy
Good If You Like
Sarcasm

The Groundhog Day Narrative

Isn't For You If You
Don't Find Natasha Lyonne Funny
Introduced This Episode
Nadia
Natasha Lyonne
Mike
Jeremy Bobb
Maxine
Greta Lee
Ruth
Elizabeth Ashley
Lizzy
Rebecca Henderson
John
Yul Vazquez
The Introduction
On Nadia's 36th birthday, things are a little bit crazy. She sleeps with this decent guy named Mike, who is a good conversationalist and hasn't much of an issue with anal play. Then, not too long after calling him an Uber, she sees her cat and is hit by a car. However, she doesn't die. Instead, she ends up right back in the bathroom, where the episode began. Naturally, this freaks her out a bit, but she decides not to let it mess up her evening, so she smokes a coke laced joint with her friend Max. This is followed by talking to this therapist friend Ruth, Lizzy as well, and even her ex John, who seems to be going through a slightly nasty divorce.
But, despite changing her timeline, she dies again. It's just this time, rather than being hit by a car she drowns. Making the only thing which seems to be screwing her over is her cat Oatmeal that has been gone three days, and seemingly, repeatedly, will be the death of her.
Question(s) Left Unanswered
What's the trigger for this loop?
On The Fence
So – Much – Sarcasm & Eccentricity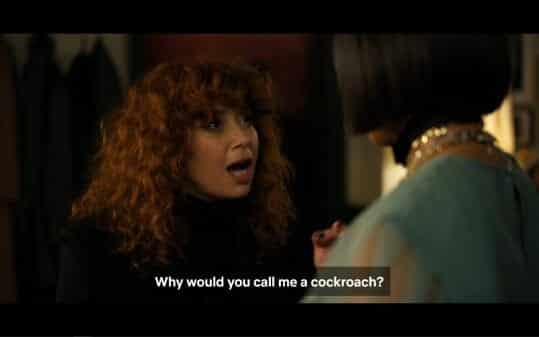 Pretty much, if you know Natasha Lyonne's work, there is absolutely nothing new here. The character she plays is of the ilk of many others, just with a slightly different background. This means sarcasm is as turned up as it goes, she is a bit crude and you'll either love it or hate it. When it comes to Lyonne, I don't think there is any middle ground.
But, what doesn't really help is there isn't that one character you're made to latch onto if you aren't into her character. Maxine is this weird, artsy chick, Lizzy is a lesbian dating a 22-year-old, Mike doesn't say or do anything noteworthy, and neither does Nadia's ex, John. If anything, they all seem like characters from an indie movie you never heard of mashed together into one show. Which, combined with Lyonne and Amy Poehler's comedic style, makes them for someone of eclectic taste.
To enjoy Russian Doll, you will need to like characters and shows which are a bit off-beat. The reason I say that is, this isn't the kind of show which you can just recommend to anyone and everyone. Not to imply this show is geared towards a specific audience, but it is the kind of show you'd imagine having low ratings but a rabid fan base. Primarily because, thanks to the kind of characters it features being those who usually would have supporting or bit parts, it feels fresh and new.
Which is why this is being labeled mixed. If I've learned anything from watching Amy Poehler shows is that they are weird from the start, but the characters have the potential to grow on you. It takes some time, and maybe a little effort from you, but once you allow yourself to get the character, pursue understanding them, then you find the funny. However, at first, they may seem like they are made for a niche audience that you have no means of describing.
---
Follow Wherever I Look on Twitter, Like us on Facebook and Subscribe to the YouTube Channel.
---
Subscribe to Blog via Email
---