On My Block has an almost Friday
vibe to it. It's comedic yet, with its urban setting and gunshots, you know things can go left in any moment.
---
Network
Netflix
Creator(s)
Lauren Iungerich, Eddie Gonzalez, Jeremy Haft
Director(s)
Lauren Iungerich
Writer(s)
Lauren Iungerich, Eddie Gonzalez, Jeremy Haft
Air Date
3/16/2018
Noted Cast
Cesar
Diego Tinoco
Monse
Sierra Capri
Ruby
Jason Genao
Mario
Danny Ramirez
Oscar
Julio Macias
Dwayne
Eme Ikwuakor
Latrelle
Jahking Guillory
Jasmine
Jessica Marie Garcia
Jamal
Brett Gray
The Introduction
The four-person crew of Monse, Ruby, Cesar, and Jamal seemed unbreakable. Cesar was the cool one, the dependable one; Jamal was the dude you could rely on to tell you the truth since he sucked at lying and keeping secrets; Ruby, well he was somewhere in between trying to be cool like Cesar but being weird like Jamal, and then there was Monse. She was the tomboy of the group. The writer who would go off to do big things and that is what broke up the band.
You see, while people in Ruby's family, like brother Mario, went off to college, Jamal's father owns his own business, and Monse has won competitions for writing, all Cesar has is Oscar and his family's gang history. Something that, over the course of one summer, sucks him in to the point of becoming a bit of a jerk. This includes spreading about that he smashed Monse and making her sound like a freak. All on the eve of the crew starting high school and expecting new reputations and sort of looking forward to it. Now, as Jamal fakes being a football star, Ruby deals with sharing a room with his grandma, and Cesar deals with being jumped in, it seemingly will be up to Monse to save them all. Starting with Cesar.
Highlights
Awesome Cast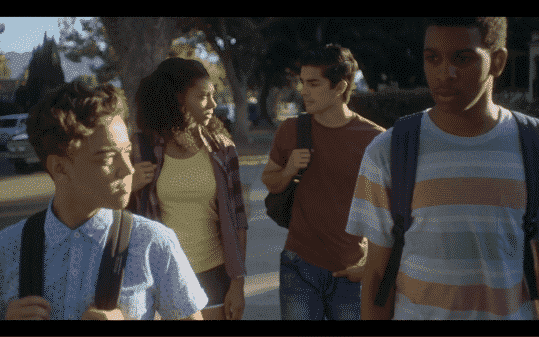 Whether you are talking about Sierra Capri, who really seems like the type to become an "It" girl of some kind, to the boys Diego Tinoco, Jason Genao, and Brett Gray, there is something about these kids and their dynamic. Especially in terms of them coming to prominence during this sort of urban renaissance where shows like The Chi, Insecure and Black Lightning are showing different perspective of living in urban areas. Giving us more takes on what it means to be Black, Middle Eastern, or Latino, and giving the kinds of examples which at one time were foreign or exclusive to indie movies.
I mean, while we have seen many a tomboy like Monse, Capri brings something different to it. Maybe it is because she isn't trying to overdo it or play some, "I'm one of the guys" type of character. Does she have female friends? No. Is she willing to fight? Most definitely. But just because she is an around the way girl, a tomboy, or whichever term you prefer, it doesn't mean now she has to be stripped of her femininity as well. Though, as shown, between the cat calling from men, not boys, men, and everyone staring at her chest, it is going to be interesting to see how she handled going from just another girl on the block to being seen as a young woman.
Then, when it comes to Jamal and Ruby, the journey for them is breaking out. Jamal is the complete opposite of his father, Dwayne. His father is built like a football player or wrestler and Jamal is the size of a nerdy cartoon character. Also, with the way he acts sometimes, there is the slightest desire to wonder if he might be on the spectrum.
As for Ruby? I'll admit he has this generic, I want to be cool and machismo vibe to him, but Genao plays that in such a way where he doesn't feel like he is mimicking any character already known. So, what is a bit of a generic trope it seems he is dressing up to be his own.
Lastly, when it comes to Cesar, being coerced to join a gang due to his family seems like a movie storyline and, at least in recent memory, I can't recall a show exploring that. Especially the feeling of not having control over your fate and being stuck in the type of hood where you make identifying a gun being shot a game.
The Friday Vibe
With characters like Jasmine, this show's Joi in a way, and Latrelle who is like their Deebo, it is hard to not wonder if this is a coincidence, homage, or perhaps borrowing. Either way, you have to appreciate the show's method of trying to keep its character real by showing both the funny and annoying, as well as the violence and local gang culture. All in its own voice that may draw comparisons, but with Friday more 20 years old, it isn't like there are immediate contemporaries to point to. Plus, the style of Friday, if you are going to bite another production's style, at least the creators had good taste.
First Impression: Positive (Watch It)
This is the kind of show which I hope last, at the very least, until the kids graduate high school. For while I fully expect some crazy, rated M Nickelodeon type of storylines, the cast seems like they could hold down and evolve these characters that long. Which, considering how short the filmographies are the kids, and one of the creators of this show made MTV's Awkward, means we are in for an interesting couple of seasons. For if this is what these kids can do with just a little bit of work under their belt, and this being Capri's first role, imagine what will happen with time!
---
Follow Wherever I Look on Twitter or Like us on Facebook.
---
Watch: Here [External]
On My Block | Netflix Official Site
In a rough inner-city Los Angeles neighborhood, four smart, funny and streetwise teens find their lifelong friendship tested as they begin high school.