In episode "Yellow," Leo builds his extended team since he knows his main partner in a $7 billion heist is now in position.
Aired (Netflix)
January 1, 2023
Episode Title
Yellow
Director(s)
Everado Gout
Writer(s)
Eric Garcia
Noted Characters
Leo Pap
Giancaro Esposito
Roger Salas
Rufus Sewell
Stan Loomis
Peter Mark Kendall
Barbara Loomis
Stacey Oristano
Ma Loomis
Susan Varon
Hannah Kim
Tati Gabrielle
Rajiv Reddy
Sathya Sridharan
Andrew Covington
Patch Darragh
Judy Goodwin
Rosaline Elbay
Bob Goodwin
Jai Courtney
Ava Mercer
Paz Vega
RJ Acosta
Jordan Mendoza
Stefan Thiele
John Hans Tester
Suzanne Grosvenor
Delphi Harrington
Cho-Young Woo
John Yi
Liz Kim
Soojeong Son
Recap
This content contains pertinent spoilers. Also, images and text in this post may contain affiliate links which, if a purchase is made from those sites, we may earn money or products from the company.
The Dependable One – Leo, Roger, Stan, Barbara, Stan's Ma, Hannah, Rajiv, Andrew, Stefan, Suzanne, Cho-Young
Roger's plan for SLS is to get what is known as "The Triplets," Stefan Thiele, Suzanne Grosvenor, and Cho-Young Woo to invest their half a trillion dollars into his high-tech security vault. Together they hold unsecured bearer bonds, pre-1982 registration, and after Hannah, at Roger's request, easily breaks into a vault and steals gold from Stefan, with no one noticing for days, he seemingly has convinced one of the three that Roger should manage "The Triplets" assets.
This is a major win for Roger, and Hannah is hoping this means the Junior VP position, under Senior VP Andrew, could be a done deal for her now. Especially since her only competition is Rajiv, and nothing notable is said about him.
But, while Hannah is focusing on protecting the assets of "The Triplets," Leo is creating a team to steal them. He wants to begin with Stan, who seems to be able to get anything you ask for, but Stan claims to be retired. He has his mom to worry about, what appears to be his wife Barbara, and while he isn't happy with his life at a butcher shop, it is better than prison. At least until Leo presents the idea of splitting $7 billion between a few people and Stan realizing how much that money could change his life.
Sometimes Pieces Of The Puzzle Have To Be Forced Together – Leo, Stan, Judy, Bob, Ava, RJ
The group Leo wants to make has a little bit of drama in it. It isn't him, nor Ava, who has wealth, and inventory, and can handle the paperwork. It's also not RJ, who works at Leo's mechanic shop, who is posed to be the driver. The issue is Stan, Judy, and Bob.
Why? Because it seems Judy and Stan dated at one time, Bob is a jealous prick and an idiot, but with Judy potentially married to him, he is part of the package. Now, granted, Bob is a safecracker but also greedy and unreliable. Yet, to have Judy, a chemist who can battle Roger's high tech with low tech, unfortunately, Stan and everyone else must suffer through Bob to keep Judy.
The Screw Up – Liz, Hannah, Roger, Andrew, Rajiv, Bob, Stan, Leo, Judy, Ava
While Leo has a plan, he doesn't have money. Stan figures they need $350,000 to do what he is asking, and that's a big investment. It's even beyond what Ava has on hand. So, following Bob's idea, they rob the diamond district in New York City with mixed results. They see they can work as a team, and they take quite a bit, but Bob got greedy, threatened Stan with a gun, caused an alarm to go off, and got three people shot – including Bob himself.
However, enough money may have been gained, so if Bob can still crack a safe, he might be forgiven. Especially since Hannah, after framing Andrew for a hack on Roger's system, is able to jump over Rajiv, who becomes a Junior Vp, and becomes a Senior VP. On top of that, because Roger likes Hannah so much, he doesn't care that she is pregnant and allows Hannah to use their 8-year relationship so that Hannah's sister, Liz, can get a job in the mail room.
But whether this will be enough for Leo and Hannah to succeed is hard to say. Bob is a wildcard, and with Hannah pregnant but not telling Leo, there is the need to question if she will choose a stable job over a lucrative opportunity.
Things To Note
Question(s) Left Unanswered
What triggered Leo's need to make a plan to steal so much money, considering Stan makes it seem he was never much for labels, and Leo makes it appear he prefers to have a low profile
How did Leo meet Hannah's mother, and what's their relationship now? Heck, was Leo always around as a, assumed, father?
What Could Happen Next
Bob likely screwing everyone over, or Hannah when she puts her child before Leo
Review
On The Fence
Nothing To Really Hook You Off The Bat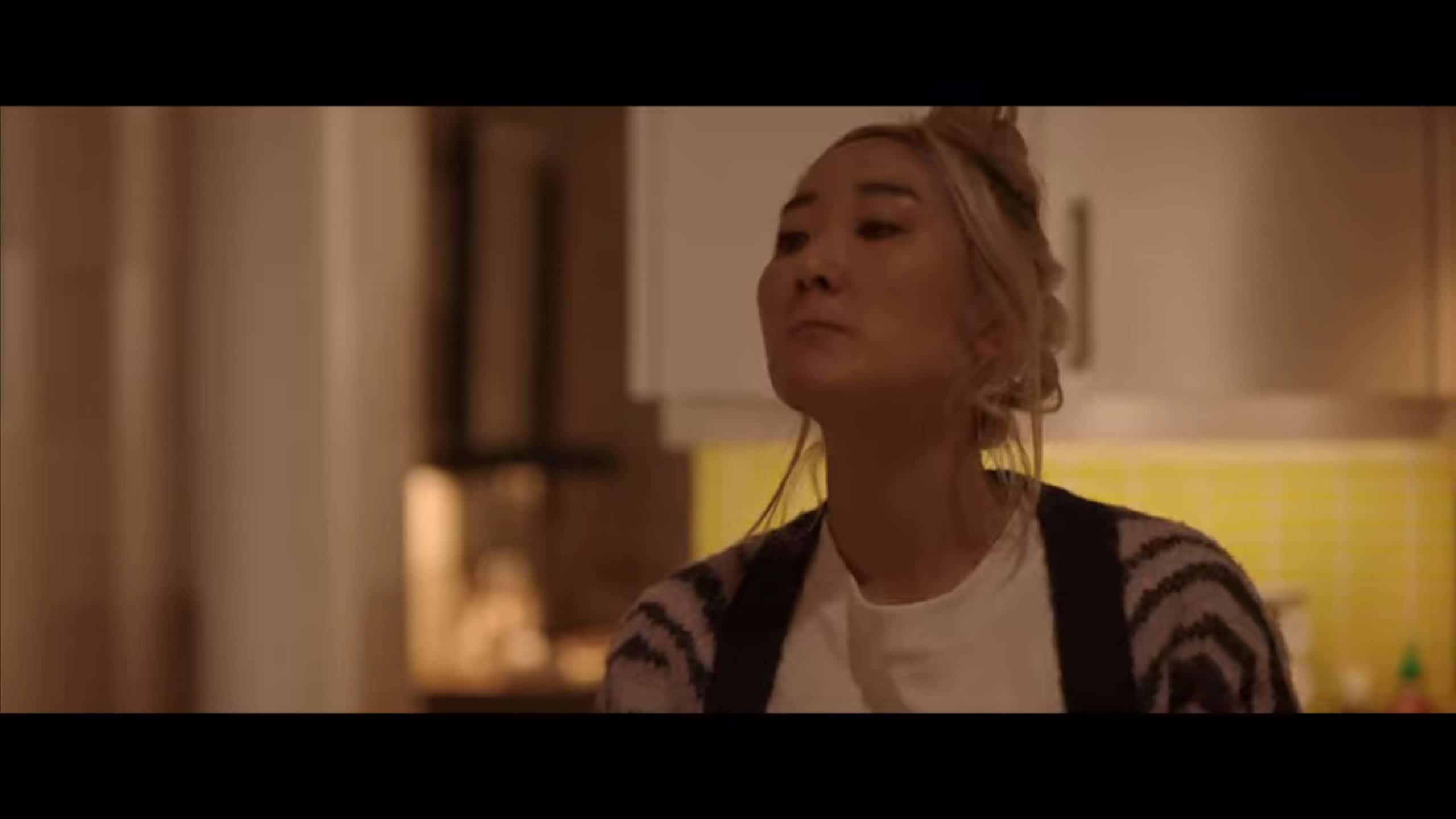 Yes, a slew of complicated relationships are introduced in "Yellow." Stan and Judy clearly had a thing in the past; Leo and Hannah's relationship is surely more complicated than it appears; Liz and Hannah probably have something going on that will be dove into, but none of these relationships sell you on continuing the show. Be it in the order that Netflix has it, or randomly, as advertised, you can watch.
It's a heist show without notable players, villains, backstories, or anything that makes for an instant hook. So one can only hope something comes about to change all that.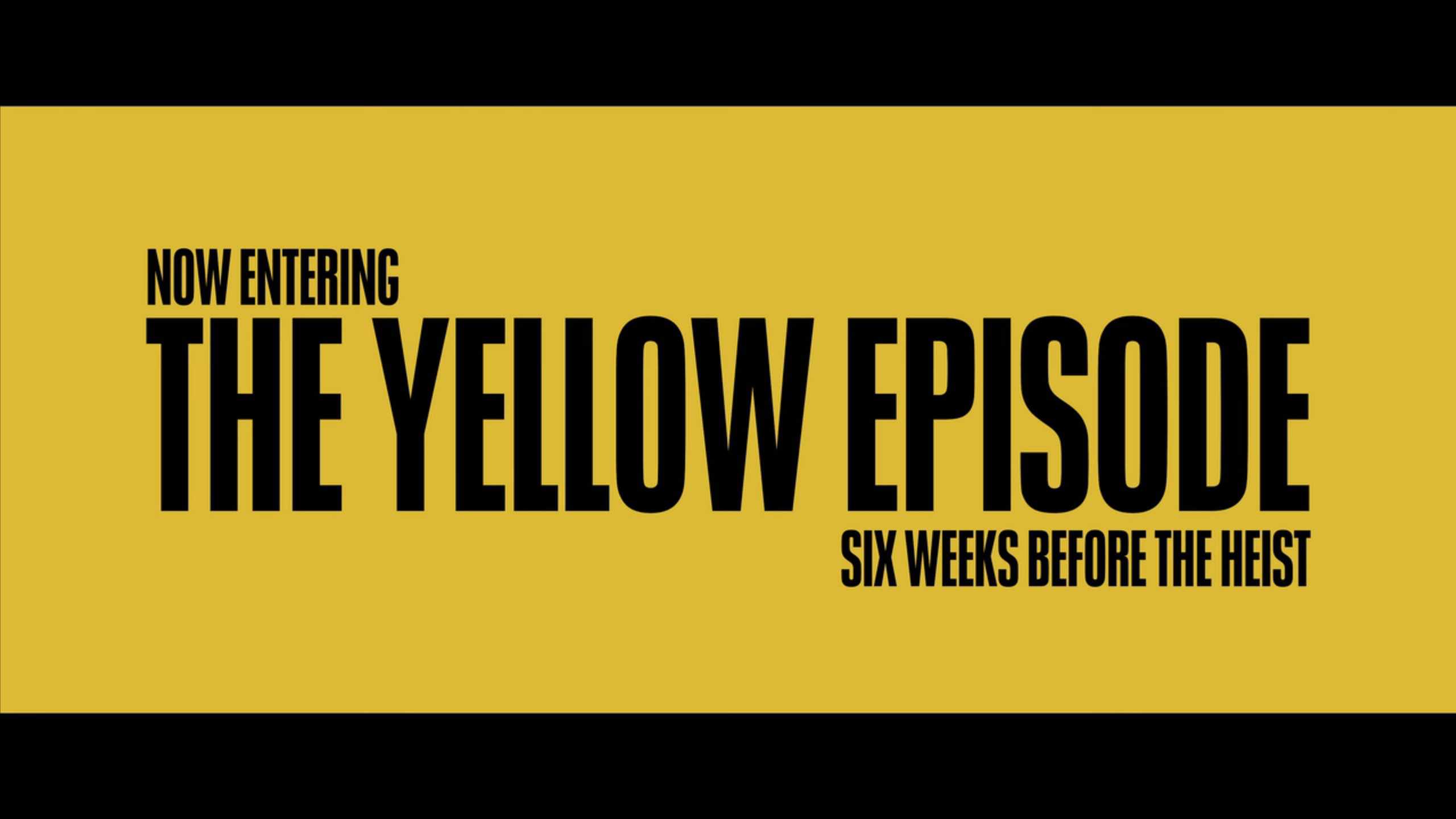 Kaleidoscope: Season 1/ Episode "Yellow" – Recap/ Review (with Spoilers)
Overall
With the gimmick of "You can watch the episodes in any order," it seems that the marketing plot might be there to make up for not being able to offer much more. For "Kaleidoscope" doesn't begin with a bang, despite there being explosives and guns going off. It begins with a whimper since it lacks motives, relationships, and individual characters that can instantly hook you versus you sticking around and hoping you won't waste your time.
Disputable
Nothing To Really Hook You Off The Bat