Harlem: Season 1/ Episode 1 "Pilot" [Series Premiere] – Recap/ Review (with Spoilers)
Unfortunately, Harlem isn't the type of show which stands out and becomes a must-see from the get-go. Though, it has some potential.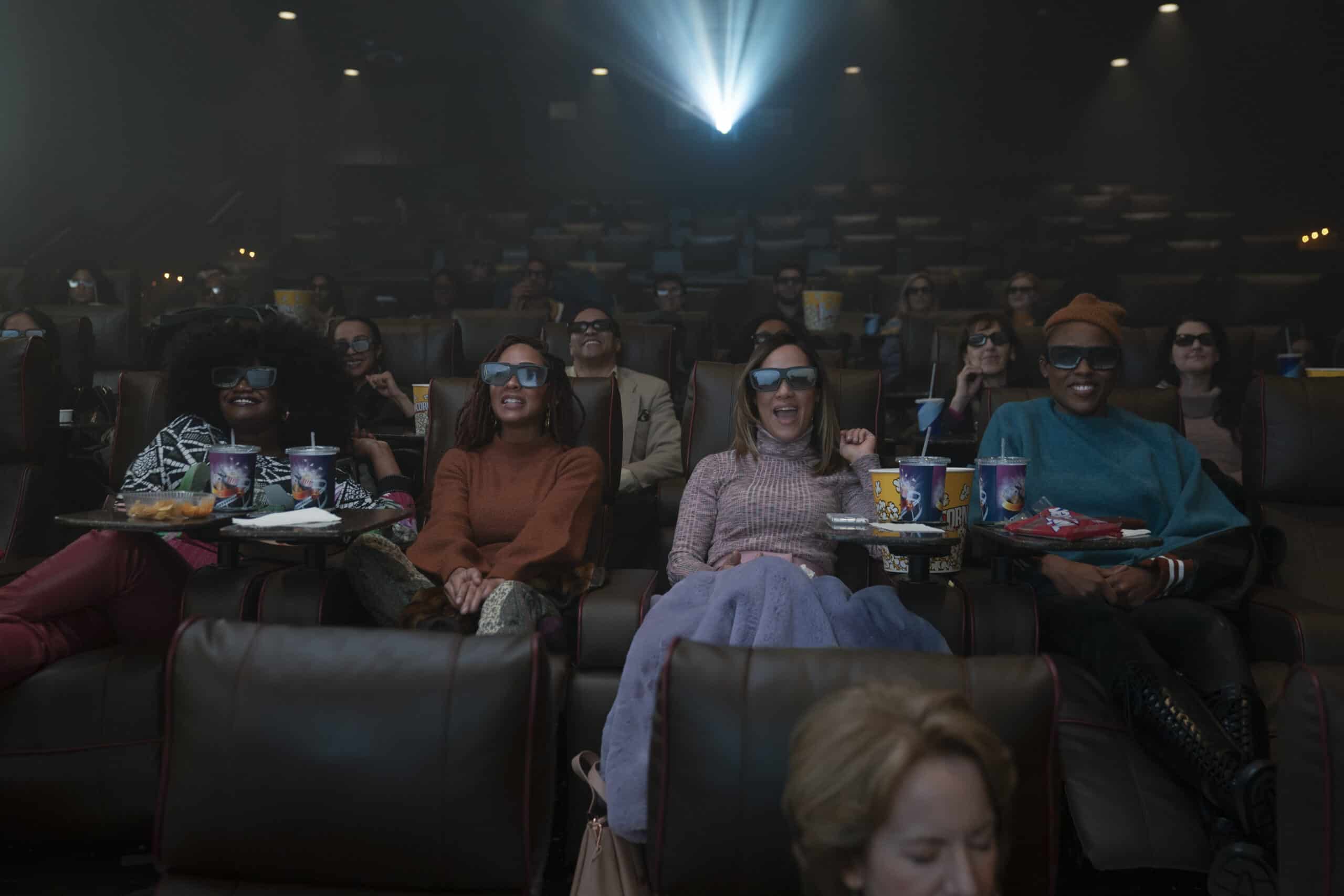 Unfortunately, Harlem isn't the type of show which stands out and becomes a must-see from the get-go. Though, it has some potential.
---
Aired
12/3/2021
Network
Amazon Prime
Created By
Tracy Oliver
Directed By
Malcolm D. Lee
Written By
Tracy Oliver
Genre
Comedy, Romance, LGBT
Introduced This Episode
Camille
Meagan Good
Ian
Tyler Lepley
Tye
Jerrie Johnson
Quinn
Grace Byers
Angie
Shoniqua Shandai
This content contains pertinent spoilers.
Plot Overview
In modern-day Harlem, Camille is just another woman who wants to have it all. She is seeking to go from an adjunct at Columbia university to having tenure. Camille also wants a man, someone either of the caliber of her ex, Ian, or Ian himself. But, as of now, what Camille has is a group of friends she can love and rely on.
Of that group, there is Tye, a tech mogul who owns a dating app for queer people of color. There is also Quinn, who is a designer who comes from a supportive and rich, family. Lastly, Angie is a singer who may not have a gig or record contract, but she has a roof over her head, thanks to Quinn. Together these ladies discuss, criticize and applaud the highs and lows of each other's lives as they try to find their own brand of happiness.
Things To Note | Question(s) Left Unanswered
Question(s) Left Unanswered
What was the exact reason Ian and Camille broke up because the picture she paints seems to hold no kind of accountability?
Why did Angie's record contract go nowhere? Was it colorism, her size, personality, the wrong team? Was it because of the songs she wanted to sing?
So did Tye design and program the app, or is she just working on the business side of things?
Why, of all places, is Quinn on Tinder?
What Could Happen Next
Weirdly, I see more struggles for the ladies than triumphs, potentially because they get in their own way. It's just the question of whether someone will have both professional and personal struggles or just one of the two. Though, that could be said about any show.
Review
---
Community Rating:
---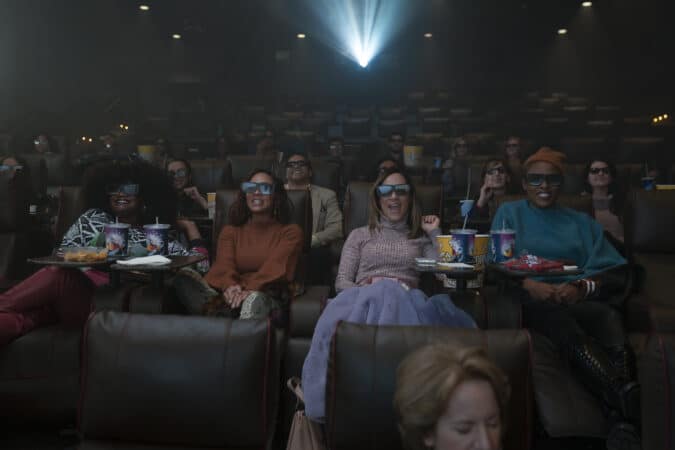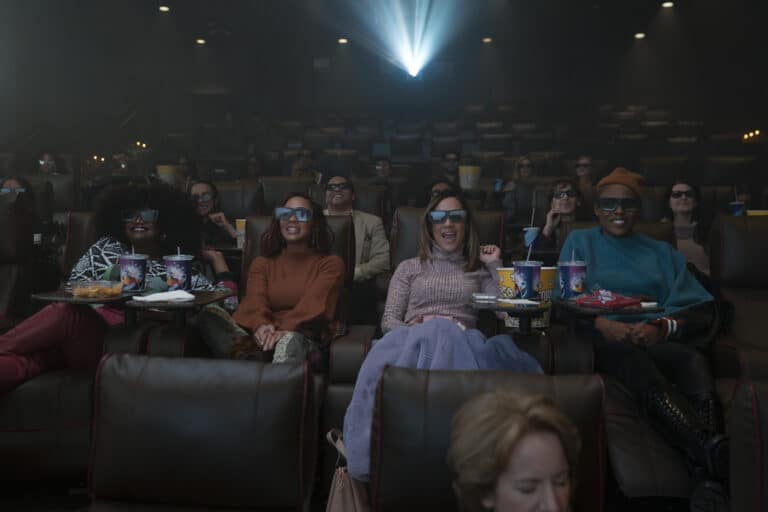 Highlights
It's One Of The Few Shows Like This With A (Seemingly) Lesbian Character
For some reason, there remains a notable split when it comes to shows featuring Black people – on a major network. Usually, there is a clear split between the hetero world and the LGBT+ community. Thus making it where you have shows like Pose, and then there is Insecure, Run The World and more. Rarely do we see intermixing of the usually heterosexual leads and the LGBT+ community unless the interactions are transactional. Be it for service or laughs.
However, with Tye, we get something different. They are part of the group, everyone's invested in their career and relationships, and I'd even say there are layers to her we don't see in the others. For example, the conversation about power dynamics isn't something we often see or hear about when it comes to LGBT+ relationships. At least, in our viewing history, outside of Vida, which focused on Latin women. So being introduced to her as a Black woman in tech, who has tended to not date her equal or people who are studs, brings in a world usually secluded to its community. Thus creating one of the few interesting things about this show.
On The Fence
It Doesn't Fully Tap Into The Depth Its Conversations Could Have
I think the main thing that might be worth noting is that the show does present us with conversations that a group of friends will have. But, unfortunately, none of them go that deep or contain any notable nuance. For example, Camille going out with a former student who asked to be rimmed doesn't lead to conversations about how sexuality is evolving and how Black women, in particular, feel about that. It's just a quick no for Camille, Angie not seeing the problem, and it all being a joke.
The same can be said about everyone's dating life. Whether it is Tye liking to have the power position in her relationships, Camille being stuck on her ex, or the fact Angie seems to be free-spirited without long-term plans and Quinn might be looking for love in all the wrong places, these talks don't go anywhere notable. And don't get me wrong, I get this is a comedy, but when you note shows like Insecure or the more directly comparable Run The World, there is a need to question what Harlem brings, beyond the recognizable names in front of and behind the camera?
Angie & The Question Of Representation
I find Angie divisive. On the one hand, you have to appreciate that the show isn't shying away from a character who is a dark-skinned, heavyset woman, who owns her sexuality, her space, and has a fairly decent command of her voice. Yet, with Angie, everything you could praise her for could also be detrimental. In terms of criticism, you could ask why the darkest character, and the only one who doesn't lean towards thin, is doing the worse of the four? Why are the characters with the lightest skin doing the best and appear to have better relationship prospects?
In some cases, you can claim colorism, aversion to bigger bodies, and other things that are a plague in the real world, so it is only natural to reflect that in the show's take of Harlem. However, when you add in she is the only character with housing insecurity? Again, there is this push and pull between recognizing not everyone who looks like Angie needs to have their life together. Yet, it is hard to not feel like there is an imbalance between her and the rest of the cast.
The Relatability Factor
Let's just begin by saying that certain things aren't necessarily geared towards me as a Black guy. But, topics like relationship issues, trying to get what you deserve, and other things presented in the pilot are universal. However, something about these ladies feels bland. Quinn is a highly successful woman with a trust fund backing her already notable career who has trouble in love. Camille is also successful, though not exactly where she wants to be, who is pining for her ex and struggles to see the potential of anyone due to him. Then there is Angie, who is the funny one who doesn't have much beyond her commentary on her friends' lives and struggles with getting older with nothing to show for her journey thus far.
The majority of these ladies just don't present the kind of stories that push you to want to see more or make this a priority over other things you could watch. They are painted in such a way that it feels like the writing is on the wall, and if the show were to switch things up, it would come off more like a means to keep things exciting than to show these characters making mistakes, growing, and learning.
And even when it comes to Tye, I feel the scarcity of her representation is the only thing that keeps her from being part of this list. For while she does have that all too familiar issue of finding sex easy but relationships hard, once you add in that LGBT+ experience, she gets a pass. Why? Well, for not having a character that seems done before and who has to compete with how you remember a storyline like hers playing out. For unless you actively have sought out storylines like Tye's, you may find her to be a rare example on a show like this.
Initial Impression
I feel like Amazon Prime is still trying to figure out what works and is struggling to build a brand. Harlem, to me, is yet another example of it trying to find something that works, and relying on the name recognition of cast members, writers, and directors, and thinking all that familiarity will give the show what it needs and make it in safe hands. However, that familiarity is a double-edged sword, and with the pilot not taking that familiarity and then really presenting something new, it stumbles and doesn't really recover.
After all, how many more New York-based shows, featuring four friends, of a similar ilk to who Harlem presents, do we really need? Especially as the luster of an all-Black leading cast wears off, specifically ones who are fairly successful professionally but with their personal life lacking? To be honest, it would be interesting to see the reverse since that feels rarely, if ever, done.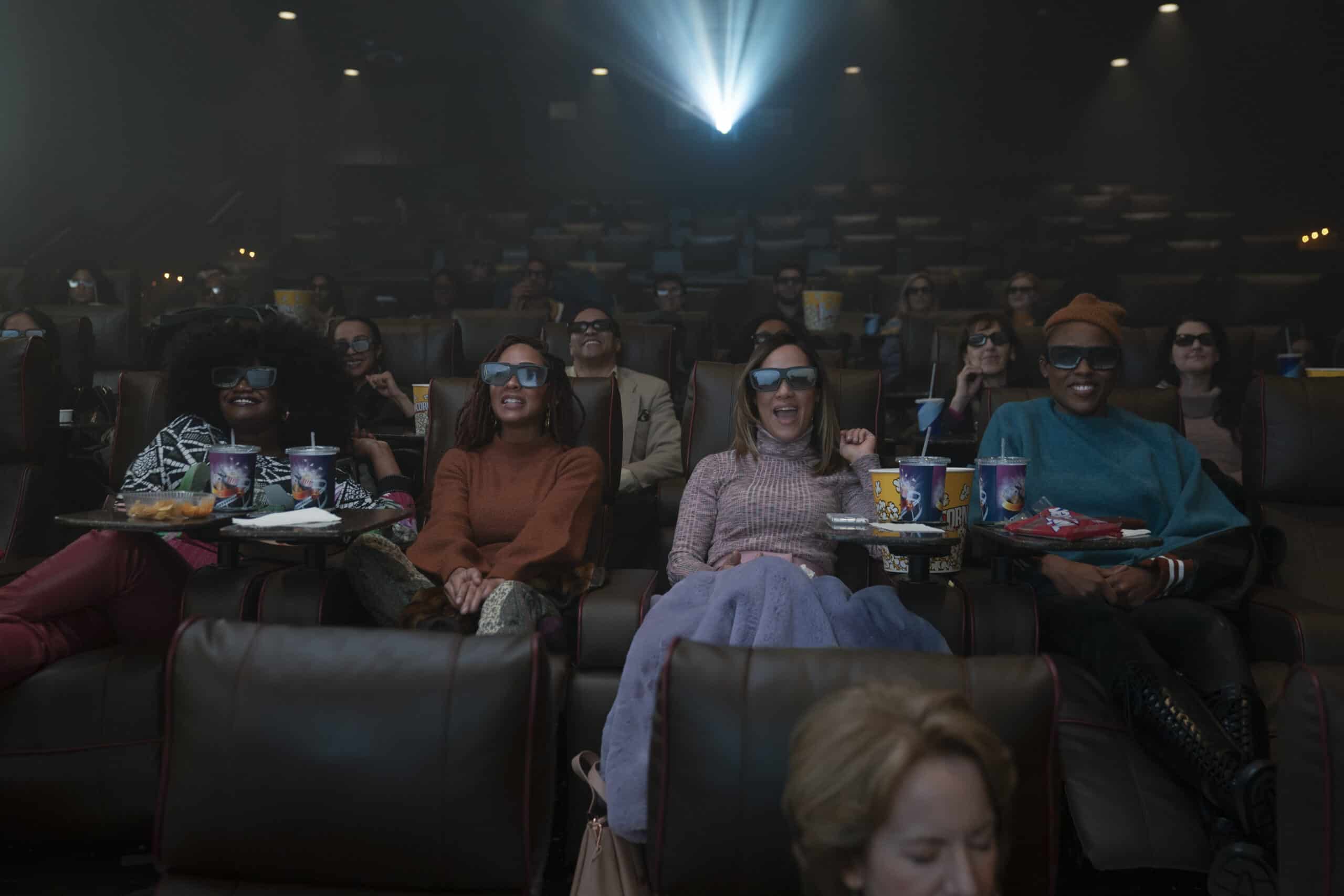 Harlem: Season 1/ Episode 1 "Pilot" [Series Premiere] – Recap/ Review (with Spoilers)
Who Is This For?
I believe that if Harlem didn't drop its whole season and piecemealed its episodes, it could and would be judged less harshly. However, episode 1 is the interview, and the first 3 – 5 are the probationary period, and Harlem doesn't offer much beyond Tye, to invest in. And even with Tye, there is this feeling this show's hook highly relies on you not being aware of what else is out there it could be compared to than it just being good.
Highlights
It's One Of The Few Shows Like This With A (Seemingly) Lesbian Character
Disputable
The Relatability Factor
Angie & The Question Of Representation
It Doesn't Fully Tap Into The Depth Its Conversations Could Have
---
Follow, Like, and Subscribe
Community Rating: 0.00% (0) - No Community Ratings Submitted (Add Yours Below)