Volume III, or Season 3, of Dear White People presented a noticeable, but not necessarily drastic, shift from its previous seasons. Here are some of the highs and lows.
---
[ninja_tables id="38000″]
Follow Wherever I Look on Twitter, Like us on Facebook and Subscribe to the YouTube Channel.
Episode 10 "Volume 3, Chapter 10" Summary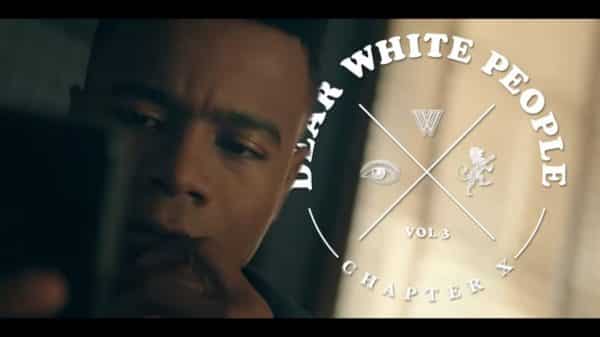 Network
Netflix
Director(s)
Justin Simien
Writer(s)
Justin Simien
Air Date
8/2/2019
Introduced This Episode
Ikumi
Ally Maki
As Reggie comes face to face with who Moses really is, he also comes face to face with Joelle about how she feels about their relationship. Facing the truth doesn't end there though. Sam also does so when it comes to her student project and that, like Brooke, she has been in a funk. One which existed since she lost her passion, in a way, and thus was on auto-pilot. Yet, that has changed now, as has her knowledge of the Order. For with Dr. Ruskin, formerly known as the Narrator, doing away with most of the secrets, minus what is silencing Muffy, Lionel and Sam know all.
Speaking of Lionel, despite some hesitation due to Michael's status, it seems he is ready to go all-in – no pun intended. Which may have made D'unte feel a certain kind of way. But, it isn't just Lionel who found someone, Rashid did too. He found Ikumi, a TA, also one of Moses other victims, who is he very happy with. Though not so happy he can't rub it in Joelle's face that his girlfriend shows up while Joelle's boyfriend is ghostly. But, again, Joelle handles that issue with Reggie and also tells Sam that she can't do Dear White People anymore. The show just doesn't fit and she finds swapping shows disgusting anyway.
Leaving one last thing, Dean Fairbanks seems to officially invite his son into The Order and no sooner does that happen does Troy decide to speak to Sam and Lionel. Two people, especially Sam, who seem to be on the verge of reforming the Order, or at least eliminating the sect which will protect its members as long as they expand their influence and power.
Collected Quote(s) & .Gifs
How can you miss someone you've barely even noticed?
— Rashid
If you ever loved anything, the world will make you angry.
— Sam
Highlights
The living area conversation about growing up, whether there is an applicable grey area between good and bad, and people just not meeting your expectations.
Al possibly finding his people after being treated, in a similar vein to Rashid, just because he is different.
The conflict between protecting those who open doors and recognizing the same people may make you pay a tax for the opportunities they provide. Be it defending and hiding their secrets, or being a subject to their power abuse. Be it once or multiple times.
Lionel setting aside the prejudice many likely have when it comes to those with HIV and recognizing he loves Michael – without there being a hint of "Despite of."
Coco and Joelle stepping away from their own needs to be perfect, either based on other's expectations, their own, or in pursuit of being respected.
On The Fence
Rashid utterly disappearing for most of the season then popping up with an Asian girlfriend. There is some exploration needed there.