Us Ending Commentary (with Spoilers)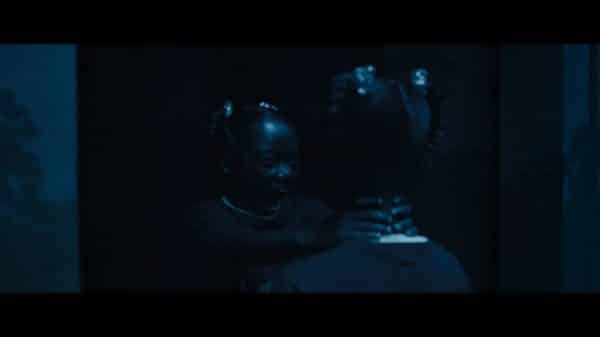 So, long story short, Adelaide and Red switched places in 1986. Red dragged Adelaide underground into the tunnels, handcuffed her and took her place topside. What isn't ever gone into though is who made these clones and who was keeping them alive? Yes, there were rabbits to eat, and it is noted by Red they ate them raw since there was no access to fire – leading you to wonder how Jason's doppelganger burnt his face and has long healed from his injuries? However, how the rabbits get down there, who put the furniture down there, never mind who made all these clones, is hard to say.
Though calling them clones would be inaccurate. They are actually shadows who show they are still, to a certain degree, tethered to their host. The prime example of this is Jason who coerces his shadow to walk into a fire and burn himself to death. And on the topic of Jason, with him ending up down in the deep basement where the shadow people lived, so comes the question of whether they were even in a separate world or not? Also, why weren't they locked up so they couldn't get out?
I could go on and on with questions, like will Jason out Adelaide and whether Red revealed the truth to him? But only Jordan Peele could answer questions about the shadow people, as well as what happened after the massive genocide of the originals? For with the shadows having only golden scissors, to untether themselves from the hosts, and no other weapons, so comes the question if they may get massacred like the originals?
The Meaning Behind "Us"
So I was talking to a friend about the movie and it was concluded that "Us" could literally be about us. You can take that as Us, the United States, Us meaning Black people, or simply Americans. Which is how Red identifies herself when asked who they are and it pushes you to think she wants the originals to recognize they aren't so different from them. Red and Adelaide both fear for their families, hence why she doesn't kill Jason after he kills her child. More than likely, she planned on taking her life back.
But it doesn't end there. You can take Jason wearing a mask as commentary about people hiding their true selves; Gabe pursuit of nice things because others have it representing capitalism and his counterpart being the effects of a system which leaves many behind and impoverished; and when it comes to Zora, who is always on her phone, tuning out the world, her counterpart represents having your eyes wide open and aware of everything.
Which isn't to say Us is a really deep movie. As noted, it does require some thought, unlike many horror films, but I wouldn't call it a classic. If only because this benefits more so because the horror genre has low expectations rather than saying, see this as a film, period, and it could hold its own in a general landscape.
---
Follow Wherever I Look on Twitter, Like us on Facebook and Subscribe to the YouTube Channel.
---
---
Check out the Movie Master List Page
---
The Latest Movie Recaps/ Review (with Spoilers)
---
Movies Rated Positive (Worth Seeing)
---
---