OWN's first foray into Christmas movies is sweet, family-friendly, and sets a good precedent for the holiday films that will follow.
---
Directed By
Fred Olen Ray
Written By
Fred Olen Ray
Date Released (OWN)
11/15/2019
Genre(s)
Family, Holiday, Comedy, Drama
Noted Cast
Haley
Sasha Fox
Susan
Vanessa Williams
Al
Mark Christopher Lawrence
Matty
June Carryl
Mrs. Daniels
Reatha Grey
Diana
Eva La Dare
Bob
Rodney Van Johnson
Jesse
Alfonso Caballero
Misaki
Kirsten Leigh
Alice
Marla Gibbs
Mr. Miller
Reginald VelJohnson
Plot Summary/ Review
---
Community Rating:
---
Haley is a college student who has returned home to her tight-knit community for the holidays and finds her mother, Susan, throwing herself into work. Now, this would be fine if she was trying to wrap things up before Christmas, but with Susan bordering on a Scrouge level work ethic, and seeing the holiday as more of a hindrance than a time for family, this disturbs Haley. Yet, on a street named after Christmas, Susan isn't alone in, initially, not fully embracing the spirit of the holidays.
Alongside her, there is Al who has worked so much over the years, his marriage to Matty, his wife, has suffered. Also, there is Mrs. Daniels, who lost her son and husband, and due to that, she seems to distract herself by doing for others but not really allowing them to do fo her.
Lastly, there is Diana and Bob's family. Their son, Jesse, is in active duty and returns home with a wife – Misaki. This would have been fine on any other occasion, but he springs this wife on his slightly possessive mother, who has a hard time adjusting. Making the fact she not only rarely sees her son but now has to compete for his affection a hard thing to deal with. Leading to her not so much welcoming Misaki as much as alienating the Japan native and not allowing her to feel the spirit of Christmas in Diana's home.
But, one by one, each family works through what made their relationships weak so that it can become solid before the new year.
Question(s) Left Unanswered
So, why wasn't Haley gung-ho about her dad and how he was doing during Christmas? Especially considering how much time and effort she put into her mom and grandmother, Alice, spending time with her?
Highlights
Al & Matty
If we're being completely honest, I like my holiday movies with a touch of darkness in them. That made Matty and Al dealing with marital troubles, Al being laid off, and these two disconnected, appealing to me. Since, off the bat, it is made clear most of the characters were well off, so there was already that hurdle – for making rich people interesting, without showing bad behavior, can be difficult.
So to see Matty deal with a husband who still was in that mindset of them being poor and struggling, that hit in ways I wasn't expecting. Maybe because Black Love precedes this, so you feel setup to be hyperaware of relationships.
But, alongside the marital issues, you also have Al being someone who worked at a place for over 25 years and dealing with ageism. A topic not frequented when it comes to a lot of Black media, outside of a joking context, so to see it being taken seriously, while brutal was appreciated.
Susan
Which continues with Susan. With her being single, having a big house, a child in college, and going through more than this film spells out, you can understand her becoming a workaholic. After all, if she slows down, it may force her to take inventory of her life.
Think about it, her husband for years, the way Haley paints the picture, left because he got tired of trying to play peacekeeper between Susan and her mother, Alice. Now all she has is the echo of her heels and the occasional visit from her daughter. All the while, outside of Mrs. Daniels, who lost her family tragically, everyone has a husband, full-blown families, and she is one of the few divorcees.
Wouldn't you, considering your surroundings, rather focus on work than take stock how you the only one around without somebody to fill up your time who doesn't work for you?
Misaki Bringing A Sense Of How Christmas Is Done In Other Countries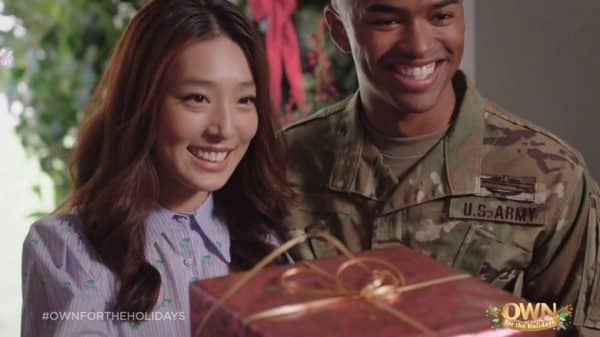 While I watch anime and have some grasp on how Christmas is done in Japan, it was interesting to hear Misaki's take and to actually see a real person speak on the customs and even create a desert used to celebrate. For while she doesn't bring about more than a few customs, and nearly all in one scene, being that holiday movies sometimes seem so honed in one how one culture does something, getting different perspectives was a nice little addition.
Mrs. Daniels' Story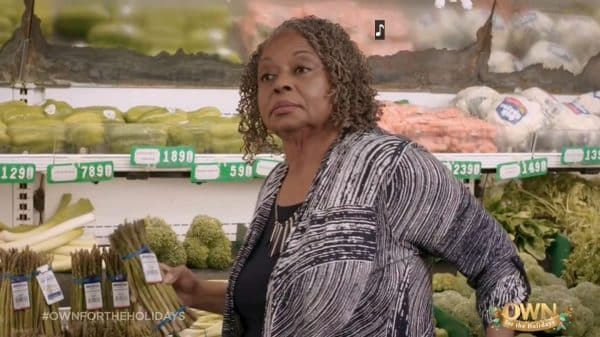 What you have to love about Mrs. Daniels' story, tragic as it is, is that she reminds you of the importance of community and the strength of a person's spirit. For despite losing her family due to an accident, she is still smiling, active in her community, and keeping up with her traditions. And while everyone is going through something relatable, in one way or another, there is something about Mrs. Daniels' story that just hits you right in the gut and could bring you to tears.
On The Fence
Haley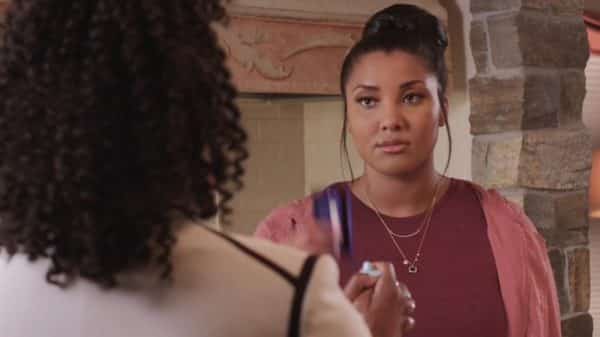 While you have to appreciate a young person like Haley being so pro-family, looking out for her mom, and stepping into the role her father played in keeping the family together, she may get on your nerves. Why? Well, in comparison to Jesse, something about Haley seems privileged, selfish, and pushy. You can even see the adults in her life handle her as such. Yet, to prevent whining or her getting in their business, they know it would be easier to just give in than argue and possibly deal with her whining.
Overall
Met Expectations
One Fine Christmas goes beyond expectations by not just being something that can be seen as a Lifetime movie put on a separate network. It is very much in line with OWN's brand of showing middle-class Black people who, while doing well, are still human and far from perfect. For if it isn't marriages that need tending to, it is dealing with loss in various different ways. Yet, never making said loss make you feel any less whole.
General Story
Each grouping contributed well to the movie and kept the pace going. I'll admit I wasn't strongly into Haley's storyline, but that blemish isn't big enough to taint the entire story.
Cast As A Whole
Whether you talk about the age range, skin tones, or different sized bodies, you have to appreciate the film being both diverse and inclusive. Also, considering they have classic actors like Marla Gibs and Reginald VelJohnson, what isn't to like?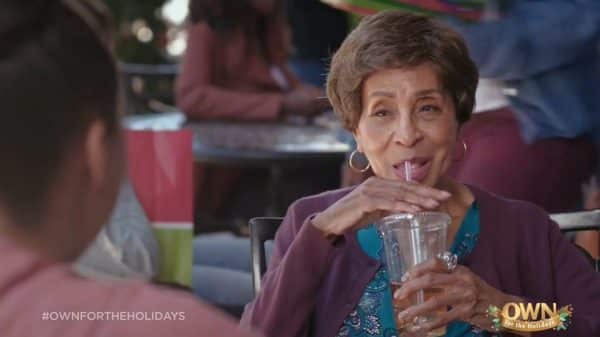 Would Watch Again?
Honestly? This is a one and done movie. It doesn't have the appeal of a classic, despite many good things going for it.
Is It Worth Seeing At Full Price? – N/A
Overall, One Fine Christmas is a one and done movie that sets a positive precedent for OWN's upcoming weekly holiday movie offerings. And while it may not have the kind of appeal which makes it come off like a classic, I do think it presents the idea that OWN should make new original movies each year, to be released during this time, as a tradition.
Images and text in this post may contain affiliate links. If you make a purchase, we may earn a commission or products from the company.
Al & Matty - 86%
Susan - 85%
Misaki Bringing A Sense Of How Christmas Is Done In Other Countries - 84%
Mrs. Daniels' Story - 83%
Haley - 75%