While, like many Filipino movies which makes it stateside, The Girl Allergic To Wi-fi is a bit cheesy, there is no denying the cute relationship and that it'll make you cry.
---
Community Rating: 78.4% (15)
---
---
Director(s)
Jun Lana
Screenplay By
Jun Lana
Date Released
8/21/2019 (Netflix)
Genre(s)
Romance, Drama
Good If You Like

Sappy Films
Cute, PG, Teen Focused Films

Noted Cast
Norma
Sue Ramirez
Aries
Jameson Blake
Leo
Markus Peterson
Macha
Angellie Sano
Margaux
Adrianna So
Images and text in this post may contain affiliate links which, if a purchase is made, we'll earn money or products from the company. Affiliate links and external links include an upward facing, superscript, arrow.
Check Out Other Movie Reviews Below
Follow Wherever I Look on Twitter, Like us on Facebook, Sign Up For Our Mailing List and Subscribe to the YouTube Channel.
Plot Summary/ Review
For most of Norma's life, she didn't have any issues. By all means, she was a normal girl with friends, crushes, boyfriends, school, and an active social life. However, one day she finds herself unable to be around electromagnetic devices. This complicates her life immensely for it means her boyfriend, Leo, has to drive far to this remote area to spend time with her. Something which isn't a problem for his brother, Aries, and his friend Macha, but Leo is a basketball player, so his time is limited.
Yet, with Aries having a crush on Norma, his drive pushes him beyond anything resembling friendship. However, Norma loves Leo so what can Aries do? Even if Leo slowly, but surely, finds the effort required to be with Norma to be too much.Thus causing the kind of rift which may give Aries a guilt-ridden chance.
Highlights
While Aries Has Ulterior Motives, He And Norma Become Adorable
Despite Aries seeming like a genuinely nice guy, we can't sidestep the fact he loves his brother's girlfriend and doesn't necessarily make a move on her, but does overstep. But, even with him doing a lot for someone who sees him as a friend, it's hard to say he and Norma don't become adorable together. Which, again, isn't to negate his actions, which include something Leo doesn't and wouldn't approve of. However, the chemistry between Ramirez and Blake pushes you to negate what's inappropriate about their relationship.
The Ending Will Make You Cry
Especially once you hit the ending. For due to a handful of events in the last ten or so minutes, if you are sappy, sensitive, emotional, whichever word you prefer, you will be crying. Tears which, may I add, may come as a surprise since the movie isn't necessarily driving you too much in the way of emotions. Yeah, life sucks for Norma, but with the film more geared towards Aries' point of view than hers, Norma's suffering is almost secondary. Hence why, when things shift and we're dealing with her emotions towards him, and his towards her, you may find tears rolling down your cheeks a serious shock.
On The Fence
The Margaux Storyline Came Out Of Nowhere & Was Just Dropped
Why did Margaux feel the need to say Norma was pregnant? It's hard to say. Norma wasn't really touted as the most popular girl at school. Also, it didn't seem Norma got with Leo before Margaux could make her move. So her motives were weird, and her disappearing after Norma got back at her made things all the more strange. Like, what was the point of that whole plot beyond making Norma's situation go from bad to worse?
Macha Outted Herself Just So You Wouldn't Get Ideas
There is no other reason one can fathom for Macha revealing, from the start of the film, she was queer, besides eliminating any possibility she'd end up with Aries. Which, to me, was a cheap way to handle things. I get with them being so close people could get ideas, especially since Macha follows Aries around everywhere, but it just seemed lazy to make her gay.
Not to imply the issue is Macha not looking for girls to date or talking about other girls. After all, maybe she is only out to Aries? Perhaps they live in an area she could be hurt for being out and proud so her closeness to Aries protects her? It's hard to say since everything is about Aries and his crush on Norma and Macha often seems like an afterthought.
The Girl Allergic To Wi-Fi Overall: Mixed (Divisive)
Does the film get you surprisingly emotional? Yes. However, there are so many issues you gave to let go, on top of a run-time that is slightly longer than the film needs, which leads to the mixed label.
The Girl Allergic To Wi-Fi Ending Explained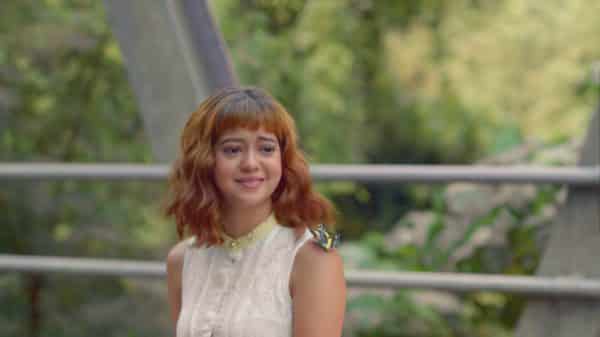 Just as Leo is ready to admit he not only cheated on Norma but also gives Aries his blessing to date her, Aries dies in a car accident. Due to that, the possibility of Aries and Norma dies with him. However, the film pushes the idea that Aries may have spoken to God and convinced them to rid Norma of her disease. This is shown by a butterfly that touched his shoulder earlier following Norma the day of his, Aries', funeral. It even kisses her on the cheek before flying away.
Is A Sequel Possible?
It could, in terms of Leo's recovery, and being a better person, mixed with Norma learning to be more in the moment – perhaps deal with Margaux face to face. For with us not knowing what happened after Norma, Macha, and Aries made it seem Margaux was gloating over being part of Norma getting an abortion, there is a lot to deal with there. Mind you, the abortion was a lie, which began with Margaux saying Norma disappeared because she was pregnant. But considering we don't know why Margaux told that lie, there are many things to be answered about why she'd even go that far to besmirch Norma's name.
---