Puss in Boots: The Last Wish (2022) – Review/ Summary
The Last Wish adds emotional depth in a blast of color and fun antics throughout the film.
Director(s)
Joel Crawford and Januel Mercado
Screenplay By
Paul Fisher, Tommy Swerdlow, Tom Wheeler
Date Released (In Theaters)
12/21/22
Genre(s)
Animation, Adventure, Comedy, Family
Duration
1 Hour 42 Minutes
Content Rating
Rated PG
Noted Cast
Puss in Boots
Antonio Banderas
Kitty Softpaws
Salma Hayek
Perrito
Harvey Guillén
Goldilocks
Florence Pugh
Jack Horner
John Mulaney
Mama Bear
Olivia Colman
Papa Bear
Ray Winstone
Baby Bear
Samson Kayo
The Wolf
Wagner Moura
Film Summary
Puss in Boots is a daring adventurer with a streak for selfishness. But when Puss discovers he's on his 9th and final cat life, he becomes fearful of his enemies and old sword-swinging ways. So he seeks a Wishing Star to grant him more lives.
Along Puss in Boots' journey, he finds companionship in an old love interest named Kitty Softpaws and the endlessly optimistic dog Perrito. They compete against Goldilocks, and Jack Horner, who seek the Wishing Star for themselves, as well as the Wolf, a terrifying foe whose one mission is to take Puss in Boots' final life.
This film is a spinoff to the Shrek franchise and a sequel to 2011's "Puss in Boots."
Why Is "Puss in Boots: Last Wish" Rated PG:
Dialogue: A few uses of "crap" and certain profanity is censored for comedy
Violence: A few cartoonish fights with Puss in a comedic montage that shows how Puss ended up with his final life.
Sexual Content: N/A
Miscellaneous: A few scenes imply Puss in Boots is drunk off "milk/cream." Death is a major theme throughout the film.
Character Guides
Puss in Boots
A charming, sword-wielding cat who is equal parts adventurer and fugitive. While Puss can be narcissistic, his heart finds its way to the right place.
Kitty Softpaws
Puss' ex-fiancé is just as daring and adventurous as Puss. She seeks the Wishing Star to find someone she can trust in this life.
Perrito
A constantly friendly and happy chihuahua who wants to be a therapy dog. Perrito is a scene-stealer who always looks on the bright side and sees the good in friends and foes.
Goldilocks
An antagonist to Puss and the leader of the Three Bears family. She's tough, resourceful, and secretly wants the Wishing Star to find her biological family.
Momma, Poppa, and Baby Bear
The family of bears may look ferocious on the outside, but they have plenty of love to give to Goldilocks, who they consider to be part of their family.
Jack Horner
A pastry chef/crime lord that serves as another antagonist to Puss. All he wants is more power, and he plans to use the Wishing Star to grant himself unlimited magical abilities.
The Wolf
As a threatening enigma for Puss, the Wolf stays hooded with two swords and seeks to hunt down and kill Puss. The hairs rise on Puss' arm as he hears the Wolf's signature creepy whistle.
Review
Highlights
The Animation
The animation is constantly beautiful and inventive; from the opening music/action number to the poetic, cathartic finale, Puss in Boots is a feast for the eyes. While the "Shrek" franchise and the first "Puss in Boots" movie rely on a more realistic animation style, "The Last Wish" splashes each corner of the screen with vivid color.
A Story About Death for the Family?
While most children's movies handle simple messages like believing in yourself and coming together to complete a task, "The Last Wish" grapples with death and what a life worth living means. Our protagonist Puss even has an identity crisis when he realizes he's no longer the same cat with just one life to live.
The message to appreciate your loved ones while they're here, stop and smell the flowers, and open yourself up to vulnerability may be overwhelming for a child to fully comprehend. But families and loved ones might hold each other a little closer after watching "The Last Wish."
[ninja_tables id="46802″]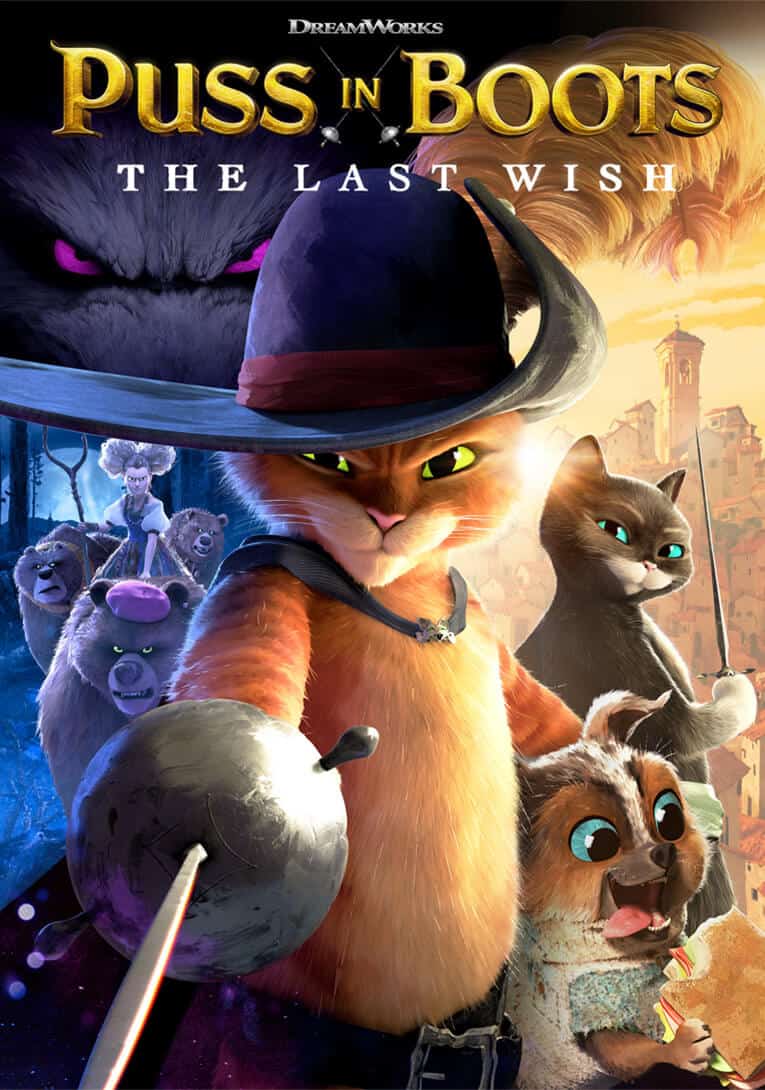 Puss in Boots: The Last Wish (2022) – Review/ Summary
Overall
My Rating: Positive (Worth Seeing)
Highlights
The Animation
A Story About Death for the Family?
Related Topics:
Adventure
,
Animation
,
Antonio Banderas
,
Comedy
,
Family
,
Florence Pugh
,
Harvey Guillen
,
Januel Mercado
,
Joel Crawford
,
John Mulaney
,
Olivia Colman
,
Paul Fisher
,
Ray Winstone
,
Salma Hayek
,
Samson Kayo
,
Tom Wheeler
,
Tommy Swerdlow
,
Wagner Moura