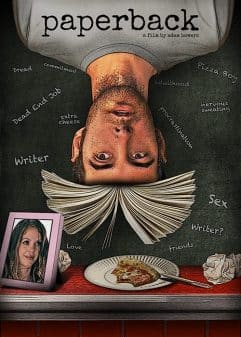 Paperback will have you questioning your beliefs on marriage and relationships as you laugh at and with its lead character.
---
Director(s)
Adam Bowers
Screenplay By
Adam Bowers
Date Released
1/23/2018
Genre(s)
Comedy, Romance, Drama
Noted Actors
Rob
Adam Bowers
Emily
Dreama Walker
Jason
Colin Contreary
Samantha
Genevieve Jones
---
Summary
Rob and Jason are total opposites. Jason is a college professor, with a renowned published novel, and Rob works at a pizza shop, with a disparaging best friend in Samantha, and his novel isn't attracting any sort of attention. Yet, these two are friends. However, upon meeting Emily, a girl Rob meets randomly at his job, he comes to believe she is perfect for him. Something you'll come to believe too.
They have cute banter, she has this cute puppy dog eye look every time she sees him, and they really hit it off. But there is a problem – she is married to Jason. Yup, Rob's best friend's wife is the one he is desperately in love with. This is despite Samantha trying to talk him out of it all throughout. Yet, there comes the question: What matters more? A friendship which has to at least be a couple of years old or this new thing? A relationship, if you can even call it that, in which the conversation that needs to be had gets avoided, no matter how increasingly complicated things get.
Prepare for a love triangle which will have you constantly changing sides, all the while seeing Rob slightly built up and quickly torn down by all those he is involved with.
Other Noteworthy Facts & Moments
The story takes place in Florida.
Question(s) Left Unanswered
Where was Rob when Jason got married to Emily? Also, did Jason not send any pictures of Emily while they were dating, engaged, or when they got married? I mean, how close are these two really?
Highlights
A Very Interesting Love Triangle
Usually, with the way most love triangles are set up, once you commit to one connection, you stick with it. However, Paperback makes sure to throw a handful of reasons for you to switch your allegiances, including towards Jason and Rob. For there comes a point where you have to admit, as cute as Rob and Emily are, she is cute with everyone. In fact, you come to question, what is it she really wants? What is it that makes her happy and what truly led her to not only stray but get married in the first place?
Which I highlight for it presents everybody as wrong here. You both want this and that relationship to be strong and survive, yet you also realize all of these relationships are essentially trash. They make up for it by being fairly consistent and sort of upfront with one another, even sweet in moments of real vulnerability, but at their core – they are all terrible for one another.
The Dry Humor & Jokes at Rob's Suspense
As Jason notes, Rob is the kind of guy who just seems plain miserable. After all, he is nearly 30, makes pizzas for a living, makes it seem love has been virtually absent for most of his life, and then he falls for his best friend's girlfriend. Yet, he finds humor in this. Mostly the kind to give him the smallest bit of satisfaction before someone slaps him down. Which, more often than not, is done by Jason and Samantha. Jason who says the kind of things which makes you think Rob is desperate for friendship and Samantha who clearly has no time for Rob's nonsense, but with being a single mom, it is hard to make friends – and she probably hates PTA meetings.
But for those who like dry, sarcastic, almost British like humor, you're going to love this movie. It is so shady, and honestly, I was laughing far more than I expected to.
Samantha
Though mostly a commentator, unless dragged into Rob's drama, there is something about Samantha, be it the actress or the writing, which makes you feel like you're watching the kind of obscure programming HBO or Amazon put up between their tentpole productions. The kind of shows where, they made their money so now they want to see about presenting new voices, being innovative, and things of that nature.
Which I contribute to Samantha's character for she isn't necessarily the first of her kind, but has this presence which is undeniable. She is a single mother, who is brash, yet cares enough about Rob to attempt to go along with his lie. Alongside that, she has this rambunctious little kid who gets on her last nerve but is her world – in a good way.
Add in that her relationship with Rob is kind of like a brother/ sister relationship, if not "Well, I don't like people but enjoy socializing, so you'll do," and it really makes you hope this isn't the last we see of Genevieve Jones.
On The Fence
There Is A Wish For More On Emily's Perspective
With Jason and Rob being friends, there is a built-in back and forth about them talking about who they are, how life has progressed for them, and etc. With Emily though, all we really learn is that she is from New York City, is a school teacher, and prefers to be cleanly shaven. We don't get with her, from either Rob or Jason, her talking about her dreams, fears, or how she ended up in the situation she is in. We are allowed to understand she is past the honeymoon stage of her relationship with Jason, but that's about it. For the most part, Emily is just a cute girl who seemingly can't figure out how a person can make her happy enough to commit just to them. Which, strangely, perhaps in a good way, doesn't lead to anyone calling her a derogatory term, but Rob instead taking on the blame for keeping the situation going.
Overall: Positive (Worth Seeing)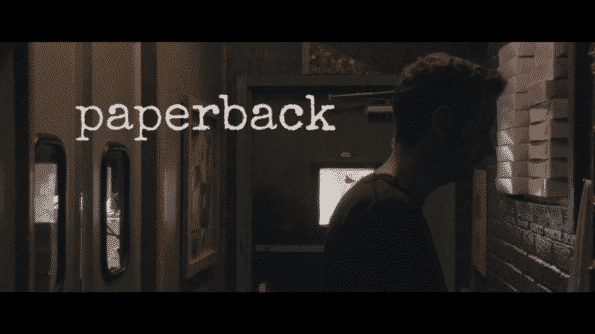 While Emily sort of gets the short end of the stick, by just being this woman so likable that it is hard to fully hold her accountable, this is a rather pleasing movie. The comedy will catch you off guard, and make you fall in love with it, Genevieve Jones you'll definitely wanna see more of, and while the relationships are problematic, in a way, they all have this certain sweetness to them which gives you complicated feelings. Almost to the point that you wish Paperback itself was a show because it does end with a little bit of a doozy.
Follow Wherever I Look on Twitter or Like us on Facebook.