One Night In Miami – Review/Summary (with Spoilers)
Like Kemp Powers' "Soul," "One Night In Miami" leaves you searching for meaning in past actions and contemplating your path in life going forward.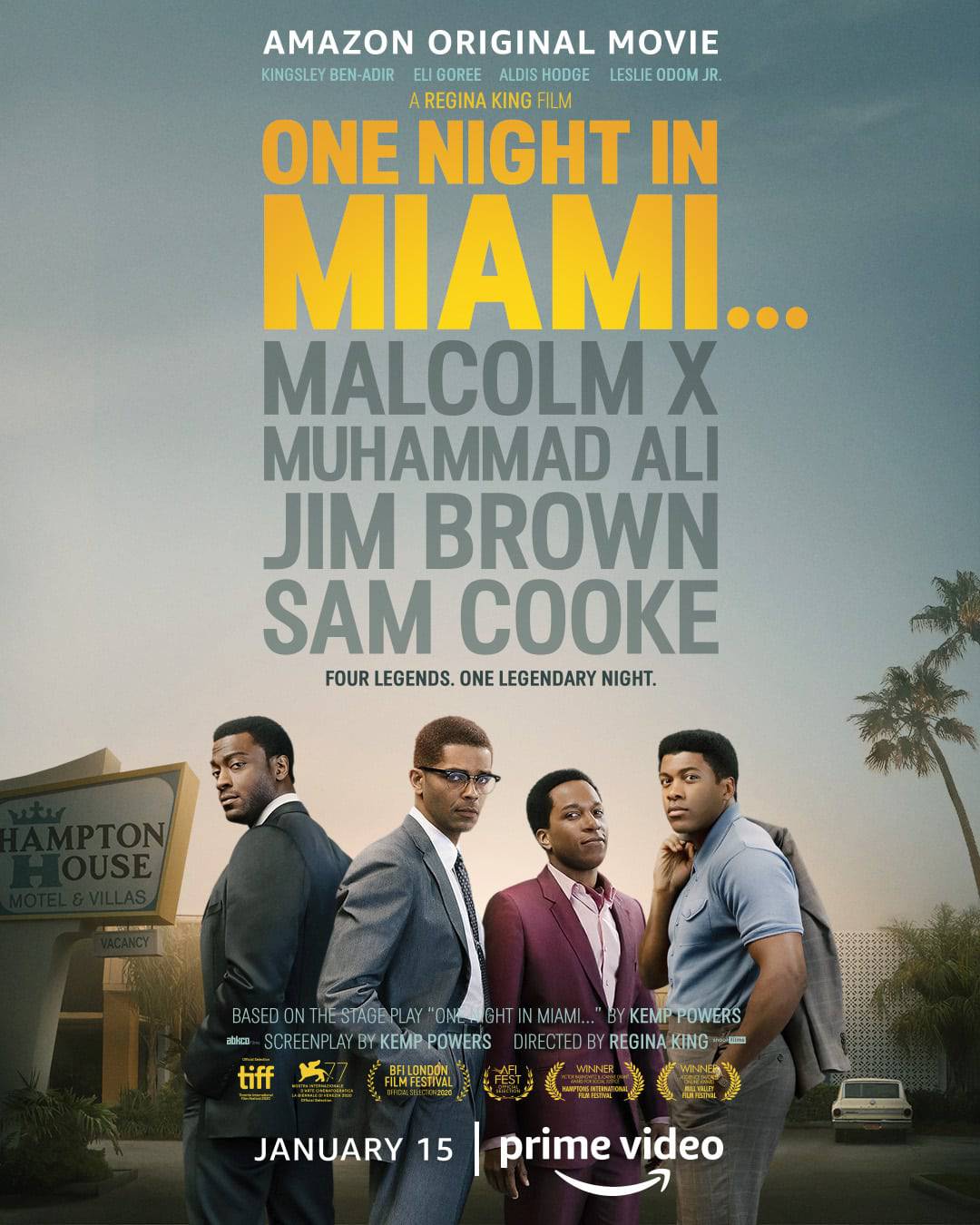 Like Kemp Powers gave us in "Soul," the adaptation of his play "One Night In Miami" will leave you searching for meaning in your actions and what will be your path going forward.
---
Director(s)
Regina King
Screenplay By
Kemp Powers
Date Released (Theatrical/ Amazon Prime)
12/25/2020 (Theatrical)

1/15/2021 (Amazon Prime)

Genre(s)
Drama, Historical
Duration
1 Hour, 54 Minutes
Rating
R
Noted Cast
Cassius Clay
Eli Goree
Sonny Liston
Aaron D. Alexander
Sam Cooke
Leslie Odom Jr.
Jim Brown
Aldis Hodge
Malcolm X
Kingsley Ben-Adir
Jackie Wilson
Jeremy Pope
This content contains pertinent spoilers.
Film Summary
It's February 25th, 1964. After Muhammad Ali, then Cassius Clay, defeating Sonny Liston, he spends his evening with Malcolm X, Sam Cooke, fresh from performing at the Copacabana, alongside football player Jim Brown. During their night-long conversation in a Miami hotel room, there is a challenge of perspectives between the men in the room. At 22, Cassius is on the brink of converting to Islam, with Malcolm's tutelage, but seems to be having doubts. Especially as he takes note of all he'd have to give up to adhere to the teachings of his faith.
And as he wrestles with that, Malcolm finds himself wrestling with Jim Brown, and especially Sam Cooke about their roles in the struggle and what they can do for the advancement of Black people. Leading to a lot of back and forth, as even Malcolm finds himself confronted about his role and him knowing his time is coming to its end.
Things To Note | Question(s) Left Unanswered
Reason(s) for Film Rating: Mainly cursing, drinking, blood during the Sonny Liston fight, the use of the N-word, but nothing major.
Jump Scares/ Laughs/ Tear-Jerking Moments: Pretty much anytime Muhammad Ali talks, prepare for a laugh. Also, Sam Cooke and Malcolm X talking about Jackie Wilson.
Collected Quote(s) & .Gifs
Everybody talking they want a piece of the pie, but I don't. I want the goddamn recipe.
— Sam Cooke
There is no more room for anyone to stand on the fence anymore.
— Malcolm X
Cast & Characters
Cassius Clay (Eli Goree)
22-year-old Cassius Clay has been courted by Malcolm X, who has acted as a spiritual guide to him. But, on the eve of him defeating Sonny Liston, the truth behind some of Malcolm's actions come to roost, alongside who Malcolm is beyond the man Cassius knows.
Sonny Liston (Aaron D. Alexander)
The boxer Cassius Clay defeats on 2/25/1964.
Sam Cooke (Leslie Odom Jr.)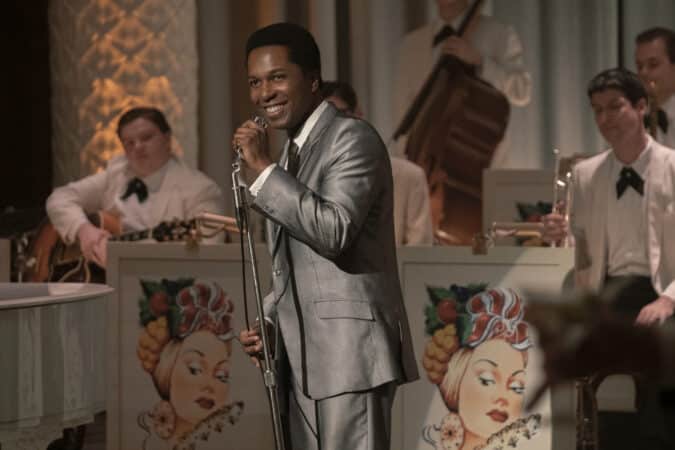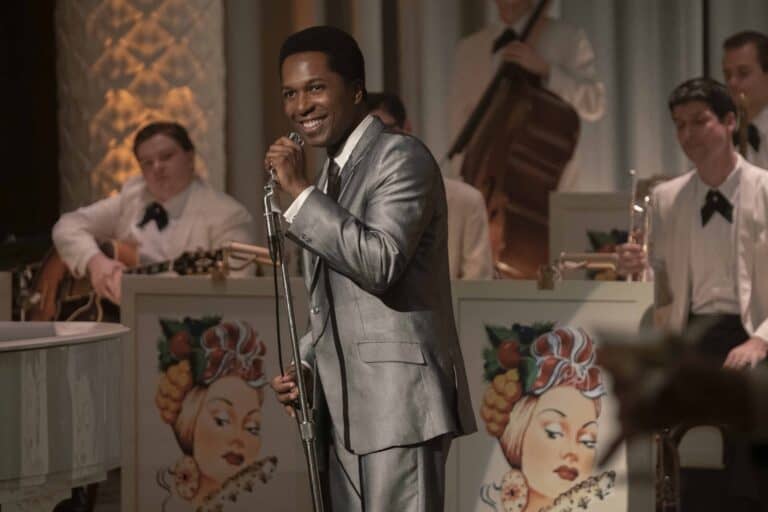 At this point, Sam Cooke hasn't released "A Change Is Gonna Come," and while he has hits, and success, he isn't where Malcolm X would like to see him positioned. Thus causing a bit of strife and spurring one of the main conversations of One Night in Miami.
Jim Brown (Aldis Hodge)
Jim Brown is a legendary football player at this point, but with his knees not what they used to be and the opportunity to transition into film, he is at a crossroads.
Malcolm X (Kingsley Ben-Adir)
With Malcolm X and the leaders of The Nation of Islam not seeing eye to eye, he is at the end of his run there and considering starting his own church, which more closely ties with the tenants of the Muslim faith. But, his beliefs and history may keep him from recruiting the up and coming legend which is Cassius Clay.
Jackie Wilson (Jeremy Pope)
Sam Cooke's opener when he was on tour was known for pranks, like sabotaging Sam Cooke.
Review
---
Community Rating:
---
Highlights
Sam Cooke's Point
When it comes to the push and pull conversation throughout One Night in Miami, it is mainly Malcolm X and Sam Cooke, with Jim Brown supporting Sam's point. Now, what is it Sam is bringing to the table? Well, what Sam pushes is that, while he is not a revolutionary like Malcolm X, and maybe not a symbol of Black strength like Cassius or Jim, it doesn't mean he doesn't have his place or have value.
As Jim supports, Sam is the only one in the room not waiting on a white man to write him a check. Sam owns his masters, has his own label, and is supporting artists. In fact, he notes allowing The Rolling Stones to record a song of Muddy Waters and encouraging the act, which broke Muddy up a bit since they got a #1 on the pop charts while his song barely cracked the top 100. Yet, what Sam pushed is the idea of the long game.
The concept we took from it is, while it is beautiful to have the achievement and grandeur moments Cassius had and went on to gain, and Jim Brown had with his career, those are stats and historic achievements. What Sam is giving not only himself, and others, as Jim notes in defense of Sam, is economic freedom. Which ultimately is the only way to move the race forward since having legal freedoms, including the right to vote, clearly aren't set in stone. However, money is undeniable, and while we've seen many akin to Black Wall Street fall, you cannot deny the power of money and the freedom it holds for a person and their community. Especially if they reinvest in it.
Malcolm X's Point
Which led to Malcolm's point of, while it is beautiful that Cooke is business savvy, sometimes doing all the work behind the scenes isn't pushing anyone forward. Also, while money is important, throwing some dollars around isn't going to change someone's life in the long term. Especially under the guise of, "As soon as I make it, I'll come back for you!" Because, once you move out the hood, obtain this almost othered status, to be part of the struggle has to be something you do actively. Otherwise, like Malcolm painted Cooke, you live in an adjacent world where you might not be on the level of a white man, but you exist beyond the capabilities of the average Black man.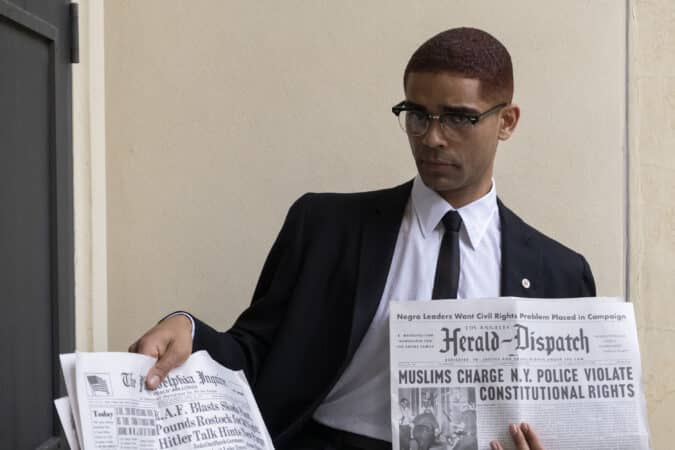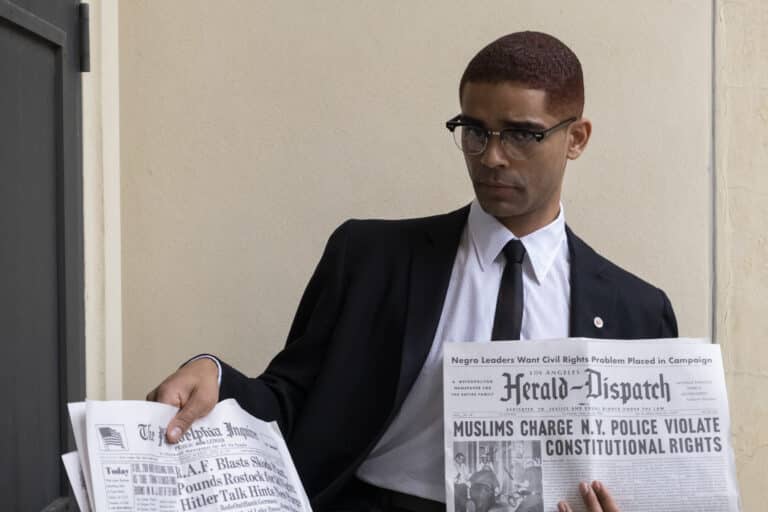 Also, one of Malcolm's points is that you can't underestimate all you have to give. Which is something he is reminded of as well, for with his photography, it is noted he has a creative side he is not pursuing. But, in terms of Malcolm talking to Sam Cooke, he takes note of Cassius' image in being a 22-year-old man, vibrant, vocal, and bold, and what that means to the people. The same for Jim Brown who lacks inhibition in what he says, and represents the time of being humble and someone's boy is over.
This is why Malcolm feels Sam Cooke doesn't utilize his voice like he should. Singing love songs is nice and all, and Cooke's business acumen, but Malcolm has seen Cooke get people stomping and singing, after a mishap thanks to Jackie Wilson, and commanding the energy of a room. That power that Malcolm X and Martin Luther King Jr. know from being in a pulpit, Sam has a further reach because he is doing it through music. Sam gets invited to late-night talk shows, performs all over the world, and his voice can travel without the same connotation that Malcolm deals with, admittedly due to his own gumption.
And when you take note of all Malcolm says, and him seeing the writings on the wall, it reminds you how much of the now is important. For while you got to make sure the foundation is right for the long term, you can't worry about blueprints when a storm is on the horizon.
Jim Brown's Comments
Two major things we enjoyed from Jim Brown's contribution to the conversation. One of his contributions dealt with colorism. For, in an almost comical way, he questions why is it the ones who look like Malcolm X are the most militant. This is something you often see today. But he then brings it to a level that reminds you that, part of the beauty of light-skinned, or even biracial being militant, or advocates, if militant is too aggressive for you, is them using their privilege.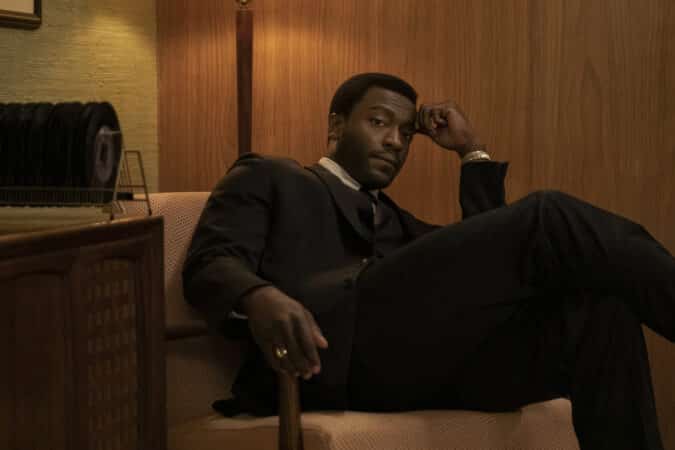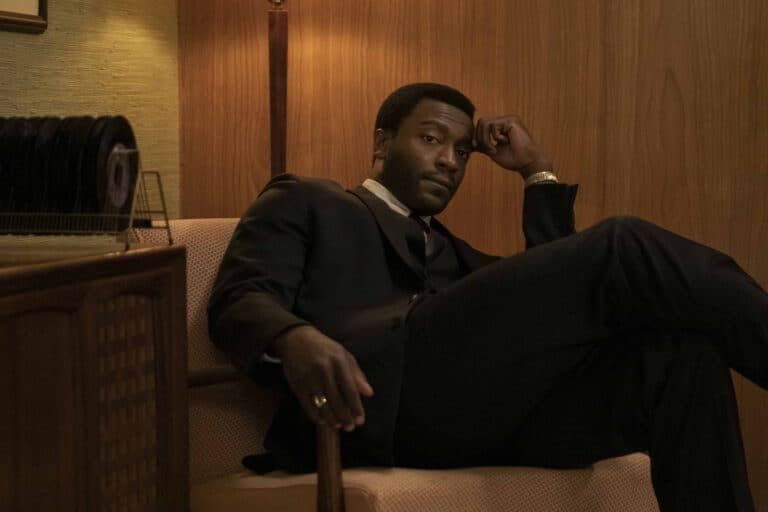 For the way Jim sees it, you are either proving something to Black people or white people. And considering how much Malcolm is like, "The fence is full, pick a side!" you can see how that is taken from someone who isn't high yellow and can't pass. Never mind, as much as Malcolm tries to push the idea of Black power, Jim reminds him of all the issues within the Black community, simply by noting how Black women of different skin tones segregate themselves. Thus reminding us that even Malcolm, despite his intelligence, could have had his blind spots.
But it wasn't just in terms of colorism, but the words Malcolm used to describe the men in the room – weapons. Jim Brown straight up said he isn't a weapon for, when you think about it, that would make him no more than a tool – just like how white people viewed his ancestors during slavery. The only difference is, he can assume the new masters, the people who act as some kind of generals will have their best interest in mind due to the same skin tone.
However, as we've seen through history, many who have put themselves in a leadership position don't care as much for the flock as they do the bishops who keep them in power. Especially if money is involved.
Unlike Other Films Based On Plays, It Won't Feel Stifling
When people talk about plays turned into films, such as August Wilson's recent adaptations, the comment of feeling stifled, like in a pressure cooker, comes up. Like, something had to happen because too much was going on, there were too many strong personalities, regrets, and just feelings in a confined space. In One Night in Miami, you don't feel that sense of combustion.
Rather, while the conversation does get contentious at times, it's because everyone is challenging one another's perspective and pushing them to be better. Also, a lot of hard truths were being shared from people's role in the movement to their level of ignorance. And when that conversation is between men, especially those who have made a name for themselves, of course, it is going to be passionate.
Yet, then there are moments when Cassius is showing his youth, Jim Brown sharing his dreams of being in movies, and you get to see the men play with each other. We even get to see Malcolm drop that stern, pastoral tone and be some form of the cat he was before the Nation consumed his life. Which is a side to Malcolm we don't often see and hear as he is painted as the yang to Martin Luther King Jr.'s ying.
While Not A Comedy, It Has Many Comedic Moments
Cassius Clay may not bring much to the table in terms of insight, but when I tell you, Eli Goree taps into the comedic persona many know Clay for? Oh, he damn near approaches that line of being over the top. Yet, you sort of appreciate the youth he brings to the situation and Clay being comic relief. For it keeps the conversation from being so heavy that you eventually find yourself tuning out or missing the deeper themes.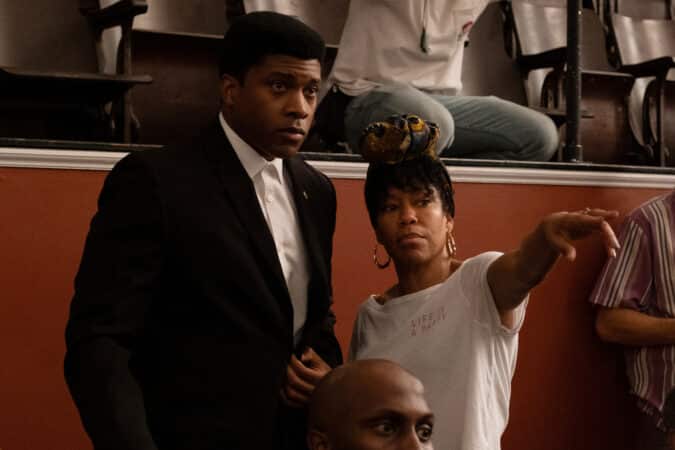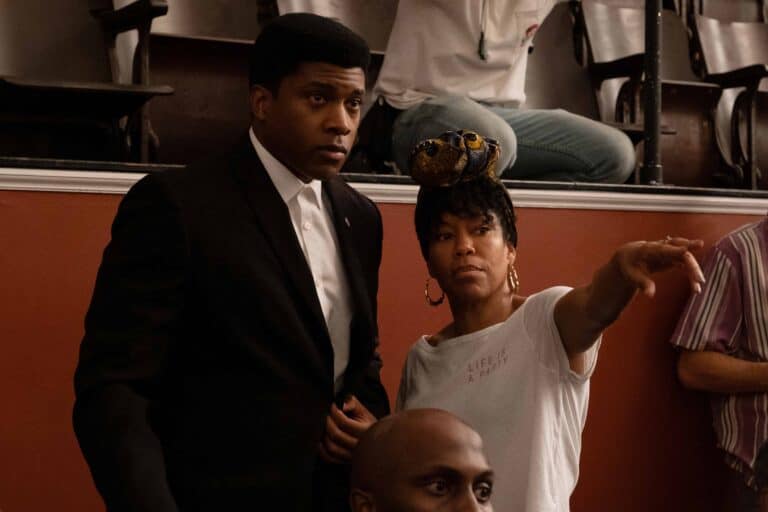 In a way, to use Clubhouse terminology, Cassius Clay resets the room.
Overall
Rating: Positive (Worth Seeing) – Recommended
While Regina King and Kemp Powers' name was attached, you really never know if a film will be good just because of that. However, this is by no means a mark on their record but rather a showing that all involved came with their A-game and knew the role they needed to play. Be it the teacher whose time was short, the young kid who would carry a legacy, someone at a crossroads, no longer willing to beat his body into the ground for people's entertainment, or a single who needed to harness the power of their voice. One Night In Miami pushes you to not just consider the role the men in the film played, but the one you can play and even how you move currently. For there could be so much more you could do, but the question is: What's stopping you?
Hence the positive label and recommendation. Like Powers' Soul, you can't leave One Night In Miami without reflecting beyond when the credits have finished, and you've moved onto other things.
[ninja_tables id="46802″]
One Night In Miami Ending (Spoilers)
After what was discussed that night, Muhammad Ali is born as Cassius Clay joins the Nation of Islam. Also, Sam Cooke releases "A Change Is Gonna Come," as if Malcolm inspired him to push deeper into his talents. Then, with Jim Brown, he retires from football to focus on his film career. Leaving Malcolm who, well, we're told, dies the following year.
Does One Night In Miami Have Sequel Potential?
There could be other conversations between greats to be considered. I'm sure you could do a Maya Angelou version of this, considering the paths she crossed in her life. But that's more of a different story than a sequel.
Summary
---
Community Rating:
---
Sam Cooke's Point - 92%
Malcolm X's Point - 91%
Jim Brown's Comments - 89%
Unlike Other Films Based On Plays, It Won't Feel Stifling - 88%
While Not A Comedy, It Has Many Comedic Moments - 87%
Like Powers' Soul, you can't leave One Night In Miami without reflecting beyond when the credits have finished, and you've moved onto other things.
---
Follow, Like, and Subscribe
Community Rating: 0.00% (0) - No Community Ratings Submitted (Add Yours Below)