Oh, Ramona! (2019) – Summary, Review (with Spoilers)
Oh, Ramona! has a mini-series vibe which makes the movie, while enjoyable, feel long.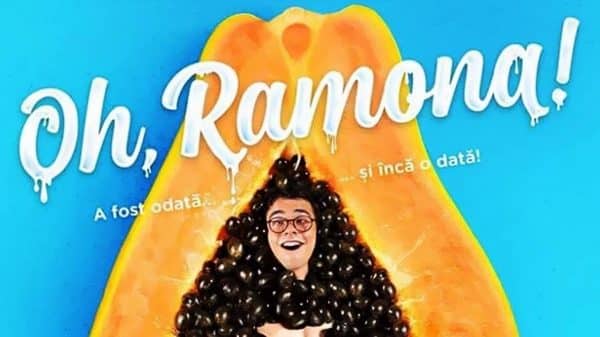 Oh, Ramona! has a mini-series vibe which makes the movie, while enjoyable, feel long.
---
Director(s)
Cristina Jacob
Screenplay By
Andrei Ciobanu, Alex Cotet, Cristina Jacob
Date Released
6/1/2019
Genre(s)
Comedy, Drama, Romance
Good If You Like
Dorky Protagonist

Euphemisms & Cartoon Overlays

Love Triangles

Teen Romance

Isn't For You If You
Don't Want To Hear Fat Jokes

Want The Love Interest To Be More Than Hot

Noted Cast
Andrei
Bogdan Iancu
Ramona
Aggy K. Adams
Alin
Basil Eidenbenz
Anemona
Holly Horne
Carla
Melanie Ebanks
Images and text in this post may contain affiliate links which, if a purchase is made, we'll earn money or products from the company. Affiliate links and external links include an upward facing, superscript, arrow.
Oh, Ramona! Plot Summary
Teenaged Andrei (Bogdan Iancu) is portrayed to be a bit of a loser. For while he has friends, he is a 16-year-old virgin and you know what is the perception of anyone a virgin at that age. But it isn't like he doesn't have the opportunity to have sex. His crush, Ramona (Aggy K. Adams), does try to hook up with him but in rejecting her, for he'd rather a relationship, he causes an unfortunate chain of events. Of which, if it wasn't for his best friend Alin (Basil Eidenbenz) and a girl he meets named Anemona (Holly Horne), his late teens and early adult years would be hell.
Oh, but don't think because he finds a girl that likes him things aren't still complicated.
Question(s) Left Unanswered
Did Ramona or Silvio have any influence on Anemona's decision at the end of the movie?
Highlights
Andrei
While Andrei is that Hollywood version of a dork, there is no denying Iancu's charm will quickly snag you in and nevermind the fact he looks and acts nothing like a dork. Shy, yes, but not a dork. But what matters the most if that he makes you want to join his journey as he has troubles dealing with Ramona and trying to secure Anemona. All the while avoiding coming off as an ass, and you rooting for him the whole time.
The Animation & Innuendo
Despite being rated MA, there is no nudity in the film. Cursing, smoking, and innuendo – yes. And oh, that innuendo is comical. From dipping a finger in honey, PG euphemisms to talk about sex, and animation to extenuate what Andrei is talking about, you will be tickled a bit by how much this film tries to be PG-13. All of which just adds to Andrei's charm.
Criticism
The Whole Carla Situation
There is a heavy set character named Carla (Melanie Ebanks) who rapes Andrei and is repeatedly fat shamed. Both situations are handled rather strangely for while we see Andrei is raped, due to him being too high to give consent, and clearly not happy with what happened, the situation is downplayed. Then there is the fat-shaming which goes on after which Carla kind of gets to clap back from, but it doesn't erase how this character was used and how strange her role is in this film.
On The Fence
The Film Feels A Bit Long
Within 45 minutes you'll likely begin checking how much time is left. For it is by that time there is a sort of back and forth going between Ramona and Anemona, and it's clear this film would have been a better mini-series than a nearly two-hour movie. Not even something 10 episodes, but maybe 6 half hour ones.
No One Is Developed Much
Why? Well, on top of the back and forth between Ramona and Anemona not being that interesting, or sexy since Oh, Ramona! isn't explicit, there isn't much in the way of character development. Andrei has your usual nerd makeover but doesn't necessarily grow as a person. Same goes for everyone else. Alin is the same guy in the first ten minutes as he is in the last scene. Then, when it comes to the girls, it's a bit worse.
How? Well, while Andrei is given some sort of career aspiration and success over time, Ramona is always the hot chick whose lips gets focused on and doesn't evolve into anything more than someone to lust over or think is crazy. Then with Anemona, while it seems she is into art, whether or not she was doing that for college, completed college, and what happened to this boyfriend she had? Never gone into.
Leading you to wonder, with this being based off a book (which I can't find an official English version of) that is 448 pages, what was cut and what was kept in?
The main issue with Oh, Ramona! is that it is a long movie which has a likable protagonist, but also doesn't give you much. Yes, things are cute, at first, between Andrei and Anemona. Also, the sexual tension we see throughout the movie creates comical situations. Yet, in a way, that could be seen as the problem. Just like the sexual content, the characters feel neutered in a way and only vulnerable and revealed to you up to a certain point. Anything past that is compensated with some animation of a euphemism which, at first, is cute and comical, but grows tiresome with time.
Hence why Oh, Ramona! is labeled mixed. While Iancu has the charm of a star, and the girls are attractive, there is no development. There isn't much of a connection, and then when you add the Carla situation, it leads you to wonder if this movie should have been a series? For maybe if it wasn't trying to stuff moments into the film, it could have been better? Perhaps if the film had time to dedicate to each character, Andrei's charm and how attractive the actresses are wouldn't be one of the top things you are left remembering?
Either way, Oh, Ramona! is definitely a divisive film but something worth checking out in your spare time – no rush.
Follow Wherever I Look on Twitter, Like us on Facebook and Subscribe to the YouTube Channel.
 [ninja_tables id="24271″]
Andrei - 85%
The Animation & Innuendo - 84%
The Whole Carla Situation - 65%
The Film Feels A Bit Long - 71%
No One Is Developed Much - 70%
---
Follow, Like, and Subscribe
Community Rating: 84% (1 votes)