Two friends from high school reunite at a party, and there is the question of whether a crush might become something more.
Director(s)
Alexis G. Zall
Screenplay By
Alexis G. Zall
Based On
N/A
Date Released (YouTube)
December 28, 2022
Genre(s)
Romance, Young Adult, LGBT+
Duration
11 Minutes
Content Rating
Not Rated
Noted Cast
Olive
Lukita Maxwell
Grace
Genneya Walton
This content contains pertinent spoilers. Also, images and text in this post may contain affiliate links which, if a purchase is made from those sites, we may earn money or products from the company.
Film Summary
When Olive was in high school, she had a crush on Grace. She kept it to herself, but there were moments, a handhold here or glance there, where she wondered if there were mutual feelings. But rather than explore that, she held them to herself and explored who she was, and landed on being a photographer. As for Grace? She was the smartest in the room while in high school, but college is a different beast.
Which leaves both to wonder, after not seeing each other for months, could the familiarity of something safe be the source of their reunion, and potentially something more? Or would it be best to enjoy the moment and avoid what they both think would be a bad ending if they got together?
Things To Note
Why Is "The Beginning & The Middle" Rated Not Rated
Dialog: Nothing notable
Violence: None
Sexual Content: None
Miscellaneous: People are drinking, and some are clearly drunk
Character Descriptions
Please Note: This character guide is not an exhaustive list of every cast member, and character descriptions may contain what can be considered spoilers.
Olive
Passionate about photography and long knowing she has feelings for Grace, Olive moves with intention, and while still fearful of rejection, it seems she might be ready to see what could be.
You May Also Know The Actor From Being: Alice in the upcoming "Shrinking," an unknown role in the upcoming "The Young Wife," and Delilah in "Genera+ion."
Grace
With going away to school, Grace finds herself overwhelmed by all the competition she wasn't prepped for. So at a party back home, while Olive is approaching the idea of a relationship isn't terrible, it does seem to make Grace wonder if things could end well or blow up in their faces.
You May Also Know The Actor From Being: Tessa Miles in the upcoming "Flycatcher," Bryden Bandweth in the Project Mc2 franchise, and Chloe Barris in "#BlackAF."
Review
Our Rating: Positive (Worth Seeing)
Highlights
It Strings You Along Like A Horse With A Carrot Dangling In Front Of You
Will they or won't they is a constant thing you'll find yourself thinking about. Clearly, when they look at one another, something is there. Olive has definite feelings but Grace? It's harder to say. She went from being a big fish in a little pond to a little fish in a big one, and you can see the challenge is straining her a bit. So with that in mind, you can tell Olive doesn't want to be yet another thing making Grace's life hard, but it doesn't take away from her desires.
And you can see Grace needs intimacy and closeness, yet she is fearful. She was wrong about how great college could be, so it seems. So what if she is wrong about what being with Olive could be like? What if things start off wonderful, and they have an unforgettable middle but a traumatic end? Yes, there is mutual love, but allowing the reins to be let go and letting feelings run wild is scary.
Which makes the back-and-forth frustrating, yet it gets you all the more invested.
On The Fence
Very Little Interest In Outer Friend Drama
While Olive and Grace are the main attraction, other stuff is happening around them. Two friends seemingly broke up, and while one has moved on, the other has not. If anything, they are borderline a third wheel, and while you get a good version of annoying in Grace and Olive going back and forth, the third wheel just leads to an eye roll and you wanting to shout at the screen, "IF YOU DON'T GO SOMEWHERE!"
Who Is This For?
Those who love romance, especially between best friends in high school who don't want to ruin what can feel like one of the few good things going in their lives.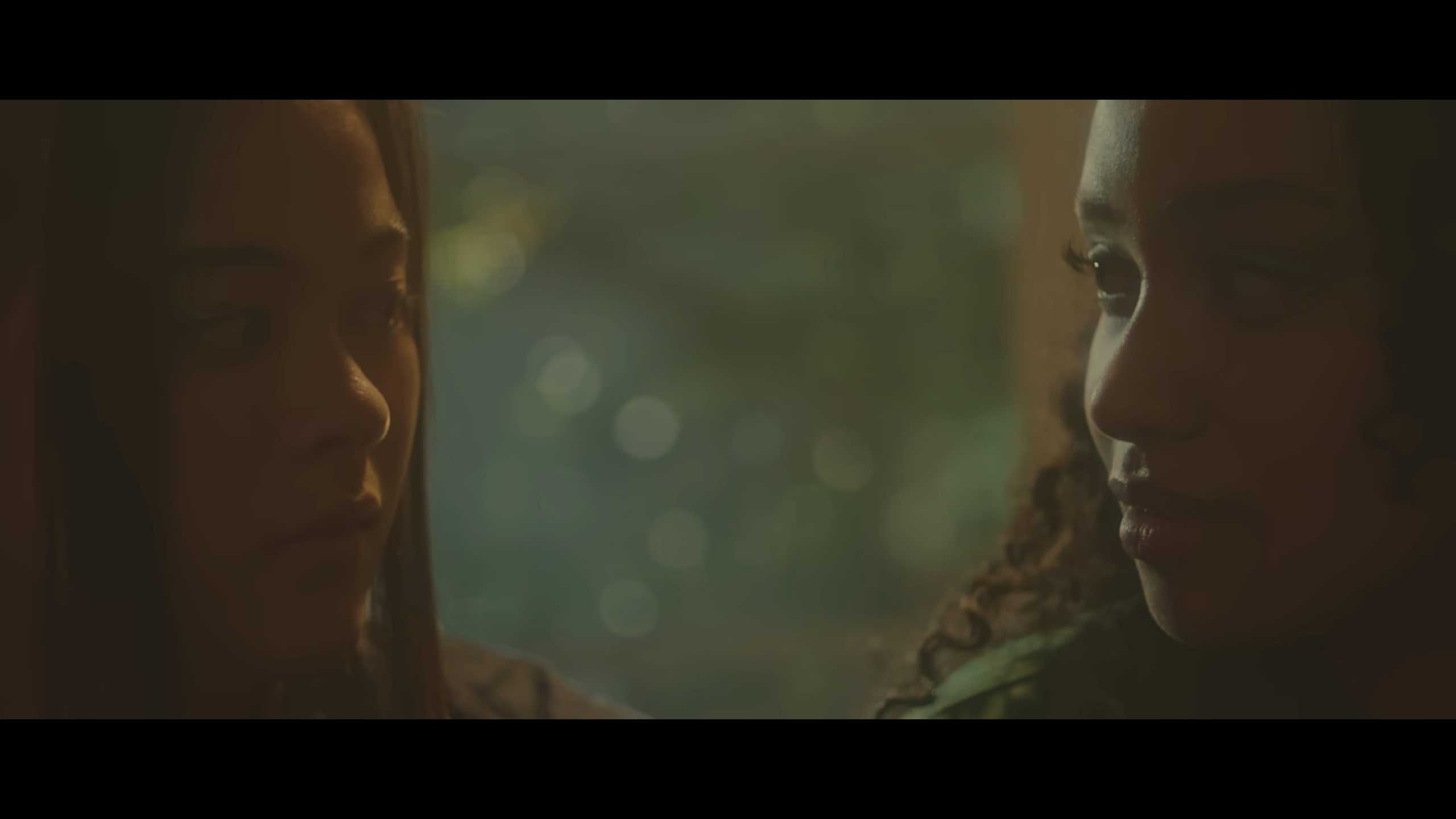 The Beginning & The Middle (2021) – Review/ Summary (with Spoilers)
Overall
What "The Beginning & The Middle" makes very clear is that we're long overdue for a show, though preferably a film, that has a real budget and focuses on queer women of color falling in love.
Highlights
It Strings You Along Like A Horse With A Carrot Dangling In Front Of You
Disputable
Very Little Interest In Outer Friend Drama