Guava Island (2019) – Summary, Review (with Spoilers)
---
Community Rating: 0.00% (0) - No Community Ratings Submitted (Add Yours Below)
---
This post may contain affiliate links and spoilers. Please read our disclosure policy.
---
A beautiful love story mixes in with a political message to create the wonderful Guava Island.
---
Director(s)
Hiro Murai
Screenplay By
Stephen Glover
Date Released
4/13/2019
Genre(s)
Musical, Drama, Romance
Good If You Like
The Music Of Childish Gambino

Black Love

Fights Against "The Man"

Isn't For You If You
Are Solely Checking This Out Hoping For New Rihanna Music – Or To Hear Her Sing
Noted Cast
Deni
Donald Glover
Kofi
Rihanna
Red
Nonso Anozie
Images and text in this post may contain affiliate links which, if a purchase is made, we'll earn money or products from the company. Affiliate links and external links include an upward facing, superscript, arrow.
Plot Summary
It's all a bedtime story. Kofi speaks of the story her mom told her of how Guava island was made by gods, a place separated from the battle between love (represented by the color blue) and war (represented by the color red). However, one human discovered the Clayworm, an insect which produced blue silk which was loved by its founder and then came war over it. One which Red's family won and now they control the island – economy and all.
Yet, while this pushes some like Kofi to want to leave, others like Deni would rather make their home better than abandon it. So, through music, he plans to bring the people together so that, Saturday night, they dance joyously until they can dance no more and need Sunday to rest. An idea Red vehemently hates and seems willing to do anything to stop. Be it threaten Kofi, Deni, or those who attend the festival.
Highlights
The Messaging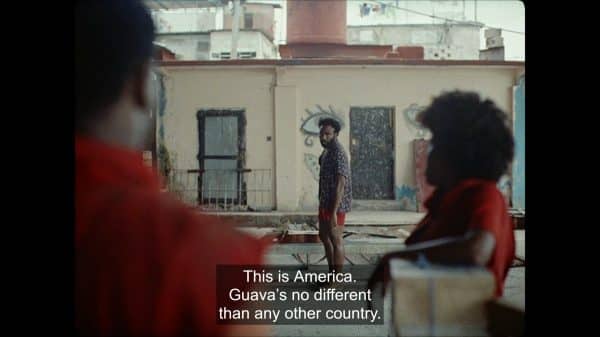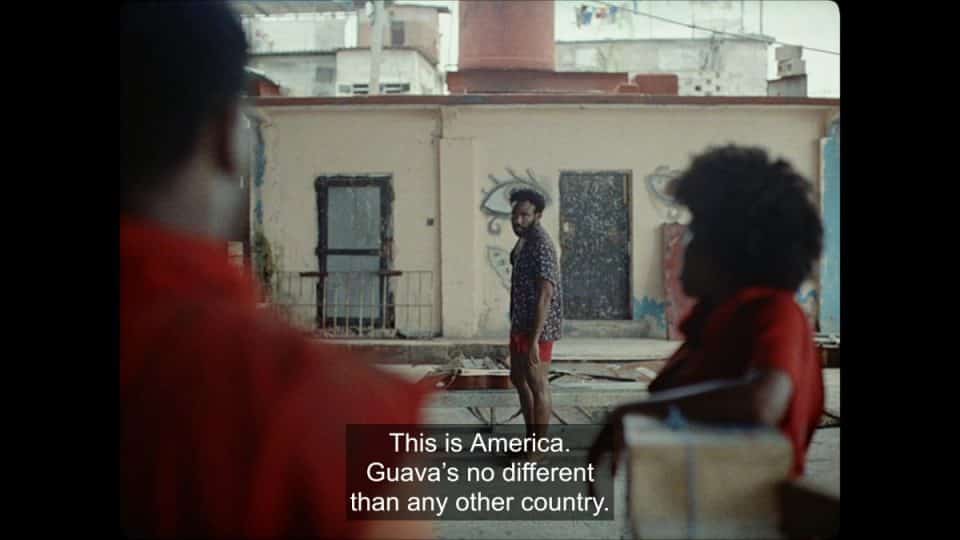 There are so many messages which come from Guava Island. One being to invest in making your hometown better than leaving it and expecting the grass to be greener on the other side. An idea which is far from new, but the way it is presented give an interesting take. How? Well, it displays the immigrant story rather than a rural American wanting to move to the city. Kofi wants to move, alongside one of Deni's co-workers at the dock. The dock worker dreams of America specifically since he wants to be his own boss. However, Deni quickly reminds him America is an idea with "This Is America" and also toxic.
Well, at the very least, he notes a lot of the things he wants in America exist on the island, for better or worse but he just isn't willing to see it. Which is another thing – having time to see the beauty. On Guava Island, it appears we are at a place where days off don't exist. You work, take lunch, work, go home to recoup just enough to work the next day. Red imposes a grind in which he is one of the few, the 1%, who actually gets to enjoy the island.
Leading to the need to note his caged birds. That is what everyone is to him, especially Deni. He likes to hear them sing and do their thing, as long as they are under his control. Yet, let them sing a song he doesn't like or for them to learn the cage door is open and their wings weren't clipped – then there is a problem for one bird could easily become a flock. Just as one man's voice can lead a revolution.
Leaving one last thing to note: Social mobility. Though not a huge deal, by Red recruiting children to his ranks as spies, who can eventually become soldiers, you are shown how it begins in urban areas for kids to get caught up. It takes one drug dealer, kingpin, what have you, to provide someone an opportunity to make money, so they and their family can eat, said kid spreading the word, and so the prison pipeline stays well oiled.
Kofi and Deni's Love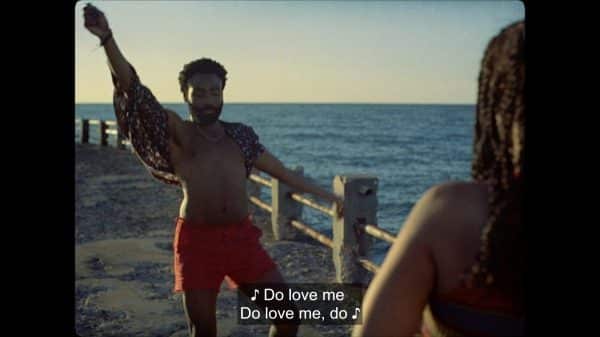 From animation representing their childhood to seeing them as adults have lunch, be cute, and Deni serenading her, you have to love these two together. Especially since it was without him majorly screwing up and anything like that. Did he worry her? Yes. However, in a sort of Coretta Scott King way, she knew who she was in love with and what he felt he had to do. So while she supported him, it didn't take away her fear nor diminish her love.
The Freedom of Deni
Though perhaps more a Glover thing, in general, than Deni thing, there was something about his freedom of expression you couldn't help but fall in love with. Be it how wild and crazy his facial expressions are, or how he danced. Be it reenacting the "This Is America" choreography or when dancing with Kofi in ways which were more about expressing love, being in sync, and the security to be himself she gives him than anything else.
Also, as a leader, a revolutionary in his own way, you have to love Deni's freedom from fear. It reminds you why, from Harry Belafonte to Bob Marley, musicians have been known as dangerous and freedom fighters. For it is with music you can bring people together, despite their differences, and use your message to open their minds. Since, what begins with just a hot beat, and catchy wording, comes people truly listening and taking in the song.
On The Fence
Rihanna Didn't Sing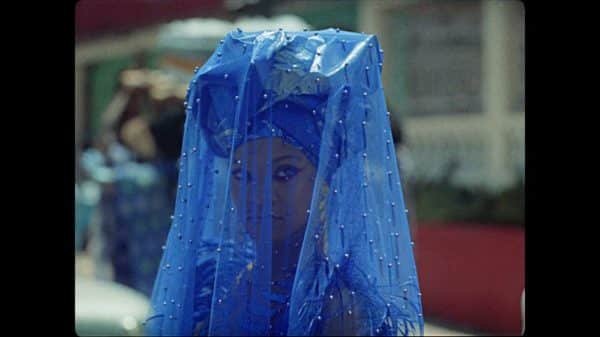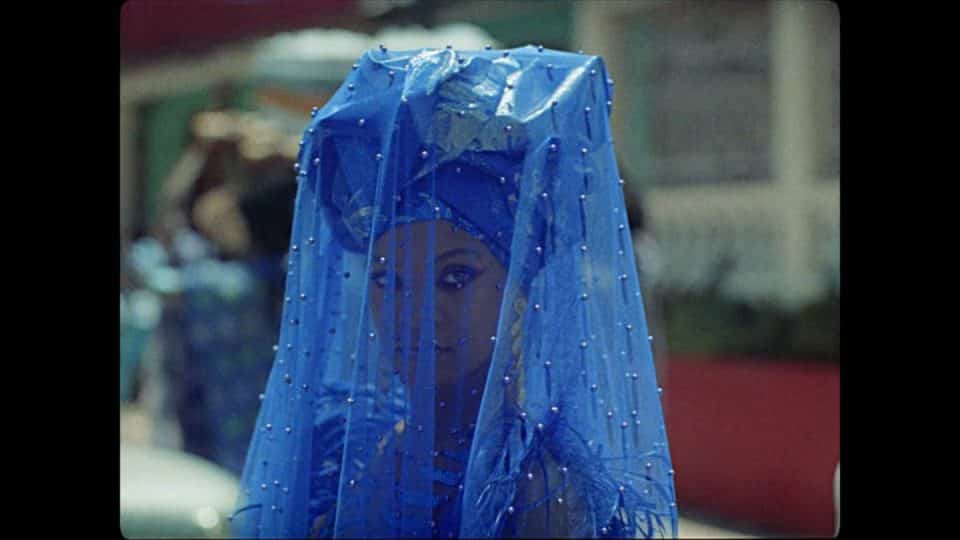 While the movie is shot to accentuate Rihanna's natural beauty, is written for her to be beyond a love interest but represent the many wives and girlfriends of great people, Rihanna not singing seemed like a waste. Granted, the film isn't about her as an artist, her discography, or new music. If anything, out of respect for her, that's the only reason she likely isn't just Deni's boo thang but treated as a proper love of his life. However, that doesn't mean there couldn't have been a remix.
With a limited time that it will be on Amazon, without a prime membership, you should see Guava Island in all its glory as soon as possible. There really isn't much else to say that hasn't been said above.
Follow Wherever I Look on Twitter, Like us on Facebook and Subscribe to the YouTube Channel.
---
---
Check Out Other Movies & Shorts On The Movies Master List Page
---