Fighting With My Family (2019) – Summary/ Review (with Spoilers)
Fighting With My Family is touching, hilarious, and has the kind of journey we've only gotten to enjoy in boxing films for the last few years.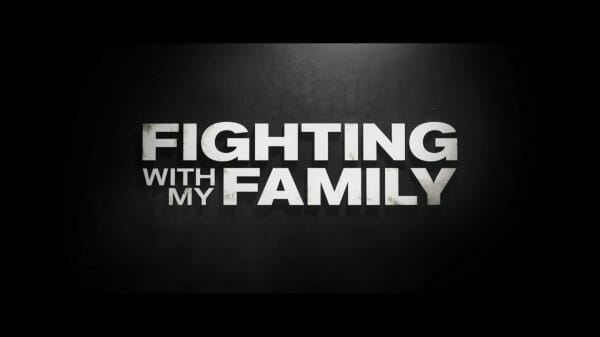 Fighting With My Family is touching, hilarious, and has the kind of journey we've only gotten to enjoy in boxing films for the last few years.
---
Director(s)
Stephen Merchant
Written By
Stephen Merchant
Date Released
2/14/2019
Genre(s)
Comedy, Biopic, Drama, Sports
Good If You Like
Lighthearted Biopics

WWE or Wrestling In General

Slightly Vulgar Comedy

Isn't For You If You
Don't Like, Or Formerly Liked Wrestling

Aren't Into Sports Movies

Noted Cast
Saraya aka Paige
Florence Pugh
Patrick
Nick Frost
Zak
Jack Lowden
Julia
Lena Headey
Himself
Dwayne "The Rock" Johnson
Hutch
Vince Vaughn
Images and text in this post may contain affiliate links which, If you make a purchase, I may earn money or products from the company. Most affiliate links contain an upward facing, superscript, arrow.
Fighting With My Family Plot Summary
The WWE is an international brand. One which has produced many legends ranging from Hulk Hogan to The Rock. But, what has made WWE a producer of star talent is beyond the curating of Vince McMahon. It's sometimes those who revolutionize the industry simply by being willing and able to be themselves. Yet, the story of Paige, real name Saraya, doesn't begin when she won the Divas title. No, in this story, it begins with Saraya finding a love for wrestling due to her father Patrick, mother Julia, and the one who pushed her the hardest, older brother Zak. All of which were wrestlers and ran their own organization together.
However, it was the hope and dreams of Patrick and Julia that maybe their children would get a shot. Their oldest son, Roy did, but that didn't work out, but there was still Saraya and Zak. Both who got a chance to try out but thanks to recruiter Hutch Morgan, both face the hard truths of what it means to be in WWE. Be it not having that special something, promo work, training in and out the ring, and learning how to form a new family. All things we see Saraya struggle with as she develops the persona of Paige and, like any sports movie, ventures from being an amateur, the underdog, to one of the biggest names in the industry.
Other Noteworthy Facts & Moments
You get to see many of the real-life footage the movie reenacts during the credits.
Highlights
Saraya's Journey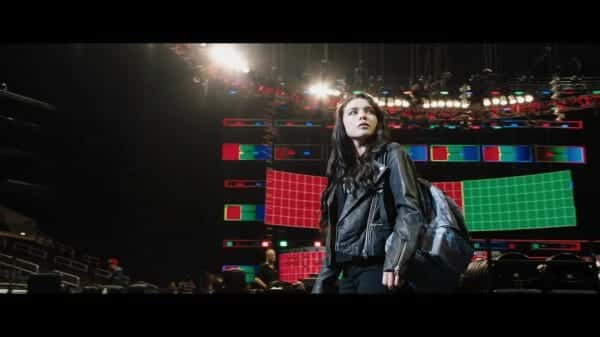 I would compare the journey of Saraya to becoming Paige to be in a similar manner to the journey you watch in boxing movies like Creed and Southpaw. The way Pugh handles becoming Saraya makes you wholeheartedly invested in her. It makes every defeat personally devastating as if you are Patrick, Julia, or Zak. Yet, it also makes every triumph a moment when you can feel tears well up in your eyes for you get this weird sensation. One which does more than make you feel like you've been there since the beginning, but it also renews why you are currently, or were formerly, a fan of WWE.
For similar to The Wrestler, Fighting With My Family reminds you of the work and difficulty of being a professional wrestler, especially at the level the WWE presents itself. First and foremost, it is the potential isolation. You train all day, heal as much as you can, try to find something to eat, sleep if the pain lets you, and repeat. As shown with Saraya, this can become isolating, if not depressing, quickly. So you have to make a family, or you won't survive.
Also, we're reminded that it isn't just about hard work. Like any profession, you can have experience, know the lingo, but if you don't have that special something, you won't get hired. Lastly, while not in depth, the film also addresses WWE's issues with its female talent that made Saraya so different. From models to cheerleaders, WWE used to primarily employee beautiful women over talented and diverse female wrestlers – a dig that is even in the movie. However, you get reminded while watching that while many of the women are about wet behind the ears, it doesn't mean they don't care about the craft. It doesn't mean they want to attribute to a problem but simply put, there might not have been women like Paige who challenged them and worked with them to be better than they were expected to be.
And while the journey ends with one of Paige's career highlights, perhaps the real noteworthy moment in itself is how Paige's journey has led to her having her own film. For though she is noted as one of the catalysts for the Diva's Revolution, a movie being made about her life shows her influence over WWE, if not the industry, remains strong even after all these years. After all, despite the popularity of Hulk Hogan, The Rock, Stone Cold Steve Austin, and many other famous wrestlers, they may have gotten documentaries but never a film of this level about them. Thus presenting Paige as still breaking glass ceilings even after her in-ring retirement.
This Is Hilarious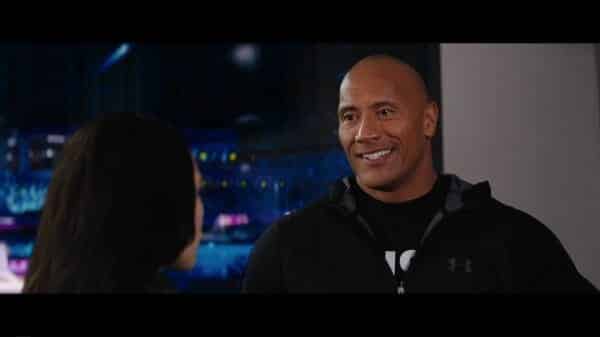 Let's add up the following actors: One of the funniest comic actors Nick Frost, Vince Vaughn, written and directed by Stephen Merchant and featuring Dwayne "The Rock" Johnson. This combination, alongside Pugh, Lowden, and Headey, create one of the funniest movies you may have seen in some time. All of which may catch you off guard since when you think biopic, you may think comic relief, but not a consistent stream of jokes. The kind which make you wish there were more tapes of how Saya's family are like beyond what we see before the credits. Heck, it pushes you to wonder how funny is Saraya's family in real life for there does come a point where Merchant's writing makes you think he needs to do promo scripts for WWE.
The Family Dynamic
But while the film's comedy is top notch, especially considering this is a biopic of sorts, there are also a slew of heartfelt moments. Many of which come from the Bevis family dynamic which, as individuals and a unit, may bring you to tears. There is Julia and Patrick's backstory, filled with drugs, abuse, abandonment, and crime, which makes them finding each other and going straight a bit of a tear jerker. Then you have Zak and Saraya's relationship, which you can see Saraya leans on for a sense of comfort, guidance, and while she is close to her parents as well, it is clear she has imprinted on Zak like a baby duck to a being which isn't her mom.
And this aides in creating the comical and triumphant moments for it helps you see Saraya's accomplishments aren't just hers. Zak was one of the main people who trained her, Julia and Patrick loved her into being and gave her the room to be herself, and as a whole, while the family is a bit dysfunctional, there is a love between them that is almost enviable in a way.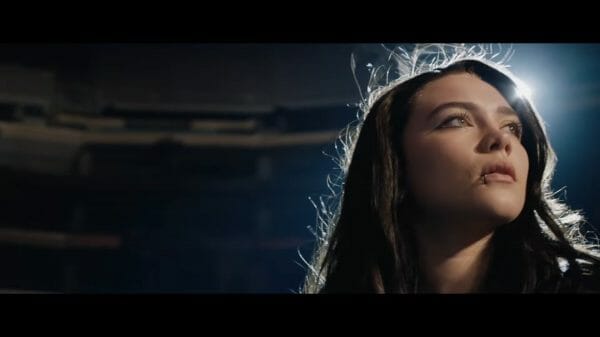 Fighting With My Family transcends wrestling fandom as it makes current and former fans relive the energy and joy with seeing someone go from nothing to one of the greatest. And while Saraya's career isn't long and storied, it is impossible not to recognize her impact on the industry. Again, not just in the form of breaking a glass ceiling which took women's wrestling from an afterthought to getting its own PPV. As seen with the creation of this film, also showing that what she started wasn't a fad and even outside the ring, she can lead a new generation of women wrestlers to have careers on the level of their male counterparts, both current and past.
Leading to why the positive label: Fighting With My Family treats Saraya like a legend and shows, even outside the WWE fandom, the stories of these wrestlers can be engaging in ways you may not expect. To the point feelings of nostalgia may blossom and temptation to check out the product may come to mind. But, the best part of Fighting with My Family is a reminder that, no matter if fact or fiction, embellished or not, man or women, there is nothing better than watching someone who, thanks to perseverance and the right support system, can achieve their dreams.
---
Follow Wherever I Look on Twitter, Like us on Facebook and Subscribe to the YouTube Channel.
---
 [ninja_tables id="24271″]
---
Follow, Like, and Subscribe
Community Rating: 0.00% (0) - No Community Ratings Submitted (Add Yours Below)