Crazy Rich Asians may have one of the dullest romances you have ever watched, but Awkwafina and Nico Santos save this film from being a bore.
---
Director(s)
Jon M. Chu
Screenplay By
Peter Chiarelli, Adele Lim
Date Released (Special Advanced Screening)
8/8/2018
Genre(s)
Comedy, Romance, Drama
Good If You Like
Dry Romantic Relationships

Drama Amongst Women

Over The Top Comedy

Films Based On Book Which Are Relatively Faithful To Them

Noted Actors
Rachel
Constance Wu
Nick
Henry Golding
Eleanor
Michelle Yeoh
Su-Yi (Nick's Grandmother)
Lisa Lu
Peik Lin
Awkwafina
Oliver
Nico Santos
Astrid
Gemma Chan
Michael
Pierre Png
Colin
Chris Pang
Edison
Ronny Chieng
Kerry
Kheng Hua Tan
Wye Mun
Ken Jeong
Alistair
Remy Hii
Kitty
Fiona Xie
Summary
Rachel has dated Nick for a little more than a year and while he has become fully immersed in her world, his world is unknown to her. Outside of knowing about some of his cousins and friends, he is very coy about his life before her. Yet, on a break from their college faculty jobs, to go to Nick's friend's, Colin's, wedding, they head to Singapore – first class. Something which throws Rachel off for this is the guy who often eats off her plate and lives quite modestly. So to be on a plane which has a luxury bed, champagne, and more? This is a major shock!
However, Singapore, Nick's Singapore, is even more shocking. The extravagance of it all is overwhelming and all these fancy parties, different customs, and the snootiness of Singapore high-society is a bit hard to adapt to. Particularly since Rachel is seen as a gold digger due to Nick being the apparent heir to his family's fortune. Something his mother, Eleanor, worked rather hard for him to be positioned for since Nick's grandmother, Su-Yi, did not, still does not, like Eleanor.
So, this Chinese American girl standing in the way of her sacrifices? The ones she made so her child could have more than she did? She isn't for that. So, by making Rachel uncomfortable, even exposing the secrets of Rachel's lineage, she does what is necessary to get her to go away. Even if it means she may have her son take over the company but despise her the rest of her life.
Other Noteworthy Facts & Moments
Major Book Changes
Peik Lin and Oliver are much bigger parts of the movie than they were in the book. They are given enough of a presence, and jokes, to steal the movie away from Rachel and Nick. Also, any and all investigations, be it Eleanor going to China to learn more about Rachel or Astrid investigating Michael's affair, that is cut. Astrid just directly confronts Michael on the way to Colin's wedding and Eleanor just presents the dossier, we didn't know she was even looking to obtain, at Colin's wedding.
As for Colin? The bachelor party weekend is reduced, as is the portrayal of Colin's anxiety. Other than that? Edison and Allistair are downgraded, as well as Allistair's love interest Kitty, who doesn't wear anything as scandalous as the book notes, and Kerry revealing her past is shortened to the gist of it all.
Also, naturally, there aren't as many parties and the grandeur nature of the book is reduced.
Highlights
It Was Funnier Than Expected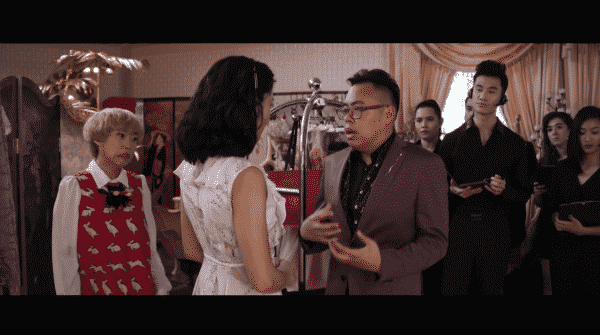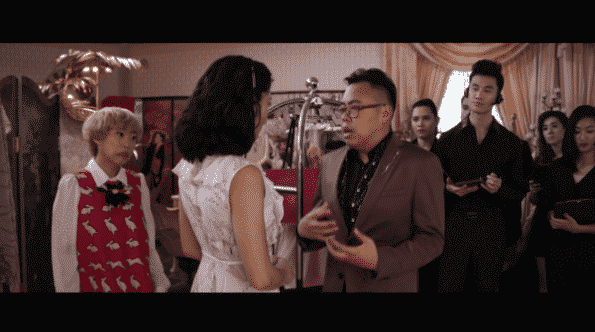 Being that Peik Lin and Oliver didn't play a huge role in the first book, the fact they became the most memorable characters was a bit surprising. Yet, considering Peik Lin's family are all very eccentric, and led by Ken Jeong's Wye Mun, it should have been expected. After all, Awkwafina's brand of urban Asian woman is not something you often see. Perhaps explaining why it seems the character is more so adapted to her style than she is tasked to adapt to the character.
Thus leading to her going to some of the parties Rachel gets invited to and upstaging the couple with her antics. Then, when Oliver is introduced, and they join forces? They become who you are waiting to see pop up, hear what they may say next and, when it comes to Peik Lin's family, see how they compete for your attention and laughter.
A Sense of Culture
While Crazy Rich Asians doesn't go deep into Chinese or Singapore culture, such as naming buildings and giving us the history of this and that, it does present tradition. Eleanor, alongside Wye Mun – jokingly, speaking on the differences between East, or just Singapore's, culture compared to America's helps you understand what is both different and the same. It illuminates how family structure is much more traditional out East yet, still is seen as a representation of who that person is and where they likely will be going.
Alongside that, Eleanor, just by making dumplings with her family, shows us some customs and traditions which are passed down and why. Which begins the process of you realizing, as much as Eleanor plays a de facto villain, it isn't because she wishes to be presented as one. More so, it is forced upon her.
The Humanizing of Eleanor Young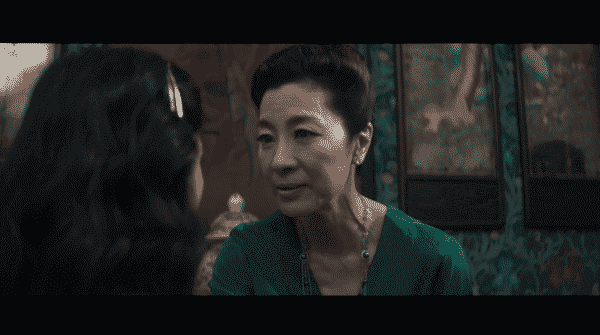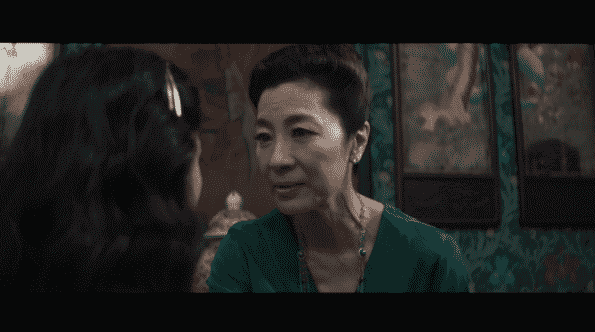 While Peik Lin and Oliver will dominate your positive memories of the film, your empathy for Eleanor Young may wiggle its way in there. For while she comes from a far wealthier family than Rachel, she had a similar issue. One in which her mother in law thought she wasn't good enough. But, when it comes to Eleanor, her critique of Rachel doesn't seem to be about money or a personal dislike for her. More so, she doesn't find her capable of adjusting to the expectations of Singapore culture. Be it giving up her career or becoming more of a housewife with hobbies and charities than a career woman. Especially since, between Su-Yi's expectations and her own adjustments, Eleanor struggled – and this is with her being raised in Singapore. So someone raised in America? PSH!
On The Fence
When Oliver and/or Peik Lin Aren't Around, This Is a Dull Movie
[visual-link-preview encoded="eyJ0eXBlIjoiaW50ZXJuYWwiLCJwb3N0IjoyMTcyMCwicG9zdF9sYWJlbCI6IlBvc3QgMjE3MjAgLSBDcmF6eSBSaWNoIEFzaWFucyAoQm9vaykgLSBSZWNhcC8gUmV2aWV3ICh3aXRoIFNwb2lsZXJzKSIsInVybCI6IiIsImltYWdlX2lkIjoyMTcyMSwiaW1hZ2VfdXJsIjoiaHR0cHM6Ly93aGVyZXZlci1pLWxvb2suY29tL3dwLWNvbnRlbnQvdXBsb2Fkcy8yMDE4LzA2L0NyYXp5LVJpY2gtQXNpYW5zLUJvb2stQ292ZXIuanBnIiwidGl0bGUiOiJDcmF6eSBSaWNoIEFzaWFucyAoQm9vaykgLSBSZWNhcC8gUmV2aWV3ICh3aXRoIFNwb2lsZXJzKSIsInN1bW1hcnkiOiJXaGlsZSB0aGUgbGV2ZWwgb2YgZGV0YWlsIGluIGRlc2NyaXB0aW9ucyBhbmQgZmFtaWx5IGhpc3RvcnkgY2FuIGJlIG92ZXJ3aGVsbWluZywgb25jZSB5b3UgZ2V0IGludG8gQ3JhenkgUmljaCBBc2lhbnMsIHlvdeKAmXJlIGhvb2tlZC4iLCJ0ZW1wbGF0ZSI6ImRlZmF1bHQifQ=="]
I think I should note, I was not in love with the book this is based on. The one thing that got me through it was that, in a Game of Thrones kind of way, it was more so an ensemble book than any particular character being the lead and we focused on their journey alone. The movie changes that and hones in more on Rachel and Nick, with the occasional feature on Astrid. With that, you get the driest parts of the book. Which, with Astrid's story reduced and to the point, so ends all the intrigue of if Michael is cheating, the sense of embarrassment, anything which could bring some sort of intrigue.
Then, when it comes to Rachel and Nick, while I always love seeing people of color have intra-racial romances, since the diversity initiative has cut that down significantly, they are dull. The only thing which is cute about them is the actors. As for chemistry? While Rachel is given the occasional sweet moment, there is nothing here which presents them as #Goals. Hence why Peik Lin and Oliver so easily upstage them and almost seem like they were upped to compensate for a romance which lacks butterflies and has lukewarm drama.
Overall: Mixed (Divisive)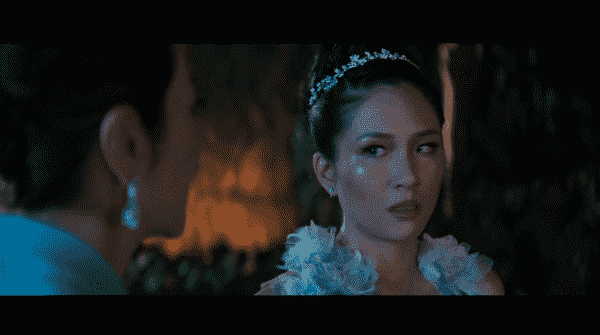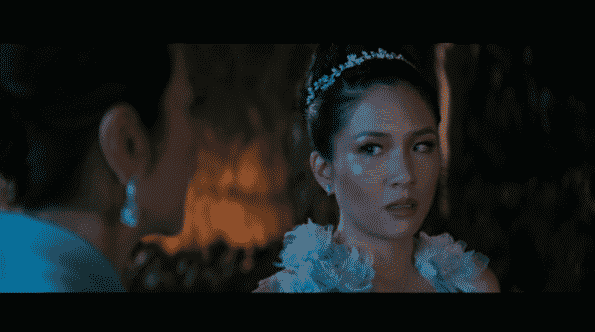 The romantic plot of the movie is just uninspiring and flops. It is your usual, "Hey, let's put two attractive people together and move on" type of casting. Which isn't to imply either actor is terrible in their role, but you are just given so little to swoon over that it doesn't make you want to invest in these two overcoming adversity. If anything, you just wonder when Rachel's friend and Nick's cousin will show up again.
Hence the mixed label. While Peik Lin and Oliver save the movie, this film, as the book, is not about them. It is supposed to be about Rachel and Nick but they are one of the least interesting characters we come across. Thus making it where I doubt Crazy Rich Asians can be the Asian community's Black Panther or even Pose, in the sense of proving their underserved community deserve better than what they past, present, and currently scheduled, receive.
Follow Wherever I Look on Twitter, Like us on Facebook and Subscribe to the YouTube Channel.
---
---
---
---