Cherry Lemonade (2021 Tribeca Film Festival) – Review/Summary (with Spoilers)
After a certain point, you get tired of having to ask someone to take you to the store, so a young girl decides it is time to go on her own.
---
Director(s)
Aisha Ford
Screenplay By
Aisha Ford
Date Released
6/9/2021
Where Can You Watch?
Film Festival (Tribeca Film Festival)
Genre(s)
Young Adult
Duration
10 Minutes
Rating
Not Rated
Noted Cast
Phoenix
Eris Baker
Kurt
Skylan Brooks
This content contains pertinent spoilers. Also, images and text may contain affiliate links, which, if a purchase is made, we'll earn money or products from the company.
Film Summary
It's summertime, and all Phoenix wants is a slushie. However, with her unable to go to the store by herself, she has to push Kurt, her older brother, to take her. But when he decides he doesn't want to go because he'd rather play football, she goes on her own, and things don't go as planned.
Things To Note | Question(s) Left Unanswered
Reason(s) for Film Rating: There is nothing notable
Cast & Character Guide
Please Note: This is not an exhaustive list of every cast member.
Phoenix
Phoenix is a big fan of red slushies, but with being too young, she often is forced to wait on Kurt to take her. However, when he is trying to ignore her, she decides to go on her own and assert her independence.
Kurt
Kurt is Phoenix's big brother who loves his little sister and doesn't mind spending time with her, but sometimes he wants to play football with his friends – not be a babysitter.
Review/ Commentary
It Reminds You How Few Stories Featuring Young Black Girls
With David Makes Man, The Chi, Queen Sugar, and countless others, there are a multitude of productions focused on how Black boys and teens navigate the world, with only The Chi, amongst them, giving some screen time to Black girls. Then when you consider the closest thing might be On My Block, which is ending in its next season, you see there is a chasm.
One that Baker fills well, even if just for ten minutes. For while Phoenix isn't made out to be anything beyond a regular girl, getting to see what she fears, gets anxious about, the limitations put on her because she is young, it gives you something different. Just as much as her, assuming from her uniform, being a girl who goes to private school but, according to Tribeca's description, lives in or near "the hood." There is a perspective and life here you want more of, and this short leaves you wanting to demand more content.
Overall
Rating: Positive (Worth Seeing)
Cherry Lemonade reminds you that the film industry, television as well, has long seemed averse to bringing the stories of Black girls beyond children's television. But in this short, you're reminded of the potential, and hopefully, as representation goes beyond quotas, we'll start seeing girls like Phoenix get to shine and give audiences what has been criminally absent.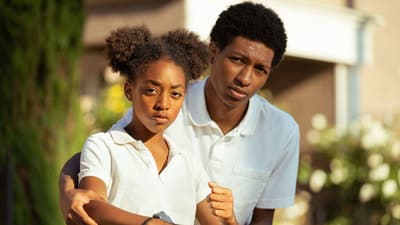 Cherry Lemonade (2021 Tribeca Film Festival) – Review/Summary (with Spoilers)
Who Is This For?
Those who have long wished to see themselves, or the girls they knew, to be seen on screen in all their awesomeness.
Highlights
It Reminds You How Few Stories Featuring Young Black Girls