In this quiet southern drama, a family scandal is complicated by the information revealed on a daily basis.
Director(s)
Angus Maclachlan
Screenplay By
Angus Maclachlan
Based On
N/A
Date Released (Film Festival – Sundance Film Festival)
1/24/2023
Genre(s)
Drama
Duration
91 Minutes
Content Rating
N/A
Noted Cast
Tammy
Jane Levy
David
Will Pullen
Narcedalia
Dascha Polanco
Bill
David Strathairn
Patti
Anna Camp
This content contains pertinent spoilers. Also, images and text in this post may contain affiliate links which, if a purchase is made from those sites, we may earn money or products from the company.
Film Summary
Tammy is a nice quiet girl. She doesn't bother anyone and is such a good daughter-in-law that even putting that suffix feels inappropriate, yet it isn't enough for her husband, David. Someone who, at work, is rumored to be messing with the receptionist Narcedalia, and even his own father Bill knows about this. But whether or not David will stop before something irreversible happens is hard to say.
Things To Note
Why Is "A Little Prayer" Rated Not Rated
Dialog: Minor Cursing
Violence: Allegations of domestic violence
Sexual Content: N/A
Miscellaneous: Drinking
Character Descriptions
Please Note: This character guide is not an exhaustive list of every cast member, and character descriptions may contain what can be considered spoilers.
Tammy
Tammy works at Target part-time, spends a lot of time at her in-laws' house, and seems thankful for a stable life. But, while she gets all she could want and more outside of her marriage, getting the bare minimum from her husband is starting to wear her down.
You May Also Know The Actor From Being: Cheerful Insurance Rep (voice) in the upcoming "The Toxic Avenger," Zoey in "Zoey's Extraordinary Playlist," and Tessa Altman in "Suburgatory."
David
A veteran who works with his dad, David has increasingly been working longer hours and neglecting his wife.
You May Also Know The Actor From Being: Bro in "Causeway," Nobody in "Dickinson," and Steve Whelan in "The Unforgivable."
Narcedalia
David's assistant, or receptionist, with who he has a rumored romantic interest.
You May Also Know The Actor From Being: Dayanara Diaz in "Orange Is The New Black," Cuca in "In the Heights," and Pia in the upcoming "Dangerous Moms."
Bill
Bill is David's father, Tammy's father-in-law, and Patti's dad, who is sweet, caring, and just wants the best for everyone. But with being pushed to keep to himself, the potential infidelity of his son while his daughter-in-law is hurting? He struggles with keeping his family happy when they clearly disagree on what happiness is.
You May Also Know The Actor From Being: Tom Milton in "Where the Crawdads Sing" in the upcoming "O Horizon" as Warren, and the voice of Ralph Waldo Emerson in the upcoming "The Gettysburg Address."
Patti
Patti is David's sister who, between her off-and-on relationship with the father of her child and eccentricities, is Tammy's complete opposite.
You May Also Know The Actor From Being: Aubry in the "Pitch Perfect" franchise, Edie in "The Lovebirds," and Jane Hollander in "Good Girls Revolt."
Review
---
Community Rating:
---
Our Rating: Positive (Worth Seeing)
Notable Performances or Moments
Jane Levy As Tammy
What Levy taps into with Tammy is someone who is endearing from the start. Mind you, not in a begging-to-be-liked kind of way, but Levy just brings a certain charm that makes it so Tammy has a grip on you. So as she shows herself to be a loving daughter-in-law, a better sister-in-law than Patti deserves, and a wife who has long been suffering, at times, it's hard to not ache for Tammy.
Add in the push of her having a past which implies struggle that isn't dived into that much, and Levy is given an easy character to play. One that, because of her skillset, makes playing someone like Tammy effortless.
Highlights
Bill Advocacy For Tammy
Finding good people and keeping them is hard. Especially when it comes to Bill's relationship with Tammy. For as much as she is thankful for all he has done as a father, from taking her in while David was deployed to really giving her a place to call home, you can see he loves her. Heck, he may even like her more than his own flesh and blood.
Why? Well, because she is like him. Tammy doesn't want to stir the pot or cause trouble. She just wants a nice, simple, even quiet life. One where she spends time with family, helping whenever possible, and doesn't do anything to mess with her sleeping at night. So why on Earth David isn't happy with her is beyond Bill's comprehension and something he challenges, for which you are thankful.
On The Fence
Patti & Narcedalia
It can be understood that the introduction of Patti is to compare her to Tammy, but considering we have Narcedalia to compare Tammy to, it feels like overkill. Patti does give us the ability to see Tammy in a maternal role to Patti's daughter and allows for Bill's wife to play a prominent role as she questions her daughter's decisions and child-rearing. However, Patti ultimately doesn't feel necessary.
Then with Narcedalia, there is a need to question why wasn't there more done with her? Why do we not see what led to David being attracted? Was it because of how she talks, thinks, and challenges him? There is so much focus on you feeling bad for Tammy that it seems no one else gets the development they need or deserve for you to care about their life and what they are going through outside of how it affects her.
Which is a shame, for you can tell there is a push to present the idea there could be more to David than meets the eye, but we never get there to say that for sure. We just damn and compare anyone who isn't Tammy or treats Tammy like a sweetheart.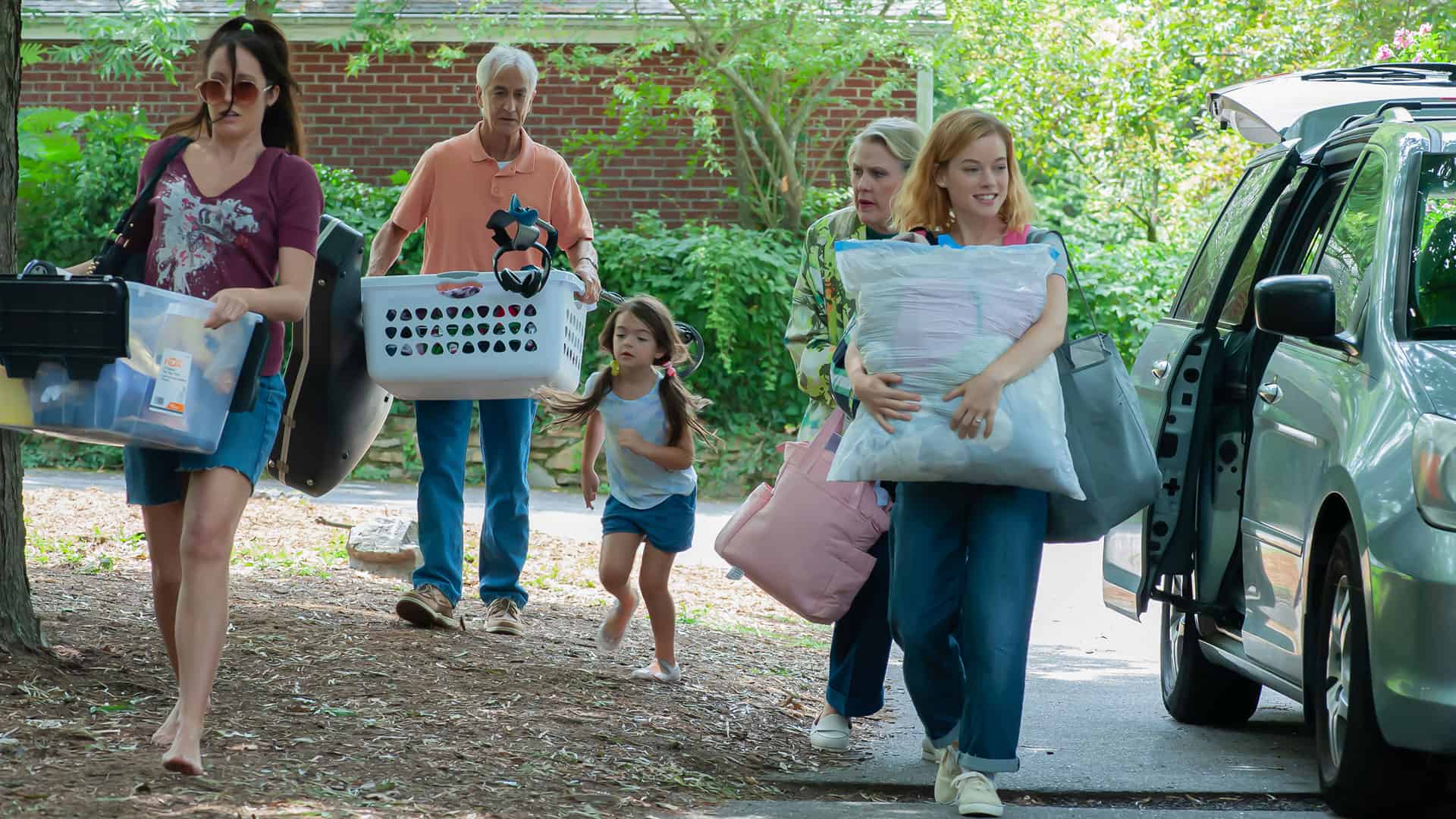 A Little Prayer (2023) – Review/ Summary (with Spoilers)
Overall
"A Little Prayer" pours everything into Jane Levy's character and, unfortunately, gives little to anyone else.
Highlights
Jane Levy As Tammy
Bill Advocacy For Tammy
Disputable
Patti & Narcedalia