The return of "The White Lotus" not only gives us the iconic Tanya again but a slew of other notable characters and a new murder mystery.
Aired (Film Festival – NewFest)
10/22/2022
Sequel To
The White Lotus (2021)
Director(s)
Mike White
Writer(s)
Mike White
Introduced This Episode
Portia
Haley Lu Richardson
Bert
F. Murray Abraham
Dominic
Michael Imperioli
Albie
Adam DiMarco
Harper
Aubrey Plaza
Ethan
Will Sharpe
Daphne
Meghann Fahy
Cameron
Theo James
Valentina
Sabrina Impacciatore
Rocco
TBD
Isabella
Elonora Romandini
Lucia
Simona Tabasco
Mia
Beatrice Grano
This content contains pertinent spoilers.
Summary
With their marriage on the rocks, Tanya and Greg planned a vacation to hopefully reconnect. However, between Greg having work, if not an affair, combined with Tanya having her assistant, Portia, come, things don't start off well. But, at least they aren't alone in family and marital issues. The Di Grasso family, Bert, Dominic, and Albie, each have issues with each other, and partly themselves, to deal with. Bert, an 80-year-old man, is constantly flirting and making women uncomfortable but never touching them. Which might be the only thing keeping him from being smacked.
Meanwhile, his son, Dominic, is going through a nasty divorce, which you can tell he doesn't want, and also he is longing for a relationship with his daughter while mostly ignoring his son, Albie, who came on what was supposed to be a trip focused on the family's roots in Sicily. But, while Albie might be ignored by his father and embarrassed by his grandpa, it does seem Portia and him may connect, as Tanya pressures her to not be seen as Greg is upset she is there.
This leads us to our last notable guests. Harper and Ethan are married, but their marriage isn't passionate. They're friends and agree on certain things, but compared to Ethan's college roommate, Cameron, and his wife and mother of his children, Daphne? The two who are still playful, enjoying sex, and seem really in love? Harper and Ethan could seem on the verge of divorce. Especially as Cameron exposes himself to Harper (with viewers getting a peek as well).
Which leaves the locals and White Lotus staff. Valentina is the manager of The White Lotus and doesn't have the best staff – hence her need to be sarcastic to keep her sanity. For while Rocco is nice, and Isabella, they can't even keep a local sex worker, Lucia, or her best friend, Mia, out of the hotel. But, in Lucia's defense, she was invited. Dominic and she have been talking for a long time, and he's lonely so with her needing money and him needing company and both being adults, it is what it is.
Things To Note
Question(s) Left Unanswered
Is Harper starting to catch feelings for Cameron?
What Could Happen Next
Considering there are multiple bodies found in the ocean, a part of me thinks it is going to be Dominic and Bert who die, with the rest not being known characters. All we know for sure is that it unlikely to be Daphne, Cameron, Harper, or Ethan considering Daphne discovers the bodies and was in good spirits.
If Greg isn't cheating, he is definitely losing interest
Mia falling in love with someone of The White Lotus staff
Harper wondering if she is happy, content, or feels like she settled
Tanya thinking Portia tried to take her man when Greg goes off on her about something
Lucia potentially attaching herself to Dominic and trying to figure a way for him to take her back to LA
Review
Highlights
It's Comical
Between chuckles due to how inappropriate Bert is to Aubrey Plaza using her dry humor to illicit outright laughs, there is no lack of comedy when it comes to the newest season of "The White Lotus." You'd even have to give it to Valentina, whose sarcasm makes her an instant standout, as she deals with her staff who don't make much of an impression but make good foils for her.
Though, of course, everyone's favorite, Tanya, may take the cake. Coolidge, like Plaza, uses their shtick in full force, and whether it is her dealing with Greg and trying to make her happy or how Tanya handles Portia, as much as you may shake your head, you'll do so with a smile on your face.
Investment In Portia and Albie
Portia and Albie aren't in the best situation. Portia is Tanya's assistant, which off the bat, isn't an enviable position to be in, but with Greg upset that she is there, it makes things worse since Tanya wants Portia to stay in her room. As if that is a real option and even a fair one considering Portia is young, single, overworked, and probably needs a vacation.
Meanwhile, Albie is dealing with multiple generations of his family who don't seem to care much for one another. While friendlier than Dominic, his grandpa is likely more worried about getting some in Italy than connecting with his mother's roots. Dominic, who might be paying for all of this, barely cares when his father falls and tasks Albie with watching him so he can get some ass from Lucia. Also, for reasons not gone into, Dominic seems to not strongly care for Albie enough to make an effort with him, despite both his sister and mother cutting Dominic off.
This makes the flirtation between Albie and Portia one of the top highlights, as you can see these two partly miserable young people getting together to be the one romance worth noting. Even if Daphne and Cameron seem perfect for each other, to the point of seeming too manicured.
Aubrey Plaza
Beyond the comedic angle she and many others bring, what drives interest towards Aubrey Plaza is that this isn't a purely dramatic role. For fans of Plaza, you can see a pattern of characters who are by no means socially dumb but seem unable to fathom why certain things can be normal to others. So to secure some form of illusive happiness, they look over the fence.
In the case of Harper, Ethan might be nice, and a good husband on paper, but Cameron is hot. He has abs, is hung, jokes around with his wife, and isn't as much of a pushover as Ethan. Now, this doesn't mean he is perfect. Cameron doesn't seem aware of what is happening in the world; it is questionable if he votes, and his charisma easily transforms into a jerk. However, something about him makes it feel like what makes him attractive compensates for that.
So whether we see Harper have an affair, fight with her husband, or what, should be an interesting journey as she seeks to potentially shake up her life.
On The Fence
The Italians Are In Competition But Haven't Notably Stood Out Yet
While Valentina is funny, unlike Armond, you may not feel the instant need to invest in her or her struggles. Maybe it is because her co-workers, Rocco and Isabella, barely speak and don't show any notable quirks or personality traits? But I'd submit she isn't alone. While it is established Mia is a musician dealing with a broken heart, that doesn't wrestle your interests away.
Even Lucia, a sex worker with the look and personality to grab your attention and a direct relationship with a member of the cast you know will be focused on, in Dominic, something is missing. Now, a part of me thought it could be the language barrier, but with "My Brilliant Friend" being one of our favorite shows, that isn't it.
So I can only assume it is because the actors are unknown. Daphne's actress has that instant connection from watching "The Bold Type." Tanya being from the last season, and Portia's actress, Haley Lu Richardson, being one of our favorites, never mind Aubrey Plaza, made it so the Italian cast are competing with some of the best-known stars in English-Speaking television and cinema. If not, in Richardson's case, a star who is just waiting for that huge hit.
Dominic and Bert
"The White Lotus," like many shows nowadays, is part of this course correction where women are made into such interesting beings, and the men with them are often a bore in comparison. This is why Dominic and Bert are currently in the struggle. While attached to Lucia, who likely could use him as a stepping stone, Dominic doesn't bring anything interesting or new. Yes, he is a major player in Hollywood, per Bert, but his character is someone who, if they died, wouldn't be a mournful loss.
Then with Bert, while funny, his actions and humor which could easily get old. For there is a world of difference between a naughty old man and a naughty old woman. Betty White being naughty is comical, and Bert being naughty is creepy and can come off as being a predator. So while I won't say these two seem like they'll be liabilities, I won't say they'll be the selling points of the season.
The White Lotus Directory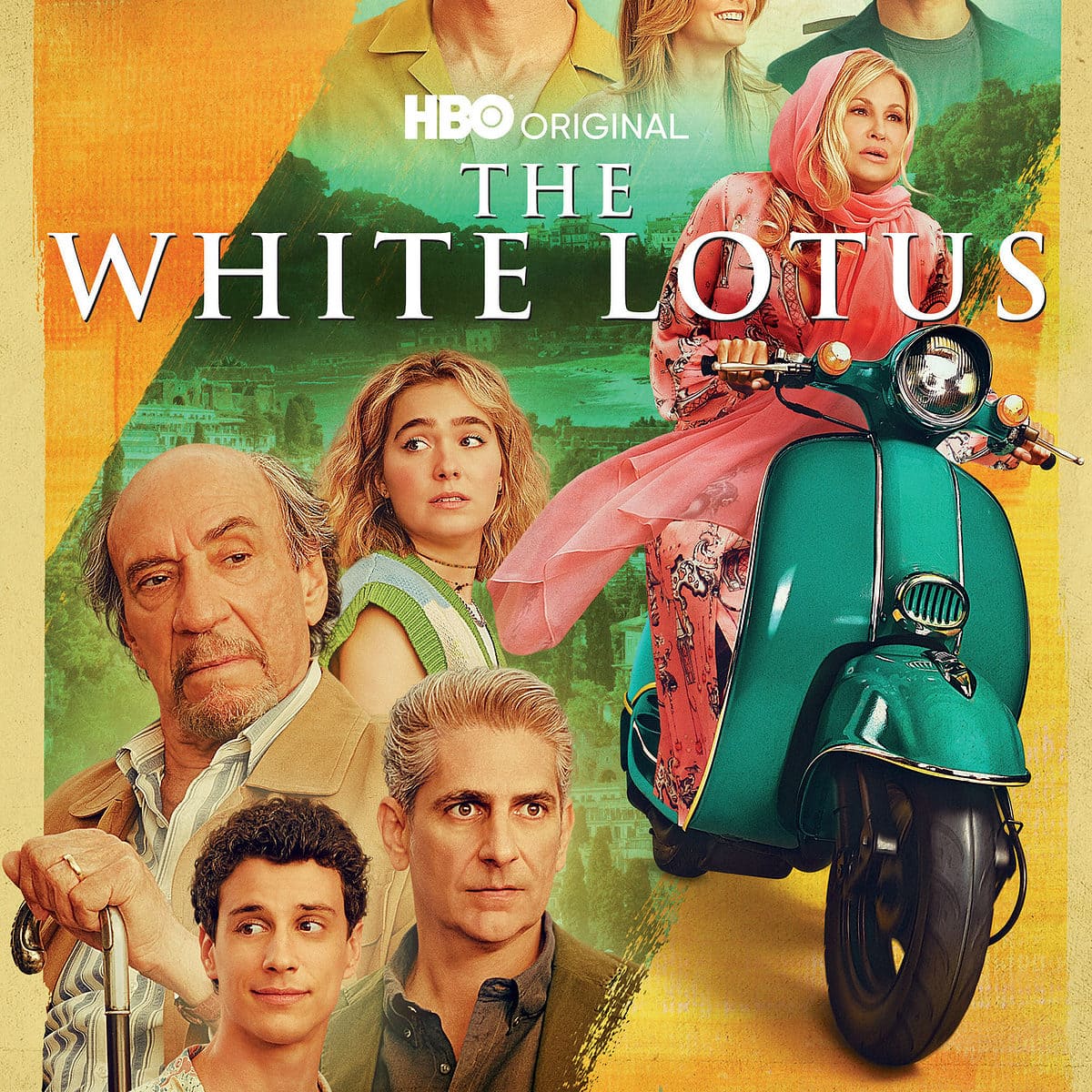 The White Lotus: Season 2/ Episode 1 "Ciao" [Premiere] – Recap/ Review (with Spoilers)
Overall
"The White Lotus" shows no signs of a sophomore slump as the majority of its characters are new, and bring varying reasons to be interested in their story, sans a few who could simply be characters you'll warm up to in time.
Highlights
Aubrey Plaza
Investment In Portia and Albie
It's Comical
Disputable
The Italians Are In Competition But Haven't Notably Stood Out Yet
Dominic and Bert