The Quad: Season 2/ Episode 1 "In Love and Trouble" [Season Premiere] – Recap/ Review (with Spoilers)
Winter break is over and we return to GAMU with fresh perspective and renewed interest quickly justified. Network BET Director(s) Michael Allowitz Writer(s) Felicia D. Henderson Air Date 1/23/2018 Characters Introduced Bronwyn Katlynn Simone Episode Focus: A Time To Heal | Sydney, Eva, Maddy, Jason Georgia A&M and Eva especially are being held accountable for…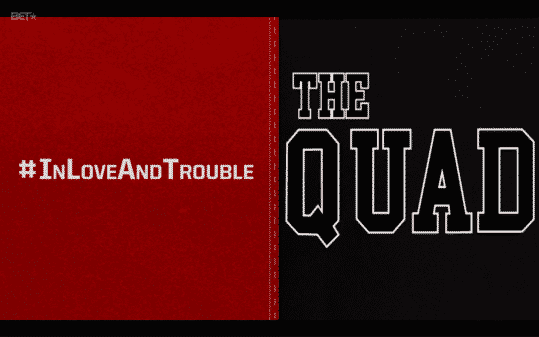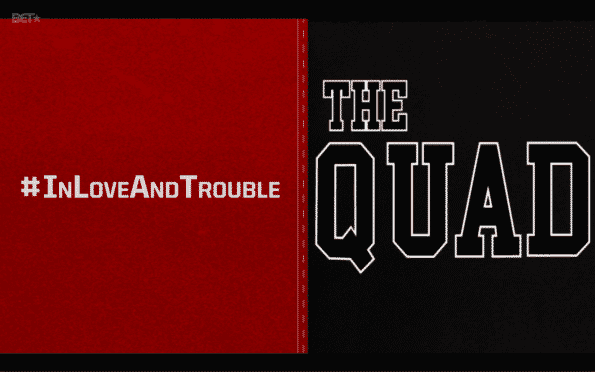 Winter break is over and we return to GAMU with fresh perspective and renewed interest quickly justified.
---
Network
BET
Director(s)
Michael Allowitz
Writer(s)
Felicia D. Henderson
Air Date
1/23/2018
Characters Introduced
Bronwyn
Katlynn Simone
---
Episode Focus: A Time To Heal | Sydney, Eva, Maddy, Jason
Georgia A&M and Eva especially are being held accountable for Terrence's death. In fact, the mother of Terrence wants a public apology from Eva. One which she has no real intention of giving for her daughter was raped. Yet, Eva couldn't really care about Terrence's momma and her demands. What she finds to be much more pressing is the fact between the financial struggles of last year plus this lawsuit that is going to cause major issues. Of which, joining the Georgia University system isn't an option since someone leaked that and kids are already protesting.
Though, it isn't all about Terrence and how he is continuing to be a pain in everyone's side. Jason officially ends it with Eva as he sets his sights on Sydney and talks about heading to Connecticut. On top of that, we finally meet Maddy's boyfriend only for her to get hit it and quit it treatment. With that happening, and Sydney finding hitting things relieving her stress in her Krav Maga classes, she decides to help Maddy out. Not by whopping Maddy's ex's behind but having them bust up his car.
Following that, they have a no boys part and it seems things are better now. In fact, helping Maddy be free pushes Sydney to want to help her mom be free of Terrence. If just by doing the apology if it means they can move on to a next chapter. Something which is a bit difficult for Eva, but she treads water to give the mom an apology for the suicide but making that simply a jump-off to talk about mental health. Making it so she can't truly get the satisfaction.
Commentary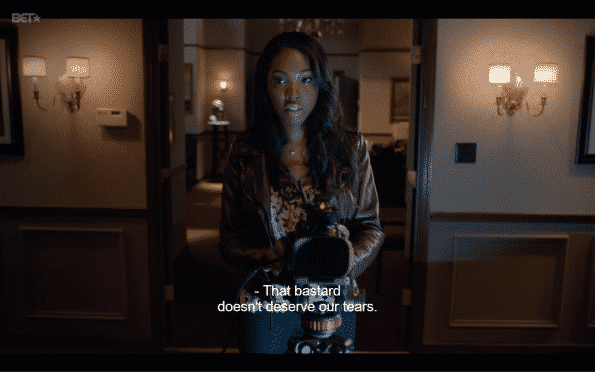 While it is likely that rape storyline isn't just going to go away, even if Eva sees that Sydney's Krav Maga classes have turned her into a bad ass, you got to appreciate it being signaled that there will be some form of moving on. That Sydney's character isn't going to be summarized by that event which took up the majority of the first season. It's a new year, she is reclaiming her life, and pushing Eva to worry about something besides Terrence and her. Which, considering money issues seemingly got worse, is going to push one thing off of Eva's plate.
Pushing the question of, how can Eva fix this? Clearly, the Georgia University option is off the table for her, but that doesn't mean the board can't force her hand. Also, while Jason maybe through, surely Eva isn't going to just throw herself into work and that be it. Especially with Sydney clearly not needing time and attention as she once did. So it might be time to start introducing some professors to the show – that is assuming Eva may not pick up another grad student or looks into their donor database.
Leaving the whole Maddy thing. I hope they can't just bust the windows out of someone's car and get away with it. For while I get he did her dirty, that was excessive. Couldn't they have just dragged his name through the mud on social media? They have to do everything but put sugar in the gas tank or set the vehicle on fire?
Subplot 1: Family Is Everything | Coach Hardwick, Cecil, Noni, Junior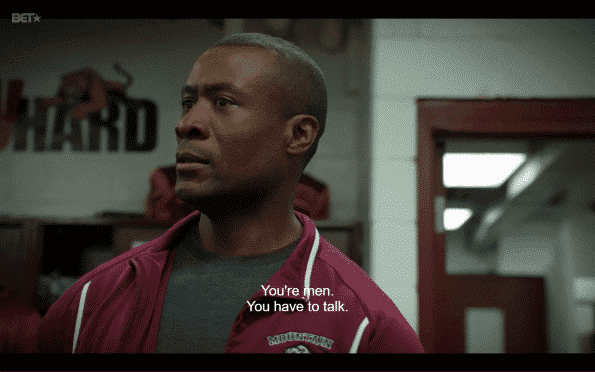 With Terrence's death and Junior damn near flunking out of college, thus inspiring talk of how football is all he has, Coach Hardwick begins to want this idea of family to be more than talk. He wants these boys to seriously look out for each other not just on the field or in the gym, but also in school and life. What he seems to want is for them to be a frat without a house.
For while he acknowledges Terrence being a rapist, at the same time, losing a kid to suicide still hits hard. Especially when you're responsible for the boy and likely feel you contributed to the final decision. Yet, it is a life lesson. That and Junior nearly flunking out. So, there is a push to make sure there are no repeats of what happened last year.
Something Cecil also does for with Clive Taylor snitching on Noni, she is out. In fact, he gave her a chance to come clean but with her sticking to her lie, he decides to embarrass her like she embarrassed him. That is, publicly, amongst her peers, in a way it will take a long time to bounce back from.
Commentary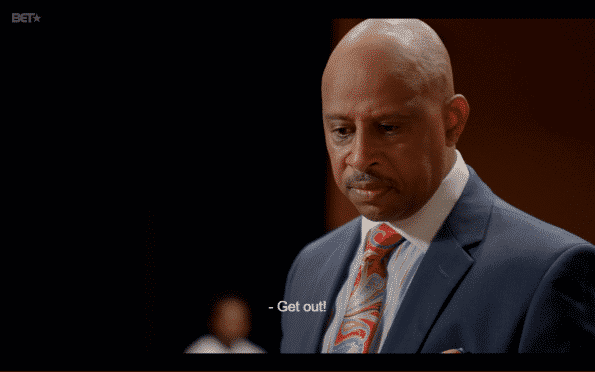 Since the football team just never presented a serious interest to me, forgive bypassing commenting on them. It's just, I got nothing to say. However, Cedric was the life's blood of season 1 and I don't know why, but even when Noni is at her worse I crave seeing this character on screen. I want to say it is because Zoe Renee has this quality to her that makes you believe she could be a lead. This is unlike Cedric who seems sort of replaceable. With Noni, there is a special something and her being paired with Ruben Santiago-Hudson who truly challenges her, it makes her always on her game.
Really leading to me hoping her film Jinn, reportedly due out this year, will put some heat on her career. Hopefully pushing The Quad to be the start of something big rather than her career's IV drip.
Subplot 2: I'm Getting Tired of Your S*** | Cedric, Bronwyn, Noni
Cedric's little girlfriend maybe a good look for his arm, but with her seeming a bit sheltered, due to not drinking or smoking before we met her, she can be a bit much. After all, with her knowing nobody, and Noni, her new roommate, having stuff going on, Cedric is her everything. Yet, being that Cedric is a low-key F*** boy, he doesn't convey to her the difficulty of being someone's go to. Especially considering he has studies, this rap career, and while he isn't lurking about with other girls, he just isn't the kind of guy who wants to be boo'd up 24/7.
However, in a way, she does and when lied to by Bryce about where Cedric is, she decides to go to Maddy's party and smoke, get her drink on, and try to take her mind off Cedric. Someone who, when he can't get a hold of her, starts low-key flipping out. Which you can kind of understand, in his case, considering how his ex-died, but will definitely make things hard for him in the future.
Commentary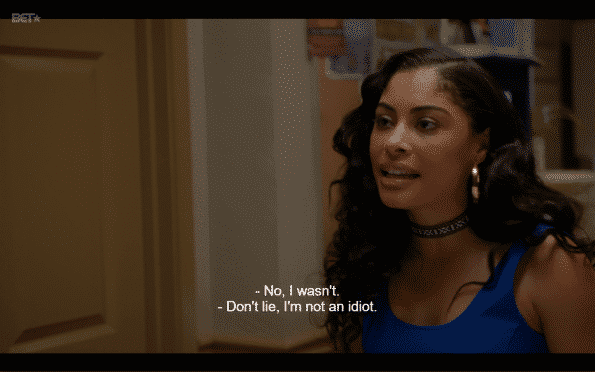 Maybe I'm being a bit hard on Cedric. After all, between his girl dying, being accused of being her murderer, and having to temporarily go to jail, it isn't like he hasn't been through a lot in the last year. It's just, with the way he treats Bronwyn, there comes a generic trigger which doesn't end until you go over Cedric's specific case. But, even with that said, you'd think all of what happened to him would have coerced him to grow up a bit.
How are you going to dodge a girl who clearly is a bit lost, bewildered, and confused? She just got a last minute room assignment to the biggest backstabber on campus, she seemingly hasn't ventured much into the more troublesome aspects of college life, and could really not just used a boyfriend to make out with but a friend. If not a bit of direction as well.
Follow Wherever I Look on Twitter or Like us on Facebook.
Previous Episode's Recap
---
Follow, Like, and Subscribe
Community Rating: 0.00% (0) - No Community Ratings Submitted (Add Yours Below)