The Handmaid's Tale: Season 3, Episode 6 "Household" – Recap, Review (with Spoilers)
We take a trip down to DC to learn if things are better or worse in the capital and oh, not only are they worse but June gets a wake-up call.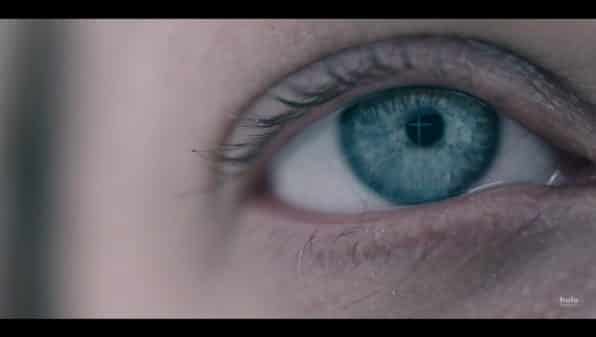 We take a trip down to DC to learn if things are better or worse in the capital and oh, not only are they worse but June gets a wake-up call.
---
Network
Hulu
Director(s)
Dearbhla Walsh
Writer(s)
Dorothy Fortenberrry
Air Date
6/26/2019
Introduced This Episode
Commander Winslow
Christopher Meloni
Olivia
Elizabeth Reaser
OfGeorge
Kirrilee Berger
Images and text in this post may contain affiliate links which, if a purchase is made, we'll earn money or products from the company. Affiliate links and external links have an upward facing, superscript, arrow.
Welcome To DC: Fred, Serena Joy, Aunt Lydia, June, Commander Winslow, Olivia
To further Fred and Serena Joy's cause, things are taken to DC for better visuals, more spectacle, and an increase in pressure. All of which helps Fred recover from the damage June did for now High Commander Winslow is allowed to see his media savviness play out. Also, as that happens, Serena gets to spend time with Commander Winslow's wife Olivia who has, at minimum, 6 kids.
And while the elite play and have public prayers, Aunt Lydia and June see how different DC is from the Boston area. One of the first things that they notice is an increase in security, which is expected, but the more shocking bit is how far the system goes to keep Handmaids silent. For example, Commander Winslow's handmaid has her lips either stapled or sewn so she can't speak. On top of that, she wears a lower face mask which is too tight to speak clearly. Something which may or may not become a new thing in the northern region.
Negotiations With The Swiss: Nick, June, Serena Joy
With Canada being uneasy about the negotiations, strictly considering them due to Gilead's military strength, it leads to the Swiss getting involved and trying to see what they can get out of this. The answer? Well, June, despite what she is told not to do, tries to cut a deal with the Swiss so Nicohle will stay in Canada. Now, as for what the Swiss want? Espionage information. Gilead isn't online, in a public sense, and so everyone only knows what they put out there. So, any information about their power structure and more would be helpful.
Unfortunately for June, the only one she knows with such information is Nick. Someone who the Swiss don't trust for they know he was a crusader that led to the fall of the US government. Thus making June's rebellion for naught.
Small, Cruel, And Empty: June, Serena Joy
Well, at least in terms of her making any headway. For Serena Joy, it perhaps gave hope for who else but June could possibly derail everything? And her failure is probably why the two decide to have one out. One in which Serena makes it seem she wouldn't be trying to get Nicohle back if June escaped to Canada with her and June ending her attempts at making Serena an ally, or useful to her, by hitting a low blow.
As in what kind of low blow? Well, she points out Serena is empty. Which, on one hand, could be her talking about how Serena Joy is emotionally empty but let's not forget that Serena Joy, thanks to an assassination attempt, also can't have kids so she is also without a womb. So the emptiness inside could take on that meaning as well, and that is likely the cruelest thing June can say.
So, more than likely, if June ever has her revolution, Serena Joy will be on the opposing side.
Question(s) Left Unanswered
Taking note the increase in security, how was June able to move about so freely, yell at the former Lincoln Memorial, and act more rebellious than ever? Especially the Nick situation?
While it could have just been being friendly, did anyone else get some slightly uncomfortable vibes from how long Commander Winslow had his hand on Fred's back and how Fred was reacting to that?
Highlights
Serena Joy Back To Being A Villain
Some characters just don't work well trying to live in some sort of gray area. Nick does to a point, but he barely says much and at this point is a reoccurring role. So him being in the gray area works. As for Serena Joy? With this world crafted by her and her mad she lacks the power she thought she would have, any attempt at trying to become a hero, outside of her own point of view, would be massively difficult. Outside of sacrificing herself, as she did and lost a finger for, wouldn't make her seem look a good guy or complex.
Essentially, Serena Joy will always be a selfish character, and even if they continued to attempt to make her someone selfish, but with a goal which aligned with June, there is no means to recover. So it seems best to return her to simply being a villain than trying to have her be someone who deserves sympathy. For really, lest we forget, she held June down, more than once, as Fred raped her and is there any real coming back from that?
Low Point
June Clearly Betraying Gilead And Living To See Another Day
All I want to know is how June can speak to a foreign government, clearly try to coax some sort of deal in her favor, and not be put on notice? I mean, considering this mask thing they now use, would it be so hard to find a woman with similar features to June? Would the Swiss even care if June died? Nick is being sent out to Chicago so he wouldn't know. So, as with many of the episodes this season, you're left to wonder how in the world is June getting away with this?
On The Fence
What's Up With Aunt Lydia?
Every time we see Aunt Lydia it is like she switches from being a hand to the authoritarian government to a victim of circumstance happy she can enjoy some comforts. This episode leaned her towards being a far kinder character than we've seen since June was pregnant and there is a serious need to ask why? Is she trying to atone or make up for how brutal she was to Janine? Which, so it seems, didn't cause her to be punished in the slightest.
Yet, maybe something happened off camera? How else could you explain, as June asked if Aunt Lydia wanted them silenced, Aunt Lydia not being hardline? Perhaps even glad, and intrigued, by the local custom?
Off and on, like Serena Joy, there have been attempts at softening Aunt Lydia, and according to a BUILD interview featuring the actresses who play Rita and Janine, her backstory will be featured this season. But, also like Serena Joy, there is a need to question do we need a villainous character softened up or do we just need to know the reason behind their resolve?
The Swiss, DC Culture And Some Form Of End Game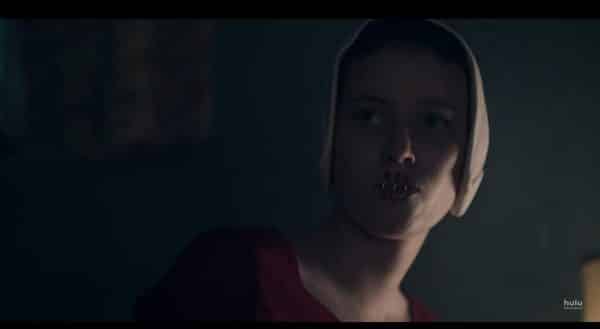 While it is always interesting to see not just outside of the Boston area, but also get a vibe of how other countries see and deal with Gilead, I don't think this trip was made to be as interesting as it could. Don't get me wrong, seeing the Washington Monument made into a cross, or the destruction of the Lincoln Memorial were stunning images. Yet, there is just something about seeing this imagery and feeling like June isn't making any progress in her revolution which makes this show seem so long.
What I mean by that is, June touts herself about as this almost untouchable bad ass who lucks into multiple situations to be amongst powerful people. Both those who benefit from Gilead and those who are oppressed by the regime. But, episode after episode, especially this season, we're back to that vibe of the show being more about world building than any sort of plot made to make us feel an ending is planned. Yes, you may have an ideal ending planned, but it seems Hulu and the writers rather milk this show for all it is worth, be it accolades, ratings, and of course paychecks, than present any sense the end game for June or Gilead is anytime soon.
Follow Wherever I Look on Twitter, Like us on Facebook and Subscribe to the YouTube Channel.
[ninja_tables id="36752″]
Serena Joy Back To Being A Villain - 80%
June Clearly Betraying Gilead And Living To See Another Day - 65%
What's Up With Aunt Lydia? - 75%
The Swiss, DC Culture And Some Form Of End Game - 70%
---
Follow, Like, and Subscribe
Community Rating: 0.00% (0) - No Community Ratings Submitted (Add Yours Below)